Last Minute Crafty Easter Projects
Lazies, Easter will be here before we know it. I have four links to share to get your last minute crafty Easter juices flowing.
New to our blog? Subscribe here.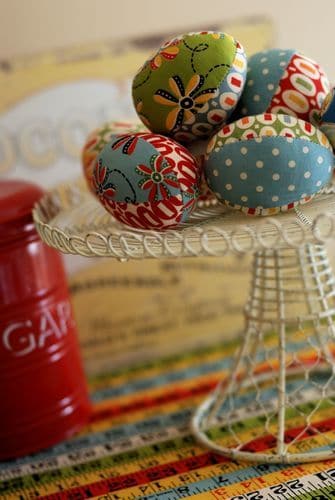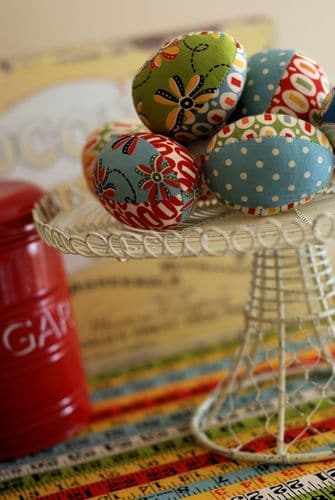 Fabric eggs by Retro Mama.
Image from Retro Mama and  www.WhipUp.net
Crafty Pouches
First up, I saw some smart paper mailing pouches over at Whosies blog and decided to use them for a crafty and eco-friendly Easter egg hunt. I whipped up a dozen pouches using brown craft paper and bright variegated thread. They are going out in the mail today to my mom. She and my nephew will decorate them which provides a craft project for him. And mom will bring those with her at Easter.
We'll fill them with little boy treasures, stitch them shut and hide them around the yard for our hunt.  Well, his hunt.  And when he finds each Easter pouch, he'll see his artwork from his crafting time with grandma. Then, it's off to the recycling bin with the scraps of paper. Consider making these pouches with any decorative paper or sturdy gift wrap for a beautiful and quick package.
Fabric Eggs
Next, WhipUp features these fabric eggs by Retro Mama and I knew I had to try my hand at these. Goodness they are cute. Now, as for how to use them – as if anything this cute has to have a defined purpose in life! I might try to make an Easter center piece of sorts. Or make a few for my nephew – perhaps out of some leftover pillow case Tom & Jerry novelty fabric. I think these might fit in the paper pouches for the Easter egg hunt. And of course, they can be hidden around the yard, as is, for part of the hunt.
Fabric Eggs With Pocket
Regina the Queen Bee directed me to another fabric egg project at Sew, Mama, Sew which includes a little tiny pocket for treasures. Smart, cute, hard to resist. I'll have to try these, too.
All Occasion Gifting
Finally, be sure to hop over to Regina the Queen Bee's blog and check out her clever Pick A Pocket project, good for any occasion or purpose.
Enjoy!
Joan