Add A Detachable Shoulder Strap To Any Open-Top Tote
Lazies, I love the short fashion handles on my new Miranda Day Bag. But sometimes I want a shoulder strap, too. There's no reason I can't have both. Today, I want to show you this simple modification to add a detachable shoulder strap to Miranda or other open-top bags.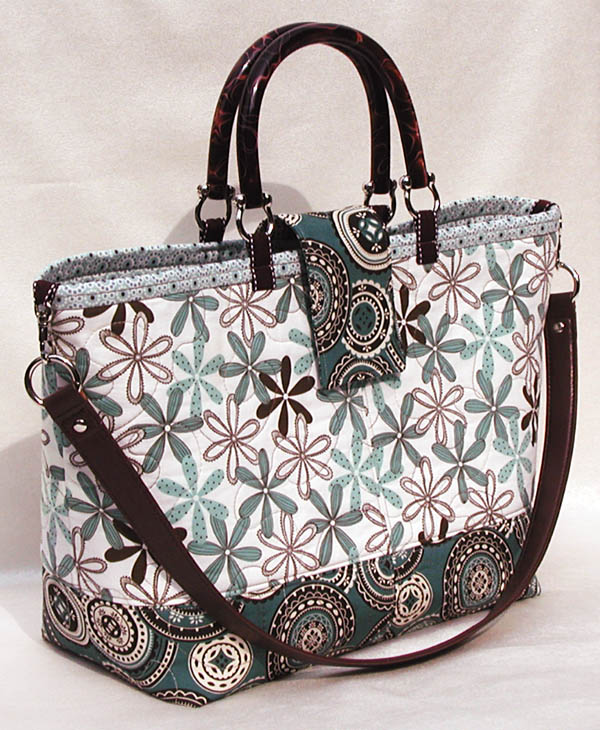 Add a stylish shoulder strap for more usability.
Subscribe to our blog here.
Give Your Bag A Different Look
With that shoulder strap and cool hardware, Miranda looks so regal and rather like a briefcase. I fell in love with the Exclusively You line of purse and tote products from Leisure Arts while doing my book Bold Bags last year. So, I turned to these great products when I wanted to add a little fun and versatility to Miranda.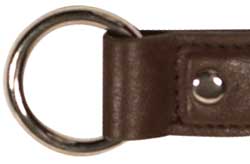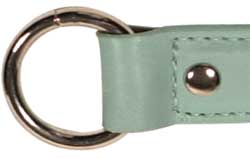 Exclusively You 27″ purse handles from Leisure Arts. Yum!
Detachable Shoulder Strap
It's easy to add a detachable shoulder strap to any open-top tote. I used the fabulous mocha colored smooth faux leather 27″ handle from Leisure Arts as a shoulder strap. Oh my goodness, it matched my fabrics beautifully. The teal handle also looked wonderful, but my heart belongs to mocha on this one. And if your preference is long handles, use two of these in place of the fashion handles I used.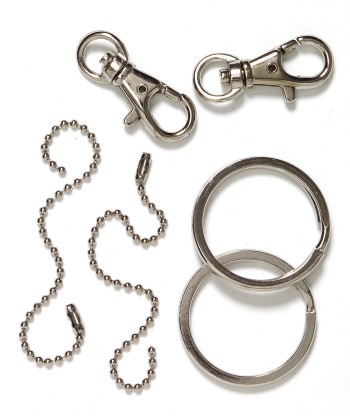 Silvertone Purse Hardware Assortment
from Leisure Arts (item 28401).
Blingy Hardware
I used this Leisure Arts packaged set of swivel clasps, round key ring thingies, and ball chains. Be sure to coordinate the color of the hardware with your fashion handles if applicable. While I used these clasps, the larger 1″ swivel clasps (item 28342) would work, too.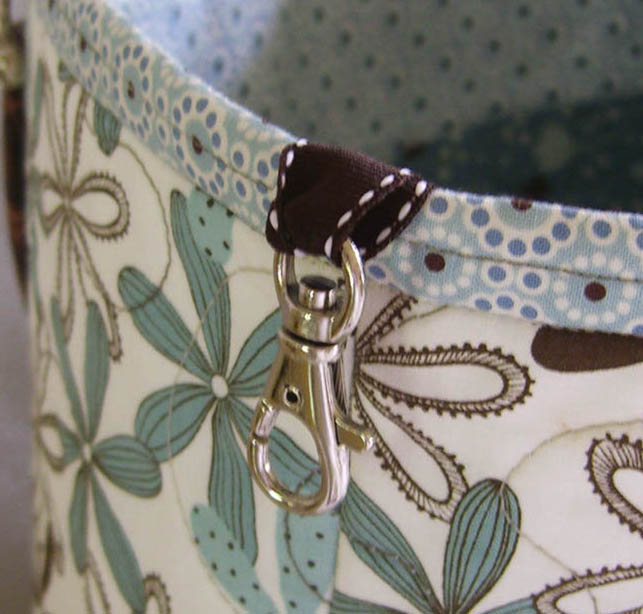 Add a swivel clasp for more options.
Where and How
Here's a close-up of the top, side of the bag. Discretely attach your fabric or ribbon tab by stitching on top of the stitching lines already in place. I found some dandy grosgrain ribbon that matched my fabrics. I used the same ribbon to attach my Clover fashion handles as well as swivel clasps.
Cut a 3-4″ strip of ribbon, or make a loop or tab out of fabric. Slip the ribbon or fabric tab through the clasp, and stitch it to the lining side of the bag. Use the stitching lines at the top edge of the bag, at the side seam as your guide. Your goal is to make the ribbon long enough to allow the entire clasp to hang comfortably at the side of the bag as shown in the picture above. If the loop is too short, the clasp will teeter awkwardly at the top edge of the bag when the shoulder strap rests at the side.
Stow and Go
When not needed, I detach my shoulder strap, coil it up, and store it in an inside pocket. Isn't that convenient! The clasps hang inside the bag, out of the way at the side seams – very well behaved, thank you!
Flexibility
Adding these clasps, or another option of your choice, is a nice feature. It gives you an option to attach a shoulder strap when desired. This is an add-on option you can use on any open-top bag.
Versatility
And that dandy little clasp can clip to other things like your cell phone or keys in a pinch. Add an extra clasp or two around the top edge of your bag for other things, too.
Where To Buy – Brick and Click
All of the items shown here are available through local quilt shops (brick) or online (click). Miranda will be available in October. Several quilt shops and online retailers are taking orders now and will ship when she gets here. Check with your favorite store to see if they stock them or will order them for you.
New to our blog? Subscribe to get emails so you don't miss a juicy morsel.
Like and share this post with your stitchy friends.
Join me in the Lazy Girl community on Facebook here: Facebook Lazy Girl
Enjoy!
Joan
Facebook Lazy Girl
Pinterest Joan Hawley
Pinterest Lazy Girl Community
Instagram @JoanHawley
Twitter LazyGirlJoan