Tutorial: Choosing a Zipper is a Design Decision
Lazies, I want to tell you a little about my process for choosing and combining elements and supplies when I make a project. I recently had the opportunity to make some Girls for fabric Designer Yolanda Fundora to showcase her new fabric line Sketchbook through Blank Quilting. I plan to share some of the decision making processes of these samples over the next few weeks.
Today – let's talk zippers! Take a breath, you'll be okay. It's just a harmless, little contraption in the most prominent part of our project. No pressure! Take another breath…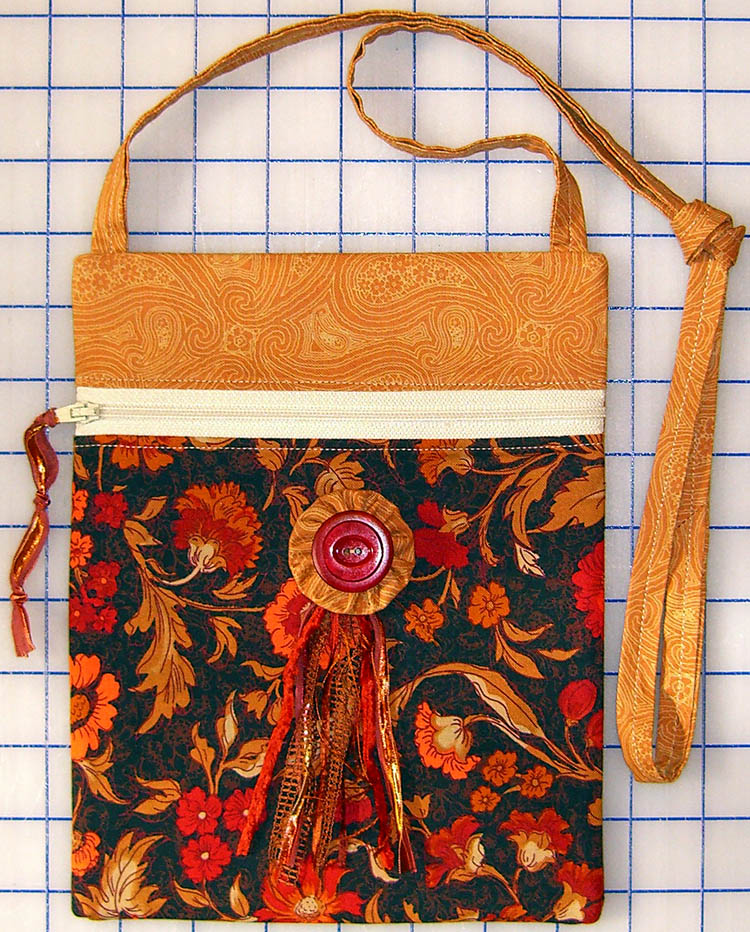 Runaround Bag #LGD111. Click image to enlarge.
The Runaround Bag is a small purse with a simple design made from two fat quarters of fabric, a bit of batting, a zipper and some thread. We can do this, right?
With just two fabrics needed to carry this little cutie, we must choose wisely. Here, I've laid out three fabrics and some zippers. I love the feature fabric with the black background. Next, to set the mood of the feature, I need to choose a fabric partner. Both the red/orange and the tan paisley are strong enough to balance the feature. Since I liked them both, it was time to introduce our wild card – the zipper.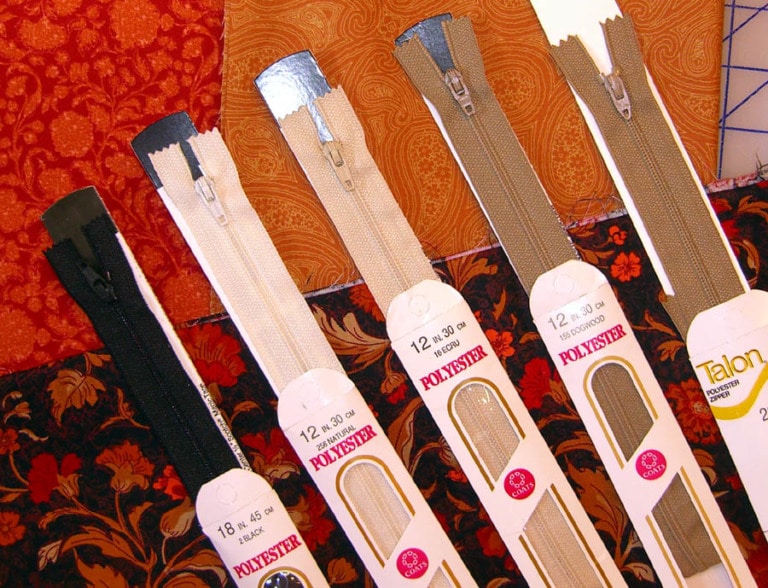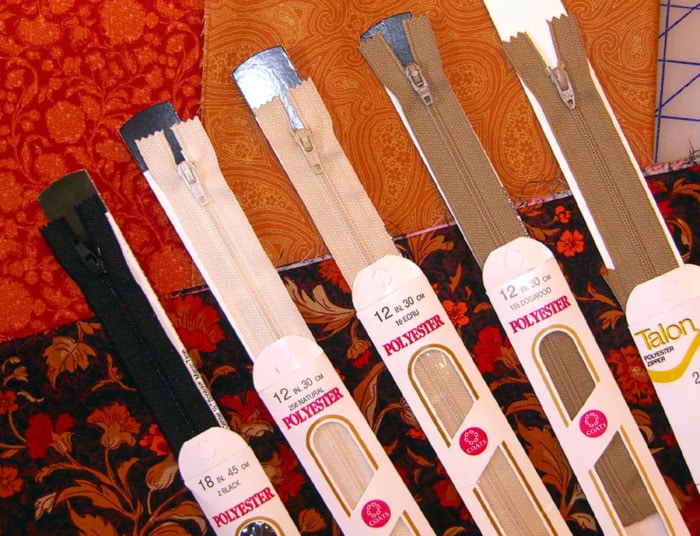 Left to Right: black, natural, ecru, dogwood, another brand in dogwood.
Think of the zipper as a third fabric. In quilt terms, it might be the sashing or inner border on a quilt top. Its color is a design element and adds to the overall project.
I grabbed a bunch of zippers from my stash and here is how I audition them in the photo above. Each one coordinates with these fabrics.
Next, I take the best contenders and arrange a mock-up of the finished placement and proportions to see who plays well together. Below, we are auditioning the ecru and black colored zippers. They both work and look nice.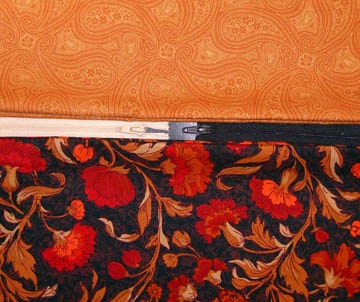 Next, let's check things with the orange/red fabric and the black and ecru zippers below. I don't like the ecru here at all. The orange/red fabric is strong and needs the black zipper to anchor the project. But, I wanted to play up the warmth of the browns and earth tones in the feature, so this was too dramatic for my tastes. Thinking ahead, this might call for black thread and really strong embellishments. I could envision the bag becoming too rich and busy for its size and personality and for my vision.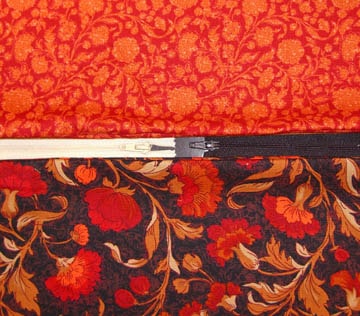 In the end, as you can see from the first picture in this post, I chose the tan paisley with the ecru colored zipper to tie this bag together.
Read more about Yolanda and follow her creations at her blog Urban Amish here.
Next time, let's explore thread as a design decision in this project.
Enjoy!
Joan