Make a Tablet or Paper Pad Keeper With Pen Holder
Lazies, Stay organized in style! You can make this gorgeous fabric keeper for a pad of paper, or an electronic tablet. The keeper also has a little pocket and pen holder, too. This quick and easy gift looks great in fabrics for guy gifts or gifts for her.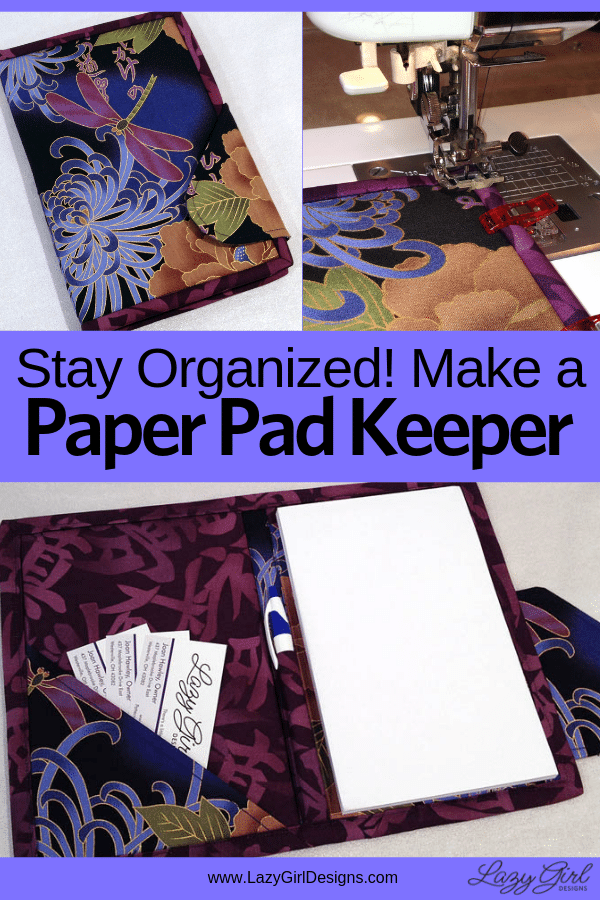 Nancy Zieman's Tablet Keeper template will make keepers for e-tablets/eReaders like an iPad or paper pads in three sizes. I made three of these great note keepers for gifts.
This keeper will fit perfectly inside our Candice bag. Our new Fat Pocket technique for the inside Candice pocket will easily accommodate these keepers. Consider making one to coordinate with your next bag.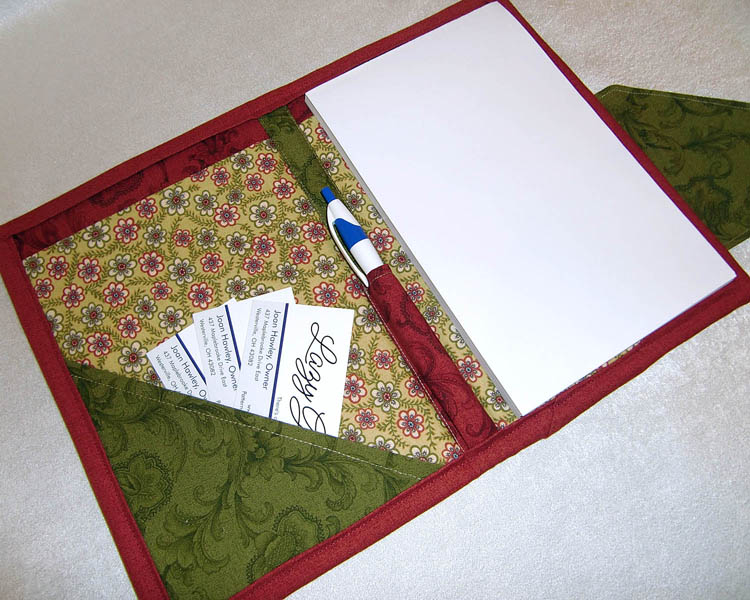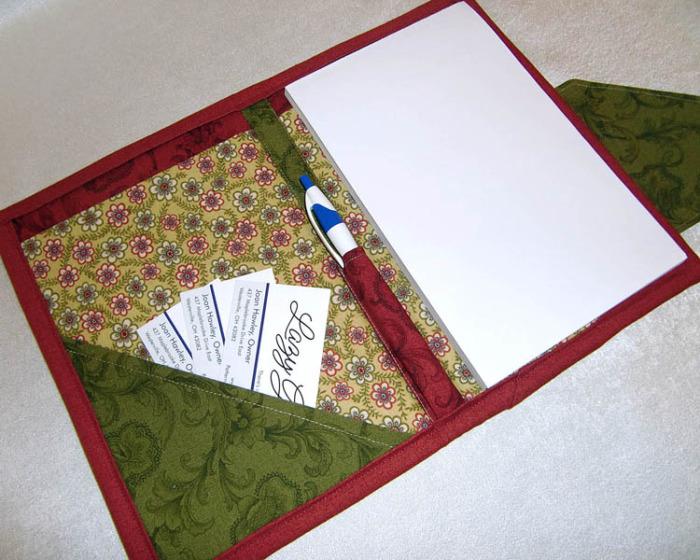 I am forever carrying a small pad of paper with me. But it's usually a challenge to keep it looking nice. So I used Nancy's Template to work with my favorite 5″ x 8″ scratch pads so my paper and I can travel in style. I love these pads and have them all over the house, office and studio. (Office Max 'Scratch Pads', 12 pads, 100 sheets, $15.)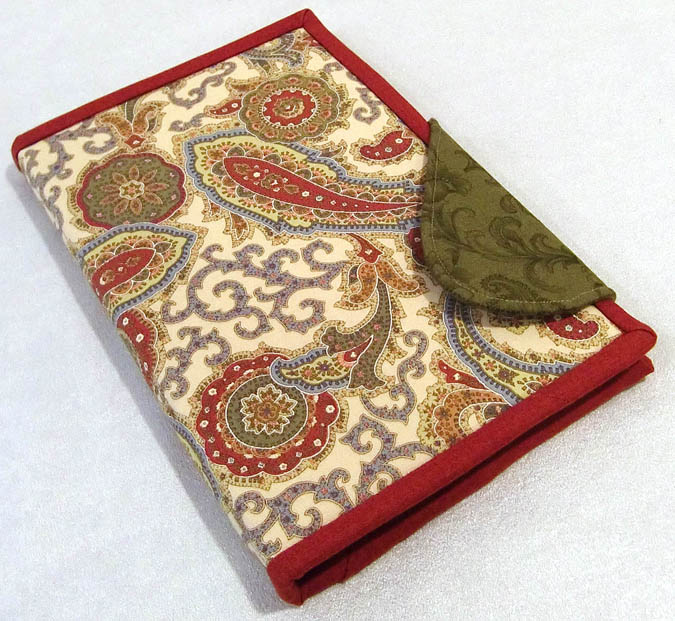 I have been hanging on to this bundle of Moda fat quarters, waiting for the perfect project. I made this for my Mom. She'll love these fabrics.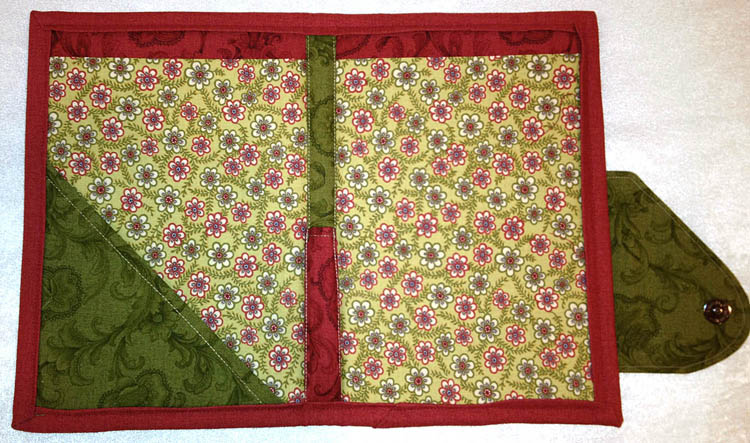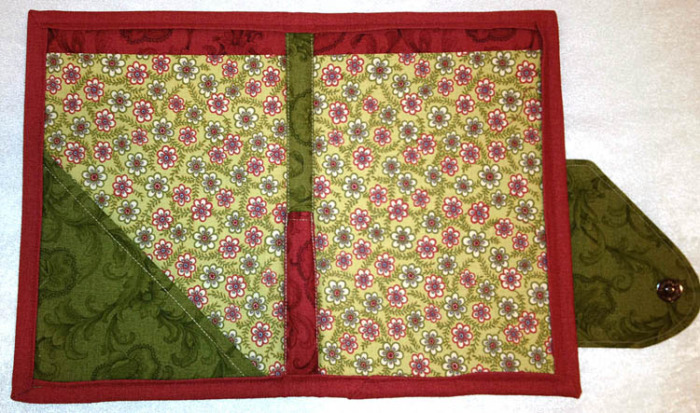 I made a few minor adjustments. I made the green triangular pocket a bit larger. After test-fitting the paper pad and before the final step of adding the binding, I noticed there was room for a pen along the spine. Adding a pen holder was easy.
Add a Simple Pen Holder to Your Notebook

I added a pen pocket on the inside spine. Because the green spine fabric is simply topstitched in place, adding another layer of fabric here was quite easy. Simply topstitch another layer of folded fabric on top of the spine.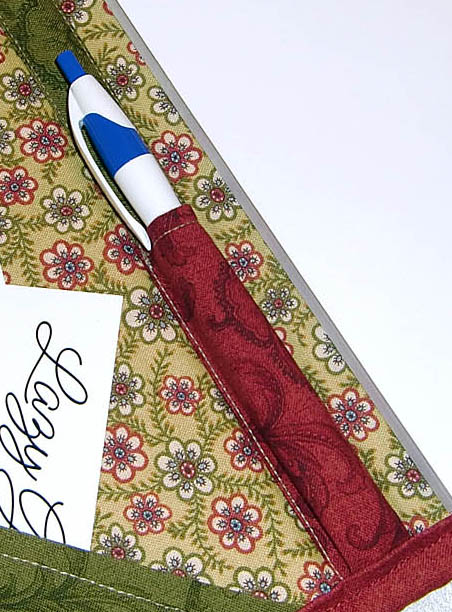 Cut a strip 1.75″ x 8″. Fold 1/4″ of long edges to wrong side and press. Fold in half to measure 4″, topstitch along fold. Place on top of spine, match raw edges to bottom. Stitch in place along edges where shown on top of spine. Manage the layers to a nice pleat at the bottom and topstitch to secure.
I didn't stop there, I grabbed some fantastic Kona fabrics and fussy cut to feature the dragonfly on these two keepers.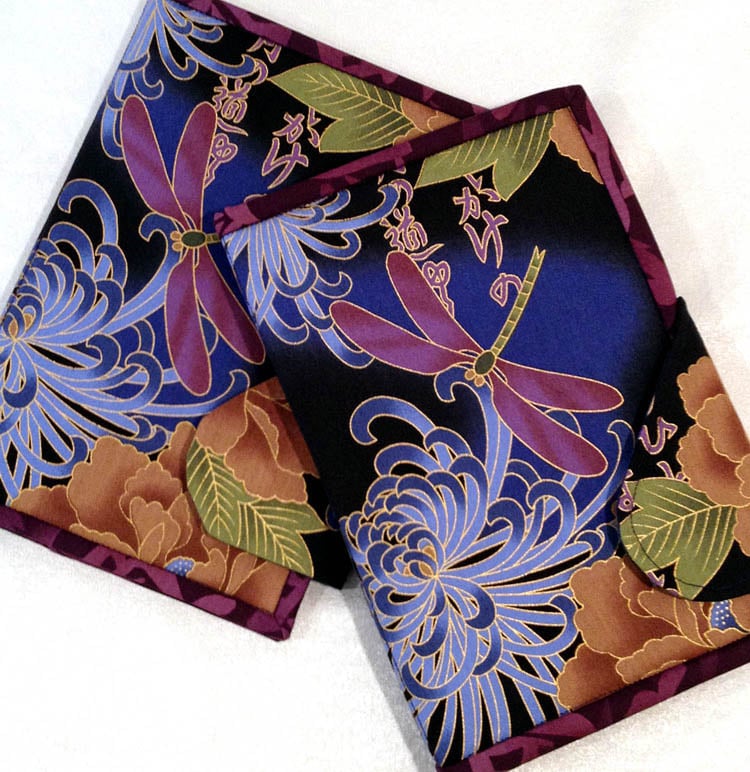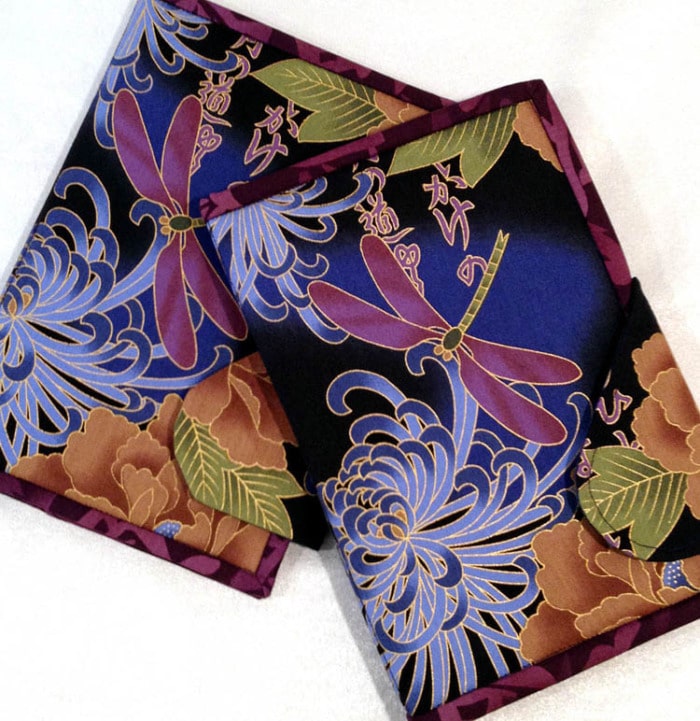 I worked with just two fabrics, instead of the three called for in the Template instructions. That meant that the flap closure blended a bit more with the cover.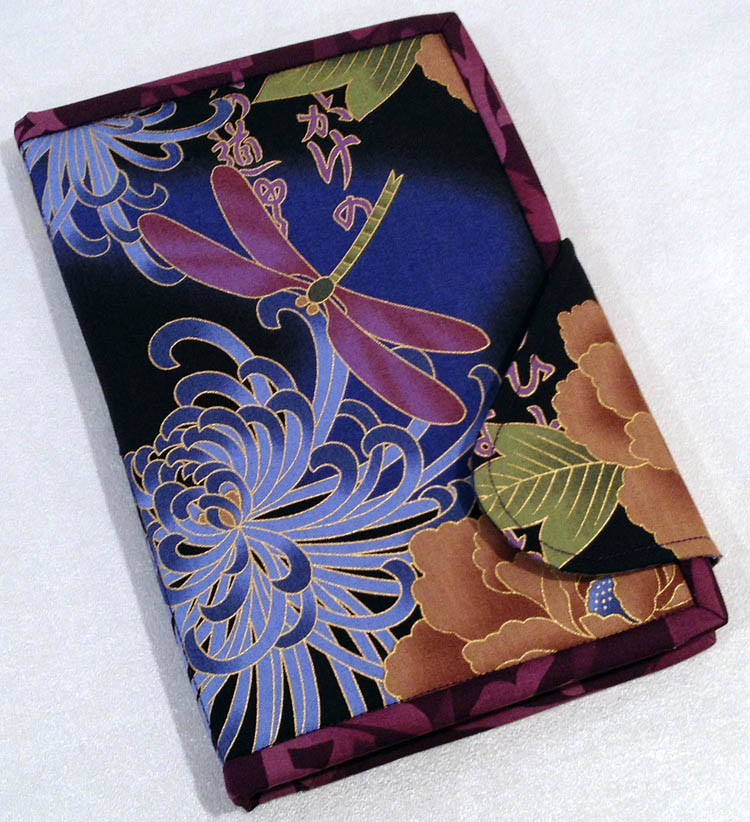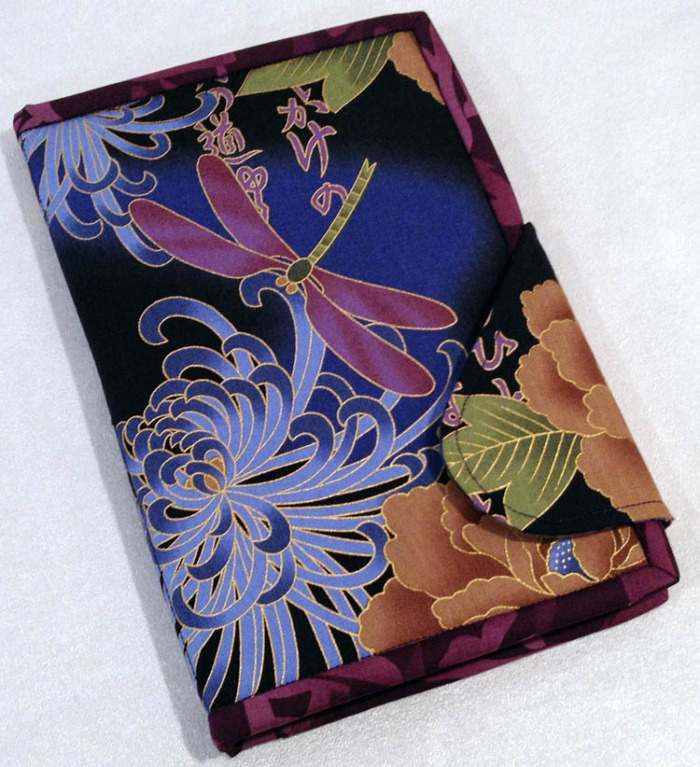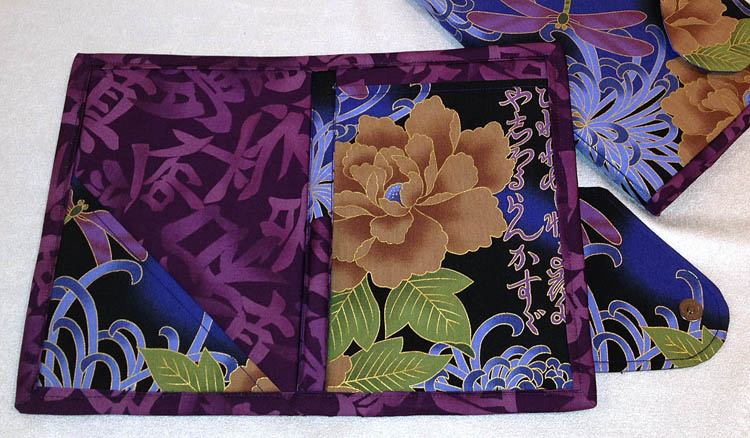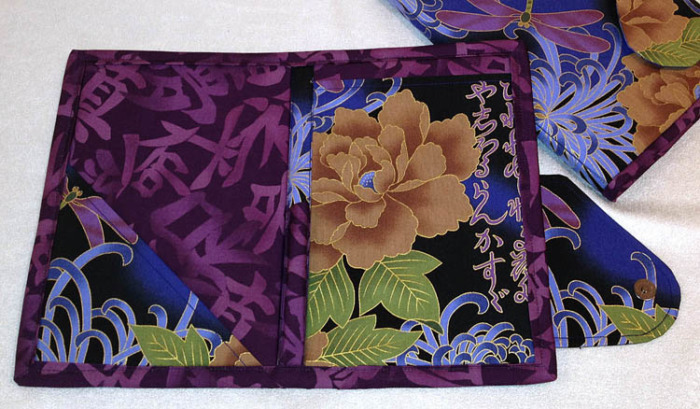 I made one other modification, making the left lining from a single piece of fabric rather than two pieces. That meant a little more measuring and planning on my part.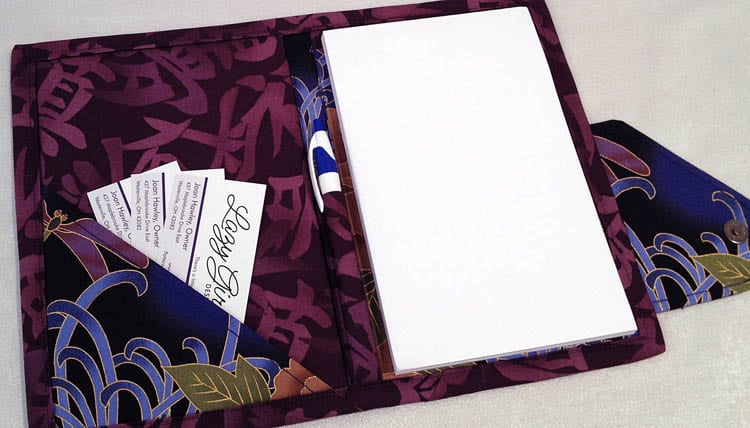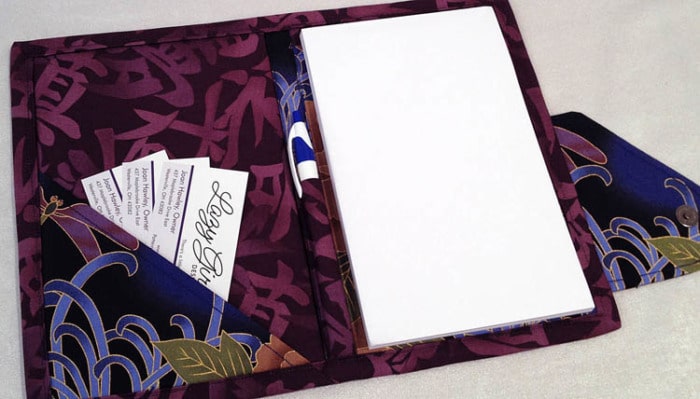 I used a Clover magnetic snap for the closure. Velcro would work just as well.
Note: This post contains affiliate links. I make a commission when you buy something through those links.
Use Sewing Clips Instead of Pins
I used Clover Wonder Clips sewing clips instead of pins on this project.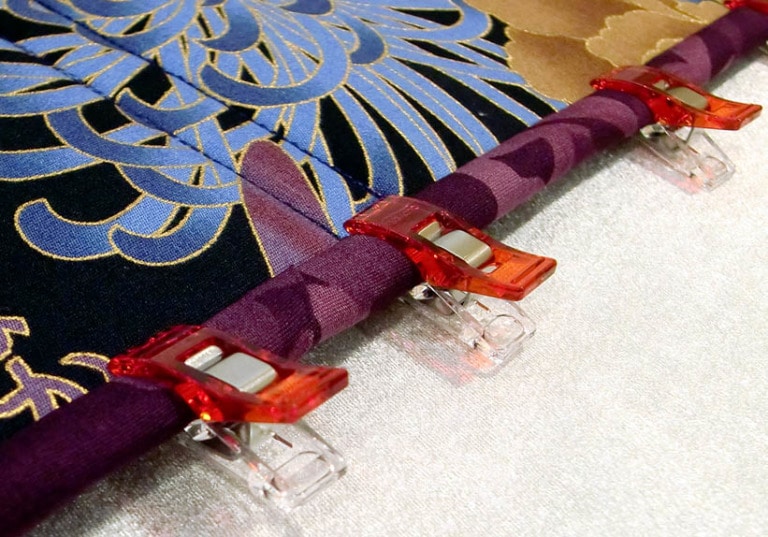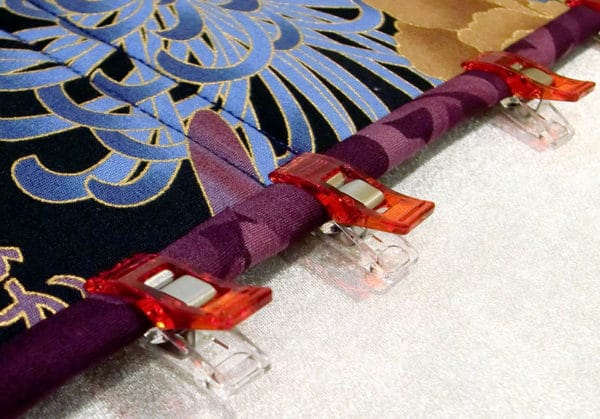 The clips have a red piece and a clear piece. The clear is a flat piece of plastic with markings that relate to the width of your binding.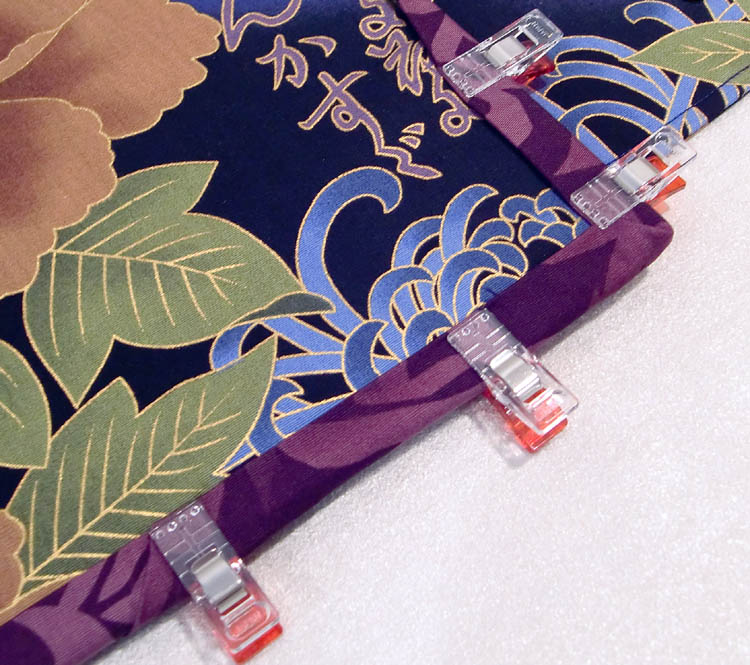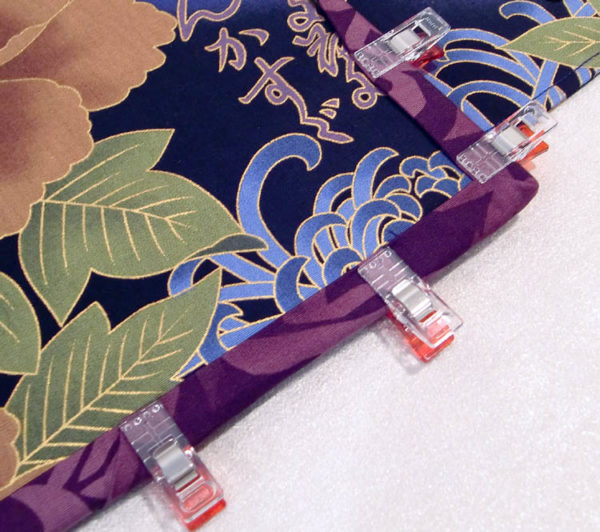 The red part is curved to accommodate the bulk of the binding. So, between the ingenious flat side and the curved red side, your project lays flat against the bed of your machine while you sew. Simply remove the clips as you approach the needle.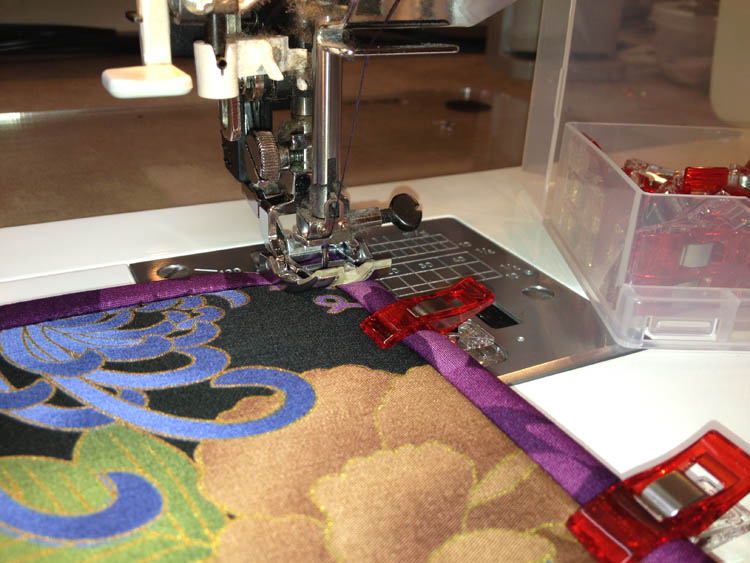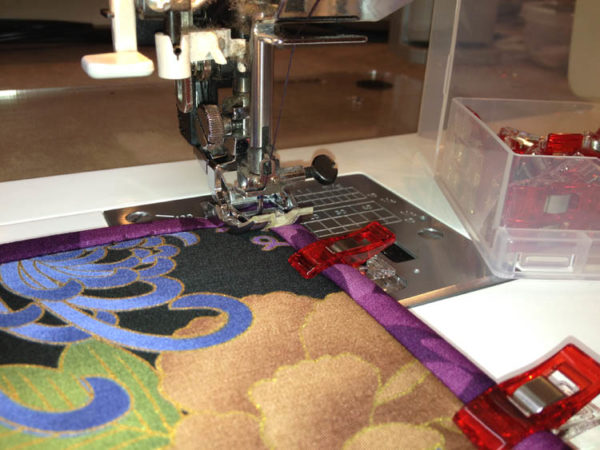 To use, simply attach your binding as usual. Fold binding to the back and clip.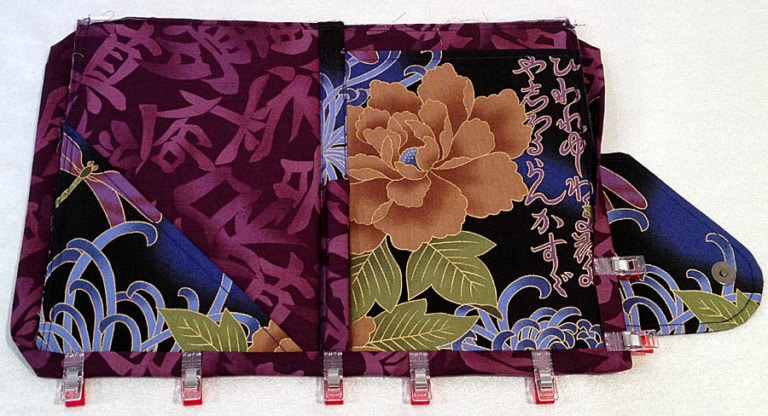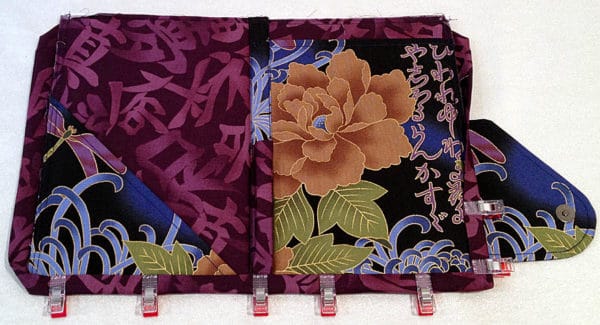 Notice that the clips go just to the edge of the binding. That helps ensure the same amount of binding is turned under.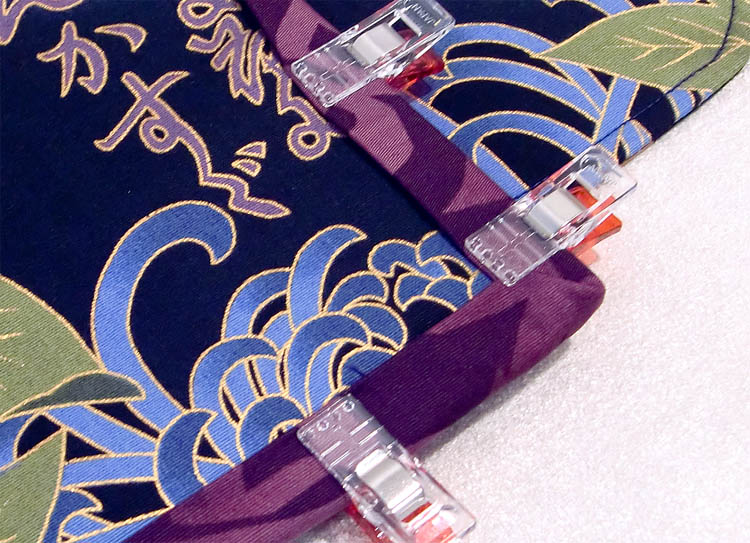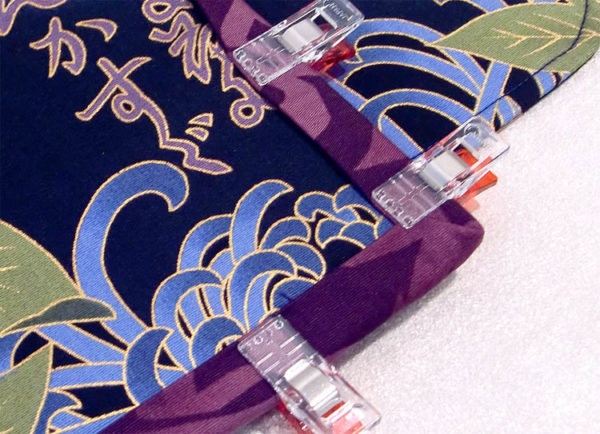 Simply stitch in the ditch by machine, removing clips as you go. Or stitch binding in place by hand.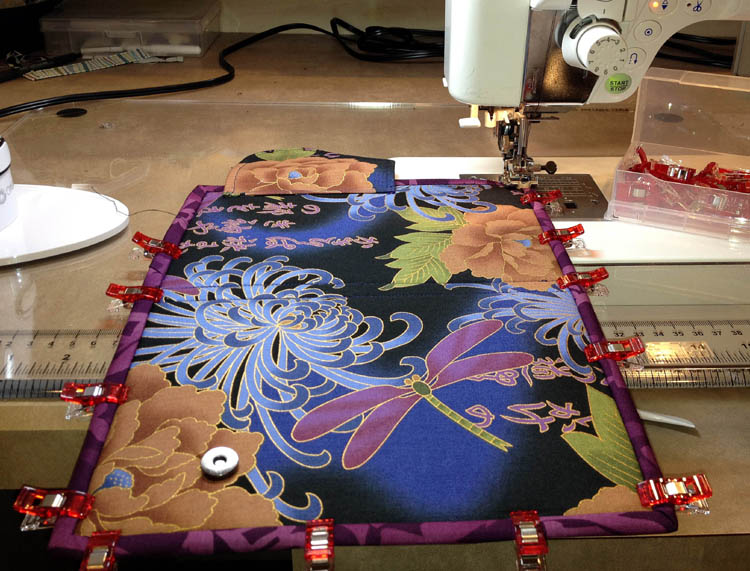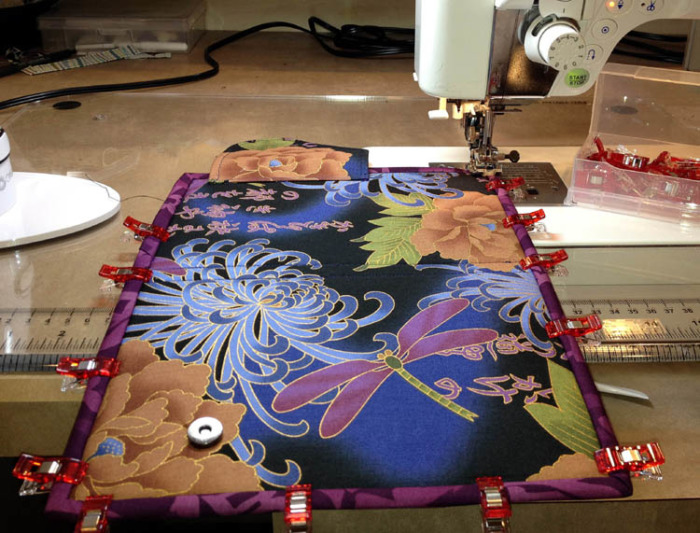 Use Sewing Clips For Bag Projects and Binding
Holding handles in place on a bag project
Keeping layers together while stitching seams
Working with laminates or leathers that should not be pinned
The templates were easy to work with, accurate and gave me confidence. The templates include marks for perfect placement of the snap, spine, etc. Having three sizes on the template with markings for all of these things means less measuring and figuring on my part.
Since all cuts are rectangular/square, this project would be easy to customize for any size fit. I used decor bond med/heavy interfacing, Pellon fusible fleece and Nancy's tablet shapers for structure.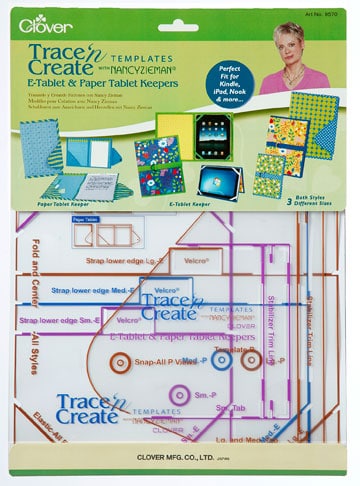 Buy Now
Get the Table Keeper
Resources
Nancy has a great video demo online here: Tablet Keeper Video
Nancy offers a nice step-by-step overview of the project on her blog here: Tablet Keeper Blog Post
See what other bloggers did with their project, list below my name at end of post.
That's Pinterest-ing!
Join me on Pinterest here, remember to 'Follow' me there, and pin this post and pics to your Pinterest boards to save this idea.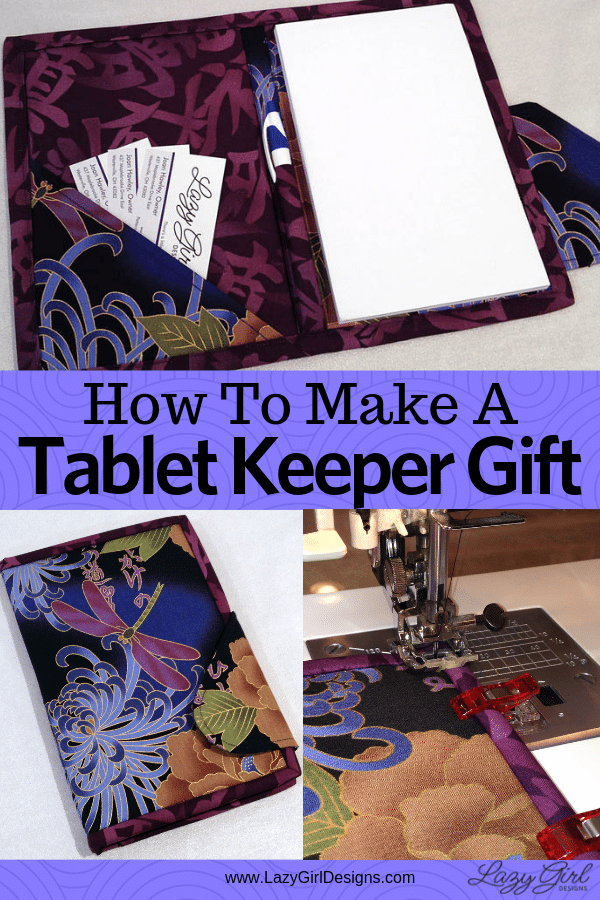 New to our blog? Subscribe to get emails so you don't miss a juicy morsel.
Like and share this post with your stitchy friends.
Join me in the Lazy Girl community on Facebook here: Facebook Lazy Girl
Enjoy!
Joan
Facebook Lazy Girl
Pinterest Joan Hawley
Instagram @JoanHawley
Twitter LazyGirlJoan
Here are a few stops on the blog tour:
Nancy Zieman http://www.nancyzieman.com/blog
Amy Ellis http://amyscreativeside.com/
Vicki Christensen http://www.sewinspiredblog.com/
Joan Hawley http://www.lazygirldesigns.com/blog/
Eileen Roche http://dzgns.com/blog/
Julie Herman http://www.jaybirdquilts.com/
Natalia Bonner http://www.piecenquilt.blogspot.com/
Amy Webb http://www.amylouwhosews.com/
Allie Robertson http://thinkcrafts.com/
Clover Needlecraft provided the Tablet Keeper template set, strap interfacing, hardware, and tablet keeper shapers for this project.