5 Quick and Easy Favorites To Make For Back To School
Back to school sewing patterns to organize backpack, book bag, and locker.
Lazies, Does the idea of back-to-school cause organizational panic? Between new supplies, lockers, and lunches, every year can feel like a fresh new challenge. Well, get your sewing machine out, I've got the perfect bag-to-school pattern bundle to bring some sanity to it all and it's only available here. Want to know what inspired me to create this bundle? It's a great story at the end of this post.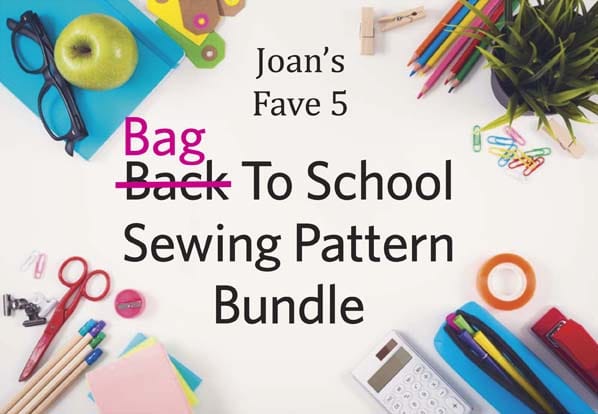 Back To School PDF Sewing Pattern Bundle
I've put together three of my favorite zip pouch patterns plus two bonus patterns at a SPECIAL PRICE of 27% off retail for pencil cases, supply bags, and corralling those wiley cords! Make these for the students in your life including neices/nephews, neighbor kids, or to donate to kids in need. PS: Make a few for yourself, too.
1. Becca Bags Zipper Pouches
Zipper pouches are the new purse and first up is my all-time favorite, the Becca Bags. Becca is a great set of two zipper pouches with wide-mouth openings, ideal to use inside a book bag, backpack, or locker. She even has a little loop in the side seam which you can use to hang the bag from a hook inside a locker.
Becca holds a ton and is perfect for awkward things like a stapler, tape, and small containers of things. Becca has enough room to allow things to settle in and nest together, so she really does hold a lot. Best yet, this bag is based on rectangles so it's easy to modify to make it longer, shorter, wider, etc., so you can easily make her to suit your needs.
Add a Fobio Key Fob to the zipper pull to make an instant wristlet.
2. Banana Bag Zipper Case
Bananas are great in school lunches, but the banana we're talking about is a cute zippered bag. And it's perfect for a whimsical and functional pencil case. Made from just two ten inch squares of fabric and half a zipper, make a few for your kiddos to fill and 'peel' open.
These Banana Bags are so quick and easy to sew that you can quickly make a bunch. Use a coordinated group of fabrics to create a fun set. Look at all of the goodness these cute Bananas can hold.
For more ideas, check out my Back To School board on Pinterest.
3. Bendy Bag Zipper Pouch
Perfect for those bulky cords, adapters, and clunky electronics, Bendy sits up straight and opens wide for easy access. This is the nerdy kind of excitement that I geek-out about: even though the zip does this wild thing and bends over the edge, it zips and unzips in one motion.
Often when a zip goes over a corner and down a side, you have to stop at the 'bend', move your hand to hold the bag at that point, then continue unzipping. I know, it's truly a geeky love of functionality but it translates to a more enjoyable user experience for you.
Bendy unzips to open wide which is really nice to be able to see everything in the bag. When zipped, Bendy bends a little to the back where the grab tab made from the zipper-butt hangs out.
PS: Don't forget to make Sweetpea Pods or Bendy Bits from the Bendy leftovers.
Bonus Organizers To Use Inside Zip Pouches
While those are my favorite back-to-school zip pouches, I want you to try a couple of my favorite organizers to use inside those zip bags.
4. Casey Quick Cases With Hairband Closures
Don't let those pointy scissors run around naked inside a larger bag. They deserve their own protective pouch. Casey Quick Cases are perfect for scissors or to hold smaller groups of things inside zipper pouches or a book bag. What's really cool is the elastic closure – it's a hairband for pony tails. They come in great colors and finishes.
Open Casey and use the hairband to hang the case from a hook or drawer pull.
5. CoCo Cord Kimonos
You know all of those things with plugs, charging cords, and earbuds – oh my! Wrangle and tame all of it with these cord keepers in three sizes, then tuck inside your book bag or zip pouch.
Use the CoCo Cord Kimono to tidy up in your sewing bag, too. CoCo will hold a number of things including a measuring tape, ribbons, or a small quilt binding.
Back To School Bundle Inspriation
I have to tell you, Lazy Girl Patty Wyatt made 18 large Becca Bags and filled them with school supplies for the children at a Battered Women's Shelter. Here are pics of Patty's makes and the supplies. I believe Patty's post to my Facebook group is the most 'liked' and 'hearted' post in our group's history.
Back To School Sewing Pattern Bundle
Patty's generousity and kindness so inspired me that I wanted to do something to inspire you and I put this pattern bundle together.
This bundle of 5 PDF sewing patterns is valued at $41 retail and is available at the special price of $29.95, a 27% savings!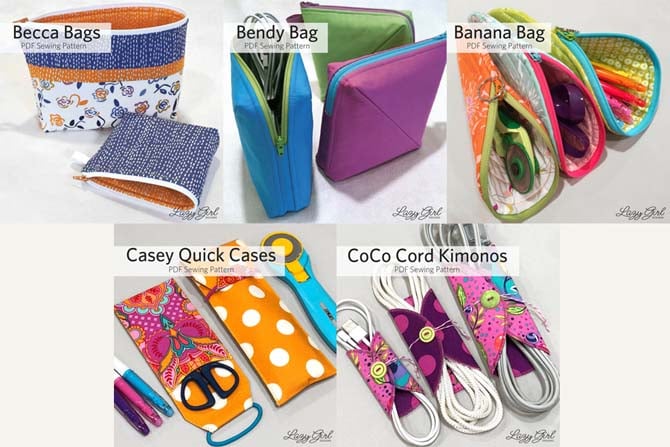 That's Pinterest-ing!
Follow me on Pinterest and pin this post to your Pinterest boards.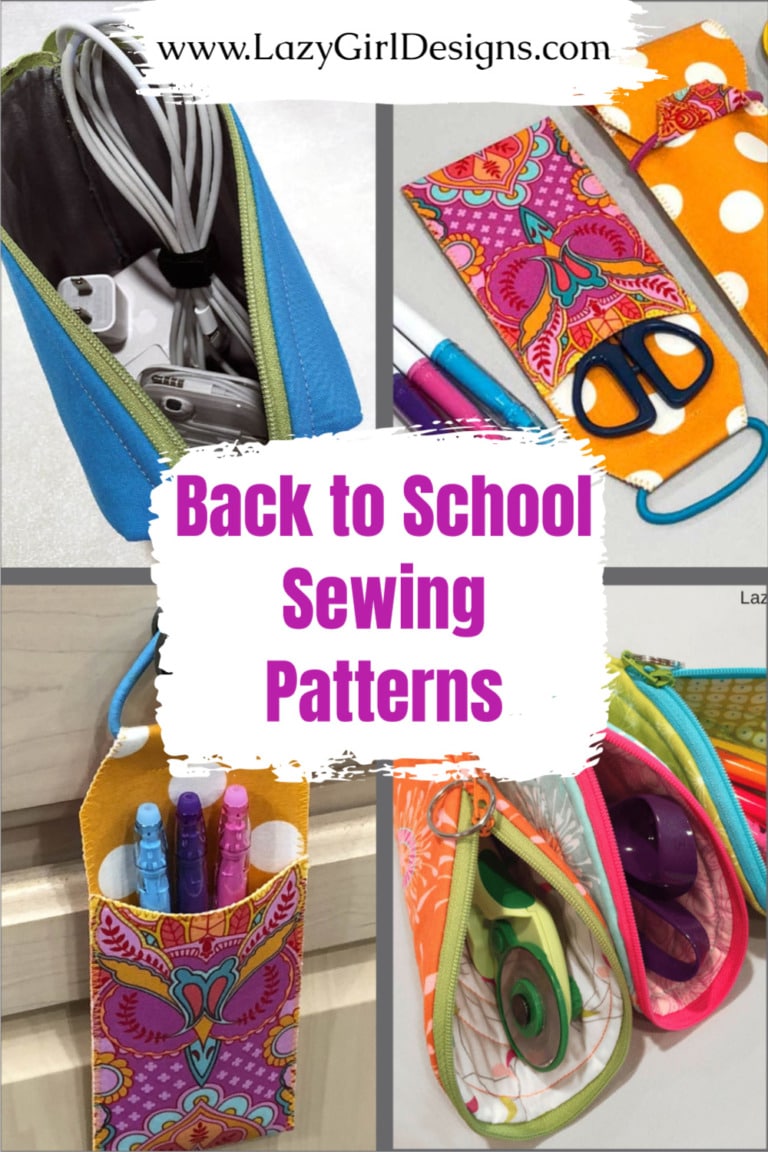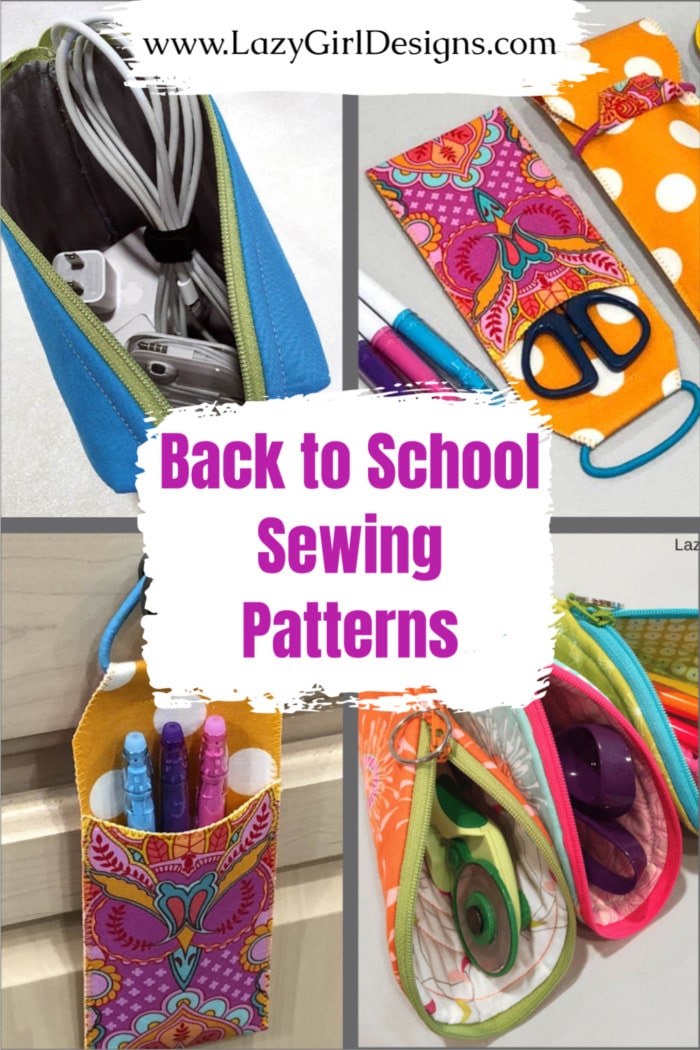 Subscribe to receive emails for my blog and newsletters about new patterns and project ideas.
Enjoy!
Joan
Sew With Joan Online Classes | Joan's Sewing Group | Pinterest
Like and share this post with your stitchy friends.