Bendy Bag Q and A
Lazies, I love seeing the Bendy Bag pics you are posting around the interwebs and dropping me a note with comments/questions, too. Your enthusiasm has made Bendy the top seller out of 15,000+ patterns in the quilt industry this week at Checker Distributors – they supply quilt shops with all the goodies we love. Wow, oh wow – thank you!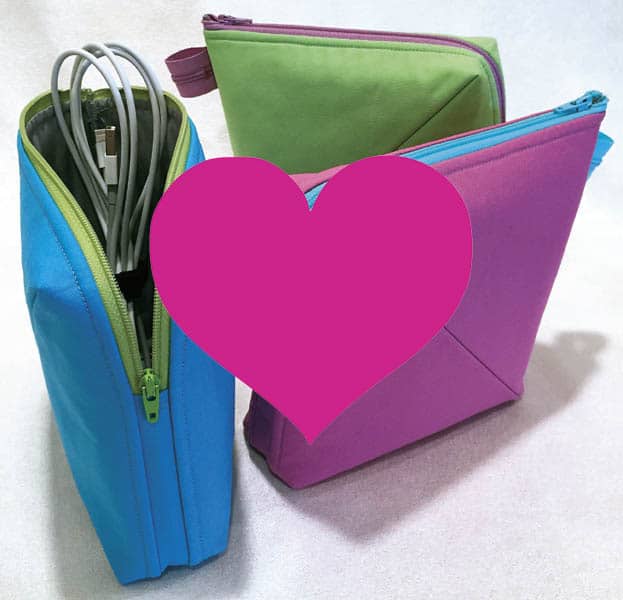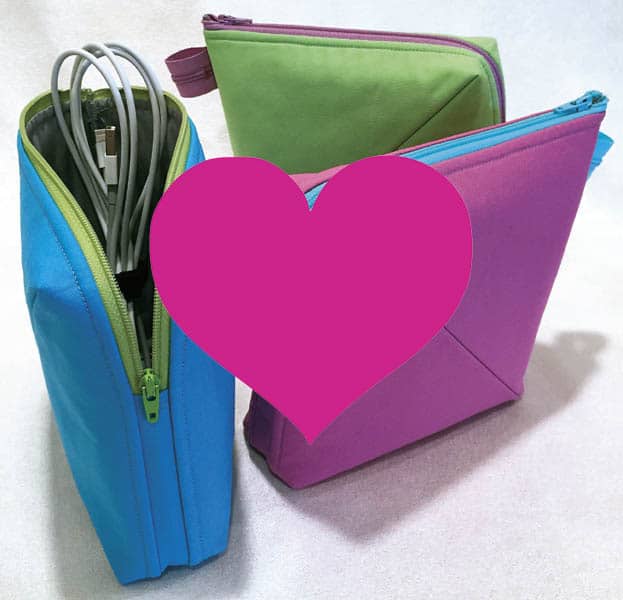 Lazy Girl Designs Bendy Bag, LGD134
So here are a few of the questions I'm getting about Bendy.
Can Bendy be made with other fabrics – oh yes! Bendy suggests using 100% cotton quilting weight fabric. But she is friendly to other fabrics. As with any of my patterns, my primary recommendation is to always make my patterns once the way they are written, then you'll know how to tinker.
Lazy Girl Regina Arlauckas made this fantastic denim and plaid Bendy for hubster Matt. He uses it for computer cords and adapters. Look at that hint of plaid used for the zipper casing up front – nice!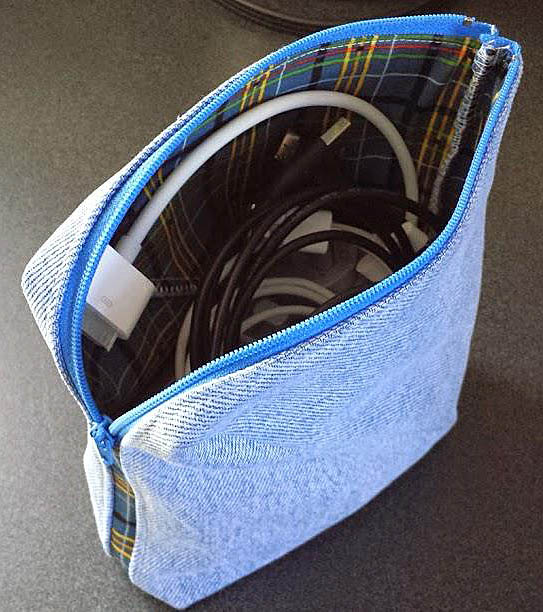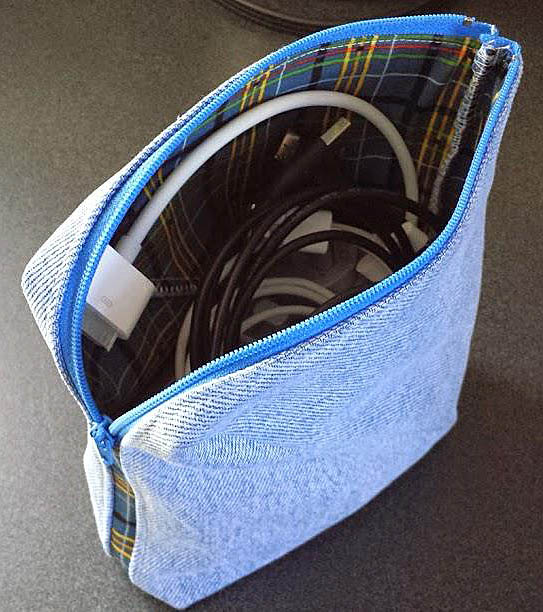 Things to keep in mind are dealing with bulk at the seams and how is everything going to play together when the project is finished. For heavier fabrics such as denim, you might want to skip the fleece and add a lightweight interfacing to the lining for structure. For heavy canvas, you might be able to skip the lining altogether.
How do directional prints work on Bendy – It's a surprise every time. Just keep in mind that the fabric is going to bend with the bag so you will know where things are headed.
Lazy Girl Tricia Patton Scott used a cool print with trees and a small border at top for her Bendy.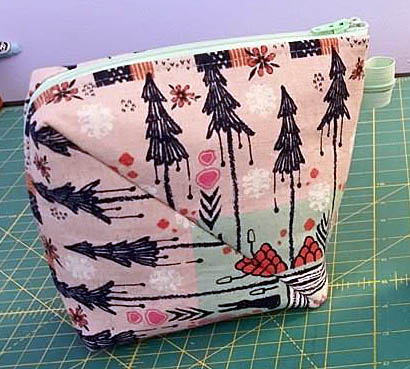 Can I use a separating, sport-weight or metal zipper – I do not recommend any of these. The project calls for stitching over the zipper teeth several times. Polyester, all-purpose zippers are the easiest to work with because of the low height (profile) of their zipper teeth, they are flexible meaning they are easy to work with, and they are easy to cut at the teeth, which we do in this project.
Here's an excellent blog post about zips at Noodle-Head. Bookmark it for future reference.
Anatomy of a Zipper
What is best to use for the batting – You know I could talk about this one for hours. I'll control myself. I like fusible fleece because it adds a nice structure to this project. I use my Dreamy Fusible Fleece from my Sew Lazy line. Anything more firm than that (Stiff Stuff, foam, Peltex) will fight the design, anything softer (batting) might cause it to slouch. Quilting is not needed or recommended for Bendy. The seams are all the 'quilting' needed. None of the Bendy seams are on the edges. The fabrics and fleece wrap around all of the edges. So, think about how the materials will behave together.
You want Bendy to stand up nice and tall like The Cotton Corner shop manager Linda Maether's beautiful Bendy. Gosh that batik is fun!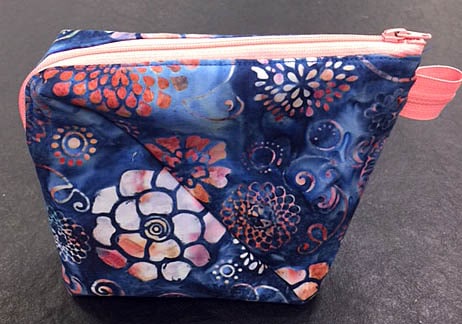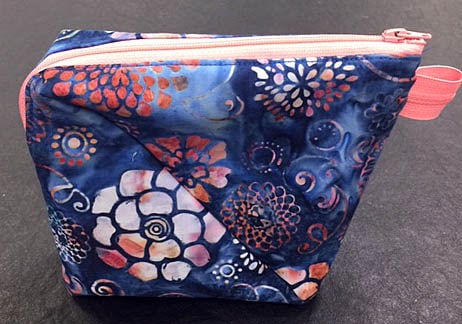 What can I use instead of a zipper for the grab tab – If you don't have enough zipper left over or don't want to use a zipper for the grab tab, here are a couple of options. Grossgrain ribbon, cotton strapping or a small tab made from your project fabric will be great. I recommend a finished piece approximately 1″ wide by 3 1/2″ long. Enough to fold in half and stitch into the seam creating a loop big enough to grab.
Here, Lazy Girl Connie Davies used coordinating and contrasting grosgrain ribbon on her Bendys. Lovely!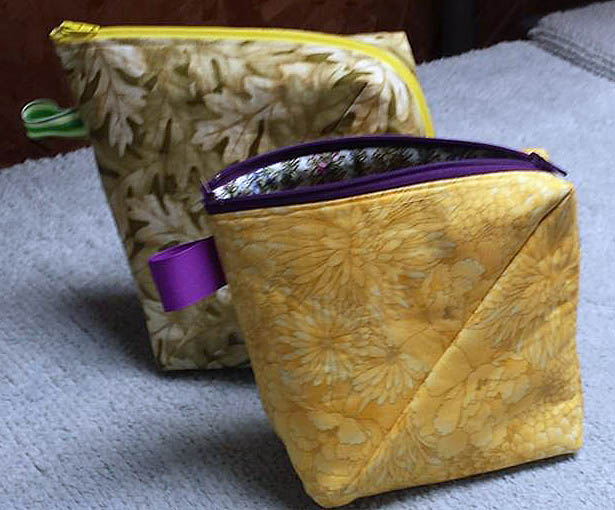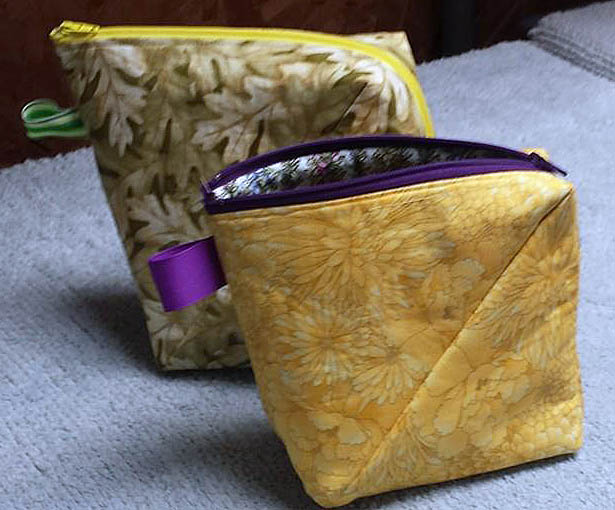 Can Bendy be made without seams showing on the lining – not Lazily. The seams at the zipper are finished, the construction seams are not. The beauty of Bendy's super easy construction means the lining seams are exposed – but they are nice! Don't sell her short if you don't want exposed seams on the lining and you think it will look unkempt.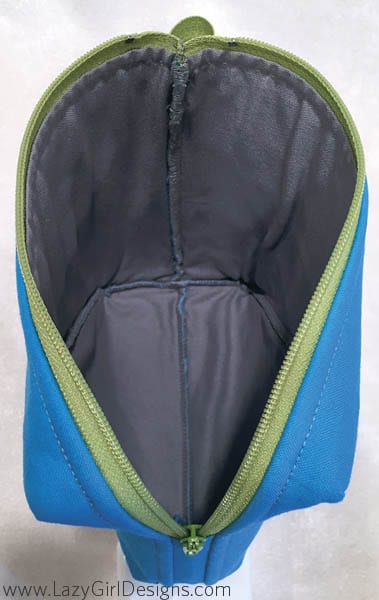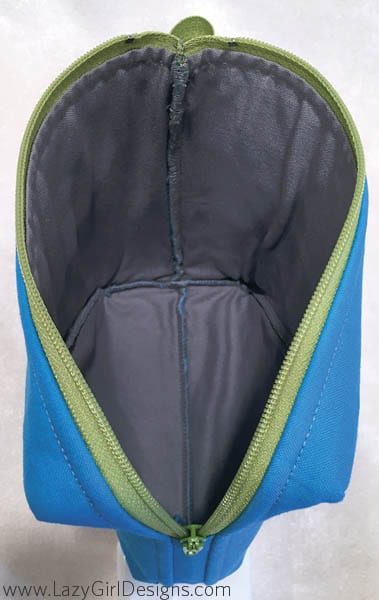 The seams are pressed, trimmed then finished with a tight zigzag stitch. Peeps have told me the seams look serged. The finish is nice and tidy. Use a tight, dense zigzag for a satin stitch finish – that would be awesome! Experiment with color and make it stand out as a design feature. Have fun – get Bendy!
Is Bendy available as a PDF download – YES, get it there!
Can I make it in other sizes – the pattern includes one size to make Bendy 3″ x 6″ x 6″. Make the bag according to the pattern and then you'll have an idea of where and how to change things.
Bendy is in stock at many quilt shops and online stores. Tell your local shop that you want to get Bendy!
Enjoy!
Joan
Facebook Lazy Girl
Pinterest Joan Hawley
Twitter LazyGirlJoan