New: Banana Bag Small Zipper Pouch
Lazies, Wouldn't it be cool if you could unzip a banana? Now you can! Meet the Banana Bag pattern. This unique banana-shaped small zipper pouch is quick and easy to make, perfect for toting, stowing, and gifting. And look what you can use them for: pencils, glasses, sewing supplies, scissors, rotary cutter, and more.
Banana Bags will be available as both a print pattern from your fav quilt shop and a PDF. She'll be here in early May, but you can order your PDF pattern right now. Details below.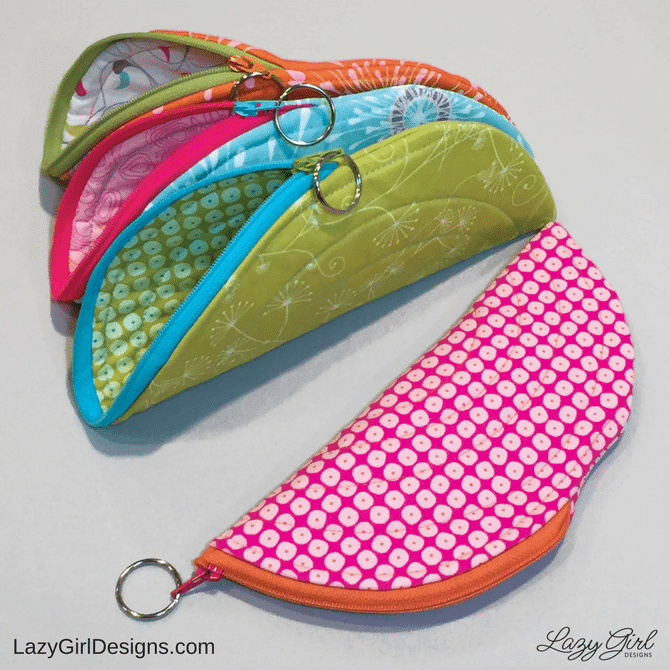 Banana Bag pattern by Lazy Girl Designs item LGD143, available in May.
Read on to meet our new Girl and find out about notions and supplies, too.
Meet The Banana Bag Small Zipper Pouch
Oh my, I am smitten with this new design. She is a fun make, she's as quick as slicing butter. Mmmm, butter. Choose bright color zips and swap the zipper pull. She works with 10″ squares, so she's a great scavenger project, using up leftovers and strays.
The Curved Elephant In The Room
I know what you're thinking: Joan, there is no way I am sewing a zipper on a curve. Yeah, I know. But you also know I have a trick for this. The construction is designed to manage this intimidating element. You will be fine. You can do this!
This small zipper pouch is a skill-builder, filled with a number of my amazing tricks and tips that will get you to the finished line, looking fantastic, and excited to make more. I really think you are going to like this.
Hello? It's For You
Of course I had to try one in yellow with a black zip and yellow pull. Love! When loaded with goodies, the bag puffs up and curves, looking like a banana. (This reminds me of a telephone. Hello? It's for you.)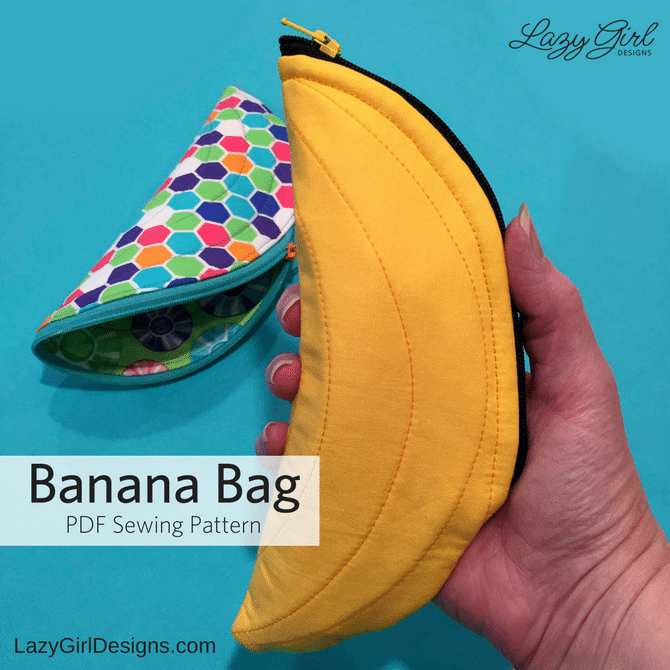 A few simple lines of stitching create the 'banana peel' effect.
As always, I use Aurifil 40wt thread.
This post contains affiliate links. I may make a commission when you order items through those links at no additional cost to you.
Jewelry for the Zipper Pulls?
Use my cool trick for swapping a zipper pull color, just like we do on my other 'One-Zip' designs: Sweetpea Pods, Becca Bags, and Fobio. Then dress that Girl up with a split ring – it's like an earring for your zipper pull. Don't mind if I do!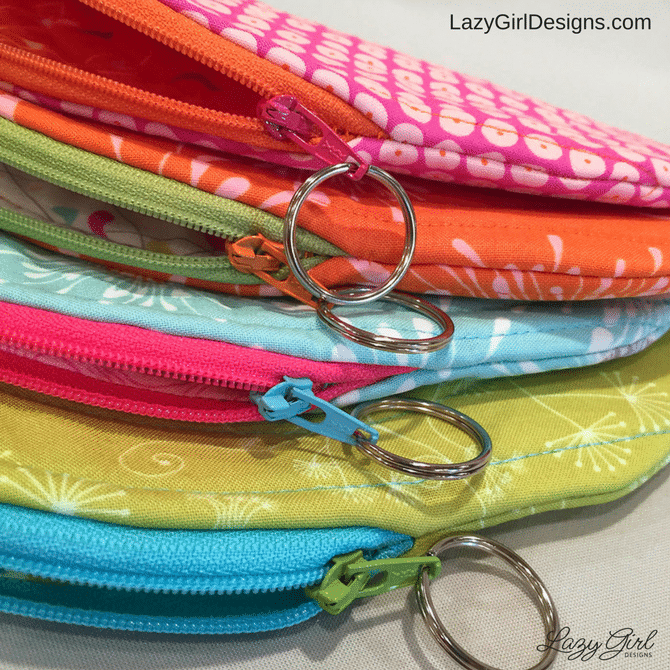 Supplies: Makes One Banana Bag
– Two 10" squares coordinating Fabric. Not ideal for directional prints.
– One 10" square Dreamy Fusible Fleece by Lazy Girl Designs SLG106
– One 22" zipper, polyester, all purpose, YKK brand recommended
– One Split Ring, size 1" from Lazy Girl Designs LGD716
– Optional: Extra zipper pull from same manufacturer if you want to change the pull color.
– Template: 8 1/2" x 10" piece of Template plastic OR trace/copy onto paper.
Construction Notes
– Use 100% cotton quilting weight fabric.
– Straight and zigzag stitching.
– Size 70/10 or 80/12 SCHMETZ Universal or Microtex sewing machine needle.
– Erasable marking tool recommended.
– Follow manufacturers directions for fusibles, press cloth optional.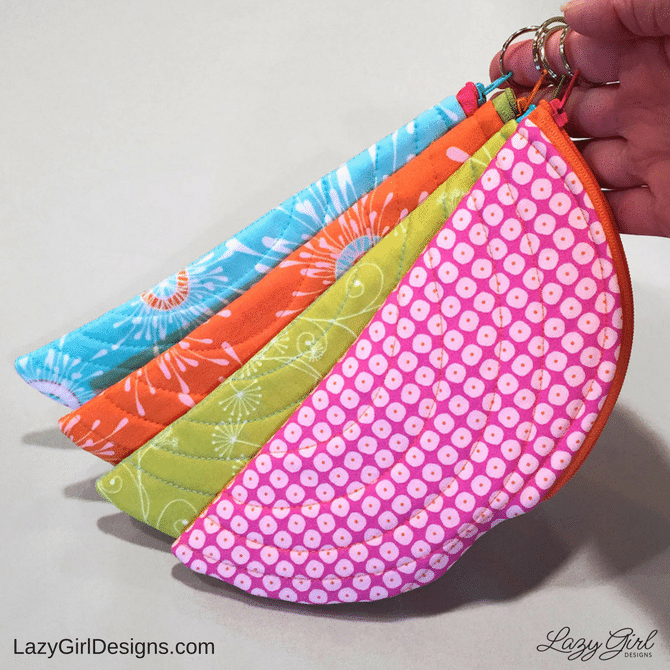 Who knew Bananas came in such gorgeous fabrics?
Notions
Split Rings – Treat yourself to a split ring added to the zipper pull. It makes a great 'grab tab'. Or use the ring to connect to something else, like a backpack, tote bag, or more.
A package of 12 Split Rings, size 1″, are also available. They are item LGD716, suggested retail is $7. Our split rings fit through the hole on the YKK zipper pulls, others don't.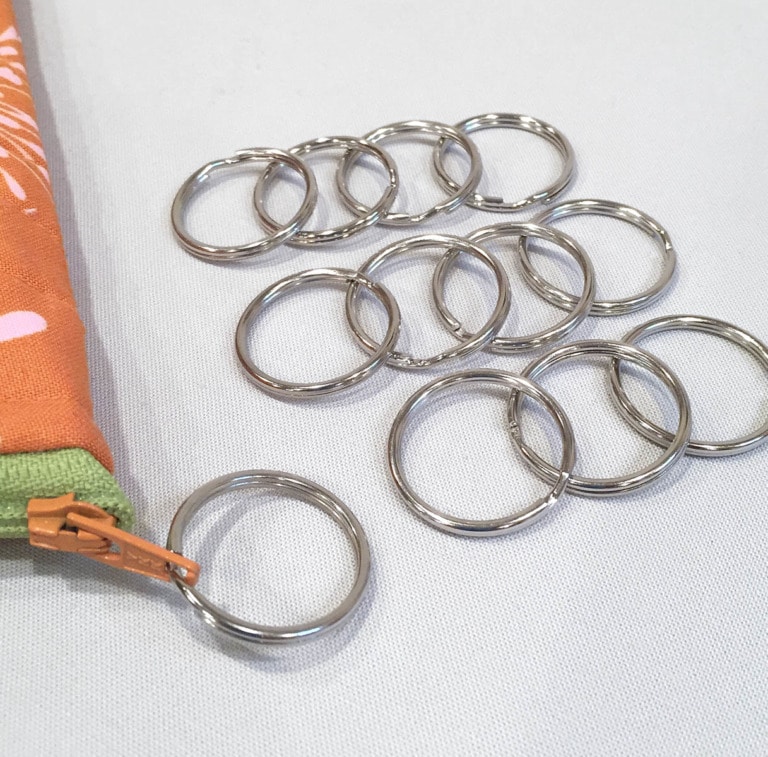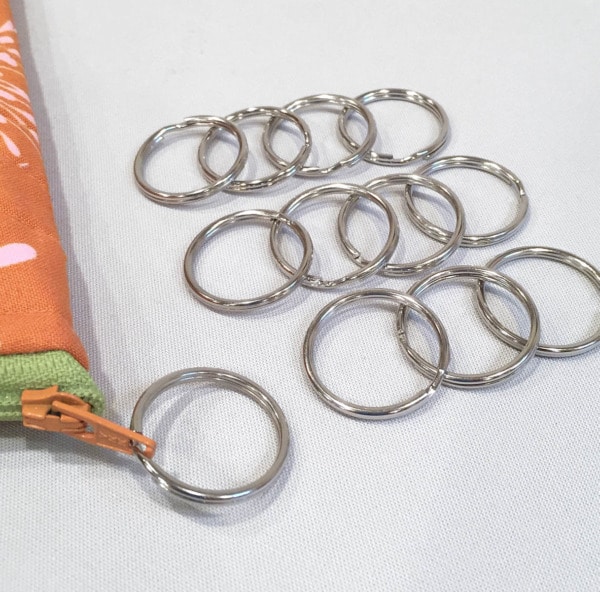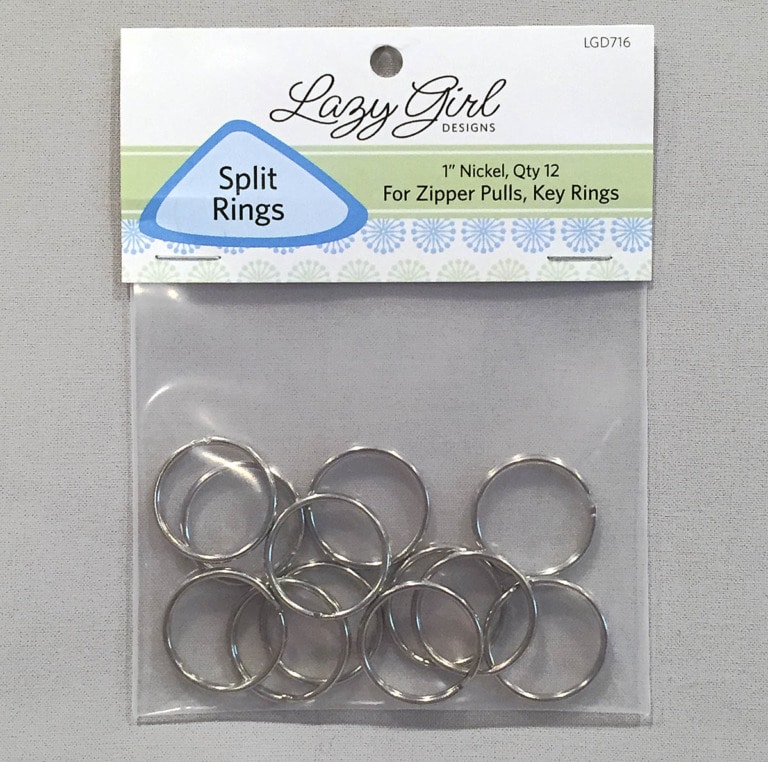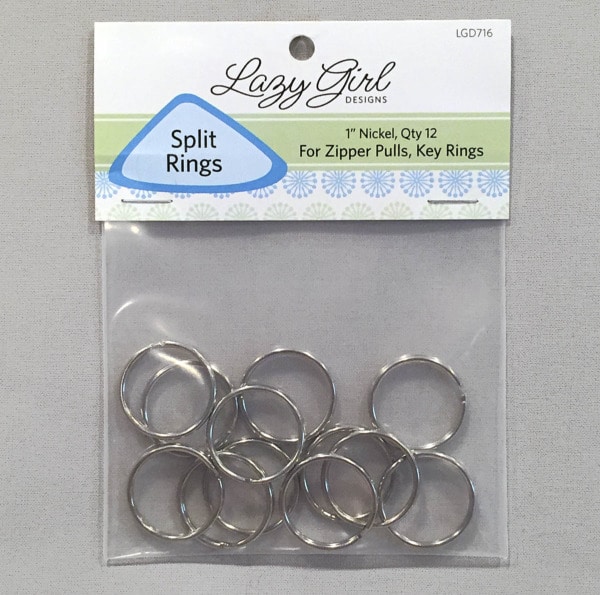 Zippers – You're going to want a few! And extra pulls, too! Each bag uses one half of the zip. Get the extra pulls to use the second half of the zip for another bag. Or keep the second half to use for grab tabs, handles, or piping on other projects.
You'll need 22″ zips. You can get away with an 18″ zip, but the extra length is handy. Buy a bunch, they will work for all of my designs. More zipper info here.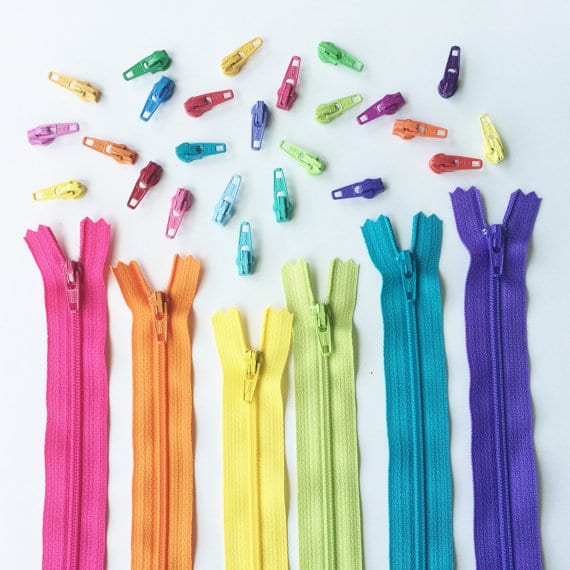 Darn Handy – I recommend the Stiletto & Pressing Tool™ from ByAnnie for this project. The pointed tip has a textured surface, which helps hold things. It's a dream to work with and is handy when stitching the zip in place. Give it a try, you'll thank yourself, and Annie.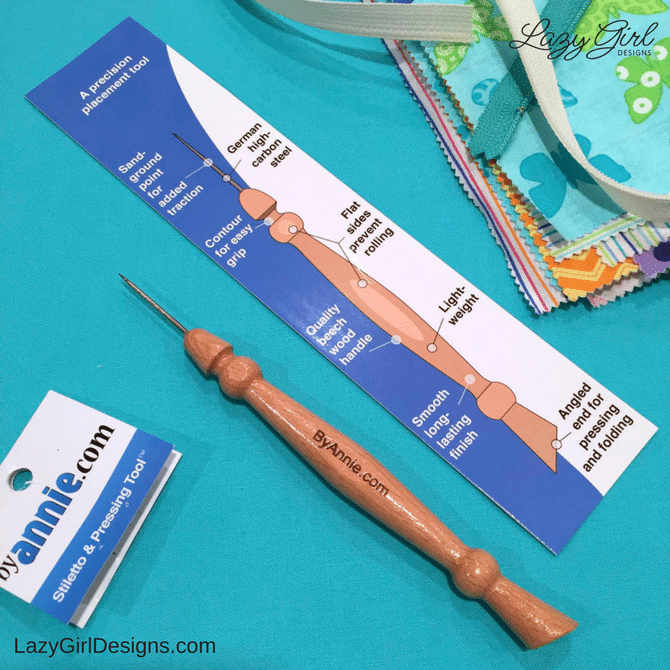 Shops
Order Banana Bags and Split Rings directly from Lazy Girl, or through your fav distributor.
Banana Bag pattern LGD143
Split Rings LGD716
Dreamy Fusible Fleece SLG106 and SLG1061
Order the Banana Bag PDF Pattern LGD143
– The pattern is available now! Order using the 'Buy Now' button below.
Pin This Post
Pin this image to your Pinterest board to save this idea. Follow me on Pinterest here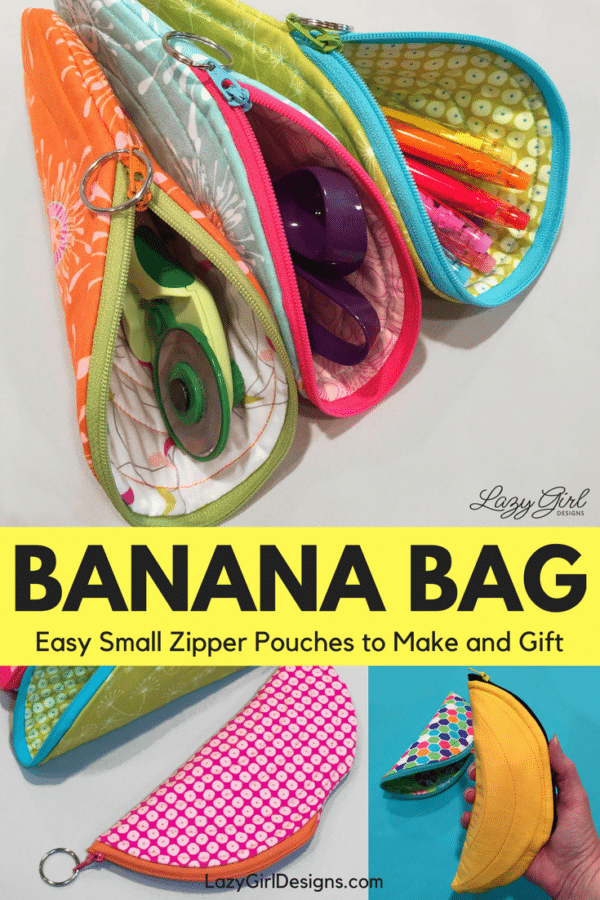 Subscribe to receive emails for my blog and newsletters about new patterns and project ideas.
Enjoy!
Joan
Joan's Sewing Group | Pinterest
Like and share this post with your stitchy friends.