Holiday Stocking Stuffers, Fabulous Finds, And The Best Online Shopping Tip Ever!
Lazies, Today I'm sharing my Lazy Internet stocking stuffers and finds, for successful, affordable, and Lazy, online holiday shopping.
Custom Printed Stuff
First up is one of my new favorite sites Vista Print. Now, you might be thinking, I really don't have much of a need for custom printed anythings. And you might be right. I didn't think I needed anything and I've been using Vista Print for about three months. I am shocked at the number of things I've ordered. It's almost embarrassing. Some business, some personal. However, I've been happy with all of it and I count myself amongst their tons of happy customers.


Coveted holiday pen as stocking stuffers.
I just ordered 10 custom pens as novelty stocking stuffers. Since there are only 10, these are going to be like Wonka Golden Tickets, going to a few lucky recipients. The first recipient will be my friend's hubby, whose middle name might just be 'snarky'. You know the kind. Anyhow, I chose a pen style and typed in my message. The message fields are designed for company name, phone and address. Phooey on that, I typed in my own 'greeting'. I also ordered my custom holiday cards and matching envelopes.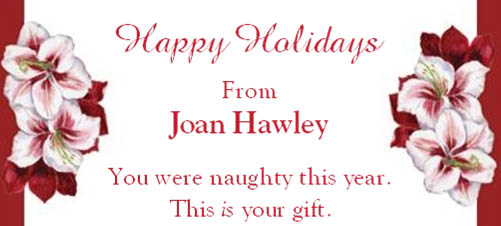 Vista Print offered the background image, I added the snarky text.
Custom Printed Things
You can make your own custom products like t-shirts, mugs, magnets and more at Cafe Press. Simply upload your own photos or custom graphics, apply them to one of their many offerings and then purchase the item. You can set-up a shop so others can buy your stuff, too. You can ship directly to family and friends and include a gift message.
Custom Postage
You can upload a photo or graphic and make your own postage stamps at Stamps.com. Here's a picture from their homepage to give you an idea. I have ordered stamps in the past and they turned out great.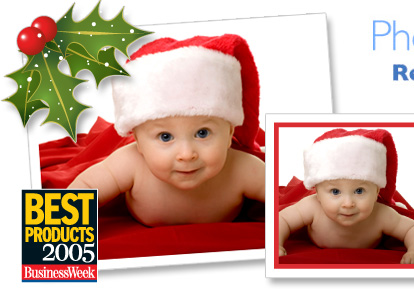 Cute, cute, cute! Image courtesy of Stamps.com.
Best Online Shopping Tip Ever!
I know, that's quite a claim so you can decide for yourself. I heard this tip on the Today show on NBC a few years ago and it has saved me hundreds. Find online coupon codes or promo codes for retailers. Type the name of the retailer and the word 'coupon' or 'promo code' into any search engine such as Google. There are tons of websites dedicated to helping you with your couponing. Surf each site to find a coupon that works for you. Some post codes that you enter during check-out. Some post links that activate the savings and take you to the site.
Here are the online discounts I have used just in the last week:
– 50% off coupon for Vista Print – that was a juicy find. I've used it twice actually.
– 10% off at Target, bought some bedding I needed.
– $10 off at Amazon for a specific grocery brand that I buy regularly. Yes, Amazon sells groceries and will ship them to you!
– 15% off at FTD for two different orders of flowers that I sent recently.
Stuff Your Own Stocking
Don't forget to stuff your own stocking. If you are a lounge-around-the-house type (I lounge-work around the house) and you want some comfy pants, boy do I have a find for you. I like to be comfy, but I want to dress nicer than sweat pants.
I found a knit pant at Target this summer and when I checked out the sales lady said, 'Oh, I love those and have six pairs'. Whew, that's quite an endorsement. I tried them and I L-O-Double-V-E love them. I found them on Target's website, ordered a few pair and they are my winter staple. They were $12 – how wrong could I go?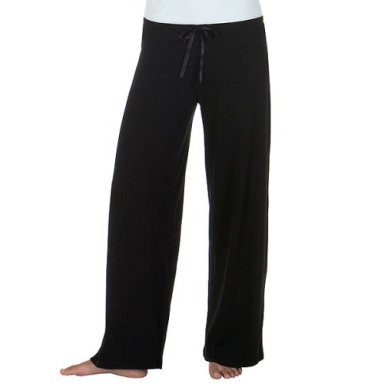 Around the house lounge wear.
And now, these lovelies are on sale for $9 – oh my. If I had more confidence in buying clothes for my girlfriends, everyone would be getting a pair of these. I bought the sleep wear pants that were 100% cotton. Target also has a $7.49 version that has a bit of spandex. I haven't tried those.
Consumer Ratings
Other people's experiences influence my buying. Target and Amazon are just two sites that post consumer comments and ratings for the products they sell. Whether you shop at the site or not, consider the comments as a relevant source of consumer feedback for the items you are considering. Last year I was trying to decide between two models of the same small appliance. I found customer reviews for both, highlighting what the reviewer liked or disliked and it helped me decide.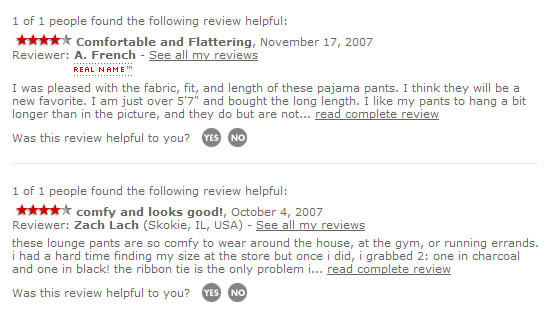 These are two ratings for the comfy pants above. Current, relevant: helpful.
Security Online
When you enter credit card information at a website, make sure the web page is a secure page. Web addresses start with 'http://'. Secure pages start with 'https://'. The 's' denotes a secure page.
User Names and Passwords
This one is mostly a sanity saver for me. Keep a notebook, list, or use an address book, to record your online user names and passwords. I like a Rolodex because I can add cards as needed. An address book is nice because it's alphabetical and will help organize your info. A small spiral notebook or journal is nice, too. Just don't keep the list on your computer hard drive.
May Your Stockings Be Stuffed and Happy Holiday Shopping!
New to our blog? Subscribe to get emails so you don't miss a juicy morsel.
Like and share this post with your stitchy friends.
Join me in the Lazy Girl community on Facebook here: Facebook Lazy Girl
Enjoy!
Joan
Facebook Lazy Girl
Pinterest Joan Hawley
Pinterest Lazy Girl Community
Instagram @JoanHawley
Twitter LazyGirlJoan
Note: This post contains Amazon affiliate links. I make a commission when you order items through that link.