Looking For Some Great Sewing 'Tips'?
Lazies, I'm excited to introduce a new Lazy Girl product today! From time to time I am asked if I have all of my project tips available in a collection. Well, I finally do. You can watch me demonstrate seven of my favorite tips and techniques in our new 'Tips' DVD. Grab a cup of coffee, this is a long one.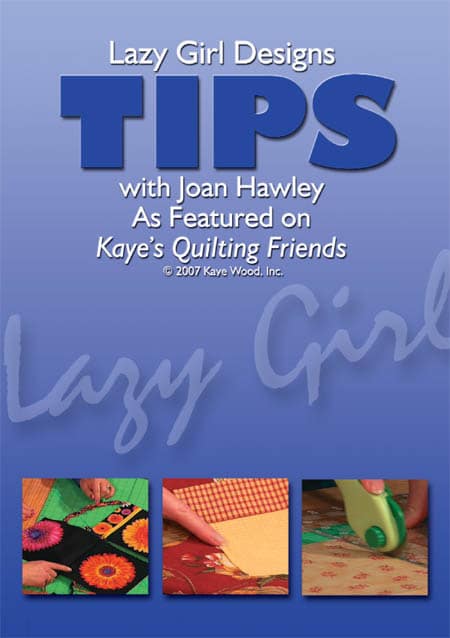 When Kaye Wood invited me to film some tips and technique segments for the 40th season of her show 'Kaye's Quilting Friends', I decided to maximize the opportunity by hand-picking some of my favorite ideas from a number of my bag designs that would then be compiled for this 'Tips' DVD.
Kaye and I taped the segments back in December, 2006, and the 'Tips' DVD is finally here.
The 'Tips' DVD includes: 2 zipper installation demonstrations, 2 surface embellishment techniques, a set of all-purpose tips for turning projects right sides out, tips for cutting oversized pieces, and a wonderful way to make a sturdy shoulder strap for use with big bags. The 'Tips' DVD does not include any patterns or instructions. It is a collection of demonstrations that appear on the show 'Kaye's Quilting Friends'.
Let me walk through each of the segments and tell you more.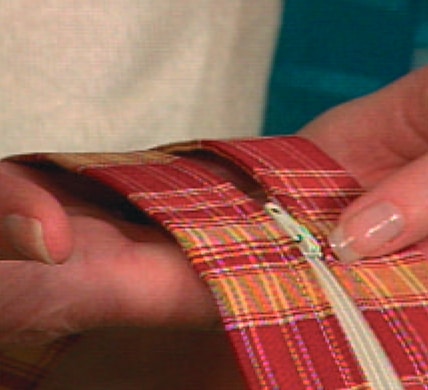 'No-Fear' Zipper Demo
This zipper technique is one of my most popular trade secrets for installing a zipper. This was the first 'cheat' I came up with for putting in a zipper. (I have four zipper 'cheats' but now I respectfully call them 'techniques'.) The 'No-Fear' zipper technique is used in the Towne Purse, My Favorite Duffle Bag, Take Along Bags, Chelsea Tote and the City Bag. Learn the technique once, use it again and again.
'Sew Easy' Zipper Demo
This segment walks through the whole Runaround Bag project and we go step-by-step through installing a zipper the 'Sew Easy' way. The 'Sew Easy' zipper technique is absolutely one of my very favorite myth-busters – that zippers are scary, hard, and a mystery. This is a great technique to get your feet wet and move past your zipper apprehensions. The 'Sew Easy' zipper technique is used in the Perfect Pouches pattern, too.
Embellish With Ribbons
Like many of our designs, the Katy Bags design is perfect for embellishing. In this segment we use a deceptively easy method to create a sophisticated scrappy surface treatment. Use this technique over and over again with a different result every time. This technique was created by my friend Cecile McPeak of Just Another Button Company. Great for using scraps, fibers, fusibles and buttons. I wrote about this technique here.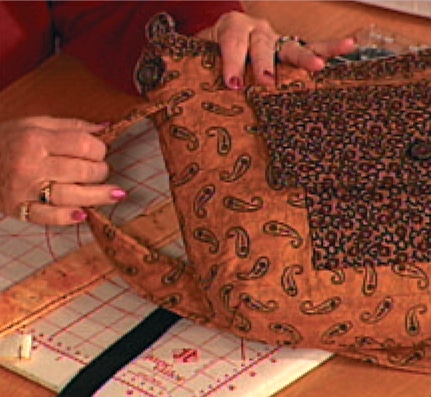 Sturdy Shoulder Strap
Need a great all-purpose method for making a shoulder strap for your bag? I love this double-padded, comfy strap from our City Bag pattern for use with any large work bag. Use this fool-proof method to create a strap in any width or length.
Cutting Oversized Pieces
Many of our projects use large rotary cut pieces. In traditional cutting, (where the strip you are cutting is under the ruler), you have to combine rulers to cut for the dimension needed for large pieces. That can be cumbersome and not very Lazy. In this segment, I show you how I easily cut large pieces according to the measurements on the cutting mat. Ruler measuring is certainly more accurate than mat measuring. No question about it. However, our projects do not require the same precision as quilt piecing. Therefore, mat measuring and cutting is perfect for the large simple pieces needed for our designs. I also show a quick fold-n-press technique used to center pieces. I demonstrate this technique using layers of a bag project, but you can use it to center the layers of a quilt.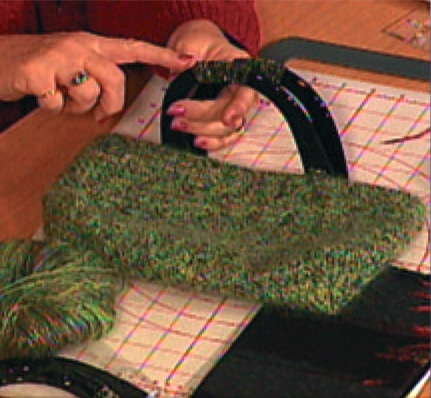 Mock Felted Purse
See how easy it is to achieve a felted bag look without knowing anything about felting. Combine your love of knit or crochet with a little bit of sewing to see one of my most popular embellishment techniques come alive on our Chloe Handbag. Don't feel like creating a knit or crochet piece of your own? Use an old thin sweater or other garment. Great for use on projects that can accommodate a slightly thicker 'fabric'. I wrote about this technique here.
Tips For Turning
Lots of our designs are constructed by sewing fabrics right sides together and then turning through an opening at a seam. When you turn things right sides out, the seam areas want to buckle in toward the project and the opening could use some tender loving care to make it look nice before being sewn closed. Well, I have an absolutely killer tip for getting that opening to look perfect after turning things right sides out. It's juicy-good, I assure you. I also share my tips for addressing the buckling issue, turning/pressing a perfect tube, turning corners well and pressing a finished bag. Demonstrations use parts and pieces of the Gracie Handbag, Summer Tote, City Bag and Chelsea Tote.
Some comments about 'Tips':
'I just love it, what great tips. I don't get Kaye here unless I use the Internet to catch stuff here & there. I have never seen any of these tips. So many people are aways asking about the little tips. I never knew about the crochet bag (very, very cool, gotta do it!) & the folding of the pocket before turning inside out, never thought of that, smacked myself in the head!'
– Penny from The Cotton Vault
'I liked it. I learned from it. I really appreciated the Tips for Turning. I think 'Tips' is a good solid piece of work that will help out a LOT of people. It's evident how much time and effort you've put into thinking about your craft and your end users.'
– Julie from PA
'I love seeing two zipper techniques demonstrated! And the surface embellishment tips can be used on lots of projects. I like having all of this information in one place.
– Carolyn in WY
'I love the 'Tips' segments. Yesterday I put together a simple quilted panel for Quilt Market. Twice I was reminded of the DVD. I used Warm and White cotton batting, and relished how I can smooth the fabric in place and it will stay. This way I needed so many fewer pins for basting and everything stayed put during free motion quilting. I also used the "fold in quarters and crease to find the center" tip to line up the top, batting and backing of my panel. That is so much faster than measuring, especially when close enough is good enough. When I was watching the DVD you talked about both those things, but I didn't have an "Aha!" moment, as they weren't new to me. But as I used them yesterday I thought about how useful both things were, especially for an inexperienced sewer, but also for me, an infrequent sewer. I'm not so sure I would have remembered to use the techniques if I hadn't just watched the DVD. It was a nice reminder. The tips show you as creative and innovative, and all the bags look like "must do" projects. I'm flattered that you liked my 'stripping' technique enough to inspire the 'Embellish With Ribbons' segment!'
– Cecile from Just Another Button Company
Thanks, Joan, for sending me a preview copy of the 'Tips" DVD to see how I could use it in my quilt shop. We demonstrate your bag and purse patterns in the store for our customers.

I finally got a moment to watch it. I thought that I knew everything about the world of lazy! The DVD is great. Our customers will be able to see much more detail than we can give in a quick demo. I am sure we will sell many of these to people who want to take you home!

I am stopping today to pick up one of those portable DVD players. You will be playing in our "Lazy" Bag Boutique!
– Janet Lutz, Calico Gals Quilt Shop
Watch the DVD on your computer or your TV. Simply select a segment from the title menu. Each segment is filled to the brim with my running commentary as I describe what I'm doing, why I'm doing it, and how you can use it. And since these are segments from Kaye's show, you get a hearty helping of me with a nice side of Kaye in each tip.
And last, and certainly least, the case is cute. In fact, it's a quarter inch of cuteness. The standard DVD cases are 1/2″ thick, the case for the Tips DVD is a 'slimline' case that's 1/4″ thick. I think that makes it a measuring tool, don't you? If you're ever in a pinch for a quarter of an inch…grab your 'Tips' case/measuring guide. Yes, I know that's a stretch.
Availability:
'Tips' is available now, but it's so new that it's not in stock at most places yet. Contact your local quilt store and let them know you'd like to get one. Suggested Retail: $24.95, item #LGD904
Notes:
– Running time approx. 53 minutes.
– Each feature on the 'Tips' DVD is shown using sewing and quilting patterns from Lazy Girl Designs.
– 'Tips' DVD does not include any patterns or project instructions.
– 'Tips' DVD is for informational and entertainment purposes only.
– Segments as featured on 'Kaye's Quilting Friends'.
– DVD package/case: 5 3/8″ W x 7 1/2″ H x 1/4″ D
Enjoy!
Joan