Tutorial: Box the Bottom Corners of a Bag


Lazies, I've put together a picture tutorial on how to easily and accurately box the bottom of a bag. A box bottom means the bag has a flat bottom, making it easier to hold wide things or rest comfortably when you set it down. This is an easy technique which you can use on lots of designs.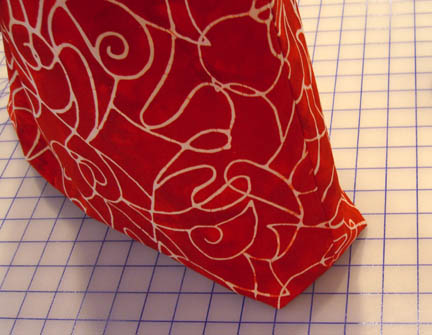 Lazy Girl Designs 'With Love Tote' with a 4″ deep boxed bottom.
Last week I announced our Make2/Give2 event for September which features our With Love Tote bag. You can print the pattern from last week's post. The pattern has been updated to include directions to make a flat bottom bag by 'boxing' the bottom corners.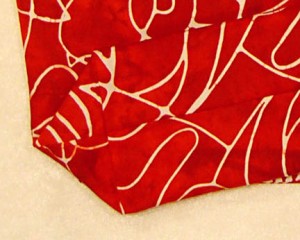 Click the picture to enlarge. This is a view of the bottom of the bag.
The side seam (left) and bottom seam (right) meet and a seam is stitched across these seams to give the bag dimension.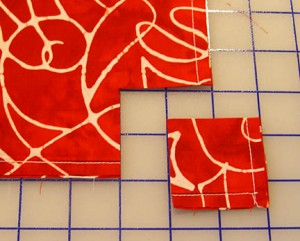 – Cut a square from each bottom corner.
This is a 2″ square which will result in a 4″ deep boxed bottom.
The size of the cut square will determine the depth of the bag when boxed.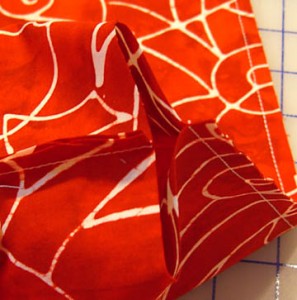 – Separate the layers of the bag at the cut corner.
– Pull the side seam and the bottom seam together, matching the seams, as shown here.
– Stitch closed.
– For extra strength, reinforce by stitching again.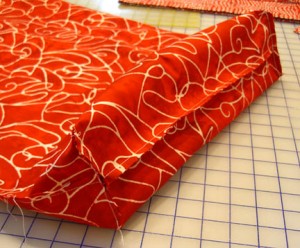 The bottom of the bag takes shape as two corners are boxed.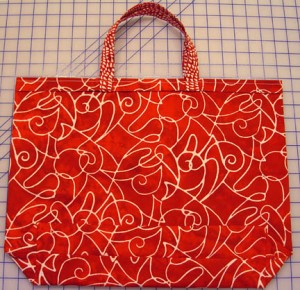 Things to keep in mind
Cutting the corners will affect the width and height of the bag. The result will be a bag that is narrower across the bottom, and shorter top to bottom.
– Width of the bag across the bottom: 19″ minus 4″ (2″ for each corner), leaves the width at 15″ wide.
– Height of the bag at the side: 16″ minus 2″, leaves a height of 14″.
If you take too big of a cut at the corner, your bag might have odd finished dimensions. The larger the corner cut, the narrower and shallower the finished bag will be.
Some examples of corner cut sizes and finished bag sizes for this project
1″ corner cuts = 17″ wide x 15″ high x 2″ deep (wide, tall and skinny depth)
3″ corner cuts = 13″ wide x 13″ high x 6″ deep (square and deep)
4″ corner cuts = 11″ wide x 12″ high x 8″ deep (taller than wide and too deep)
You can see from the math that small changes in the size of the cuts make a big difference in the finished size of the project. If you are unsure of how big to cut a corner to box the bottom and give your bag depth, start with a smaller cut, sew, then see what you think. You can always cut more off and stitch again.
Remember to box the cover and the lining so everything matches nicely. Refer to the With Love Tote pattern to see where and when in the project to do this.
Enjoy!
Joan


Leave a Lazy Comment
58 Responses to "Tutorial: Box the Bottom Corners of a Bag"