Nancy Zieman Hobo Tote Blog Tour and Giveaway
Lazies, Oh my goodness, is this bag not gorgeous or what? Today we are part of Nancy Zieman's Hobo Tote blog tour.  First off, the bag is the Hobo Tote design by Nancy Zieman for Clover's Trace 'n Create template line of products. The fabric is 'Piper' by Dear Stella. It's as scrumptious as can be.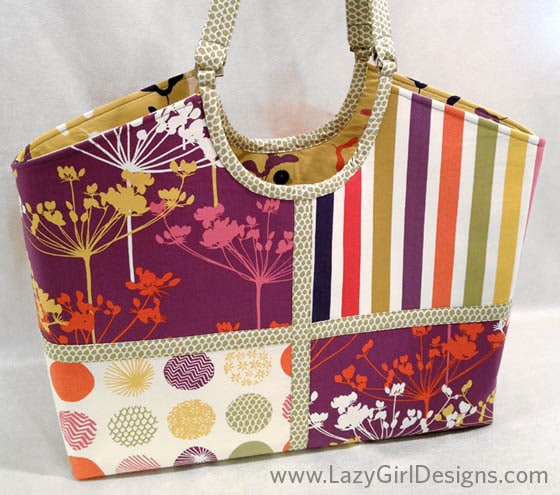 Trace 'n Create Templates
So, Trace 'n Create – what does that mean? The tote is laid out on templates, which you trace around in order to mark and cut each piece. All the pattern piece information is located on the templates: size/shape, pocket pieces, pocket separations, placement for magnetic snap and purse feet, etc. Here I am using Nancy's awesome water-erasable marking pen to trace and mark info for my project.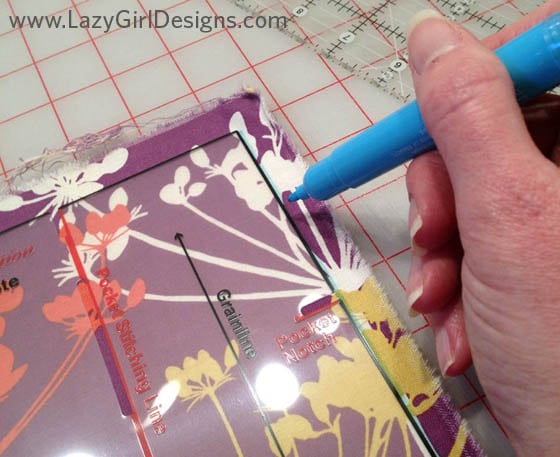 Sew Lazy Interfacing
Lazy Girl is a proud co-sponsor for this tour, supplying each participant with our Sew Lazy Stiff Stuff and Face-It Soft interfacings to make a Hobo Tote. These interfacings are now available at Nancy's Notions, links below.
Face-It Soft
Our Face-It Soft fusible lightweight interfacing is perfect to give any fabric a little more substance. I used it to support the outside and lining/pockets of the Hobo.
Stiff Stuff
Our Stiff Stuff firm sew-in interfacing offers great stand-up-i-tude, even in this large tote. Here's a construction tip. After assembling the panels to create the front/back of the bag, place a front/back on top of Stiff Stuff and baste close to the fabric edge. Then cut away the extra Stiff Stuff. The Stiff Stuff is guaranteed to be a perfect size and fit for each panel. Awesome!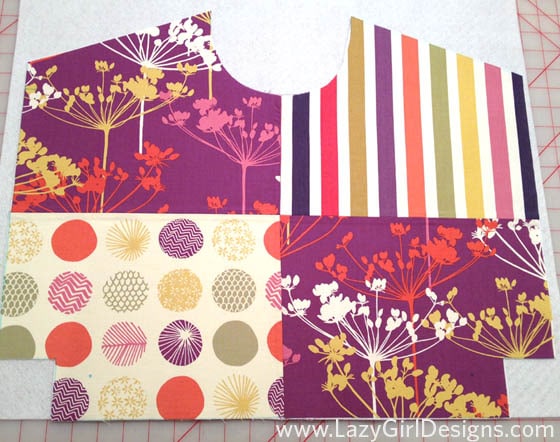 Purse Feet
Purse feet are an elegant finishing touch to our bag creations. Nancy's selection of purse feet from Clover come in a couple of sizes and finishes. The feet were easy to install and look great on the bag. More about installing purse feet in a future post!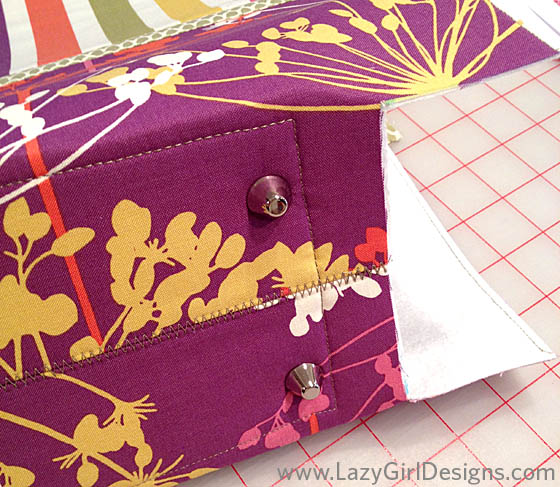 Inside the Hobo Tote Bag
Here's a look inside my bag with more beautiful Piper prints from Dear Stella! The Hobo Tote has pockets all around and a nice clean finish. That's a 3/4″ magnetic snap closure by Clover. Snaps come in all sizes and the size relates to their strength. A larger magnetic snap is stronger than a small one. Try to choose one that isn't too strong or too weak for your project.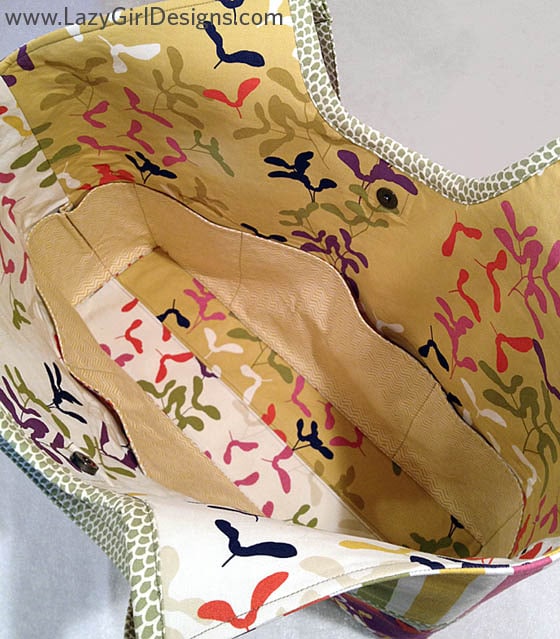 Bag Size
The Hobo Tote finishes to approximately 16″H x 18″W x 5″D.
Hobo Tote Blog Tour
The tour started February 19, be sure to visit each and every blogger's site to see their Hobo Tote creation.

February 19       Nancy Zieman                  nancyzieman.com/blog/
February 20      Jenny Gabriel                    stitchinjenny.wordpress.com/
February 21       Fran Ortmeyer                  cloverusa.wordpress.com
February 22       Tori Thompson                totallystitchin.net
February 23       Carol Porter                       cloverusa.wordpress.com
February 24       Jina Barney                       jinabarneydesignz.blogspot.com
February 25        Joan Hawley                      LazyGirlDesigns.com/blog – You are here!!!!
February 26       Julie Herman                     jaybirdquilts.com
February 27       Eileen Roche                      dzgns.com/blog
February 28       Cindy Cloward                   rileyblakedesigns.com/blog
Giveaways to the Hobo Tote Blog tour
Clover Needlecraft will be sending three random winners a Clover Prize Package valued at $75. Names will be announced on Nancy's Blog on March 1, 2013.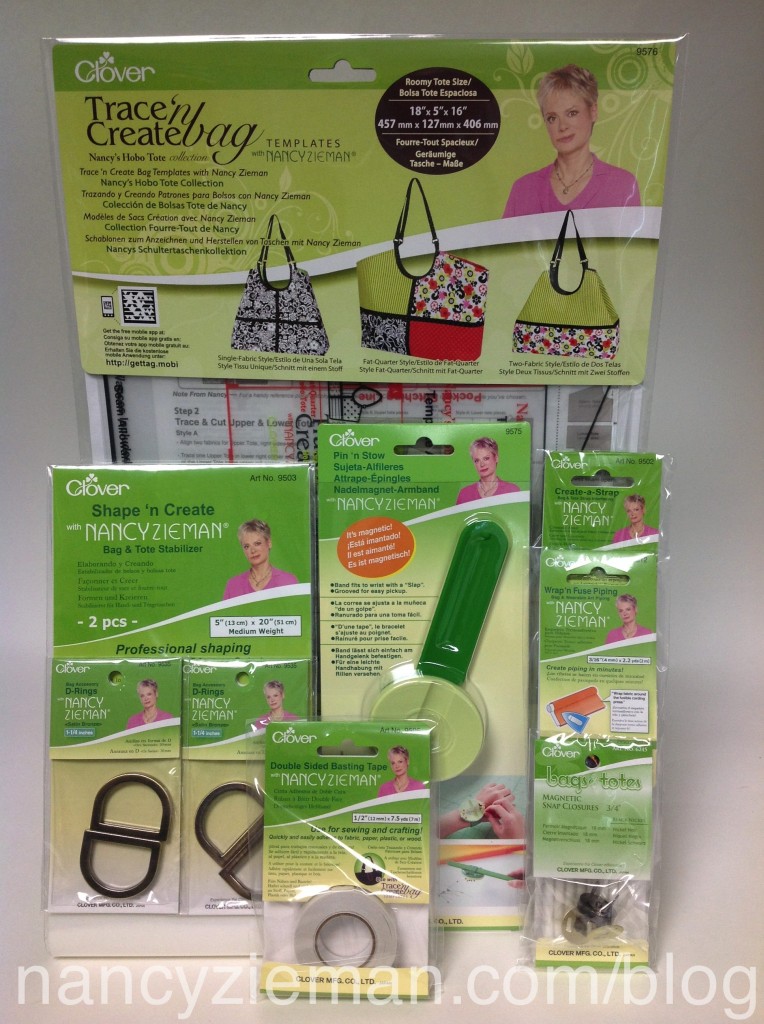 Here is what's included in each of the three Clover prize packages:
Trace 'n Create Bag Template—Hobo Tote Collection
Shape 'n Create Bag Stabilizer
Pin 'n Stow Magnetic Wrist Pincushion
Satin Bronze D-Rings
Double-Sided Basting Tape
1″ Create-a-Strap
Wrap 'n Fuse Piping
Magnetic Snap Closure
Lazy Girl Designs is giving away a Lazy Girl Interfacing Pack that includes 1-1/2 yard cuts of Stiff Stuff and Face-it Soft ($17 value) to three additional random winners.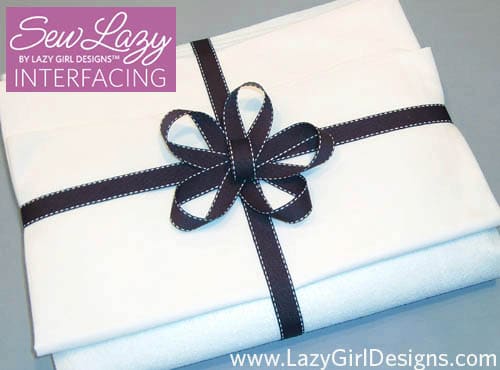 Enter The Giveaway at Nancy's Blog
For chances to win one of the six prizes, please post comments on Nancy's blog post here: Nancy's Hobo Tote Blog Tour. (Yes you can enter once a day). Share your thoughts about the HoboTotes you see on the blog tour and/or about the Hobo Tote you're planning to make. Six random winners will be selected and posted March 1 on Nancy's blog.
Thank you Nancy Zieman for inviting me to join the tour and thank you to Clover Needlecraft for partnering with me in sponsoring the Hobo Tote Blog Tour! Thank you to the rest of the tour participants for trying our Sew Lazy interfacings on your beautiful Hobo Totes! Thank you Dear Stella for the beautiful Piper fabric!
Click here to enter The Giveaway at Nancy's Blog
Enjoy!
Joan
If you're new here, subscribe to our blog feed to keep up with the latest in Lazy.
Join the Lazy Fun at Facebook
Leave a Lazy Comment
35 Responses to "Nancy Zieman Hobo Tote Blog Tour and Giveaway"
Trackbacks/Pingbacks