Choosing A Ready-Made Shoulder Strap
Lazies, It's time to choose a fabulous and functional accessory for our newly finished Miranda Day Bag. One technique in our last post on this project had us squinting. Today's technique is an eye-opener.
Shown here is a close-up of some ready-made handle options and our Miranda which is made up in Sketchbook fabrics by Yolanda Fundora. The colors match better than is shown in the picture. They coordinate well enough to work with this design.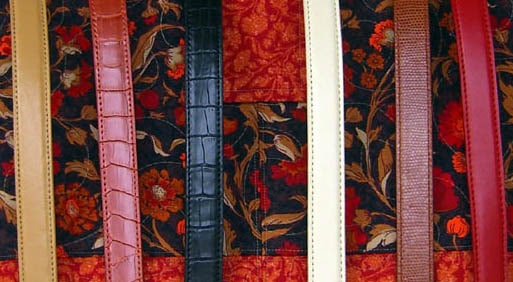 All six shoulder strap options are from the Exclusively You product line by Leisure Arts. You might remember that I fell in love with these products while writing my Bold Bags book for Leisure Arts.
We have six viable options. Different colors, some different textures. But how to choose? I posted a couple of pics at Facebook and asked for feedback. Facebook Lazies – thank you for your votes and comments!
So, it's back to our auditioning techniques. I gathered everything up and I hung it all on the front door out of direct sunlight. My neighbors must think I'm crazy. I took a few pictures, stared at things on the door for a bit, took a break, I'm sure coffee was involved, but I still couldn't decide. I needed help.
Listen to your camera
The wild-card auditioning technique for today is the addition of the camera. We've used it before, but today it was the decision maker for me. The camera sees things differently than I do and I need to pay attention to what it tells me.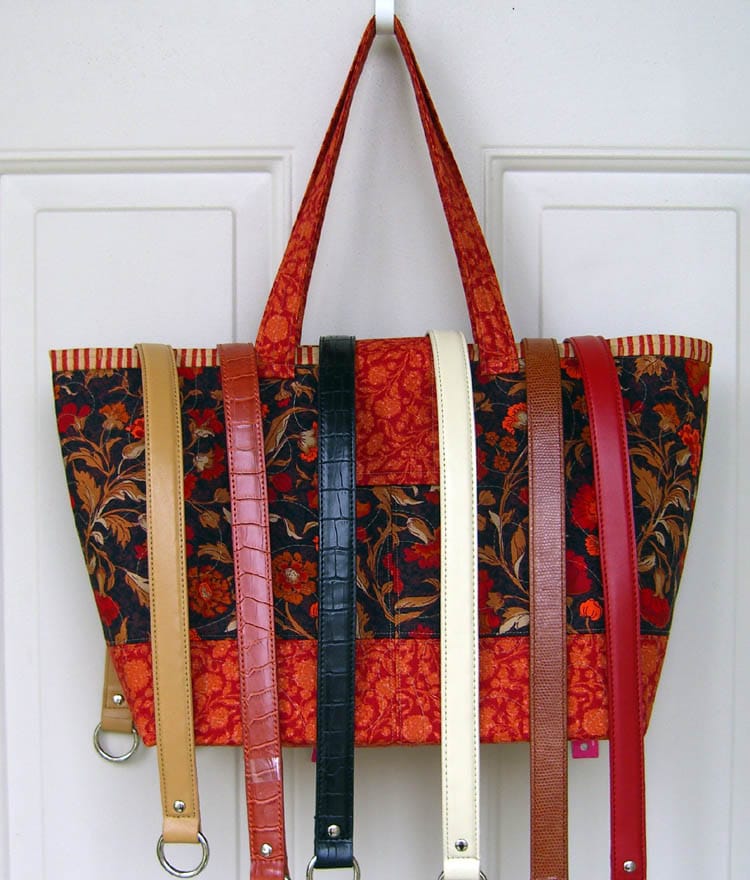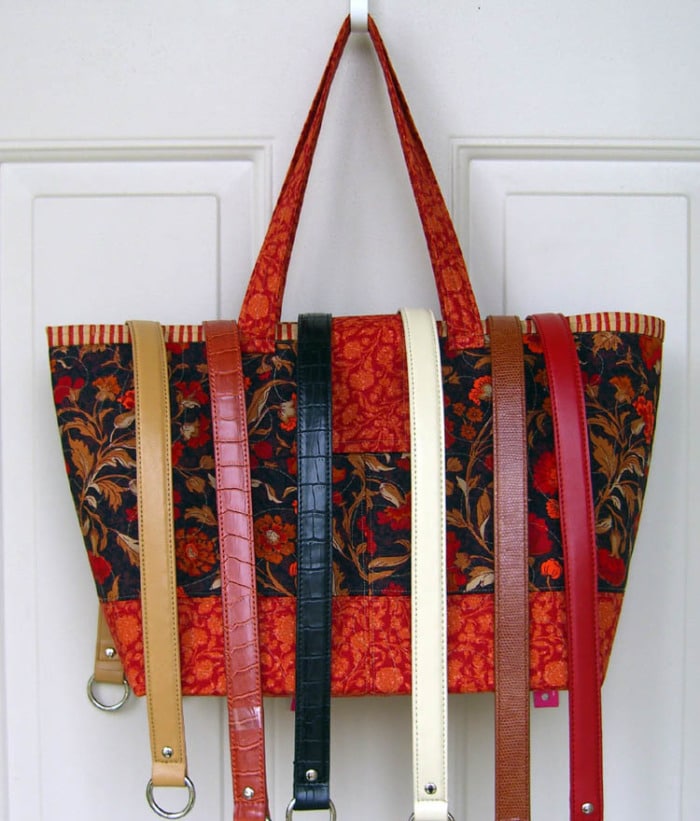 From left to right:
Tan – it's okay, perhaps a bit boring for the style of these fabrics.
Orange – matches beautifully with the orange tones (trust me on this one).
Black – beautifully supports the dark feature fabric and is a safe, classic choice.
Cream – springy and light, it does coordinate with the lightest tones of the feature fabric, but it's too much light color for the whole project
Copper – blends right in to the medium warm tones of the feature fabric.
Red – matches our reds beautifully.
All things being equal
Well, all things are not equal. Before I took a picture of the conglomeration hanging on my front door, all I saw was color. Which color do I want on this bag? In looking at the photo, I saw something else.
The camera brought my attention to the fact that I'm introducing a new material. These are not fabric handles. They bring a new character, or design element, to our project.
Take another look and notice the materials used in these handles. The black and orange faux croc handles now seem more like something you'd see on a leather bag. And the copper faux snake suddenly seems rather briefcase-y or such.
Quilted faux leather
Now, in looking at the smooth handles one more time, I notice that the topstitching on the long edges and the slightly poofy center seems rather quilty in character. I never thought about it before, but the design of the smooth handle fits the style of our quilted bag more closely than the others.
A close match in style and color supports and compliments the bag rather than competing with it.
Several of these handles would be a fine pairing with our project. But given this new insight regarding the character of these materials, the red handle jumps out as the clear winner in my humble opinion.
The black faux croc handle is my second choice. Despite its surface texture, it would have brought the color black to a second area of the project, offering visual comfort by repeating the color.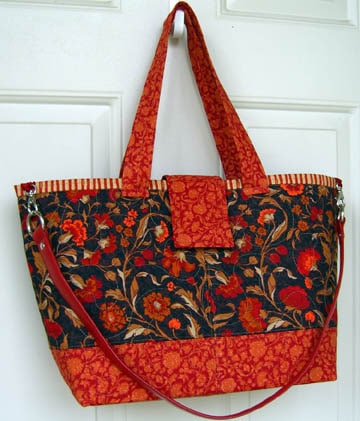 Here's Miranda with her newly attached accessory.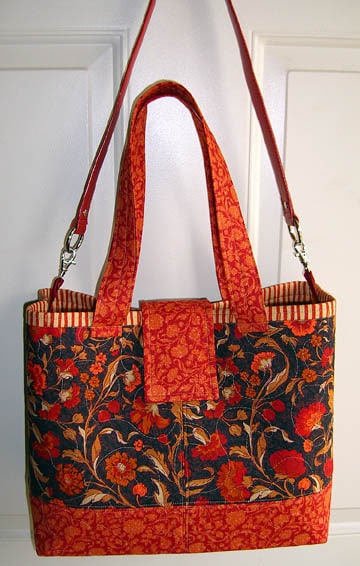 A shoulder strap is easy to add to any open-top tote like Miranda.
Don't hesitate to listen to the results of your auditioning techniques as well as looking at them. And if one technique doesn't answer your question, go back to your toolbox of techniques and pull out another one. While it might seem like you are adding more variables to consider, you might actually be narrowing your choices more easily. I was only looking at color before the camera pointed out that I should consider the material as well.
More Lazy Girl sewing tutorials here.
Subscribe Now to get news, updates, and exclusive content from Joan.
Enjoy!
Joan
Joan's Sewing Group | Pinterest
Like and share this post with your stitchy friends.