TNNA Preview Promenade is a Huge Success
Lazies, After exceeding all expectations, my friends over at the TNNA Preview Promenade have posted their goodbye's and final notes as they leave for the show. Stop by for one last look before the show. Here are some of the items making their debut to the needle arts industry this week.  See the rest of this preview at the TNNA Preview Promenade.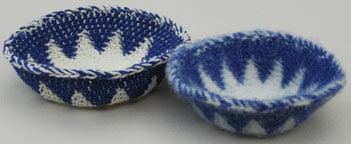 – It sounds like one of our Bag-E-Bottoms should fit Darla Fanton's fabulous New Entrelac Felted Purse.
– Creative Impressions In Clay donated some fabulous Handmade Ceramic Buttons to the Yarn Group Silent Auction.
– You already know how I feel about Carol Ventura's to-die-for Felted Tapestry Crochet.
– I love Chris de Longpre's designs of Knitting At KNoon. (Animals and book)
Click-n-Print preview guide: Preview Promenade
Good luck at the show everyone!
Joan