This Whimsical Tote is Perfect For Large Scale Prints
Lazies, I recently had some fabric cross my path that screamed to be made into my Whimsy Bag design. I'm not one to argue when a pretty fabric talks to me, so below is our new cover model for the Whimsy Bag design. We've already started shipping Whimsy with her new cover.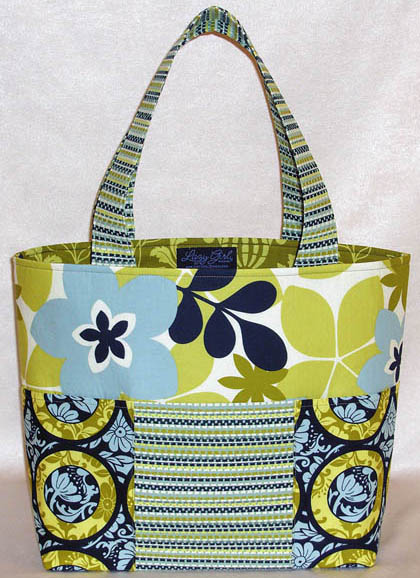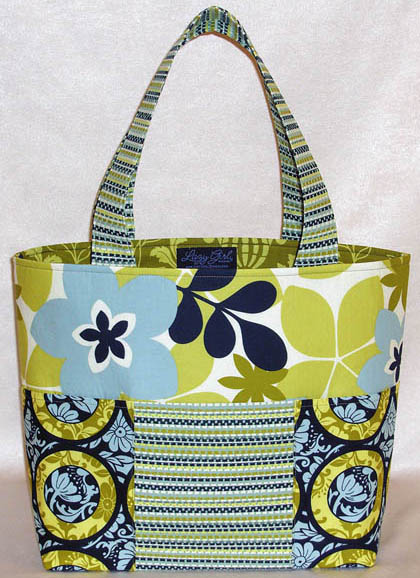 Whimsy Bag #206 shown in City Blooms from Benartex.
Why this fabric for this bag
The Whimsy Bag is ideal for large scale prints. The large light blue flower is just about 5 1/2″ across. So, when I saw this scrumptious floral and fun coordinating prints, I knew we were talking Whimsy here. You know I love stripes, so this cool stripe goes horizontal front and center. The stripe is flanked by the playful circles. Together, these three fabrics offer a dynamic combination of scale, design and color.
Get to know Whimsy
A little background on this Girl. Whimsy is my third bag design and she's truly a tote bag. It's been so long since I made one, I forgot how quickly and easily she goes together. Whimsy is perfect for a quick gift – think teacher gifts for next year. And she'd be perfect for toting things to work. Whimsy also makes a nice project bag with room enough inside for bulky items and place smaller items in the outside pockets.
Finished size approx. 12 1/2" x 12" x 4 1/4"
Whimsy is wide enough that you can fit file folders, magazines and letter-sized notepads in her. She's deep enough to hide all those goodies with a few inches to spare. The handles are wide for comfort and long enough to go over your shoulder, or allow the bag to hang at your side, but not scrape the ground – perfect!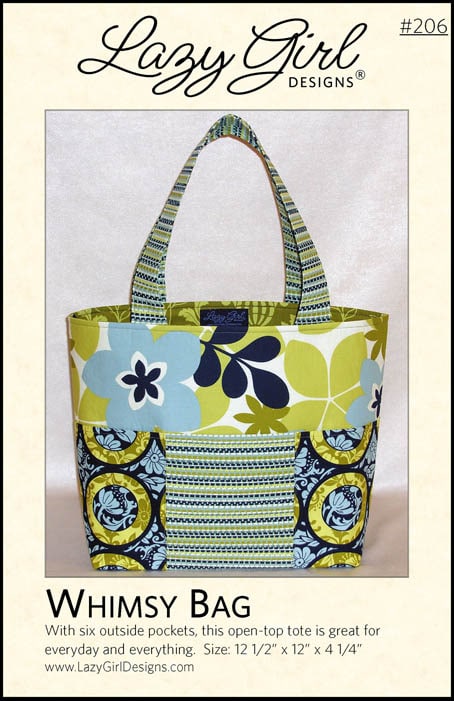 Whimsy Bag pattern cover.
Features
Whimsy if fully lined, no inside pockets, and hosts six outside pockets defined by the three fabric strips (circles, stripes, circles). There are three pockets on the front and three on the back. There is no quilting involved in this design, so she goes together quickly.
Need to know
Click the image below to enlarge. Here's the info from the back of the pattern. I used Pellon fusible fleece #987FP for batting. No interfacing needed, but you could certainly add a light to medium weight interfacing to the lining or cover fabric (but not both) if you like.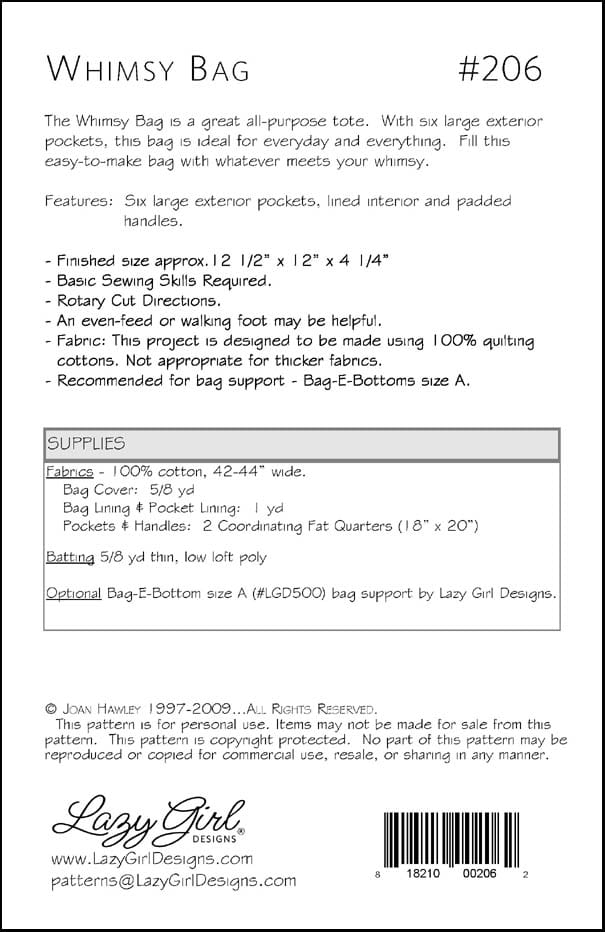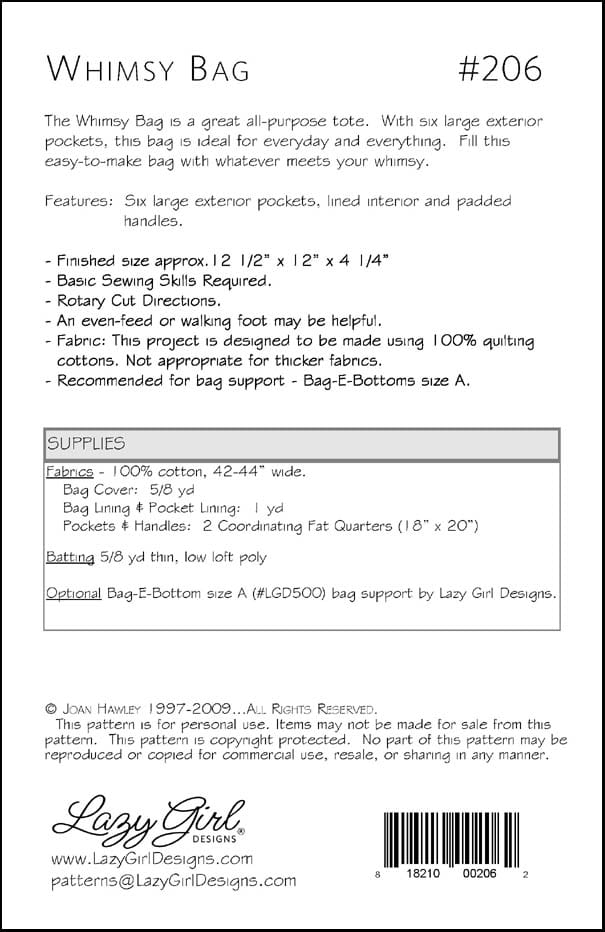 Click image to enlarge and open in a new window.
Have you tried the Whimsy Bag? I'd love to hear what you thought and how you are using Whimsy. Post a comment and tell me all about it. You can also share pics of your Lazy creations in our Lazy Girl Designs Yahoo group or on Facebook at http://www.Facebook.com/LazyGirl.
Enjoy!
Joan