Claire Arrives and Lazy Girls Get Busy
Lazies, Claire is here! Our newest pattern the Claire Handbag #LGD125 arrived a few days early and has already shipped to all the waiting Lazies out there. Start looking for her to arrive at your local quilt shop in the next week or so.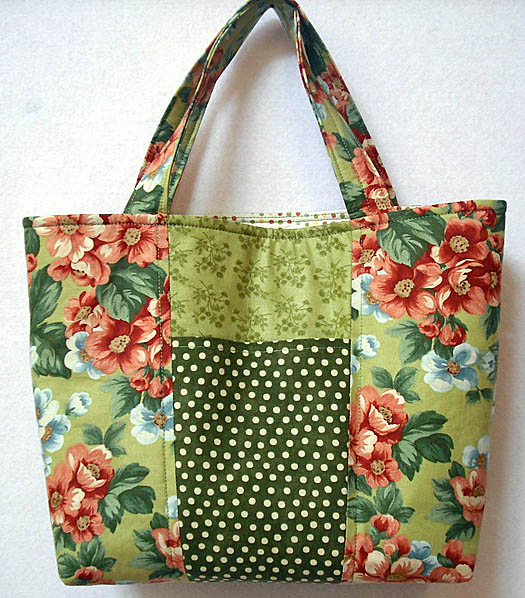 Sue Congdon's Claire shown in Moda's Nostalgia,
with the outside pocket from Moda's Crazy 8's.
The First Claire
Sue Congdon from South Carolina was the first Lazy Girl to report having made Claire – good job Sue! Look at those little colorful polka dots peeking out from inside the bag – too cute!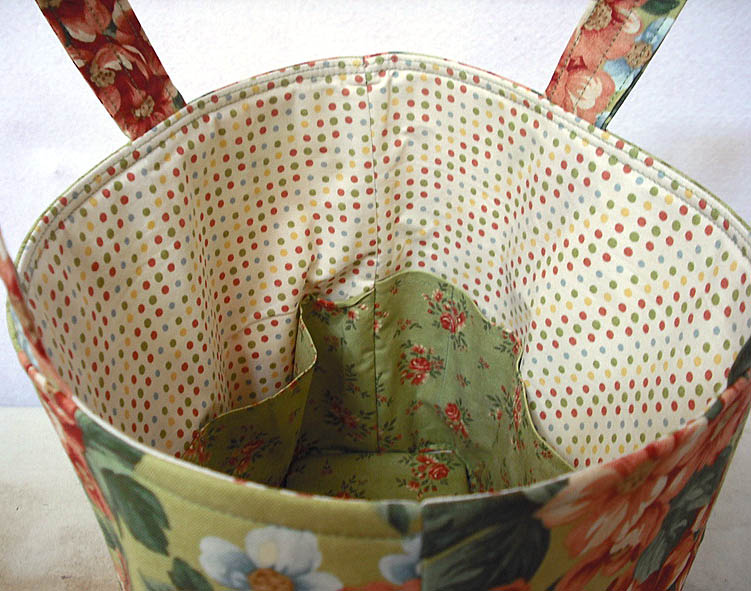 Sue's beautiful Claire is the store sample for Aiken Quilt Shop in Aiken, SC.
Fabric Notes
Let's take a look at what Sue did. She followed the option in the pattern to make the front and back of the bag the same. Choosing this option requires one extra fat quarter (FQ) of fabric for a total of 8 instead of 7.
Rather than using two coordinating fat quarters for the cover, Sue used two matching FQ's or a 1/2 yd cut for the main fabric. She then also needed one additional fat quarter for the contrasting middle panel, and one fat quarter for the outside pocket. Sue used two matching fat quarters or 1/2 yd cuts each for the lining and inside pockets.
Fat Quarters vs. Yardage
Fat quarters (18″ x 20-22″) are the most efficient cuts for the this project because of the size and shape of the project pieces. If you work with yardage from the bolt, you will have more total yardage than you need and you'll have some nice-sized left-over scraps. The back of the pattern lists yardage cuts under 'Notes'. See the back of the pattern here.
Design Options
The Claire Handbag pattern is designed to be an open-top tote. The pattern includes these additional options:
– An inside Velcro closure on the lining.
– A flap closure as shown below in red/black.
– Remember, with stack/chop/swap that we discussed a few weeks ago, the cover fabrics do a switcheroo and make the front and back covers different as shown here.  Instructions are included to make the front/back the same as Sue did above.
Green and white fabrics switch places on front/back of bag.
Flap Closure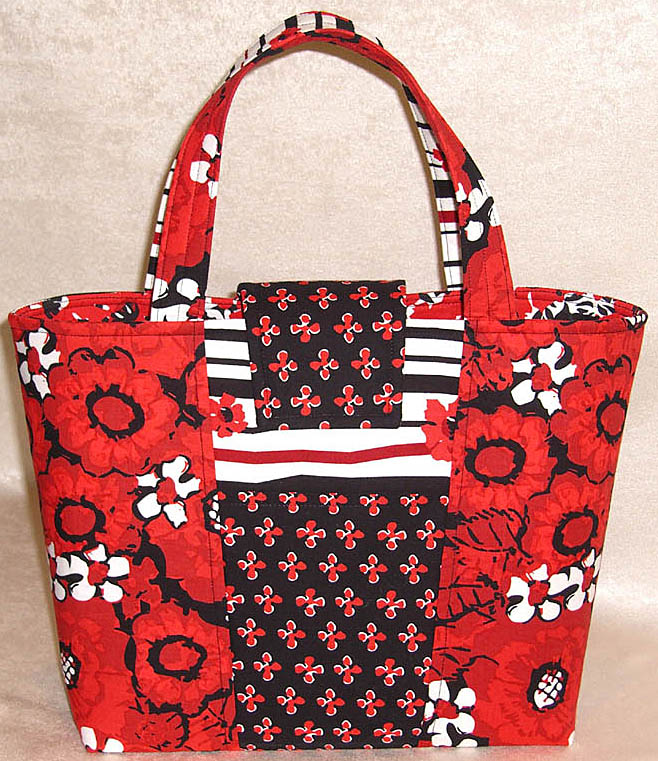 If you prefer a flap closure as shown above, consider leaving the pocket off of the front side of the bag. As shown here, I think the flap and the pocket are too much and take away from her cool angles. And if you don't want any outside pockets, leave them off and your Claire will still be snappy and beautiful.
Claire Show & Tell
Lazies, I'd love to see your new Claire as well as anything Lazy you make. Join more than 4,000 Lazies in our Yahoo group or nearly 3,200 Lazies in our Facebook Page and Facebook Group and post your pics. And me – here's my page at Facebook. I post my pics at all of these places.
Here's what the pattern looks like: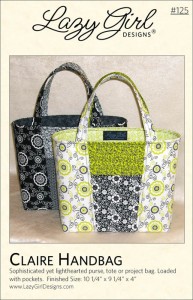 Claire Handbag pattern #LGD125
Thanks to Sue for sharing her new Claire with us!
Enjoy!
Joan