The Logic of Lily's Half Pocket
Lazies, Let's take a look at Lily's back pocket today. Here's a sample I made while working out Lily's design details. I love the play of the fabrics on the front and the utility of the back. Piecing the front adds a strong vertical design line which emphasizes Lily's pleats and her silhouette. I love this fabric from Moda.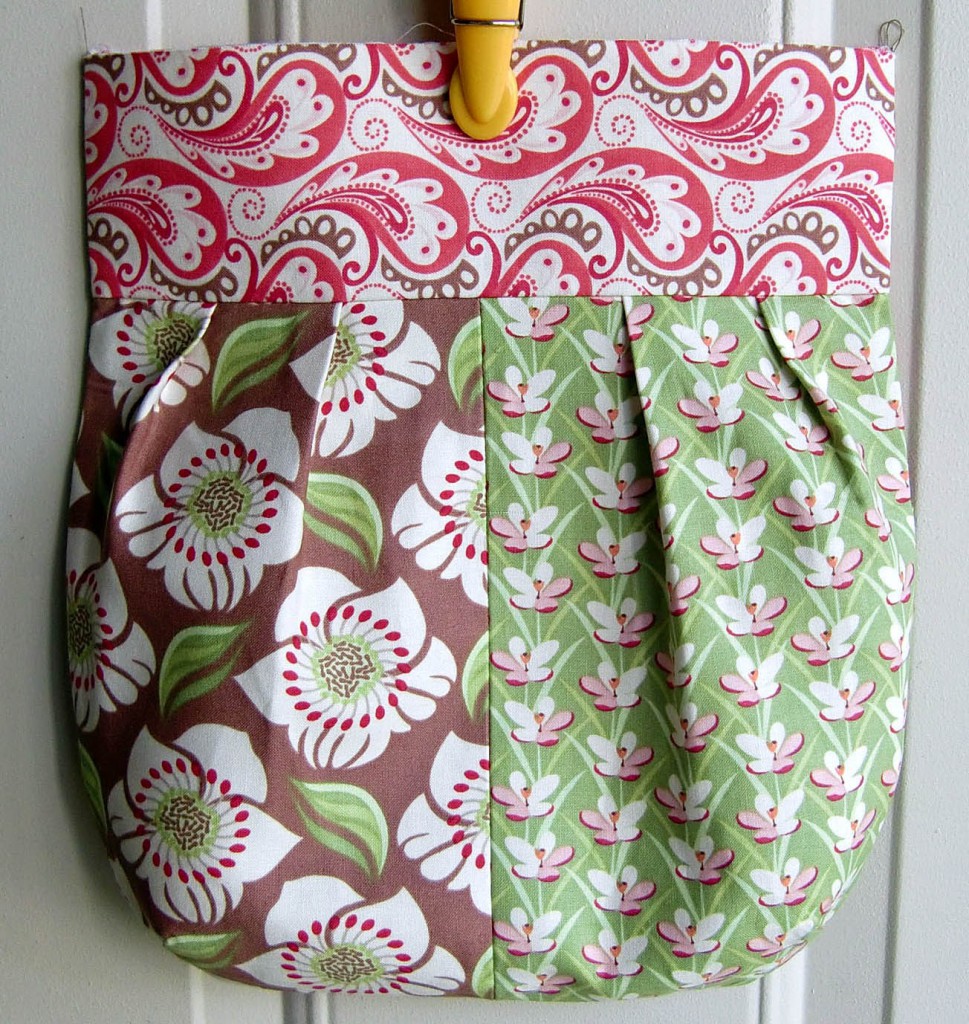 Lily Pocket Purse pattern, LGD128, available now.
Now let's take a look at the back. In this early prototype, I planned to maximize the utility of the back wall of the bag by adding pockets across the whole design. Well, I hated it. From a design standpoint, the pockets cut Lily off at the hips and made her lean, linear feel seem boxy and horizontal. Again, I hated it.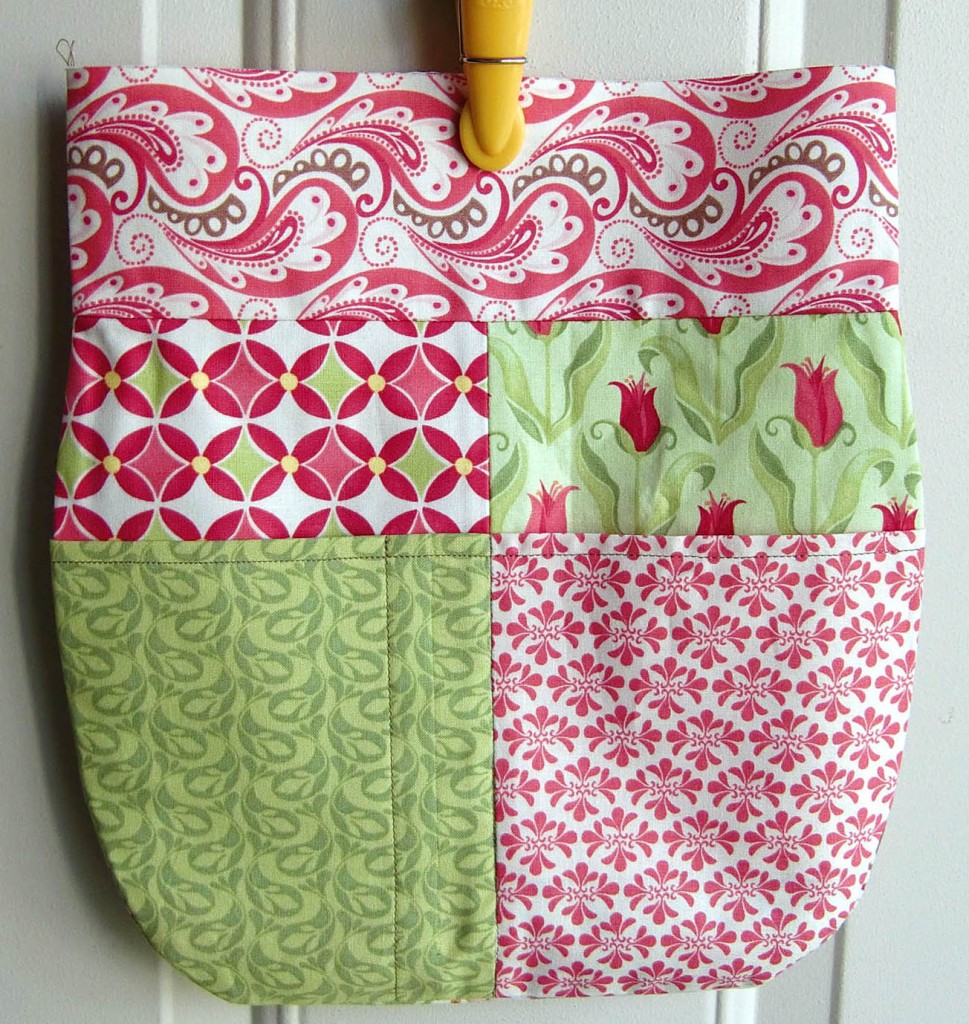 Design vs. Function
Can't we have both? The long vertical seam needed to be emphasized, so I made a couple of changes. First, I decided on a half-pocket, from the center seam to the side. Next, I lowered the pocket less than 1/4″ to a point where it was still functionally deep, but also complimented Lily's curves and proportions.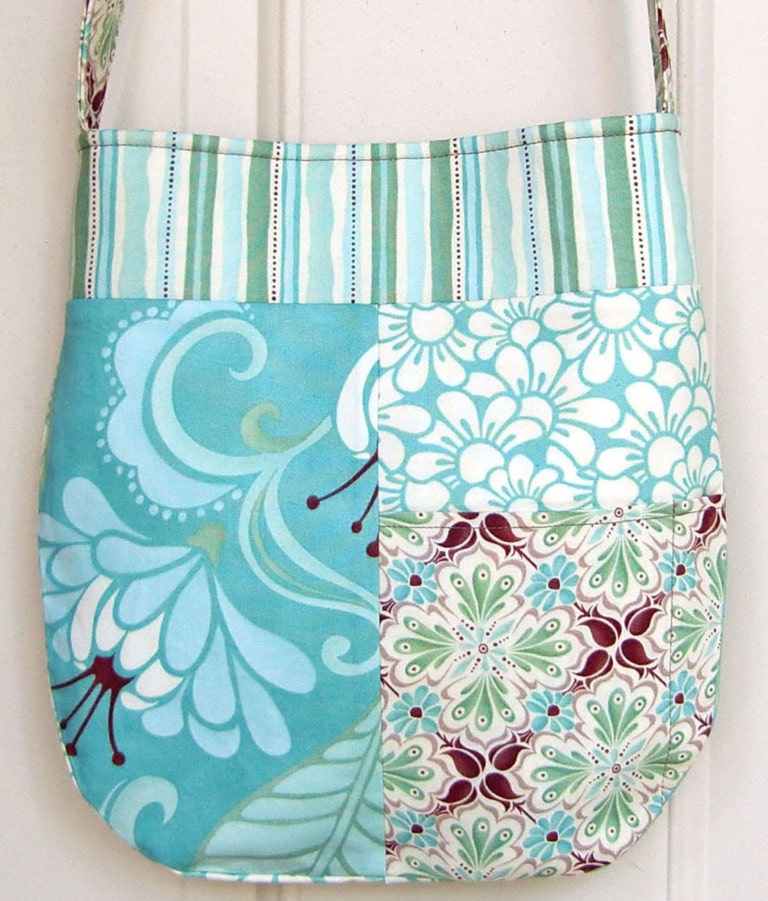 By seeing the complete left back panel uninterrupted by a pocket, it reinforces the front design and emphasizes Lily's great shape. It's visual trickery. We kept the pocket and didn't lose the look we love.
This is easier to see with the bags next to each other. Here they are at about the same size. I think the difference is noticeable. The waistband in the first photo seems wider because it is held up by a clip, rather than the shoulder strap which pulls it in a bit.
Square Peg – Round Hole
The curved edge of the pocket is not ideal for holding squarish things securely. One line of stitching near the curve easily squares the bulk of the pocket, making it more secure as well as creating a sliver of a pocket, perfect for a pen. It's design serendipity.
Leftie or Rightie?
I am a left-shoulder kind of Lazy Girl, preferring to carry my purse on that side. Due to this, I placed the back pocket with this in mind. When Lily hangs from my shoulder (or wear her cross-body) my phone/pen will be toward the front for easy access. You can flip this pocket to the left back side if you prefer.
No Pleats on the Back?
Lily's flat back is intended to allow Lily to rest comfortably against my body. You could repeat the pleats and darts on the back, but that would cause Lily to push away from my body when hanging at my side. So a flat back wall not only offers structure and support for the pleats on the front (like a load bearing wall in your house), but it allows the bag to hang as closely as possible to your side.
Eye Candy
Lazies started posting pics of their Lily Pocket Purse creations over the weekend. Several beauties were posted to our Yahoo group and Facebook Fan page. Join us and watch the beautiful eye candy as it's posted. Here are links:
Lazy Girl Yahoo Group
Lazy Girls at Facebook
Enjoy!
Joan