Coming in September: Meet Lily
Lazies, meet Lily, our newest Lazy Girl. Lily is a modest sized shoulder bag, perfect for light duty. Lily's pleats, darts, curved shape and Empire waistband give her a modern and confident look while retaining her soft feminine and flirty personality. Don't let these details scare you – I've made them Lazy! I promise.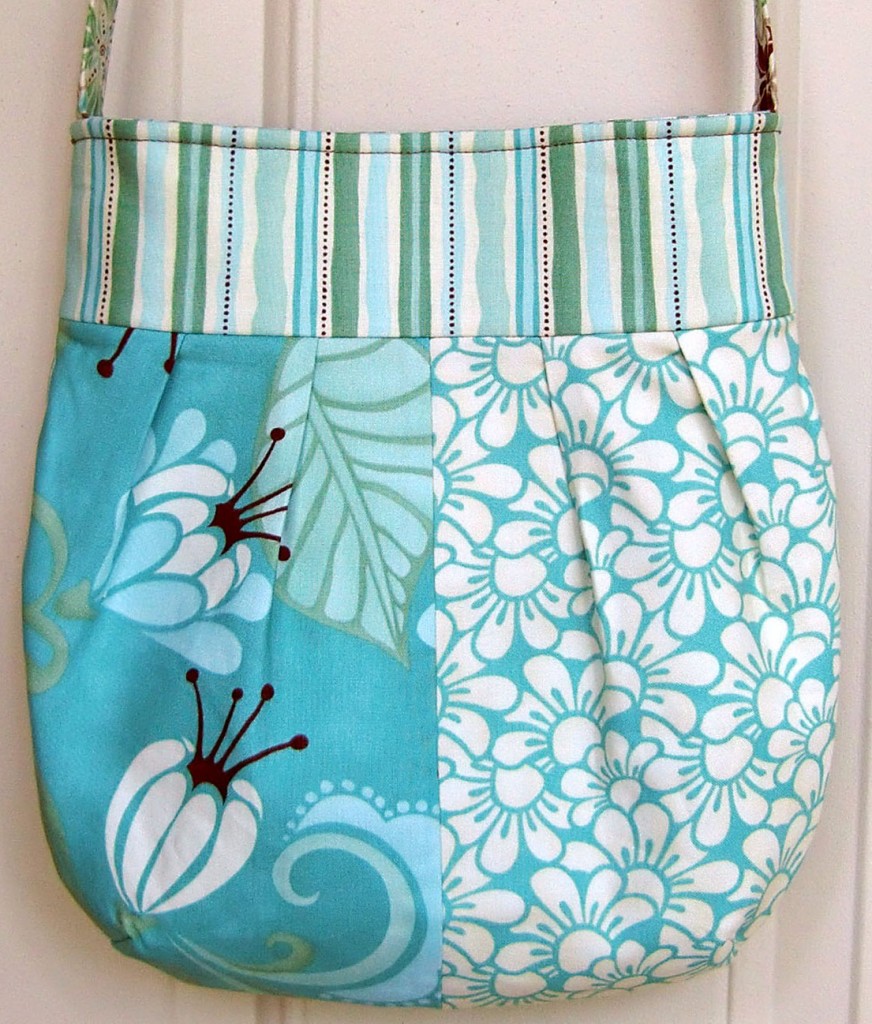 Lily (LGD128) shown in 'Fandango' from Moda.
Handle
A long handle (42″) is great for wearing Lily cross-body to hang securely at your hip or hang straight from your shoulder. A medium length handle (27″) will allow Lily to tuck nicely behind your elbow when worn at the shoulder. Make the handle any length you like.
Pockets
Lily has several inside pockets and a couple of handy pockets on the back for your cell phone and a pen or lip gloss. The pockets are located at the widest part of the bag, making them surprisingly generous.
A peek inside shows two pockets large enough for a Wonder Wallet (LGD211), sunglasses or checkbook, divided by a handy pen pocket. The pleated front allows for a few other essentials to nicely travel along with you.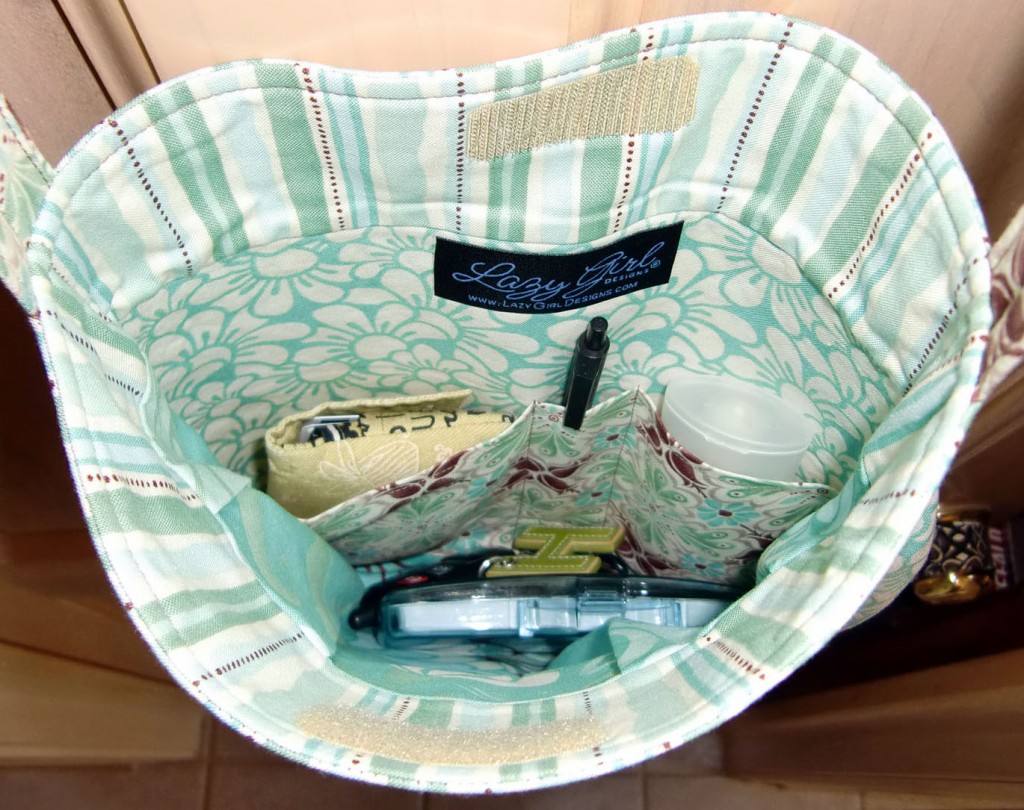 Three pockets along the back wall.
Size
Lily is about the size of a sheet of copy paper. She is 9″ wide at the top opening, gracefully widening to just over 10″ at the pockets, 10 1/2″ tall and just 1″ deep. Lily has a slightly rounded shape, making her a bit wider at the middle than the top or bottom. The back of the bag is flat. The front has both pleats and darts, offering depth.
Velcro Closure
Lily's 9″ wide opening offers a Velcro closure. If you prefer, a magnetic snap would work well for Lily, too. I tried a zipper and it simply is too much for this size opening. A zip cuts down on the usable width of the opening and adds bulk at the shoulder strap and side seam.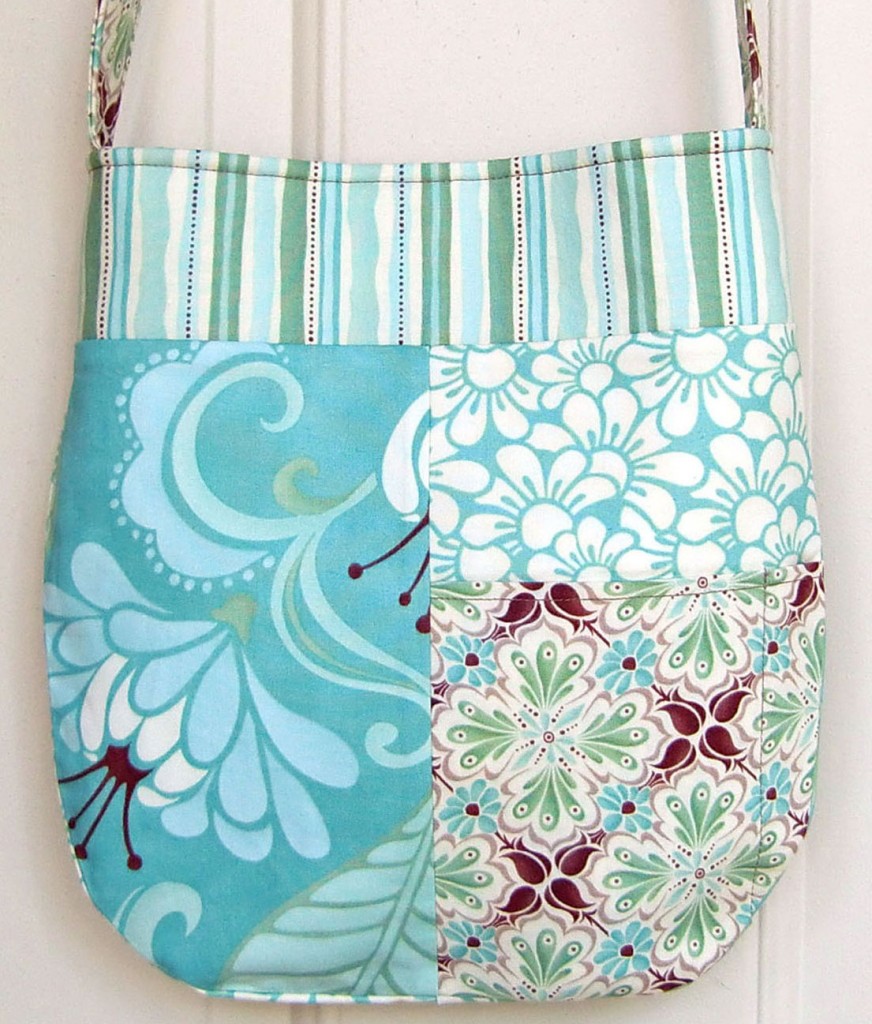 The back view shows Lily's gentle curves.
Fabrics
Four fun and fabulous prints are all you need to make the most of Lily.
1/3 yd of two main cover fabrics
1/2 yd handle and pockets
1/4 yd waistband
For a more varied look, use a handful of fat quarters. Keep in mind that you'll need to piece the handle to the desired length when working with smaller cuts of fabric.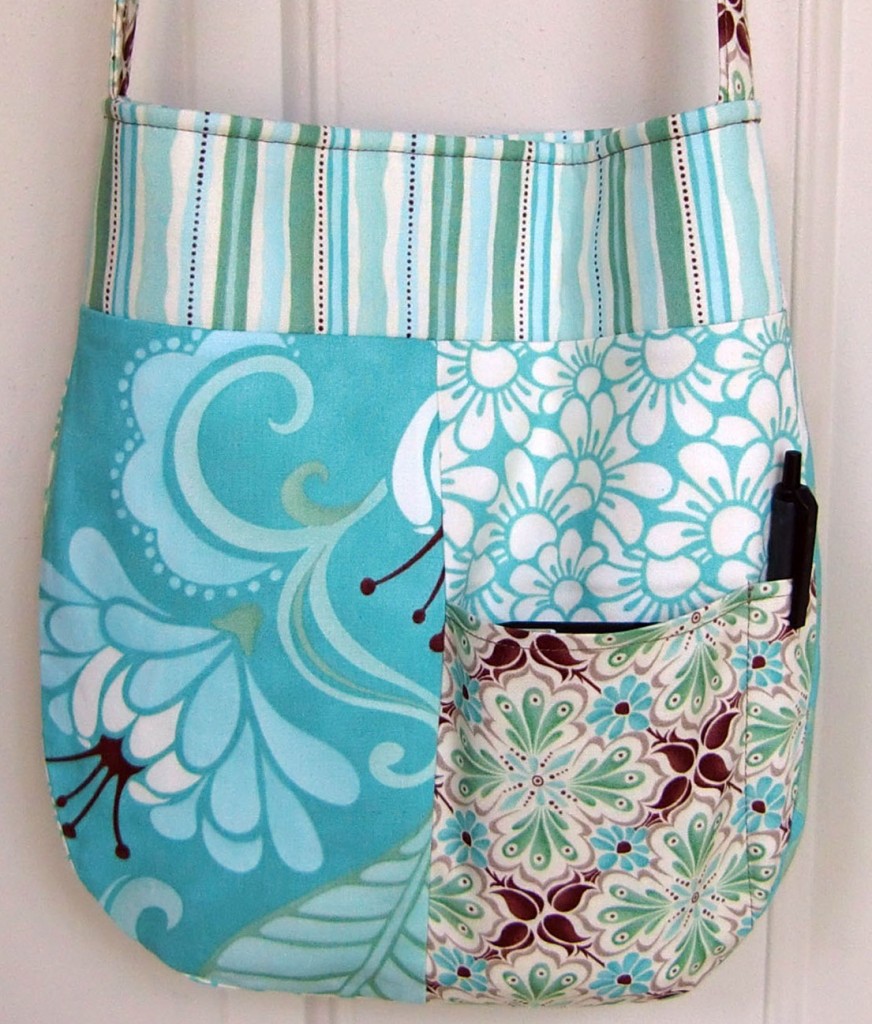 Back pocket panel is large enough for a cell phone and pen.
Interfacing and Batting
Lily's delicate pleats are supported by a lightweight fusible interfacing, keeping them soft and feminine. A fusible batting or fleece offers structure for the bag lining, giving Lily just the right amount of invisible support.
What do you think of Lily?
Post a comment below and tell me what you think of our new Girl. I'll have more info and notes for you in future posts as we await the arrival of our sweet Lily. She's expected to arrive in September!
Enjoy!
Joan