Lily is a Ton of Fun…Well, Half a Ton
Lazies, Our new pattern Lily Pocket Purse (LGD128) arrived Friday and she's a cutie! A big cutie – the first printing of Lily weighs in at 986 lbs – nearly a half ton of Lazy! Also, notes below from my big weekend.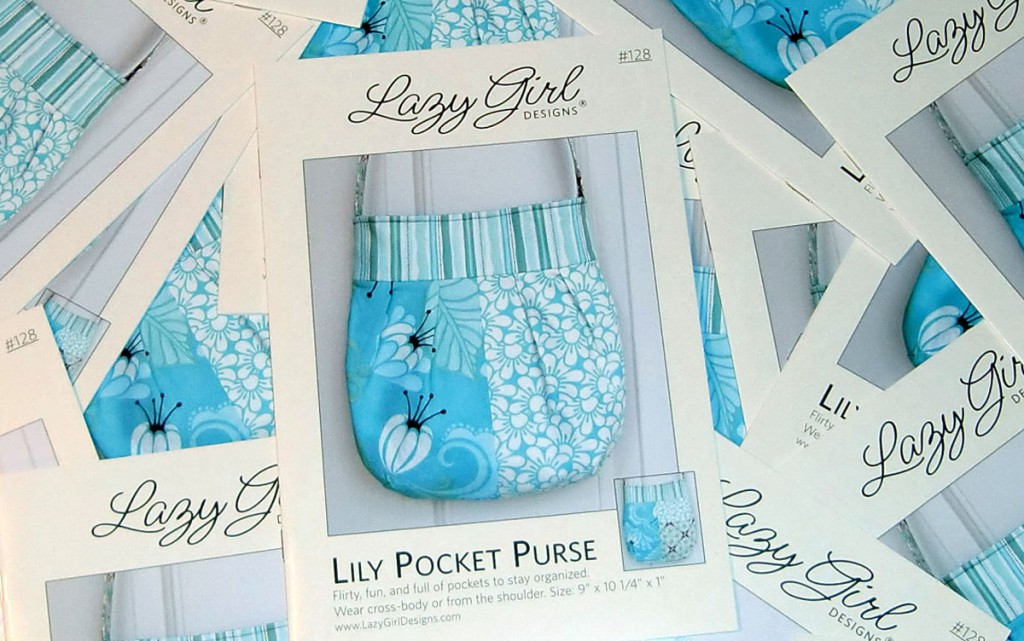 We've already started shipping our new Girl and I have to tell you, I get excited every step of the way with a new design. Culminating in the arrival of a freshly printed product at my doorstep, creating a new design is like spending months planning a party and finally experiencing that magic moment when the guest of honor arrives and everyone joins the fun.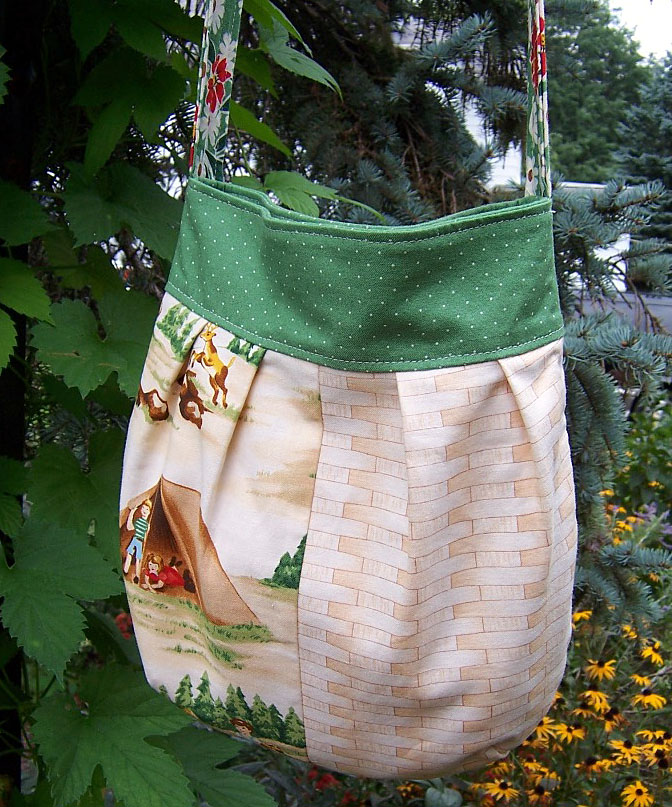 My excellent and trusted pattern tester Regina made this cute Lily. Here she is enjoying some beautiful surroundings in Regina's yard. The fabric is 'Happy Camper' by Moda. It's an adorable fabric line and looks great on Lily. Regina fussy cut the fabric to feature the tent motif.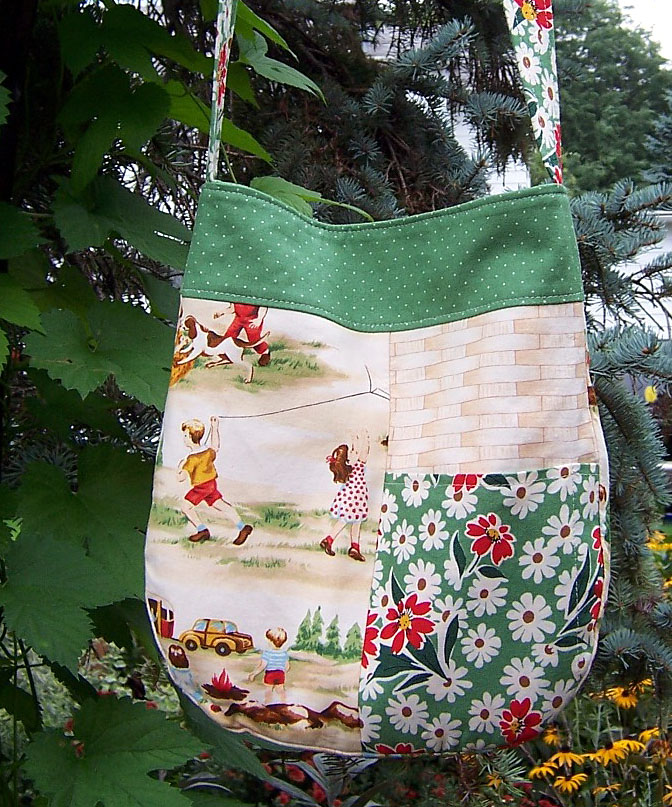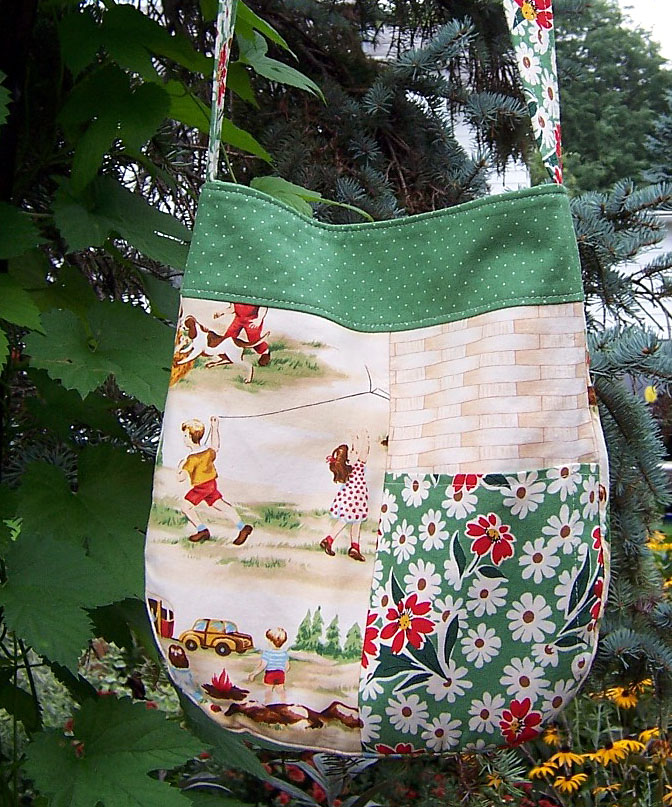 Back view of Regina's Lily Pocket Purse. Love this fabric collection. Great job Regina! Lily is perfect for directional prints like the camping scenes and basket weave.
My Big Weekend
Goodness, talk about a ton of fun – family and friends celebrated Mom and Dad's 50th wedding anniversary this weekend. It was fabulous! My three siblings and I divvied up the duties, put our thinking caps on and pulled out all the stops. We hosted a cocktail-style reception with a light buffet, following a Mass said in Mom and Dad's honor at the church where they were married so long ago.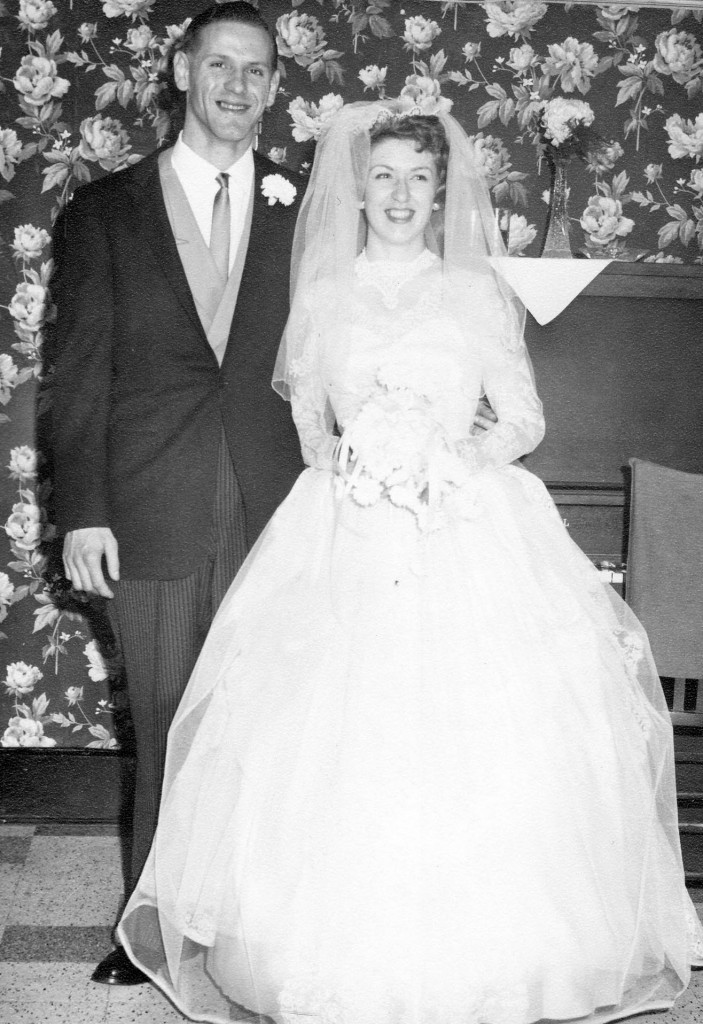 Robert and Ruth Weingartner, November 19, 1960
My trip started by strapping 50 helium balloons down in my car for the two hour ride to Cincinnati. Yes, I fit all of the decorations for the entire event in my car. There was just enough room left for our toothbrushes and jammies.
Music by a bass player and keyboard duet provided perfect atmosphere for our evening. The photographer captured our special moments and brought in a backdrop to get portrait pics of everyone…some under duress, but we wanted pics of every loved one. Hey, it's our party and you'll smile if we want you to.
Two members of their bridal party attended. Mom's precious friends from high school totally owned their part of the room. And you'll be happy to know there were at least half  a dozen Lazy Girls in attendance, too. We may have even converted a few new Lazies as well.
We all mixed, mingled, kissed and hugged. Reminisced about old time and caught up on news. Mom and Dad cut the cake and shared a dance. I cried as the entourage of our loved ones and life-long friends arrived to share in our joy and I savored the evening as we said our goodbyes.
Enjoy!
Joan