Spring Quilt Market, Part 4
Lazies, If you've missed any of the three earlier parts of our story, catch-up here with Part 1, Part 2 and Part 3.
Saturday was my last day at the show. The day started with more 'Bold Bags' book signings and carrying-on with everyone. I had a chance to meet Cindi Hatch, one of the long-time Lazies from my Yahoo group.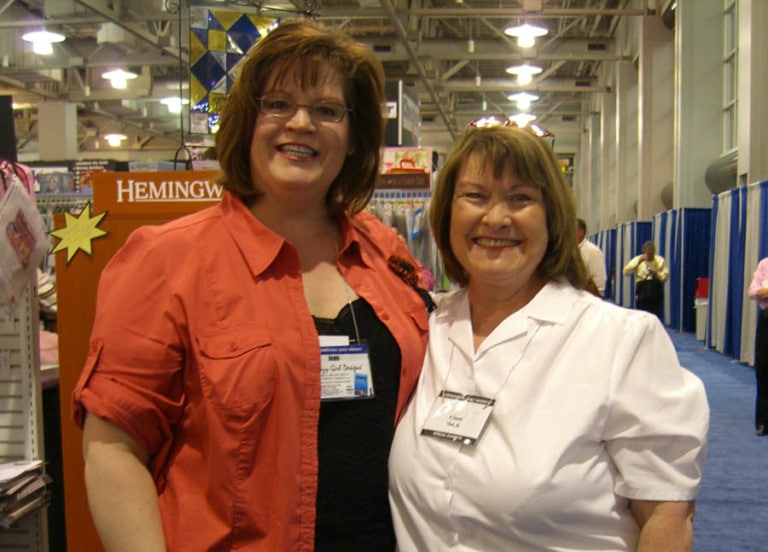 Me with Cindi Hatch.
And Sandra Wheeler (also from the Yahoo group) was stylin' in her Runaround Bag – perfect for running around the show. Love the embroidery! By the way, our Lazy Girl Yahoo group hit the 3,000 member mark recently.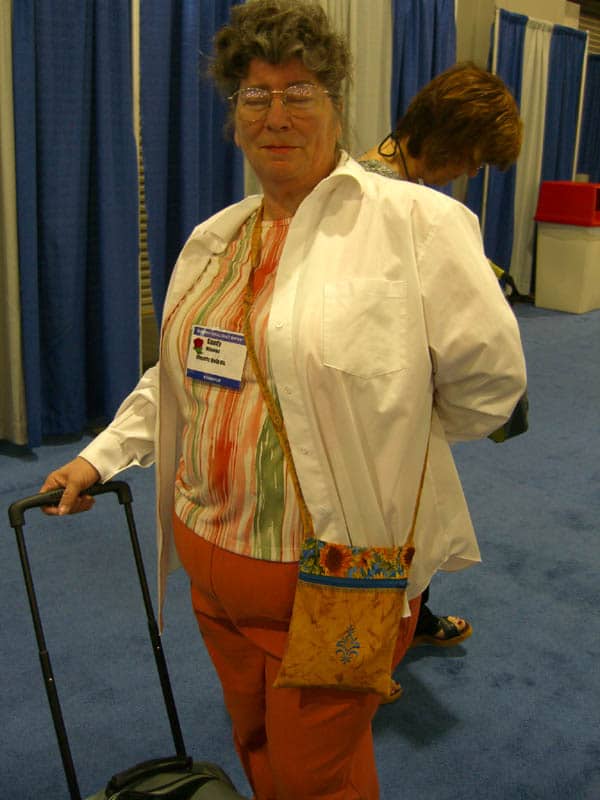 Sandra Wheeler and her Runaround Bag. That's Rita in the background checking out her toes. Well, she was actually looking inside her purse.
Other Lazy sightings include Trudie Prevatt from Three Crafty Ladies quilt shop on Sanibel Island in Florida. I stopped Trudie as she walked by wearing her slightly enlarged Sassy Bag. I told Trudie that I was rewarding her good behavior and gave her a Lazy Girl lapel pin. I ran into Trudie a bit later and she showed me the beautiful Wonder Wallet she made with scraps from a fabulous piece of batik. She used the Fusion iron-on hook and loop tape and highly recommends it.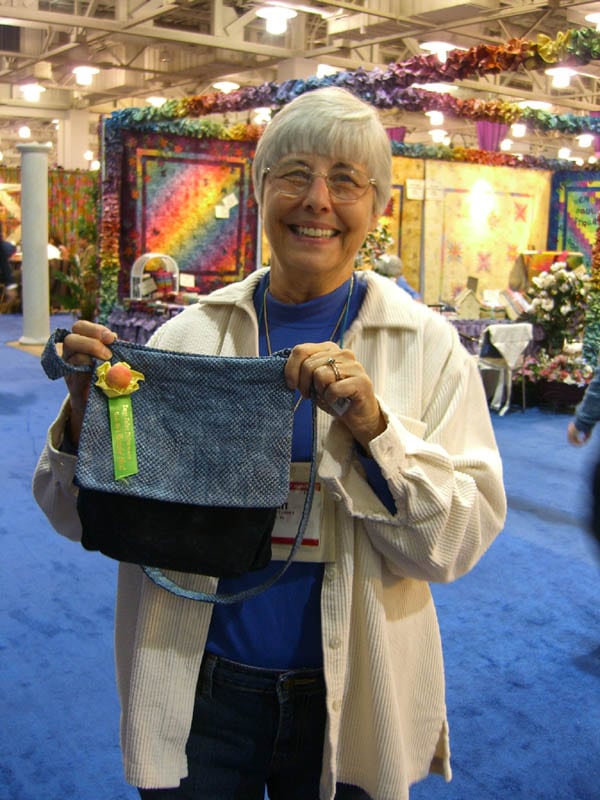 Trudie Prevatt with her Sassy Bag.
I passed a lady at the Red Rock restaurant Friday evening carrying her Gracie Handbag – very nice! I rewarded a Whimsy Bag owner somewhere on the show floor.
For those of you who remember my trip report from Quilt Market this past fall, you'll be happy to know (and I'm happy to report) that there was a crab cake sighting on this trip. It happened on my plate during lunch with my friend Wendy Thompson, Associate Editor for CK Media Sewing.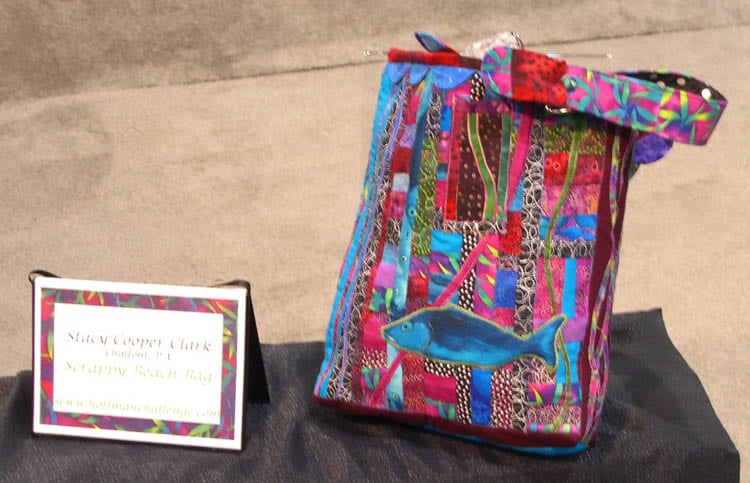 'Scrappy Beach Bag' by Stacy Cooper Clark.
For some inexplicable reason, it's easy for me to get turned around and lost amongst the booths in the exhibit hall. Even though the booths are all numbered and laid out on a grid with 10′ wide aisles, it still feels like I'm finding my way to the cheese in a really big maze. The walls of the booths are 8′ high, so you can only really see what's right in front of you. Turn the corner or go down a row and voila – a new part of the maze. Bread crumbs would help, but mine would probably form a great big circle or several figure eights. It's so bad that I make a cheat sheet. But even that doesn't help sometimes. I passed Tammy Tadd of Tammy Tadd Designs a couple of times but could not find her booth on the floor. Perhaps I need an on board navigation system 'Take a u-turn as soon as possible'. It would help if people would simply lasso me and drag me into their booths like wild game. Girls, you have my permission to do so! Holly from Brewer Sewing Supplies successfully implemented this strategy with a verbal lasso and roped me in – thanks Holly!
The first piece of 'cheese' I found was Bonnie Olaveson from Cotton Way with this big beautiful smile on her face. Bonnie is simply a delight. Her booth was just on the other side of Nancy Halvorsen's and I completely missed her the day before.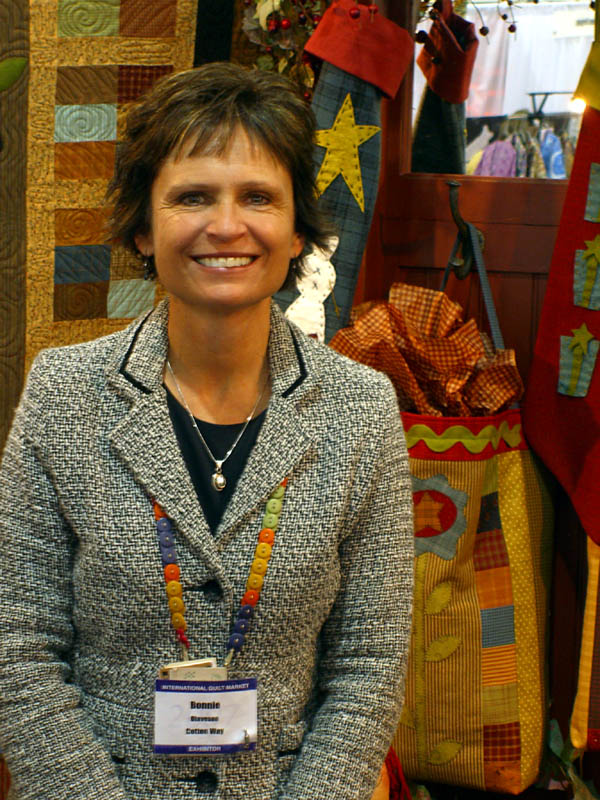 Bonnie of Cotton Way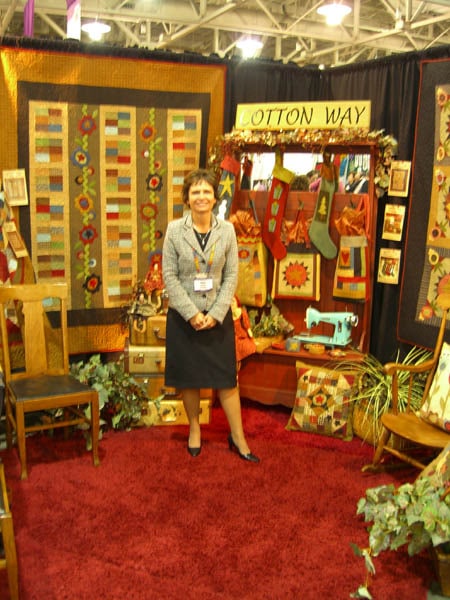 Bonnie's booth. Look at that beautiful quilt on the wall!
Then it was back to Clover's booth to demo again for a few hours in the afternoon. That's where I ran into Holly of Lakehouse Dry Goods. I didn't even make it to Holly's booth to see her new fabric line. I also missed Gina from Quilter's Buzz and her debut of Threaded Pear quilt patterns.
Next, I made my way to Terry Atkinson of Atkinson Designs' booth for a few pictures and to catch up with Terry. I love her new designs. Terry escaped from the booth before I could get her picture. Oh, there is a nice article about Terry here: http://www.erstarnews.com/2007/April/17theyvesewed.html
I love Terry's sense of color and balance.  Her fabric choices are always perky, yet calmingly sophisticated.  I don't know how she does it, but she makes it all look so easy – pattern, color, scale, balance – goodness.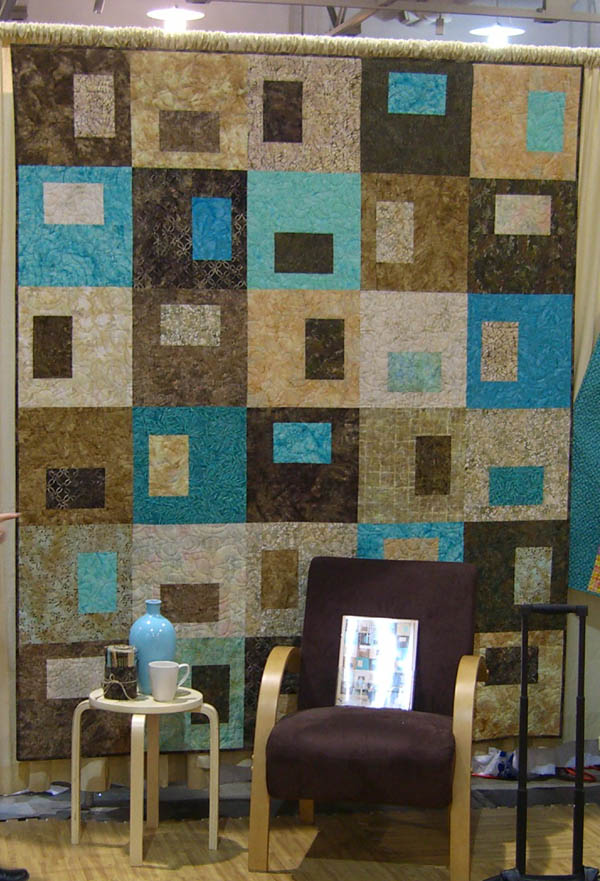 This is the quilt from the cover of Terry's new book is 'Happy Hour'.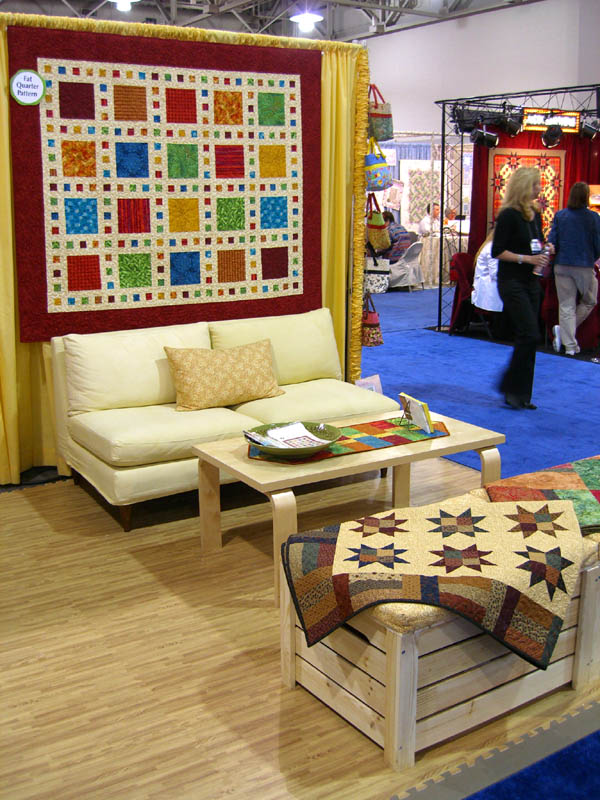 'Slide Show' quilt pattern on the back wall, and a quilt designed to work with a Jelly Roll of fabric.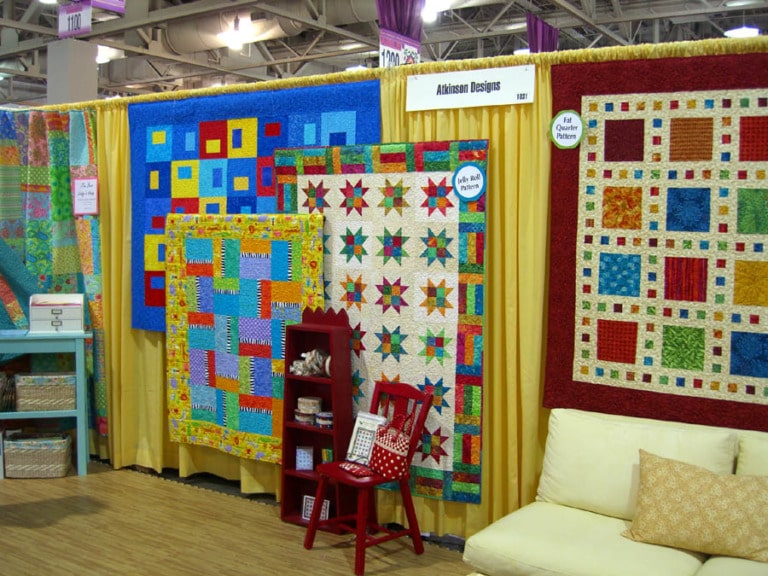 More from Terry.
Time was running out for my last day at the show. I checked my list of must-sees and made my way over to see Nancy Odom of Timid Thimble and caught up with her and her hubby Jimmy for a few minutes. Nancy introduced her new line of fabric from P&B at the show.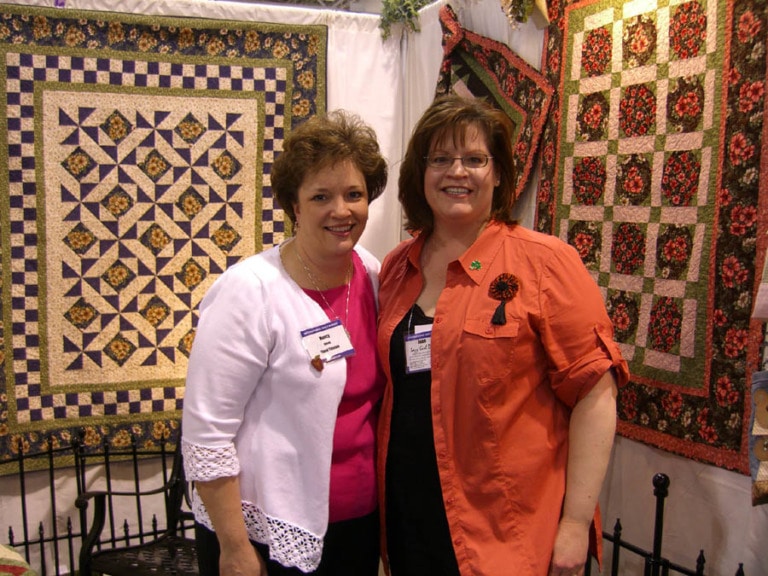 Nancy Odom and me.
I finally caught up with Shelly Stokes of Cedar Canyon Textiles in her booth late in the day. I first met Shelly last spring when Lanette dragged me to her booth and said 'play'. So I did. Shelly offers fabric paint textiles and application techniques for the Lazy at heart. I returned to Shelly's booth the next day of the show last spring and she stood there laughing at me with a 'what am I going to do with you' sort of motherly laugh. I showed up in a long sleeve crisp white blouse ready to play with paint. She admired my confidence, then promptly rolled my sleeves and put an apron on me.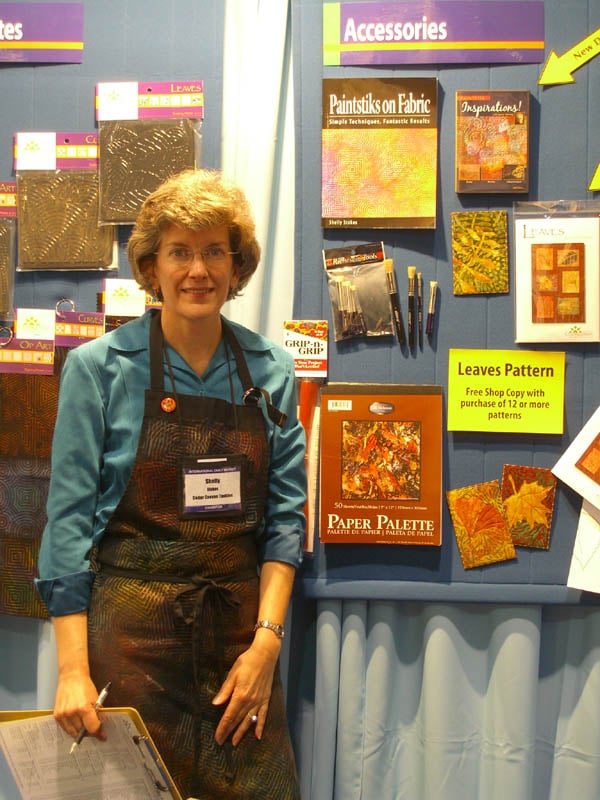 Shelly of Cedar Canyon Textiles.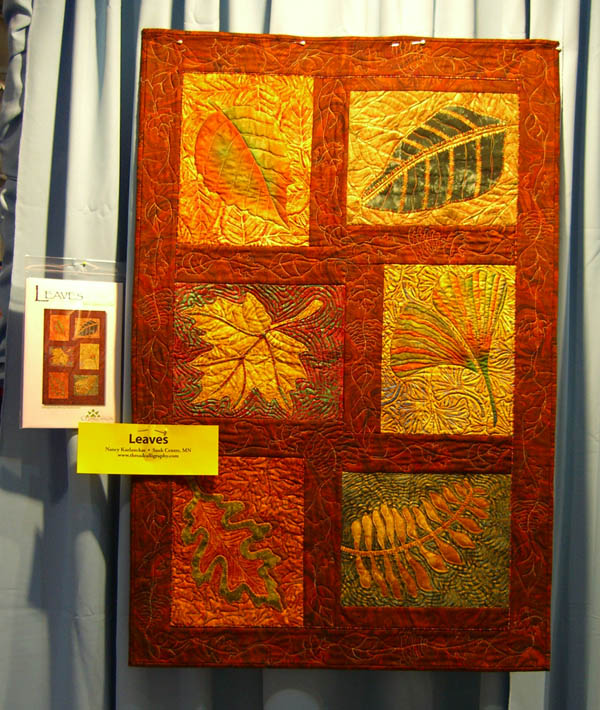 'Leaves' in Shelly's booth.
By this time I was working my way to the door, starting to wrap things up for the day. I ran into Cheryl Weiderspahn of Homestead Specialties somewhere on the floor and she asked if I had time to go over to her booth to see her new book. At this point, I had pushed the envelope on my ankle and it was hurting. I literally whined to Cheryl and she grabbed my arm and said 'Oh come on'. Off we went half way across the floor. It did no good to continue whining so I embraced Cheryl's gumption – as I always do – and hobbled off toward her booth.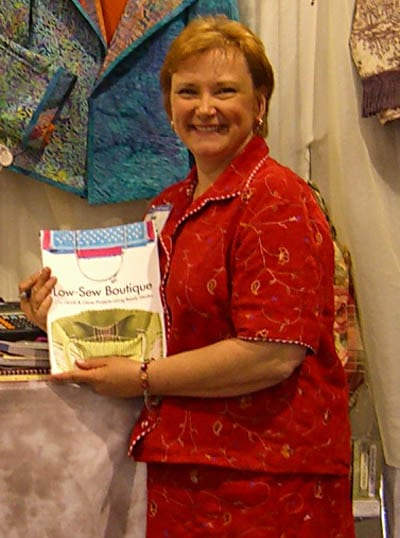 Cheryl in her booth with her new book.
My friend Carolyn of Far-Flung Quilts surprised me with a gift. Chocolate, gifts, halibut…boy, I sure like going to Market! Carolyn gave me this precious wooden shoe pin cushion and thimble holder to add to my collection. It measures approximately 5 1/2″ long and 2 1/2″ tall. The pin cushion is the polka-dot material to the far left, surrounded by a ruffle of ribbon. The thimble is inserted into the shoe, just next to the pin cushion. I've been collecting shoe pin cushions for a number of years.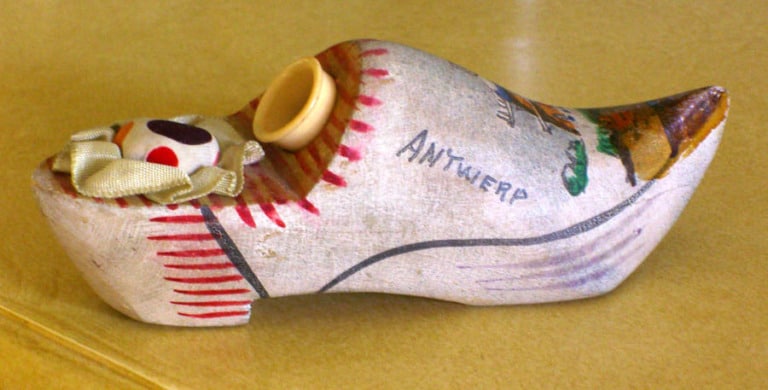 Susan Christie of San Diego got me started on my collection. Susan has a booth at every show and she always has a shoe pin cushion waiting for me. I showed one of these little cuties on the cover for my Take Along Bags pattern.
Saturday was Cinco de Mayo and the restaurants were packed. I can't remember the name of the restaurant, but the evening was certainly memorable. I had the halibut on a bed or red lentils – I could have that every night. Desert created the memorable terms 'house Jello' and 'drunken goat'. Several dishes came with 'house gelato', which somehow came to be known as 'house Jello'. The concept of a 'house Jello' was just too funny to all us by that time of night. Next on the desert menu was a collection of desert cheeses which included 'drunken goat'. Yes, we wanted to know what that was, too. There were seven of us and five items on the desert menu. We told our waiter to bring one of each and seven forks. The fried gingerbread with caramel and 'house Jello' was my favorite. Oh, the 'drunken goat' cheese was marinated goat cheese. It was much more amusing before we knew what it was.
I flew home early Sunday morning and sat next to…another lady named Nancy. Goodness. Nancy Conn from The Hen House in Charlotte, MI, was just lovely. Nancy lost her name badge early at the show and vowed to make her own badge holder for the next event. Nancy thought she might base it on the business card holder she made for herself. Here's Nancy's business card holder. Look at this cute little thing. Nancy, I hope to see you at the next show and see how your badge holder turned out. Nancy, allow me to suggest a Runaround Bag, slightly reduced in length and width, modified with a front badge pocket. That will give you a neck strap, zipped pocket, back pocket and a place for your badge.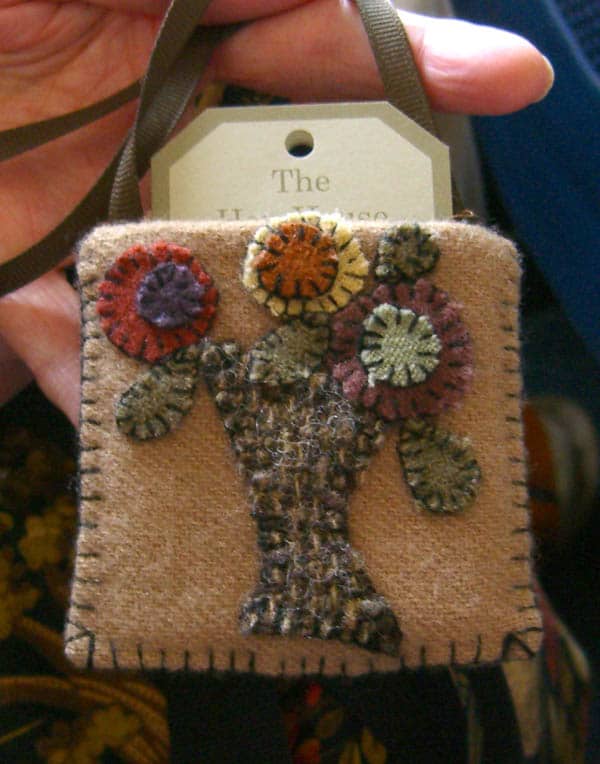 Now, after my four part report, you might be thinking that I'm just in this for the halibut and the hugs (not to mention the crab cakes and chocolate). Close, but no. I got a lot of work done on this trip. I'm deep into my next project and met with a number of fabric companies – which I desperately needed to do. More on that in the coming months. I met with many of the companies and associates that I work with throughout the year. Market is a great time to meet face to face and review goals, efforts, talk about trends and opportunities.
Lazies, this concludes my trip report for the International Quilt Market in Salt Lake City, UT. I hope you enjoyed joining me for my adventures. Back to our usual blogging on Monday.
Joan