Sewing & Stitchery Expo Wrap-Up
Lazies, I'm home from the Sewing & Stitchery Expo in Puyallup and let me just say, oh my goodness, it was wild! What a good time! I was there to promote and demo my Clover Press Perfect products with Pacific Fabrics and Quality Sewing & Vacuum. Here's the display of my items at the Quality booth, happily between Nancy Zieman on one side and more Clover products on the other.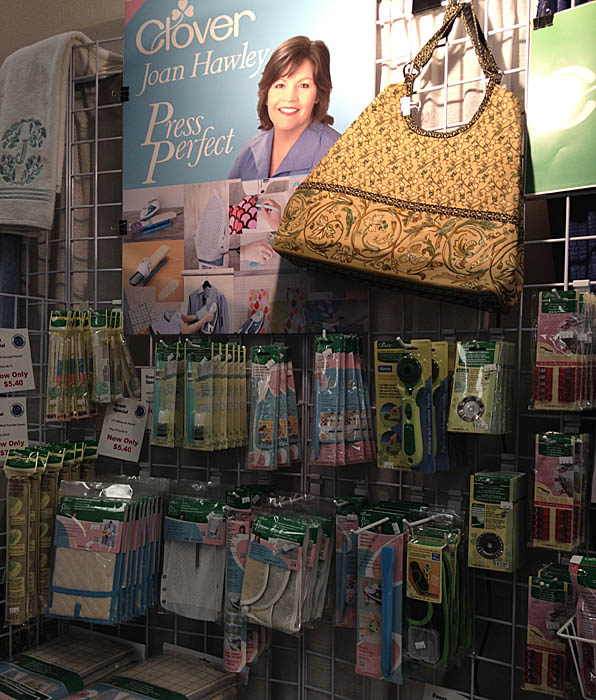 The four day show was a wild frenzy of fun, finds and friends.
We sold out of the Hot Hemmer in the first hour of the first day. I'll have more about this gem in an upcoming blog post.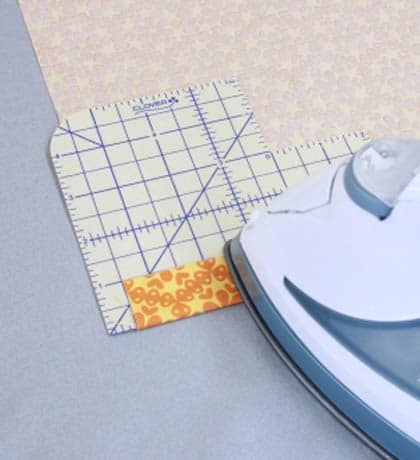 My demos went well, I met tons of fabulous sewists and quilters. By the end of the show, we had sold out of half of my products.
Why Attend a Sewing Show?
This picture is what attending a sewing/quilting show is all about. Inspiration, finding the next great find, and getting all jazzed about going home with the next new thing that makes your creative efforts sing. To me, this beautiful lady captures those feelings. I've been to many shows and sometimes you walk away with a big bounty, sometimes a small one. Maybe it's just one great find that solves a problem, or starts you off in a new creative direction. Shows like this one are a treasure trove waiting for you.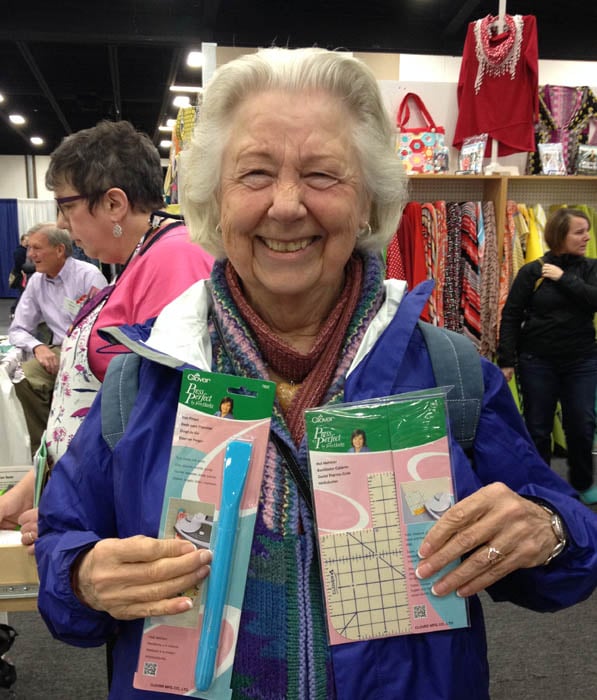 Fun Finds
I only had a small amount of time to take in the show, but here are my highlights. My favorite find at the show was this group of caution signs. I couldn't choose just one. This was the Heirloom Stitches in Washington.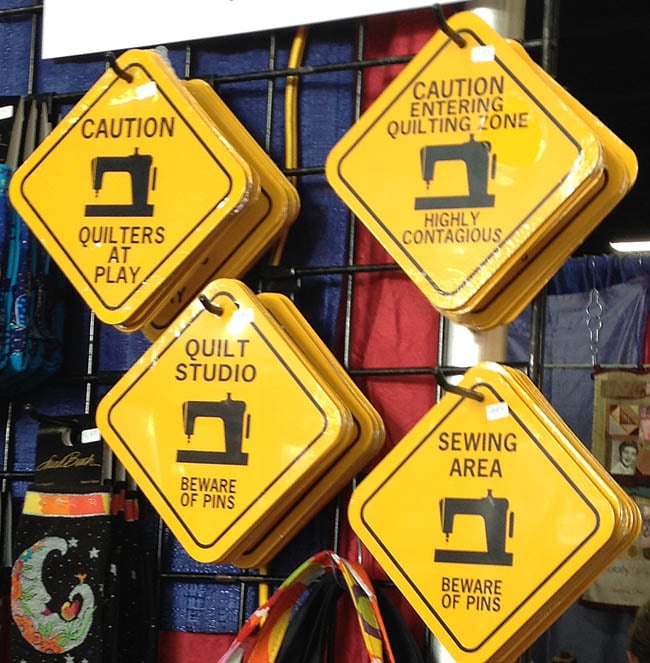 I found Lady Mary of Downton Abbey for sale, wrapped in vintage ribbons and trims. The pieces coordinate nicely, but I suspect Lady Mary was not amused. Seemed more fitting of Sybil or Edith.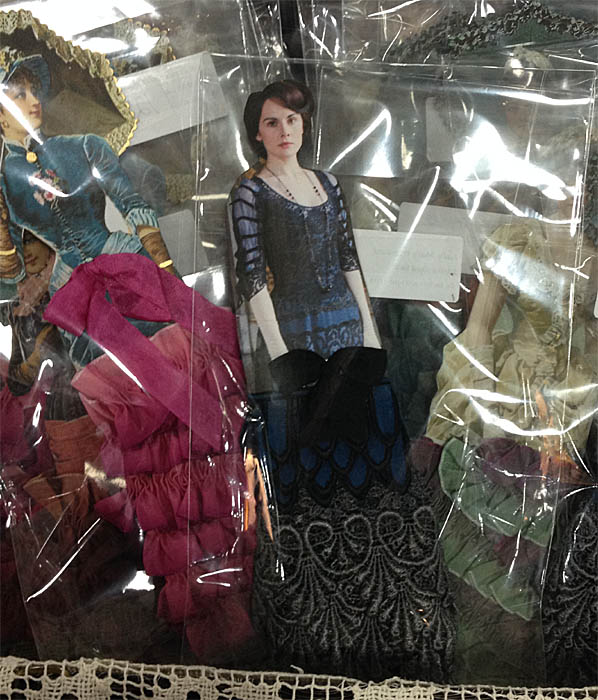 This pincushion by the Pincushion Diva used a small glass jar as its base. Clever!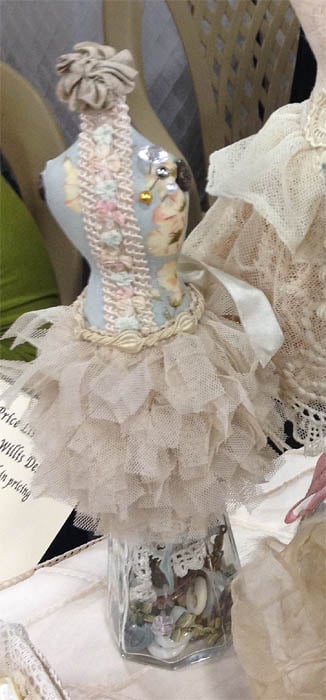 Sometimes the finds were in a booth and other times they were walking around. I found this awesome lady wearing a yo-yo scarf made from antique kimono fabrics. She was stylin' from head to toe – love those glasses!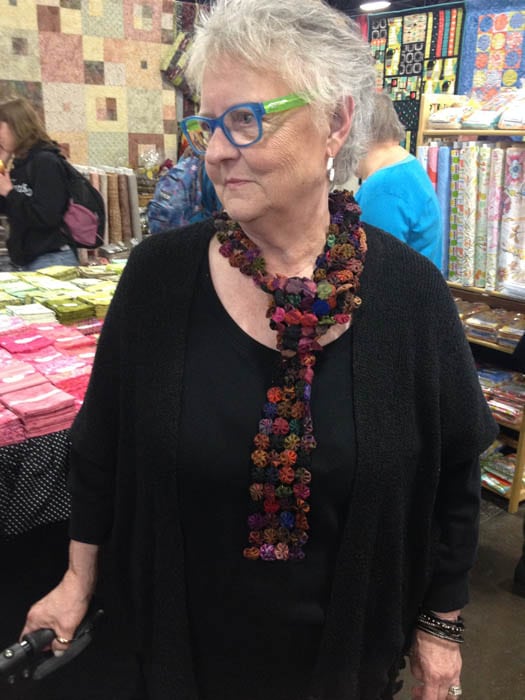 Friendly Finds
Some of my favorite finds at the show were actually friends! Quite a few. Nancy Zieman taped a couple of segments for her Sewing With Nancy show at the Pacific Fabrics booth. Nancy also had book signings for her 'Seams Unlikely' autobiography, taught classes and lectured, too.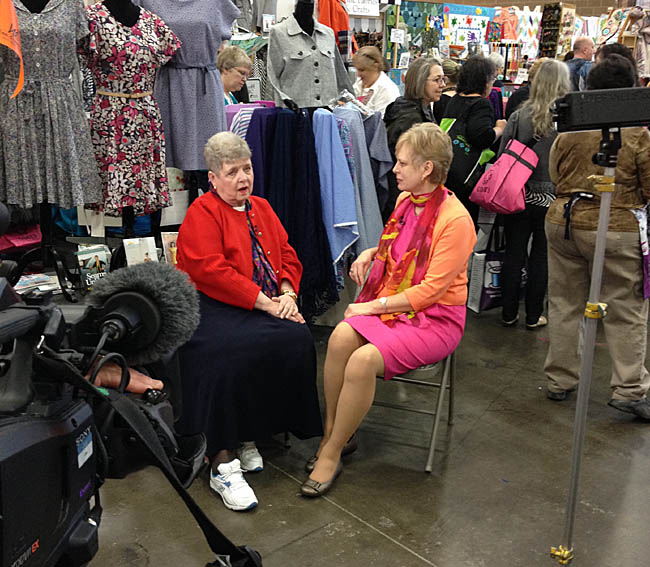 Then Miss Eleanor Burns stopped by for a chat. Eleanor had a booth at the show with all of her fabulous Quilt In A Day goodies.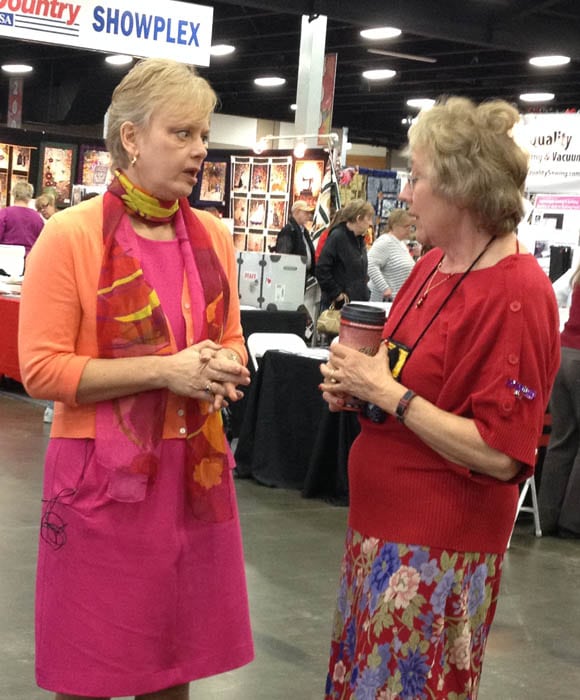 Then Tula Pink showed up for a book signing. She's an amazing talent.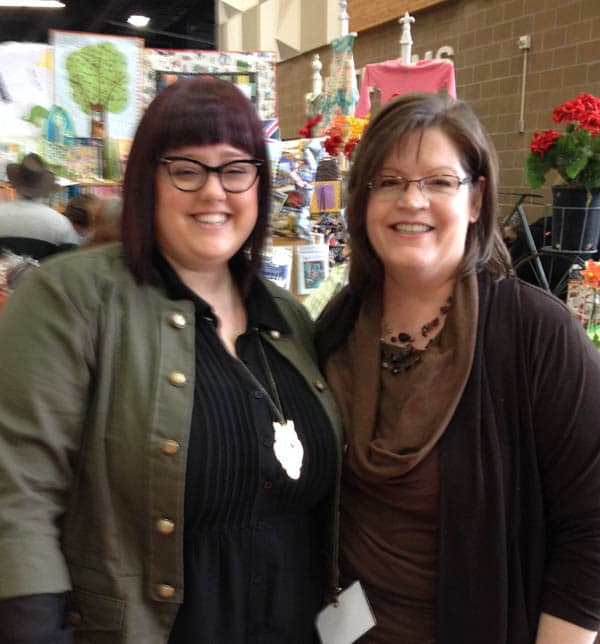 I caught up with the fabulous Loralie Harris of Loralie Designs. She's so lovely!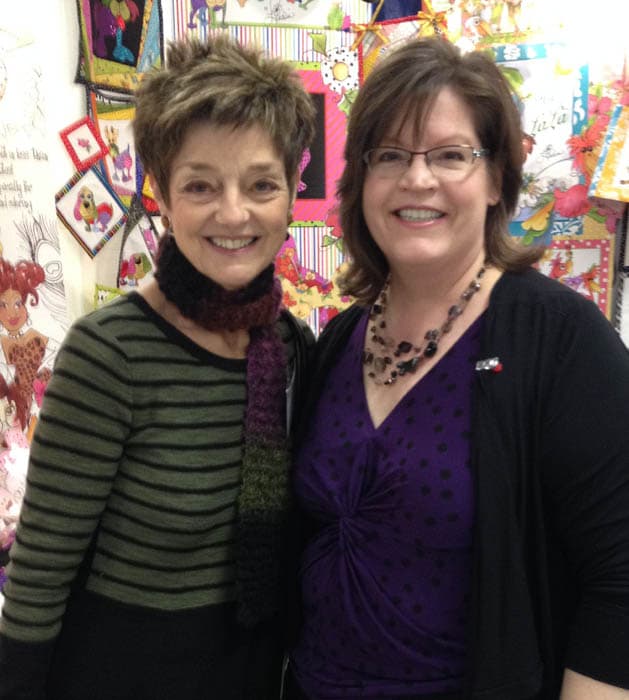 And, while Julie Herman of Jaybird Quilts wasn't there, her designs and products were just about everywhere. These are her new 'minis', that use her new keychain-sized mini Hex N More ruler.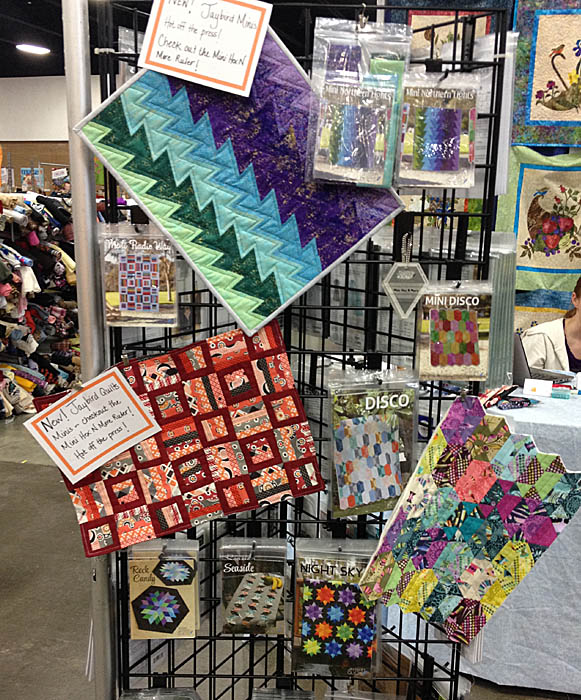 I also found Kathleen Starr of Starr Designs hand dyed fabrics. She's showing two new quilt patterns and many new color fabrics. Kathleen's fabrics are to dye for. Truly luscious.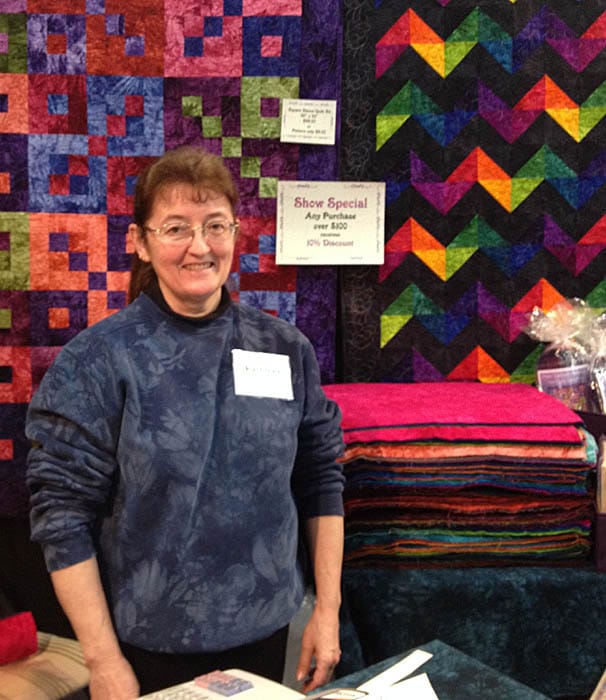 At the end of each day as I left the show, I saw these big purple hands calling out to me, in a confusing and playful message of wanting to sooth my feet. Gee, whose feet are that big?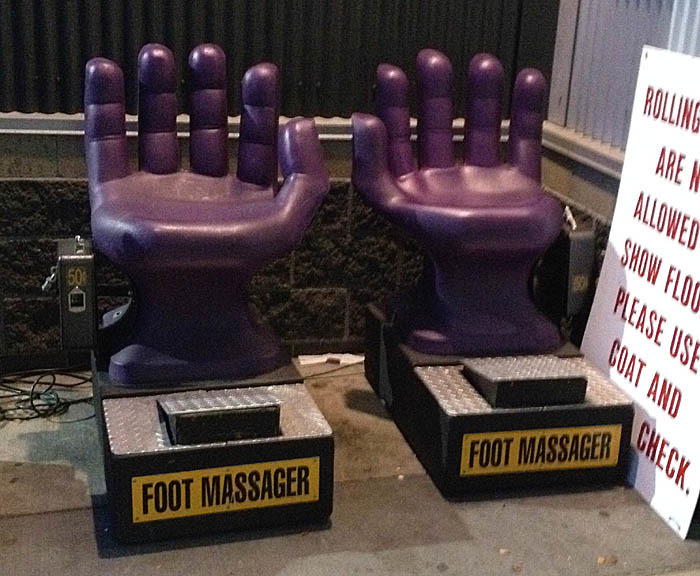 The show was fun and fabulous…and wore me out. Good stuff all around.
New to our blog? Subscribe to get emails so you don't miss a juicy morsel.
Like and share this post with your stitchy friends.
Join me in the Lazy Girl community on Facebook here: Facebook Lazy Girl
Enjoy!
Joan
Facebook Lazy Girl
Pinterest Joan Hawley
Pinterest Lazy Girl Community
Instagram @JoanHawley
Twitter LazyGirlJoan