Giveaway: The Point 2 Point Turner
Lazies, One of the essential tools in my sewing room has always been a basic point turner. It's simply handy for so many tasks and I could really use several – one for every work area.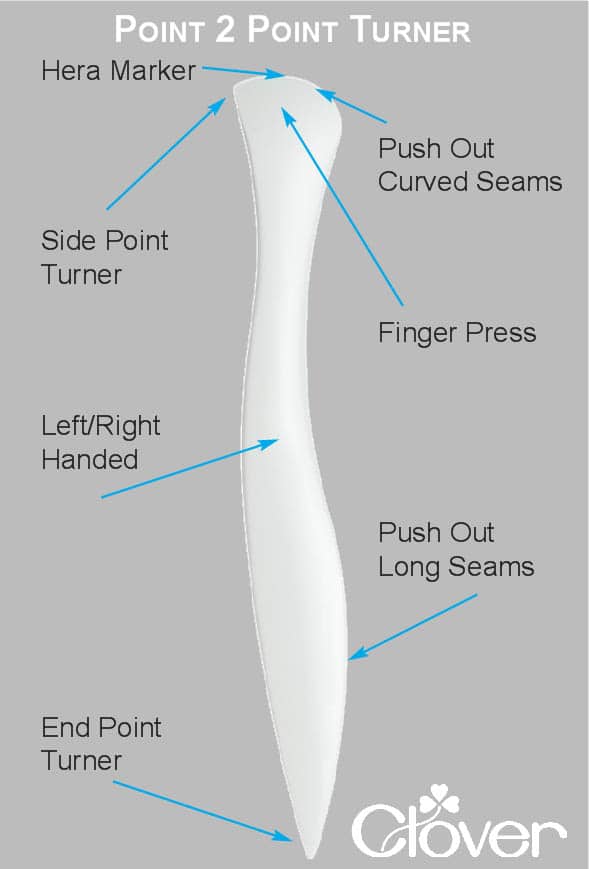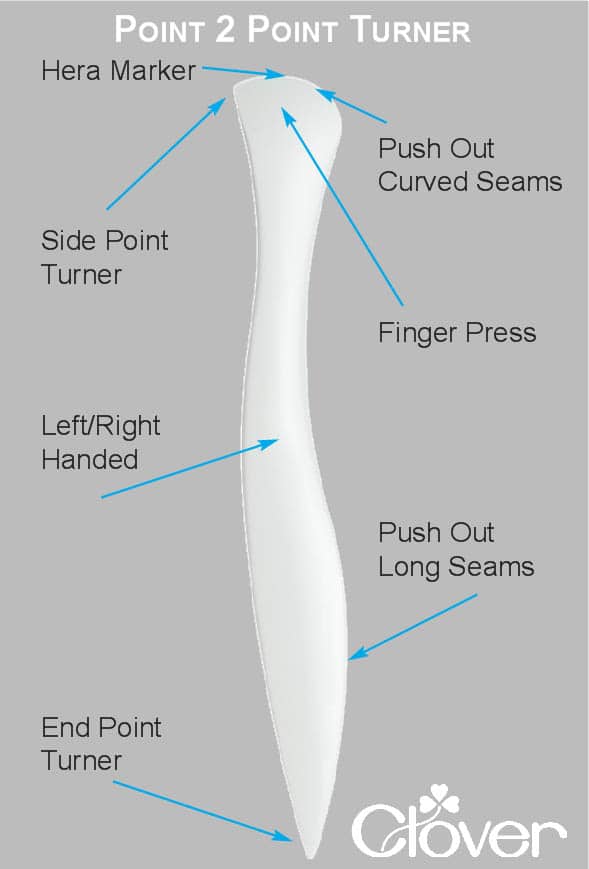 In designing the Point 2 Point Turner for my new Press Perfect line of notions through Clover, I added features to both ends and all edges so the whole tool is loaded with functionality.
It's like the Swiss Army knife of point turners!
Read on for details, a video demo and a giveaway.
Point 2 Point is 6 tools in one:
– 2 Point Turners
– 2 Curved edges to push out seams
– Finger Presser
– Hera Marker
It's also longer than other turners so there is more to hold on to, giving it better visibility, control and utility.
It's left/right handed and has a big beefy center for an easy grip. It's made of hard resin plastic material so it's strong.
End Point Turner
The traditional end point turner is perfect for reaching into those areas that have narrow access.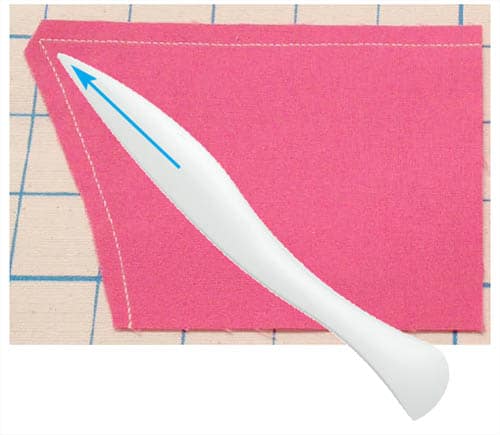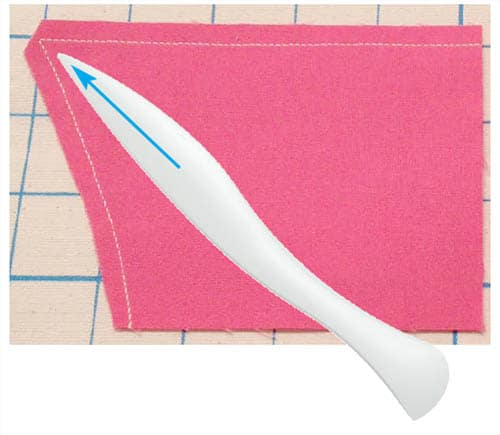 Side Point Turner
This is just plain awesome! When you have room to work on a corner like this one, the side point allows you to approach from the side, with the grain of the fabric. We risk stretching across the bias with the traditional approach. But finally, we can push the point out with the grain and not stretch or distort the point. Nice!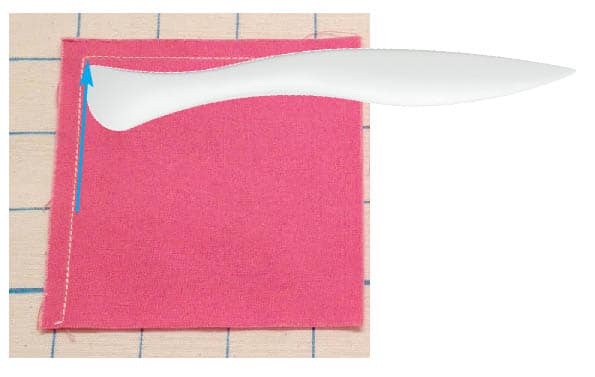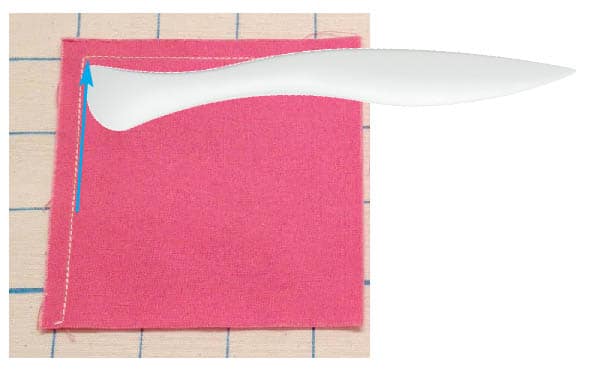 Hera Marker
The sharp edge of a Hera Marker allows you to mark a line in the fabric without using any chemicals, pens, or markers. So you don't have to worry about chemical marks showing up later, or through your fabric. It's a quick and easy way to make a mark for placement of a design element.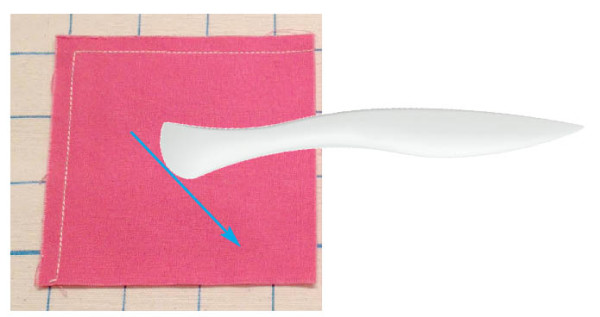 Curved Seams
I absolutely love this feature! Finally, there is something to help push out along curved seams. The gently curved end will glide smoothly along a curved seam. This is also the Hera Marker, which is tapered to be very thin at the edge, allowing the curved edge to really get into the seam and do a nice job.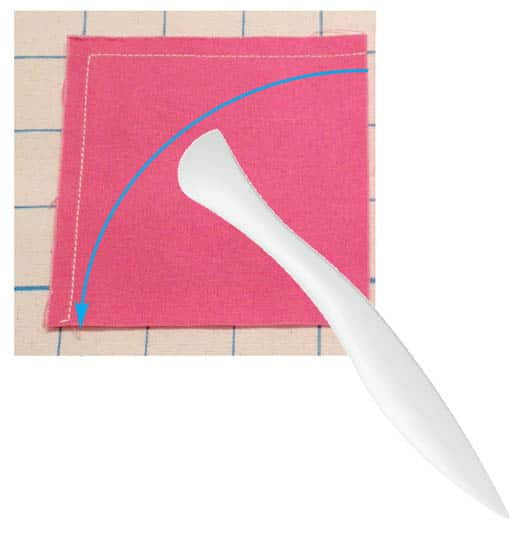 Giveaway
One winner will be selected to receive one Point 2 Point Turner item 7803 from Clover Needlecraft.

Enter To Win
– Enter by using Rafflecopter below.
– One winner will be chosen.
– Giveaway ends Saturday June 21, 2014.
– I'll contact the winner via email.
Thanks for joining in on the fun of the Point 2 Point Turner and Press Perfect.
Lazy All Over
Use #PressPerfect when posting to Facebook/Twitter/Pinterest!
Order Press Perfect
Order through your local quilt shop, online for any my Press Perfect items.
Enjoy!
Joan