Quilting Icon Kaye Wood Launches a 40th Television Series on PBS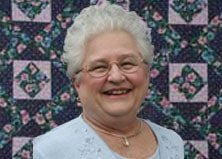 Lazies, Kaye Wood, quilt industry icon and hostess of Kaye's Quilting Friends TV Show, is completing her 40th TV Series. Kaye has brought 520 inspirational programs to you in the past 20 years!
I have to tell you that I first saw Kaye at a sewing expo in Novi, Michigan, 10 or 11 years ago.  Kaye was hosting the first class I attended and I've been a huge fan ever since. But never in my wildest dreams did I think I would have a chance to work with Kaye, appear on her show 15 times, or be lucky enough to consider her a friend. Kaye is absolutely as delightful in person as she appears on her show.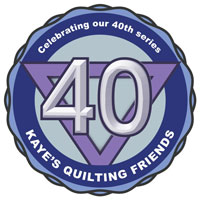 I had the great honor of taping eight segments for the thirteen episodes in this anniversary series. Kaye asked me to prepare one full show (Sassy Bag) and seven 'tips' segments (5-12 minutes) that would be paired with other guest spots.  Let me tell you – that was an adventure!
Here is a list of the episodes which will begin airing weekly February 11, 2007 on PBS stations throughout America:

#2201 Spinning Stars Kaye Wood demonstrates the easy way to piece this 6 pointed spinning star. Annie Moody from Janome joins us to show us great techniques on our machines.
#2202 Girls Just Wanna Have Fun Charlotte Angotti shares the techniques required to make this vibrant quilt.
– Joan Hawley: Katy Bags, Embellish with Ribbons
#2203 Shattered Crystals Lisa Amabile's paper piecing methods make this quilt easy enough for a beginner.
– Joan Hawley: Runaround Bag, Sew Easy Zipper
#2204 Trees Kaye Wood shares this unique quilt with trees cascading across it. Annie Moody from Janome joins us to show us great techniques on our machines.
#2205 Quilt As You Go Linda Sherony shows us this unique quilt as you go quilt made up of 40 fat quarters.
– Joan Hawley: Chloe Handbag, Mock Felted Purse
#2206 Fractured Bargello Jacket Nanette Weaver takes a sweatshirt and turns it into this amazing looking jacket.
– Joan Hawley: Gracie Handbag, Cutting Oversized Pieces
#2207 Other Side Of The Fence Kaye Wood shows us a wonderful way to show off your custom embroidery inside a quilt block.
#2208 Rings-N-Things Carolyn Griffin shares an extremely interesting quilt with many unique shapes.
– Joan Hawley: Chelsea Tote, No-Fear Zipper
#2209 Log Cabin Stars Kaye Wood shares the easy way to make this Log Cabin multicolored star quilt. Annie Moody from Janome joins us to show us great techniques on our machines.
#2210 Sassy Bag Joan Hawley of Lazy Girl Designs shares this Sassy little bag with us. It's perfect for travel and vacations.
#2211 Scrap Happy Quilt Lyn Steinmetz has a great project for using up all those leftover fabrics from previous projects.
– Joan Hawley: Summer Tote, Tips for turning
#2212 Simple Chenille Quilts Amy Helmkamp takes us step by step through this adorable heart chenille baby quilt.
– Joan Hawley: City Bag, Sturdy Shoulder Strap
#2213 ABC Kids Quilt Kaye Wood shares this cute embroidered tumbling block baby quilt with us. A great spot to feature embroidery or a perfect place to fussy cut your favorite fabric.
Call your local stations for dates and times for the new 2200 series. Use the PBS station finder to check your local listing or request the program.
Kaye, Congratulations on your 40th series!
Thanks to Quilter's Showcase for the tip and Kaye Wood for the images.