Embroidery Tips To Transform Your Bag Creations
Lazies, I'm over the moon for this all-over embroidery design on our Bendy Bag design! But wait until you see it on our Mini Miranda, too (below). When I think of embroidery, I think of a single stand-alone design like a monogram or emblem. I didn't know about all-over designs to create what I consider to be your own, one of a kind, custom fabric like we're showing here. Read on for tips and to find out what intrigues me about this project.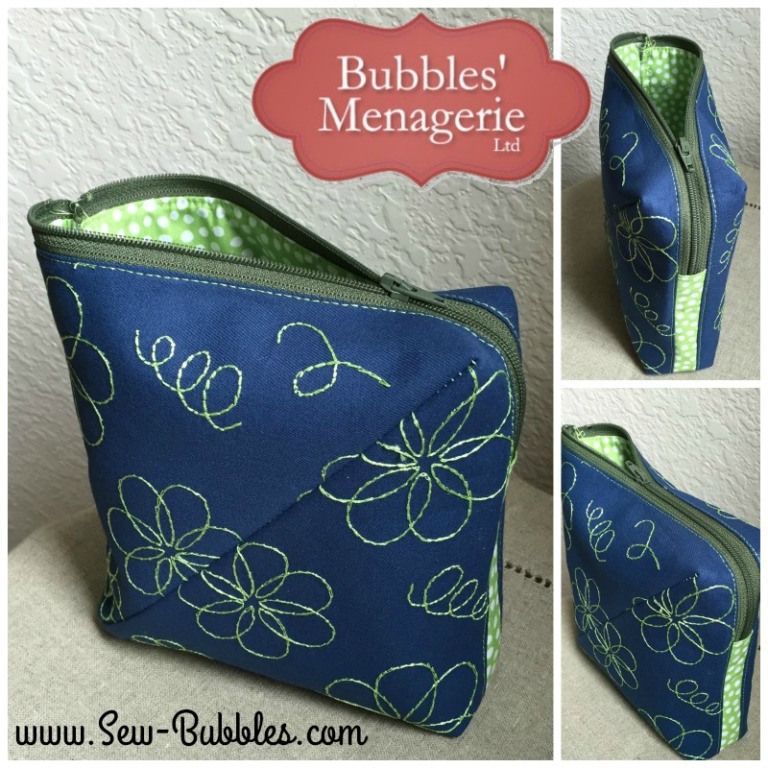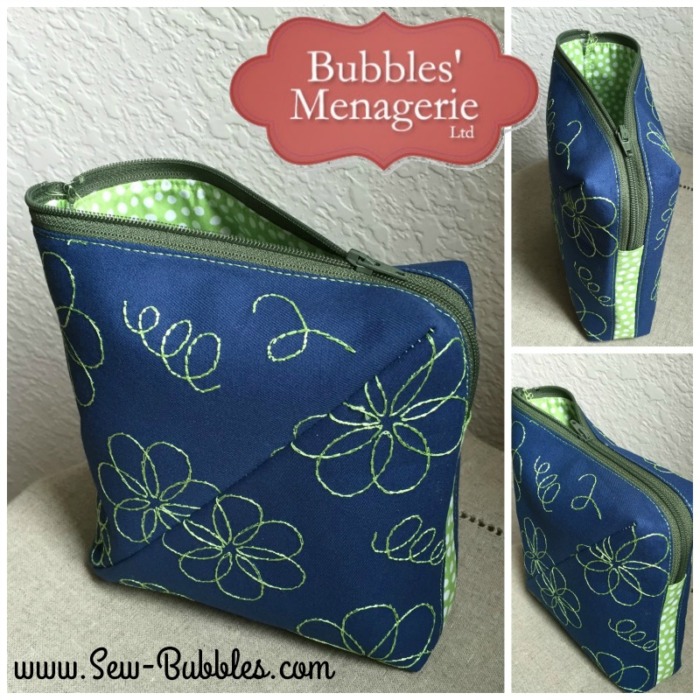 When my friend Lisa Shaw of Bubbles Menagerie showed me her amazing Bendy Bag – I wanted to know everything. How did you do this? Is this a bunch of embroidery designs put together? Is this random? How did this happen, how did you do it – tell me every detail. And, perhaps send me that bag so I can inspect it in person! Yum!
About Lisa
Lisa Shaw is a renowned embroidery instructor, designer, and guru. For all things hoop-y, join Lisa in her amazing Bluprint embroidery classes Big Embroidery in a Small Hoop, and Hoop Savvy. Links below for both classes.
Where It All Started
In Lisa's prep for making my Mini Miranda Bag, she did a test embroidery of green thread on navy fabric (below left) that eventually became a Bendy Bag. Lisa refined the design (below right) and did a final embroidered piece which became her gorgeous Mini Miranda Bag. Both Bendy and Mini Miranda use two embroidered panels – one for each side of the bag.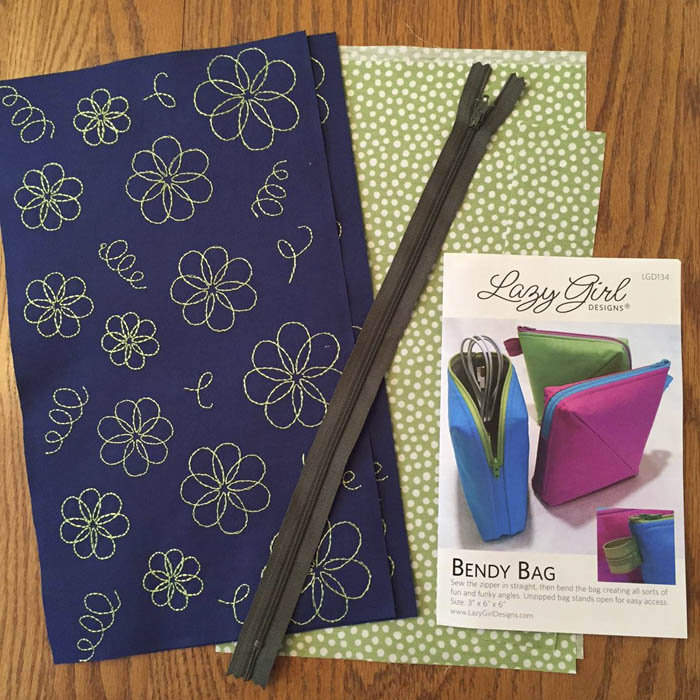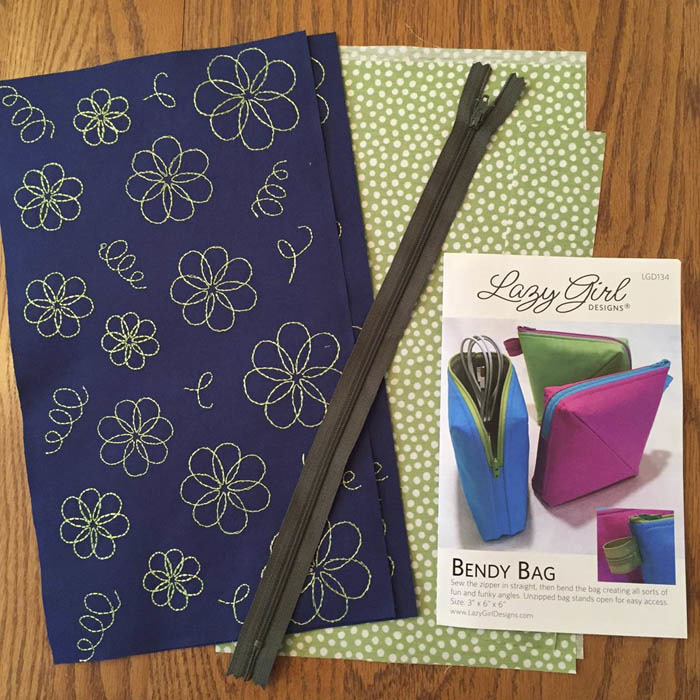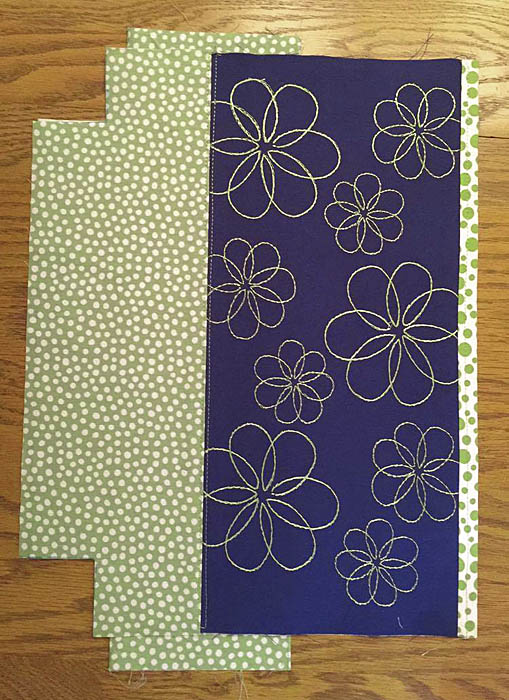 Test and Refine
Notice the differences in the two pieces above. The test piece above left used for Bendy has curly corkscrews along with flowers. The final piece above right (already sewn into place) has larger and smaller flowers. I love the adjustments Lisa made for the final piece used in Mini Miranda.
Use the link below to hop over to Lisa's blog for an embroidery software tutorial showing how you can do this embroidery.
Mini Miranda Bag
Here's Lisa's Mini Miranda Bag project during construction and on her shoulder at Quilt Market in May 2015. Just gorgeous, both Lisa and the bag.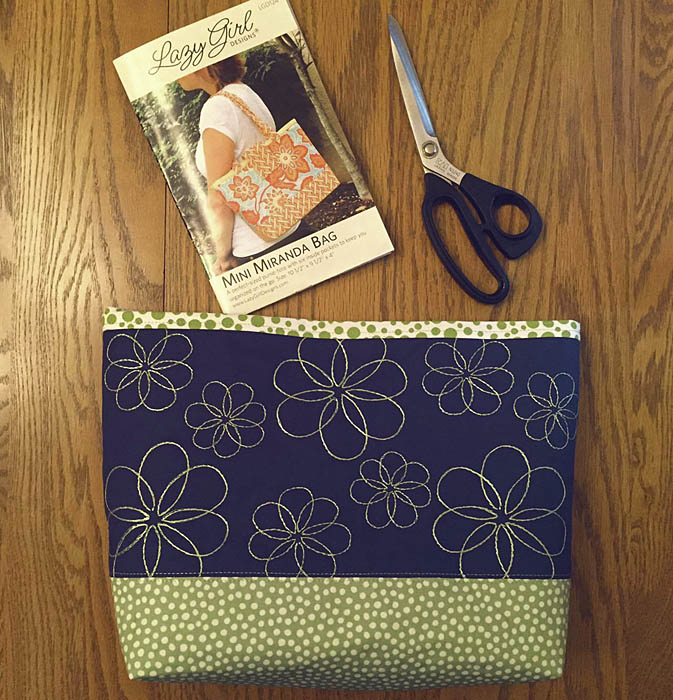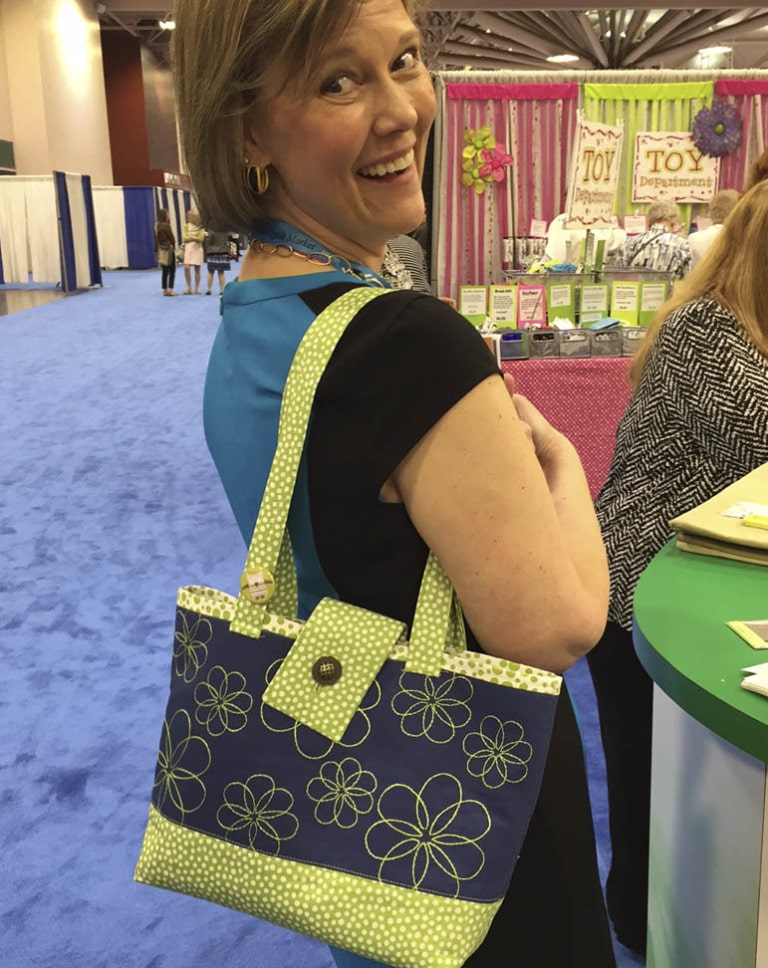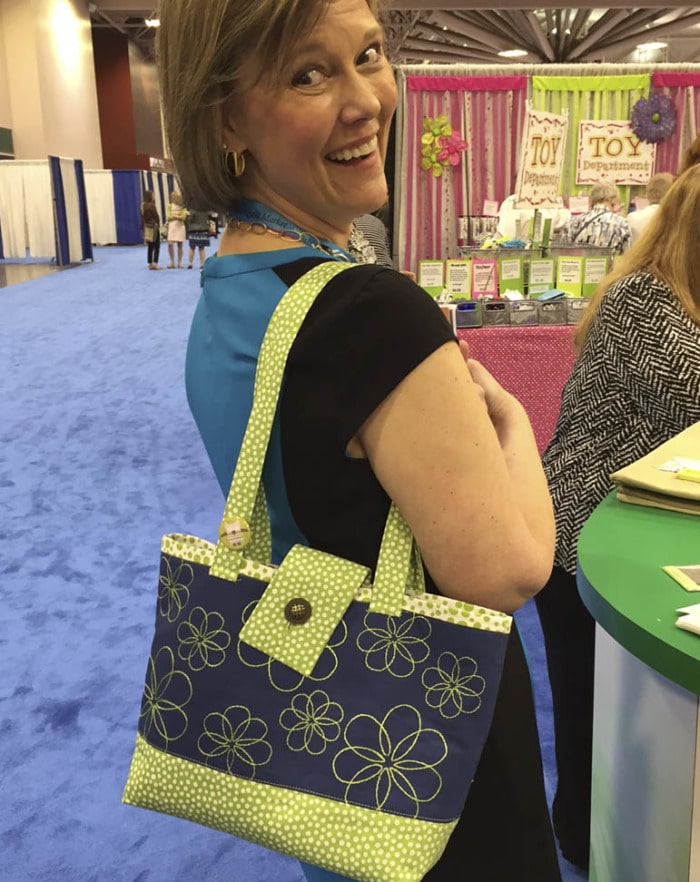 Simply Awesome
I am totally intrigued by the impact of this seemingly simple embroidery. I mocked-up a photo to show the project without the embroidery and it's a pretty dramatic comparison.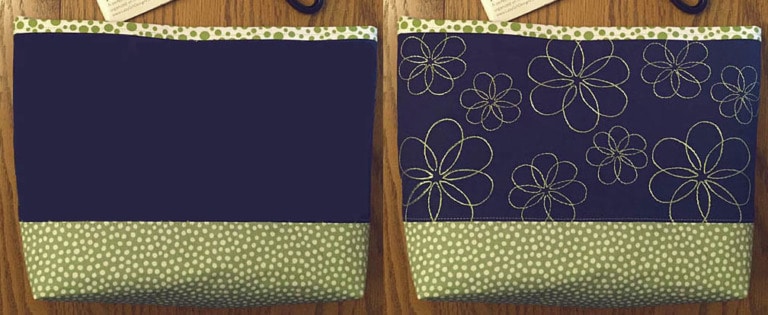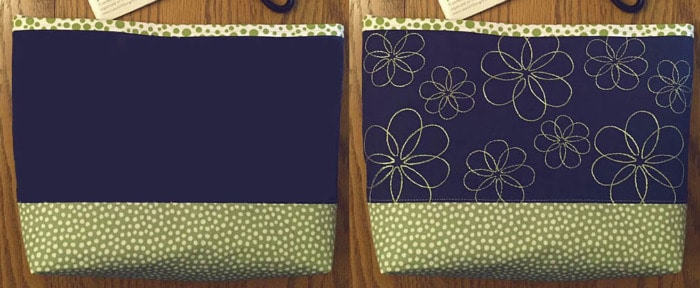 In addition to its beauty, here's what grabs my attention. A little bit of green thread on this plain navy fabric totally transforms this project. First up, Lisa found a way to make this plain navy fabric become a coordinate by adding an embroidery design in the green color from the polka dot fabric. This is a design vision that I want. This concept was not obvious to me and now I want to know more. I want to learn how to do this.
One Project, Two Project
In addition to all the stitchy goodness Lisa has shown us on Mini Miranda, she then used the practice embroidered piece for Bendy – brilliant! Same materials, used in different proportions, plus a zipper, and she has two stunning bags from this effort.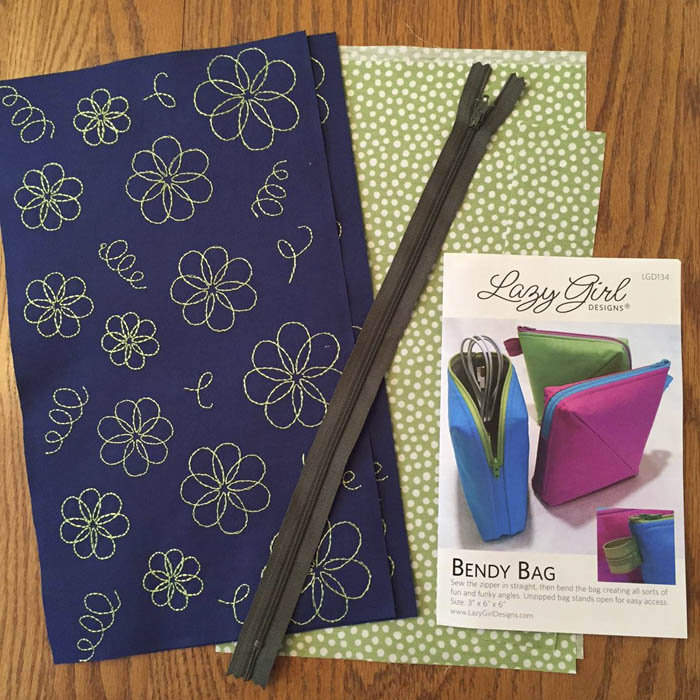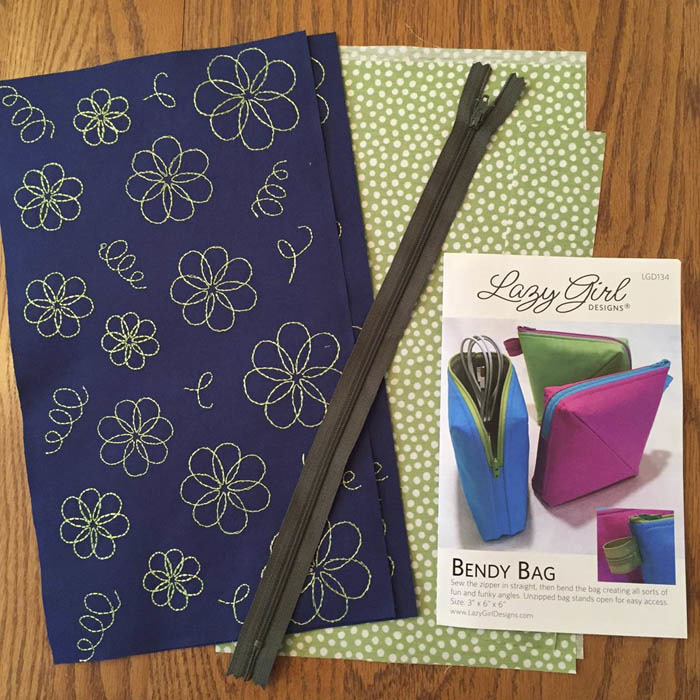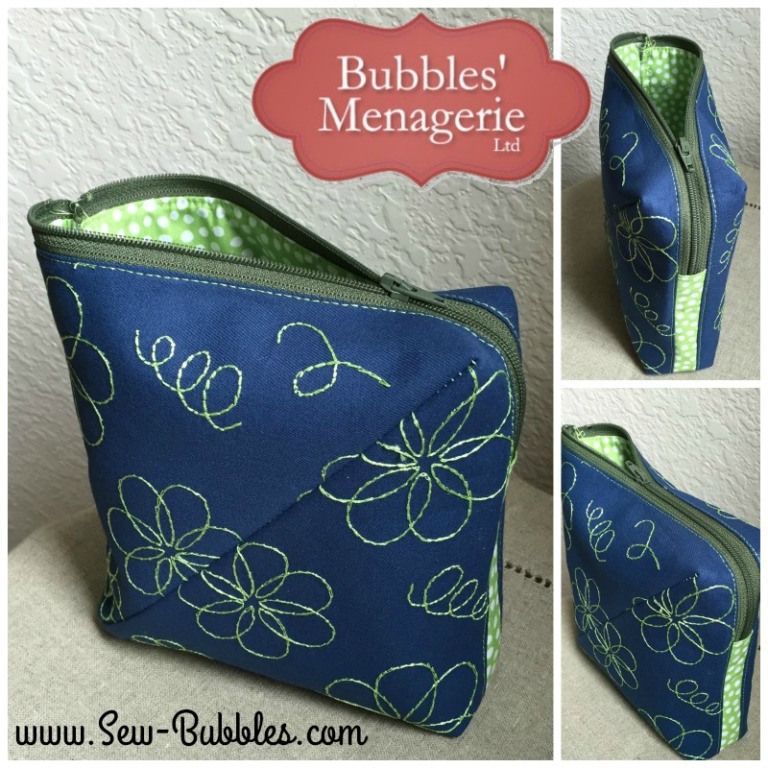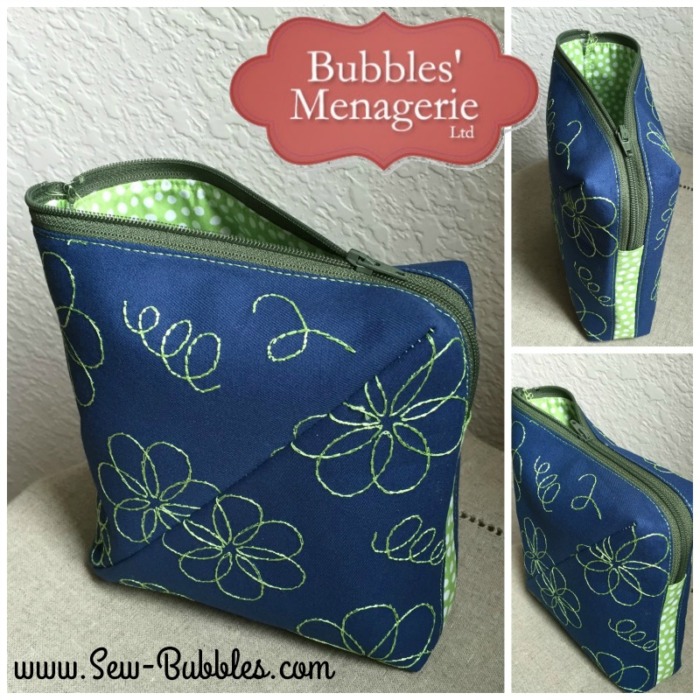 Embroidery Tutorial
Want to know how to create an all-over design? Lisa has a step-by-step tutorial for how to create an all-over embroidery design at her Sew Bubbles website here.
Where to Get More Lisa Goodness
First up, Lisa is everywhere…on the road teaching, online, and at Bluprint. Here's where and how to connect with and learn from Lisa.
Bluprint class: Big Embroidery In A Small Hoop (discount link)
Bluprint class: Hoop Savvy (discount link)
Subscribe to Lisa's blog: Bubbles Menagerie
Facebook: Bubbles Menagerie
Want to Make a Bendy or Mini Miranda Bag?
Get the Bendy Bag and Mini Miranda Bag patterns in our pattern shop here.
Thank you Lisa for sharing this amazing technique!
Enjoy!
Joan
Instagram @JoanHawley
Facebook Lazy Girl
Pinterest Joan Hawley
Twitter LazyGirlJoan