Lively City Bag and New Pattern News
Lazies, I have a few things to share today. First up, I am so excited to tell you that I have a new pattern is in the works and I hope to have more details about her next Monday. I can tell you that she's great for Moda layer cake 10″ squares of fabric and hopefully she'll be here in a few weeks. Oh, her name? Maggie Bags. More. Soon. I promise.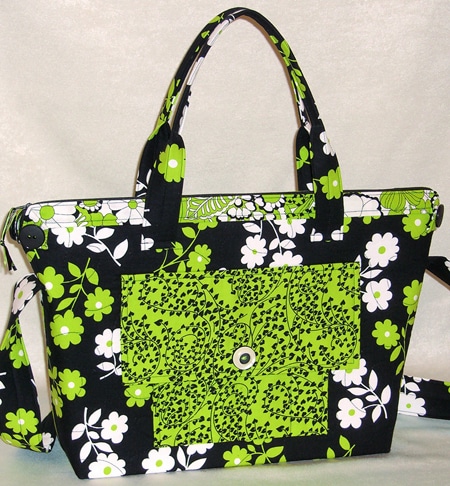 Lazy Girl Designs City Bag #112 shown in Kiwi from Timeless Treasures.
City Bag #112
Next, our City Bag pattern. I saw this beautiful 'Kiwi' fabric collection by Alice Kennedy for Timeless Treasures and had to have some. You know that feeling. Well, I simply went wild over the color and print and it screamed City Bag to me. Actually, it screamed several projects, but I started with City.
Here's the cover for City and we've already started shipping. Give it a little time to make it to your favorite quilt shop.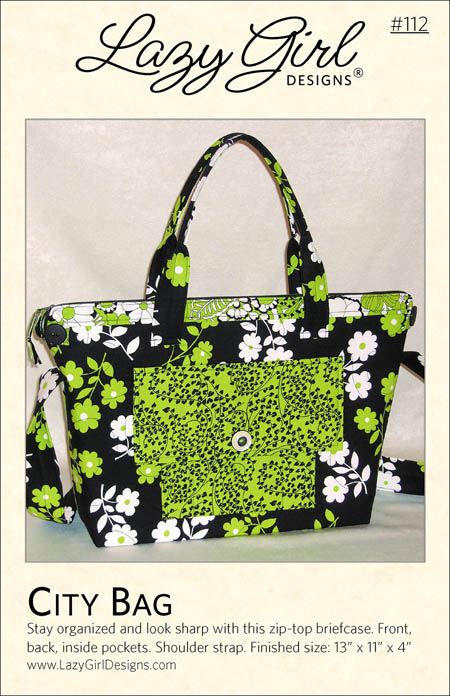 Let's Meet City
The City Bag is my briefcase or work bag. She's a zip-top girl, loaded with inside and outside pockets. I love the big functional all-purpose pocket on the back. It fits file folders or magazines and is just handy for stow and go. Oh, and it has my favorite comfy shoulder strap. Love that strap.
Finished Size: City measures 13″ across the bottom, 11″ high, and 4″ deep.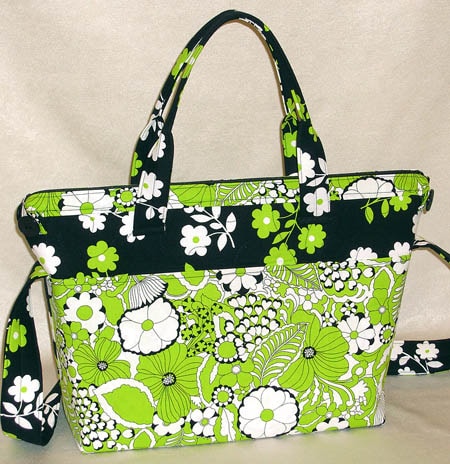 City is loaded with inside pockets to keep all your goodies safe and sound. Shown here with black pockets and a fabulous limey green covered Bag-E-Bottom size C (LGD502). 'C' for 'City'. The zipper construction and bag design allow City to open nice and wide – love it.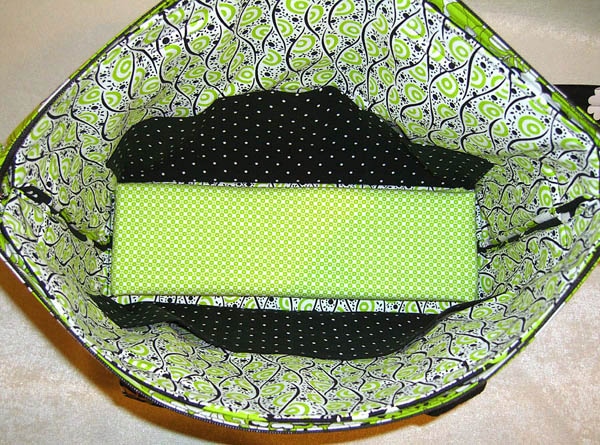 The City Bag does not include directions to make a case for a laptop. This pattern came out before laptops became popular – can you remember back that far? So, I slip my laptop into a quilted sleeve (like a big quilted placemat folded in half then stitch the sides), and put that in the City Bag.
Zipper Time!
City uses our original 'No-Fear' zipper technique that works with any standard zipper. We use this same technique on our Towne Purse, Chelsea Tote, My Favorite Duffle Bag, and Take Along Bags patterns. The technique adds fabric to the zipper, then sews the whole thing to the bag. I used the same fun and funky fabric from the back pocket to frame the zipper. See how the zipper goes together in our Chelsea Tote video demo here.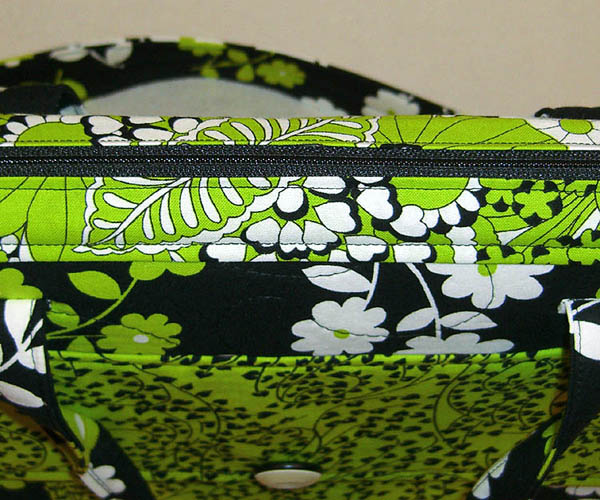 Here's a close-up of the ends of the zipper, adorned with a few strands of ribbon for the pull and some handy, sharp-looking buttons. These black buttons serve two purposes, decoration and function. I grab the buttons between my thumb and finger to hold the bag as I zip and unzip. Zippers are great, but ya gotta hold the bag with one hand and zip with the other. Ugh, so much work! These buttons keep everything looking nice and clean and keep the area from getting soiled.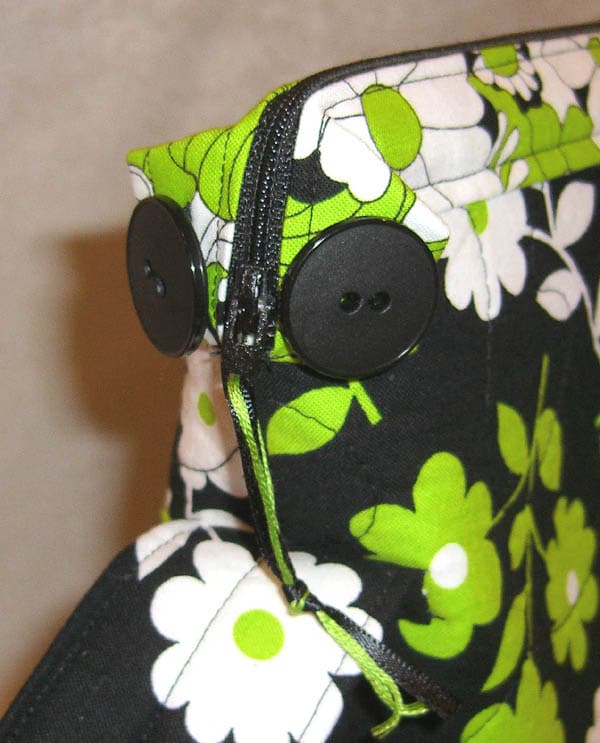 Button Love
You know I love a great button! I found this simple and cool black and white beauty for the flap of the front pocket. I used green floss wound through the holes to add some color. Then I stitched it in place with black thread.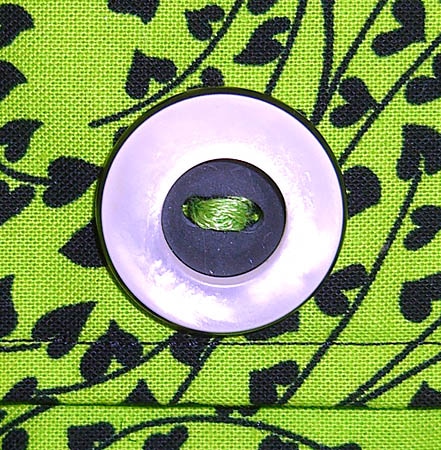 City is very similar in construction to our all-time best seller the Towne Purse. The bag is constructed of a finished front half and finished back half, rather than an inside and an outside like Miranda or Claire. The seams get quite bulky during final construction, so use a size 90/14 needle and your walking foot.
Next Week
More details about Miss Maggie Maggie Moo, ahem, I mean Maggie Bags. (I've already given her a nickname – must be love.)
Enjoy!
Joan