Indygo Junction's Fabric Flowers Book Tour and Giveaway
Lazies, Thank you for joining me on my day of Indygo Junction's Fabric Flowers blog tour. My gorgeous flower is the Wool Daffodil and I adore it!. We are giving away a copy of Indygo Junction's Fabric Flowers book & the Clover needle felting tools used to add the swirl embellishment to my flower. Details below.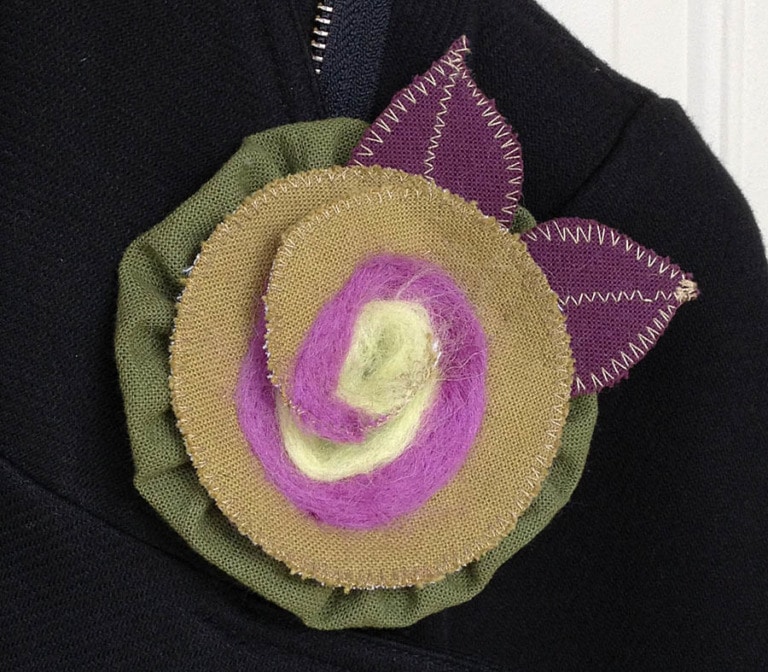 Daffodil Flower
Here's my flower in place on my jacket, ready to hit the town in style. I love the combination of textures, dimension and materials. It adds new character to my outdoor ensemble. I'll just have to steer clear of my friend Karen S, whom I know would love this so much, she'd shamelessly wrestle it right off my shoulder. Karen – I'll see you when the weather warms up.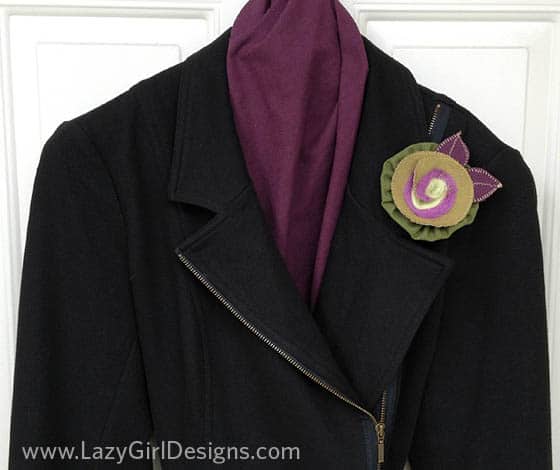 Fabrics and Embellishments
Here are the materials I used to create this Daffodil. Three pieces of heavy cotton fabric and two colors of Clover's wool roving. I couldn't…ahem…locate my wool fabrics in my not-so-tidy studio, but I'm thrilled with the result using these heavy cottons I picked up on a trip to Japan.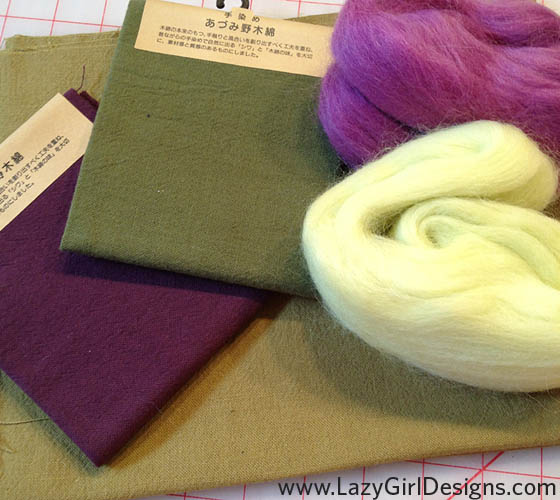 Fabric Flowers Book
Indygo Junction's Fabric Flowers book is packed with 25 beautiful and creative flowers to decorate your life. The directions were easy to follow and I plan to try more of the designs in this book. The daffodil from the Fabric Flowers book is shown here made in wool.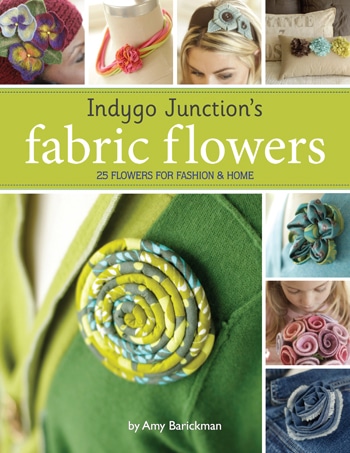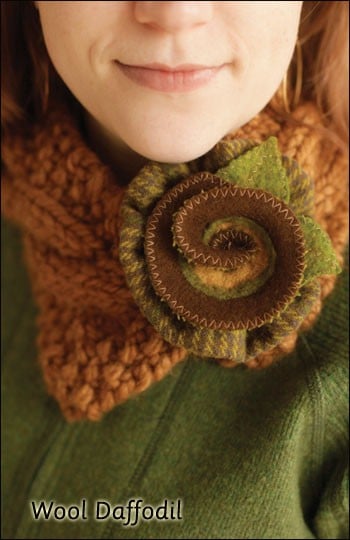 Clover Tools
I used Clover Needlecraft's felting tools and wool roving. This is the first time I tried needle felting. It was easy and successful. I like the added dimension it brings to my flower. I used heavy cotton fabric for my base. To give it more structure like wool, I added our Sew Lazy Face-It Soft fusible lightweight interfacing on the back of the main fabric. The needle felting was successful through the cotton and interfacing.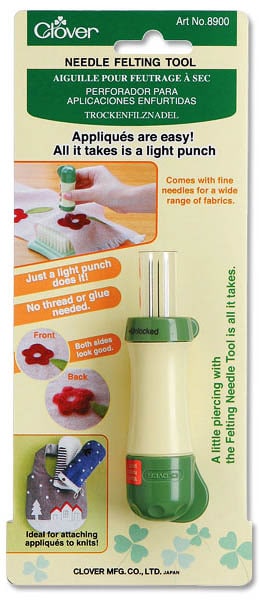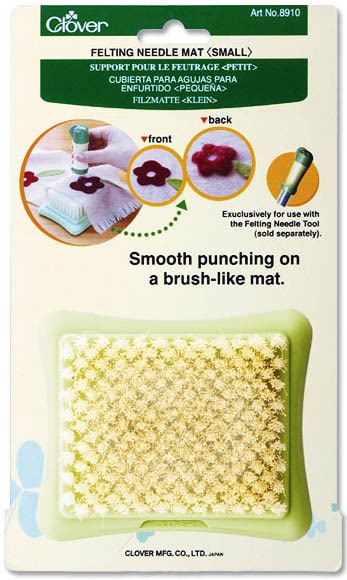 Special Offer for Lazies
Indygo Junction is offering a special discount just for Lazies. Use code FFBK11 for 20% off your next IndygoJunction.com order (offer expires 5/1/13) – awesome!
The Giveaway
I'll select one winner to receive:
– Indygo Junction's Fabric Flower book
– Clover Needlecraft Needle felting mat, tool & roving
Enter To Win
– Enter by posting a comment below. Do you think my friend Karen S. will try to steal my beautiful flower? Do you like the book? Do you like my flower?
– One comment per person.
– Be sure you type your email address correctly so I can contact you.
– I'll pick 1 winner using the random number generator.
– Enter by Friday February 22, 2013, 10 pm Eastern time.
– I'll contact the winner via email.
Fabric Flower Blog Tour
A flower a day & 25 chances to win! Don't miss a stop on Indygo Junction's Fabric Flowers Blog Tour:

2/2/13 – Indygo Junction Kick Off Post
2/4/13 – Kollabora
2/5/13 – CraftFoxes
2/6/13 – Sewing Secrets by Coats & Clark
2/7/13 – Princess Lasertron
2/8/13 – Dollar Store Crafts
2/11/13 – Tater Tots & Jello
2/12/13 – Family Ever After
2/13/13 – This Mama Makes Stuff
2/14/13 – Amy's Creative Side
2/15/13 – Today's Creative Blog
2/18/13 – Lazy Girl Designs – You are here!
2/19/13 – Skip to My Lou
2/20/13 – The Sewing Loft
2/21/13 – The Crafty Cupboard
2/22/13 – Fishsticks Designs
2/25/13 – Taradara
2/26/13 – Diary of a Quilter
2/27/13 – Craft Gossip
2/28/13 – How Joyful
3/1/13 – Lindsay Sews
3/4/13 – Flamingo Toes
3/5/13 – In Color Order
3/6/13 – See Kate Sew
3/7/13 – Handmade Charlotte
3/8/13 – Sew Caroline
3/9/13 – Indygo Junction Wrap Up Post with BONUS Giveaway & Free project
Indygo Junction
Indygo Junction Inc., founded by creative entrepreneur Amy Barickman, is an established sewing and crafts business that offers stylish and timeless, easy-to-follow patterns and a variety of idea-rich project books. Amy continues to work with artists and designers from around the world to create unique projects, having sold over 2 million books and sewing patterns.
Amy Barickman
Amy will be teaching at the upcoming Sewing & Stitchery Expo in Puyallup, WA on February 28th at 4:30 & March 1st at 3:30. Her class is called Fabric Flower Power! and will highlighted some of the methods featured in the book, show tools used, and teach some short-cut methods. With a fresh, fashion-forward style, IndygoJunction.com connects creative enthusiasts of all ages. Hint, Hint: LIKE them on Facebook
Thanks for joining in on the fun of the Indygo Junction Fabric Flowers book tour. Remember, comment below to enter the giveaway.
New to our blog? Subscribe to get emails so you don't miss a juicy morsel.
Like and share this post with your stitchy friends.
Join me in the Lazy Girl community on Facebook here: Facebook Lazy Girl
Enjoy!
Joan
Facebook Lazy Girl
Pinterest Joan Hawley
Pinterest Lazy Girl Community
Instagram @JoanHawley
Twitter LazyGirlJoan