Customize An Ensemble Part 4: How to Choose Pieces
Lazies, To continue our discussion, let's take a look at how to chose pieces to create an ensemble. Our ensemble consists of the Miranda Day Bag, the Sassy Bag and the Wonder Wallet. You can see all of the patterns discussed today at our Lazy Girl Designs website here.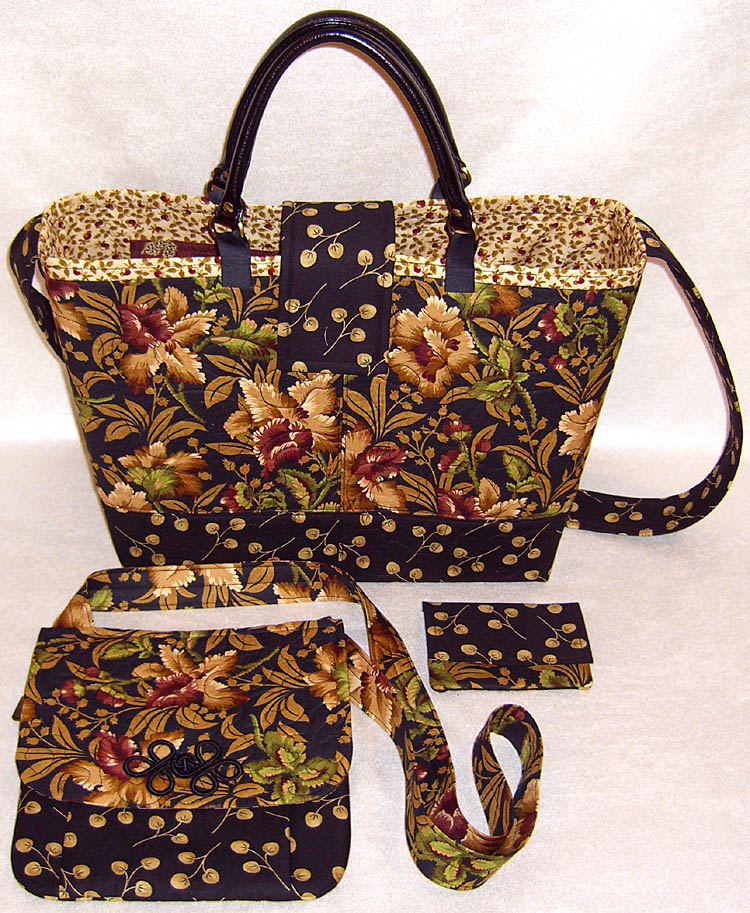 Make a Lazy ensemble: Miranda Day Bag, Sassy Bag and Wonder Wallet
An ensemble works together
The three pieces I chose work well together. I make a Wonder Wallet to go with every bag or purse I make for myself, and usually for gifts, too. The Wonder Wallet fits nicely inside the Sassy Bag. The Sassy Bag fits nicely inside the Miranda Day Bag.
This allows the flexibility of carrying your purse items in the Sassy, then throwing your Sassy into Miranda when you have a full day planned and need more Lazy to get through your day on the go. Likewise, the Wonder Wallet coordinates with Miranda, so you can bypass Sassy and use those two together.
For strap management, I tuck the Sassy strap into its back pocket or tuck it into the purse and under the flap. It's not perfect, but it controls the chaos for stow and go when Sassy becomes a passenger.
How to choose pieces for an ensemble
Think about the recipient and start with the bag that fits the user the most. Think about lifestyle and function. What else is needed? Larger bag? Small organizers or special purpose accessories? Pick and choose several pieces that work together or compliment each other.
Consider creating items for a theme such as a new mom, back to school, off to college, new job, book lover, knitter, etc.
Easy add-ons
A few of our designs are great add-ons for any ensemble you'd like to create. Among my favorites in addition to the Wonder Wallet are the Perfect Pouches and the eye glass case (a bonus in the Towne Purse pattern). The Perfect Pouches offers three sizes and I usually make the smallest size to go with everyday purses, the medium and large sizes to go with the larger totes. Purse-Nickities go nicely with luggage or travel needs.

Perfect Pouches, Purse-Nickities
The Checkbook Cover or Paperback Book Cover are nice lifestyle additions to keep in mind. How lovely to make a purse or tote and a coordinating book cover for the book lover in your life.

Checkbook Cover, Paperback Book Cover, Take-Along Bags
The drawstring Take-Along bag is great for a small knit project such as socks. That would fit inside Gracie, Claire, Whimsy, Summer or anything larger.
Here are some combinations that work well together:
– Miranda, Sassy, Wonder Wallet
– Gracie, Wonder Wallet, Perfect Pouches
– Claire, Checkbook Cover, Wonder Wallet
– Miranda, Wonder Wallet, Perfect Pouches, drawstring Take-Along Bag
– Whimsy, Perfect Pouches, Paperback Book Cover
– Towne Purse, eyeglass case (bonus inside Towne), Checkbook Cover, Wonder Wallet
– Summer Tote, Paperback Book Cover, Perfect Pouches
– Whimsy Bag, Runaround Bag, Wonder Wallet
You can see all of these designs at our website here.
What do you know about the person you are creating this ensemble for? Are they on the go? Carry lots or littles? Bring a small project with them? Don't carry a purse at all? Start with one main project, then add a few other items based on the needs of the recipient.
Next week, we'll talk about project planning including fabric selection and use, accessories, and logistics in the sewing room for creating several projects.
Enjoy!
Joan