Claire's Secret: Stack, Chop and Swap to Create Drama
Lazies, Repeat after me: stack, chop and swap! That's Claire's secret for creating drama. She longs to be a drama queen, equal parts attitude and attire. Today we will talk about the attitude, or design. Next week, we'll take a look at attire.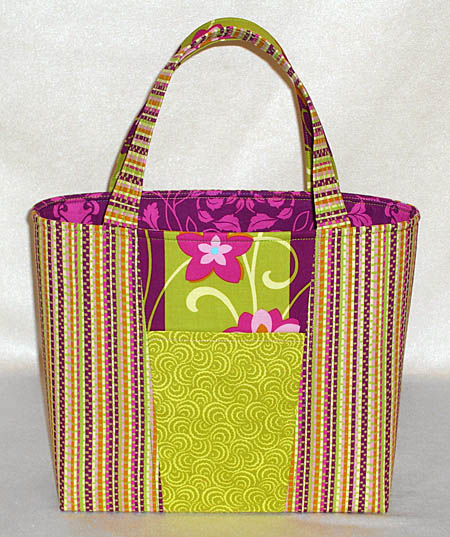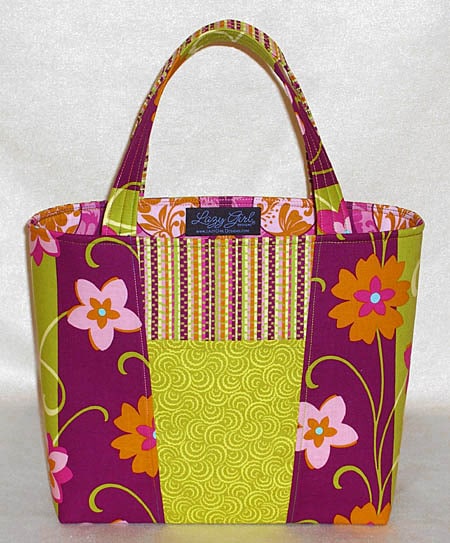 The Order of Things
Three fabrics make up the outside of Claire. In the first picture, we have a floral for the main fabric, a stripe for the center panel and limey green swirl for the center pocket. In the second photo, the floral and stripe are reversed and the pocket stays the same. Same three fabrics, different placement for front and back.
The Lazy secret to this design couldn't be easier. Remember, it's our opening mantra above: stack, chop and swap! I have to interrupt myself to tell you how much fun it is to make Claire. I adore the process as much as her design and function.
Stack, chop and swap is immediate gratification. I can say from the experience of making two dozen Claires that seeing those fabrics switch places and become the cover is addictive. Consider yourself notified.
Here we go..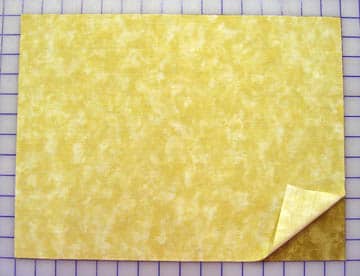 Stack: One fabric on top of the other – easy peasy.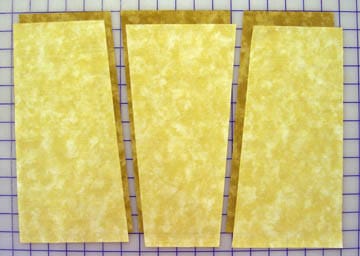 Chop: Rotary cut a big fabulous center piece. Oh baby, nothin' like choppin' fabrics.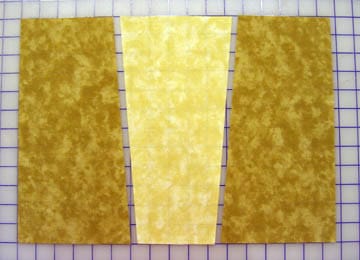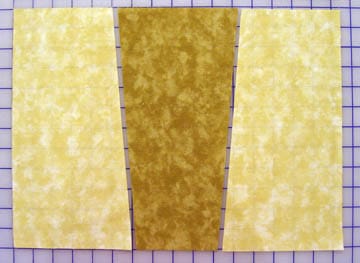 Swap: Then simply swap the center panels. Cool, simple, Lazy! And better yet – nothing is wasted.
Precision in the Process
Now, one of the coolest things about this – we cut both fabrics at the same time, so all of the pieces created match perfectly for being swapped and sewn back together. And your finished front and back cover pieces should be identical in size. Lazy nirvana.
Value of Rotary Cutting
Tools and technique make a difference here. If you used pattern pieces and scissors, rather than rotary cutting the six pieces above, there's a really good chance all of the pieces would all be slightly different and not match up. This precision is one of the many benefits of rotary cutting, rather than using pattern pieces, for this type of work. If you haven't had a chance to bring rotary cutting into your repertoire of tools, making Claire might be a great time to do so. Find your local quilt shop and get acquainted.
Next Week
We pick out some 'clothes' for Claire. Yes, I mean fabric. Come this June, Claire will have you sayin' chop n swap.
Enjoy!
Joan