Amy Barickman: Hankies Are Always In Style
Lazies, Amy Barickman of Indygo Junction joins us once again to share an eye-catching trend. This time, we are going hankie happy and Amy is going to share a few ideas on how to incorporate these beautiful works of art in our modern lives. As Amy says, hankies are always in style!


Here's Amy
I have always loved vintage women's hankies. So much is found in a simple square of cloth. They are at once fashionable and concurrently utilitarian. They can be bold and colorful or dainty and demure. They not only wiped our noses and dried our tears, but have become items meant to hold the memories of our grandmothers and of our wedding days.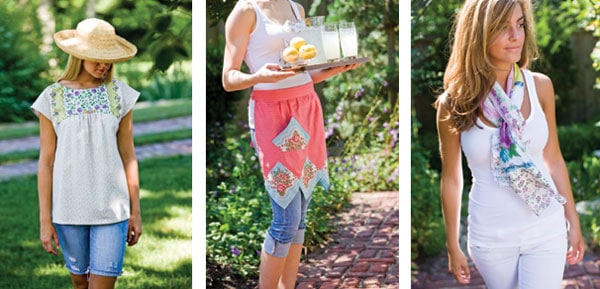 and

Collecting hankies can be terribly rewarding in so many ways. But the question ultimately is: after you've scoured antique shops, rummage sales, estate sales and swap meets, what do you do with the treasures you've found? This was the initial challenge that ultimately led me to write Hankie Style, my book that shows you how to turn those beautiful hankies into modern, fashionable items – shirts and scarves, brooches and aprons, and so many more.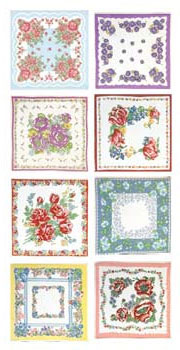 Now…I know what you're immediate thought is: cut up my grandmother's linen hankie so that I can make a belt? Are you crazy! I agree completely…that would be crazy. So my staff and I went about solving that problem in several ways. First, if you love hankies but haven't amassed a collection yet, you have a number of options. For Indygo Junction, we offer three sets of reproduction, 100% cotton, machine-washable 12×12 hankies that are designed to be up-cycled into lovely new wearable fashions. The designs range from beautiful flower hankies (IJ995-127) to Western-themed handkerchiefs (IJ995-42) to broader, floral-themed hankies (IJ995-18).
What do you do if you'd like to use vintage hankies from your own collection but don't want to cut them up? In this case, you should have them cleaned (if possible) and pressed, then color copy or scan them onto your computer. You can then print them onto cotton fabric sheets using an inkjet printer. Be sure to follow the manufacturer's instructions and sew away!


Finally, what if you love the look of vintage hankies but don't have the time to hunt and gather a collection of your own? We thought of that too and high-res scanned 17 beautiful vintage hankies that you can affordably purchase, print, and sew.
Here's an added treat just for lazy girls: at the end of the post, we have a code for $5.00 off at The Vintage Workshop that can be used for anything – the Hankie Style book, a vintage scan, printable fabric, or anything you want.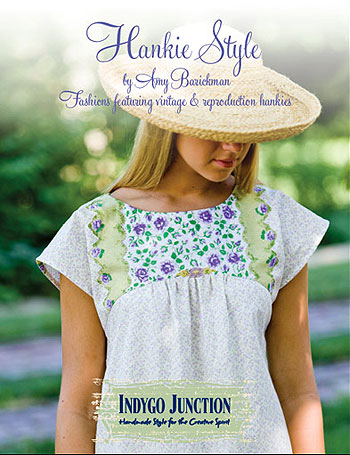 and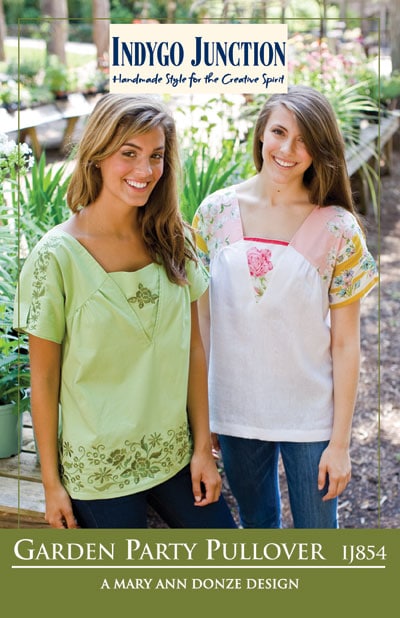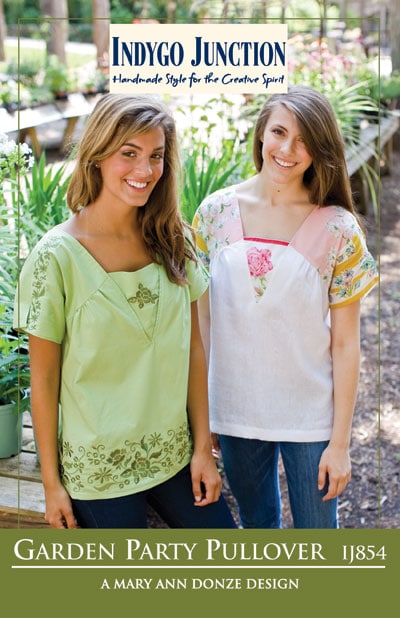 So now you've got your hankies, original or reproductions, ready to sew. Where do you start? Obviously, you can start with the Hankie Style book I mentioned earlier. I'm really proud of the variety of projects we included and how truly imaginative my staff and designers were (thank you again to Mary Ann Donze, Carole Kheder, and Dian Stanley). Additionally, over at Indygo Junction, we have a fantastic Garden Party Pullover pattern (IJ854) that uses hankies for decorative treatments, sleeves, and accents.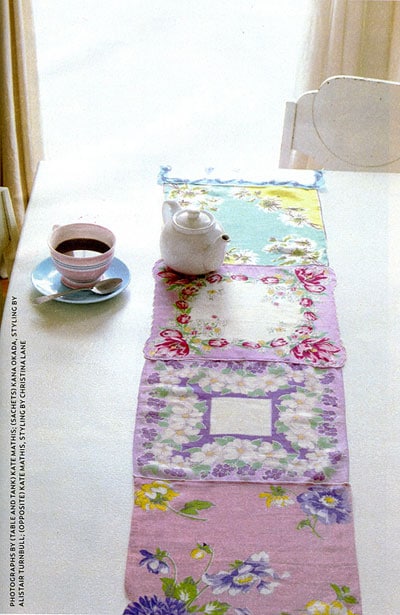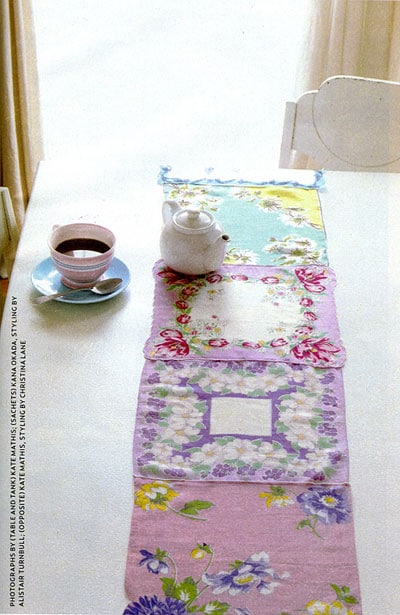 Finally, just use your imagination and you'll never know what you'll come up with. Here's an example: awhile back, Country Living magazine wrote up a short piece on "unexpected uses for vintage handkerchiefs. For the photoshoot, one of their stylists decided to use our scarves as a table runner. It was really clever and looked fantastic…and all it took was taking a new, creative look at a simple vintage hankie.
Thanks again for letting me share another of my vintage loves. If you'd like to visit The Vintage Workshop for hankie images or printable fabric, through June 15, 2011, please use the following code LGV5 at checkout.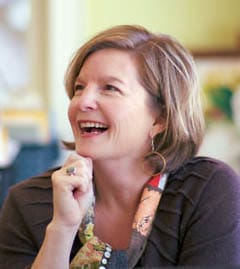 ~ Amy