Two Claires Are Better Than One
Lazies, Look at this scrumptious Claire Handbag ensemble made by Lazy Girl Cathy Rosynek.  Just beautiful. Cathy used the City Blooms fabric line from Benartex for this dark blue and limey green collection.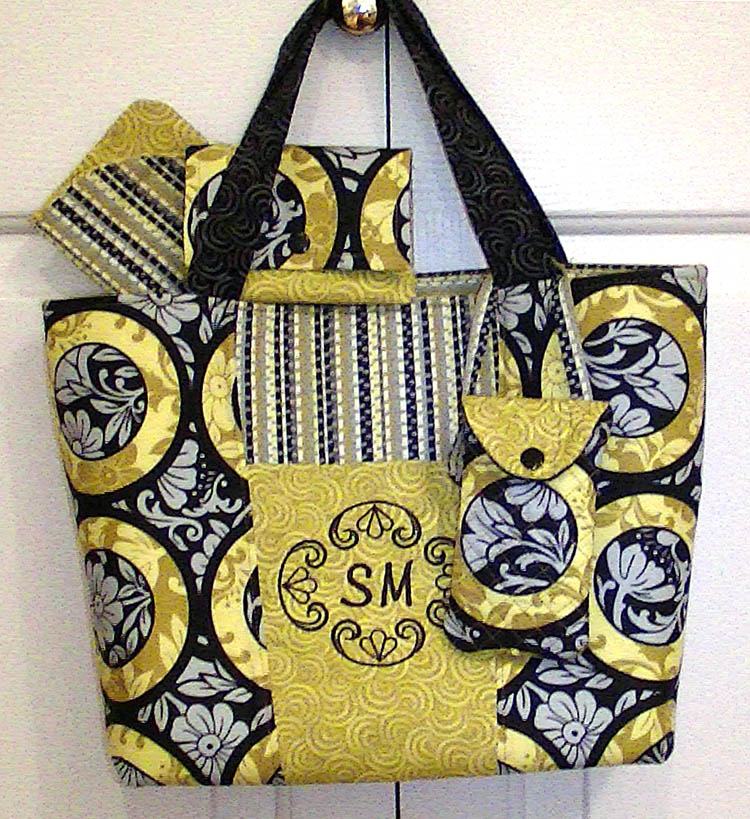 Shown above, Cathy's collection includes a Claire Handbag and Wonder Wallet from Lazy Girl as well as a cell phone and glasses cases from other sources.Together, these four pieces make a smart collection.
Here's Cathy to tell us more:
Joan, I love your patterns and have enjoyed reading your blogs – they have given me a lot of inspiration. The City Blooms purse and accessories were made for my younger sister Suzy's birthday. My first Claire was done in black and red, shown below.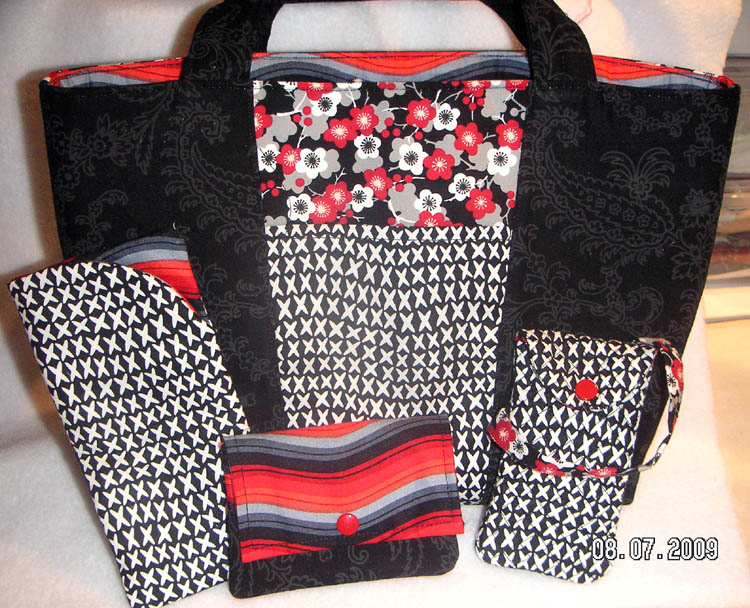 I initially made the red/black collection for Suzy, but then I decided I wanted to keep it for myself and make a different one for her, with some personalization. The monogram was just a simple one, but added just the right touch to make it hers.
This was only the second wallet I made from your pattern – now I'm hooked – every purse gets a wallet!
The cell phone case was an embroidery design done entirely in the hoop from DigiStiches. The glasses case was an easy project from Ready Set Serge by Georgie Melot. All this thanks to your inspiration!
Thanks again for selecting my project from all the other wonderful ones posted! Please keep those patterns coming!
Lazy Notes
Take a look at how Cathy used fabrics for these ensembles. Cathy chose four fabrics for each group. The fabrics are a terrific combination of strong graphic designs which are different in scale but relate quite nicely to each other. For instance, in the red/black collection, the wavy striped fabric is used for the Wonder Wallet cover, glasses case lining as well as the lining of Claire. Did you notice that 'X's in the black and white fabric are set in wavy lines, too? It's a perfect tie in. The small floral print at the center of Claire is the feature fabric for this ensemble, yet we see the least of it. I consider it the feature because it ties all of the pieces together and has all of the colors from all fabrics.
In the green/blue ensemble, we can see that Cathy fussy cut the strong circle print for Claire and the cell phone case. On Claire, the cut circles are symmetrical at the seams in on the front of the bag. One big circle is perfect for the cell phone case. Great job, Cathy!
Home for Cathy is Eagle River, Alaska (just north of Anchorage). She grew up in Alexandria, VA but has lived in AK for 25 years. She says that if you get a chance, you need to visit this beautiful state. Here's a photo of a moose right outside her bedroom window!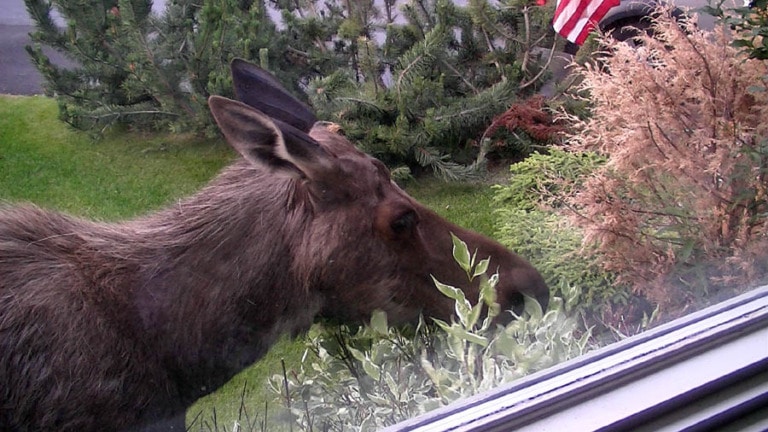 Thanks to Cathy for sharing her beautiful creations with us! Cathy, there are thousands of us who would like to be your gift-receiving sisters.
If you have questions/comments for Cathy, please comment here at the blog for her.
Enjoy!
Joan