How To Use Clover's Nouveau Smocking Products Like A Pro
Lazies, I'm so glad to hear that you like my little smocking adventure! It sure was fun to make and I really like the results.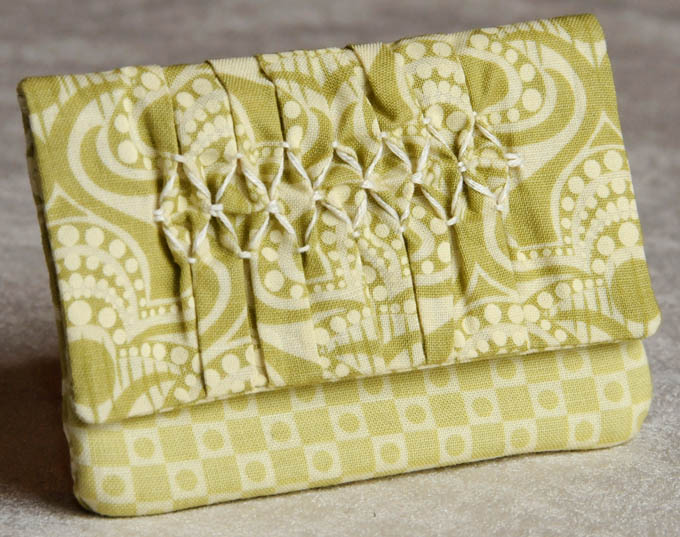 Here's the Wonder Wallet from Monday's post.
We had a great discussion in our Yahoo group after Monday's blog post about the smocked Wonder Wallet. So, I'm sharing some of that follow-up discussion. By the way, our Yahoo group celebrated their three year Lazy-versary yesterday! Join us if you like.
Free Video Demonstration

There are two great demonstration videos available at Clover's website for the Nouveau Smocking products. The videos are very well done and worth a watch. The videos will leave you itchin' to be stitchin'. You know, there's just no substitute for seeing something demonstrated. The video site loads with the first smocking video ready to play. Here's the link: http://www.clover-usa.com/videos.html
Smocking Tips
Clover offers some smart tips on the back of the package. Yep, I'm one of those people that reads everything. Practice to get a good feel for hand position. Find a rhythm, keep even tension, do not pull stitches too tight. All of that was helpful to me as I had never done any smocking before. I appreciated the suggestions.
Getting Started
I tried the diamond stitch on a scrap of fabric. I'm glad I did a practice attempt so I could make any changes and get the hang of working with this product. The practice piece turned out nice enough to use on another project.
Fabric Choices
I scrunched a piece of fabric in my hand to sort of see what the strong design would look like after smocking. I chose a busy design and I wasn't sure how much my stitches, the floss, or the depth would show once smocked. Again, the practice piece answered all of my questions.
The package noted that the fabric would shrink to about 40 percent of its original width. Great info. My smocked piece came out to the exact size Clover noted.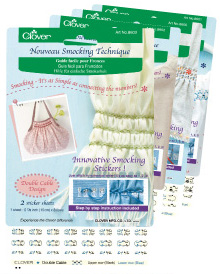 Clover Nouveau Smocking products.
What Is The Product
The product is a set of stickers which direct you where to stitch – in here, out there, etc. Apply the stickers to your fabric, then follow the information on the stickers to make your stitches. Each smocking product includes two sheets of product per package – enough for ten smocked areas as shown on the Wonder Wallet.
Combining Stitches
You can put the stickers together for long rows, or tall rows. You can use different stitches together, too.
Embroidery Needle Threader
The new embroidery needle threader is on the gotta have list. Girls, this is a keeper and here's why. Not only does it function well for threading bulky fibers, but the design and engineering are smart and sound. It's stylish and darn cute, too.


Embroidery Needle Threader, Item 8611.
The embroidery needle threader has a 'flat tip' that gives you smooth threading when used with thick threads. Works with any type of threads, yarns and embroidery needles. The threader offers a hang-hole, so it can be attached to something to keep it handy.
Where To Use
Use the smocking product on a piece of your project, or directly on the finished project. A little goes a long way with regard to overall effect.
In constructing the Wonder Wallet, I pressed the smocked area quite a bit. When all was said and done, my little smocking was smooshed. I threw the Wallet in the wash, and tumble dried to bring the depth back. Then I pressed around the smocked area.
Where To Buy
Clover and Lazy Girl Designs products are available online or at your local quilt shop. Let your local store know you are interested in these products. You can see all of the Clover items online here: http://www.clover-usa.com/product.html#32
Enjoy!
Joan
[tags]smocking, clover needlecraft, sewing, heirloom[/tags]
Leave a Lazy Comment
3 Responses to "How To Use Clover's Nouveau Smocking Products Like A Pro"