Day Z Dozen Blog Hop – 'Ring Around The Flowers' Quilt By Holly Holderman
Lazies, Welcome to the first of twelve daily features in the 'Day Z Dozen' blog hop. All of the projects included in the hop use the 'DayZ Deux' fabric from LakeHouse Dry Goods. Today's project is 'Ring Around The Flowers' quilt by Holly Holderman, owner of LakeHouse Dry Goods.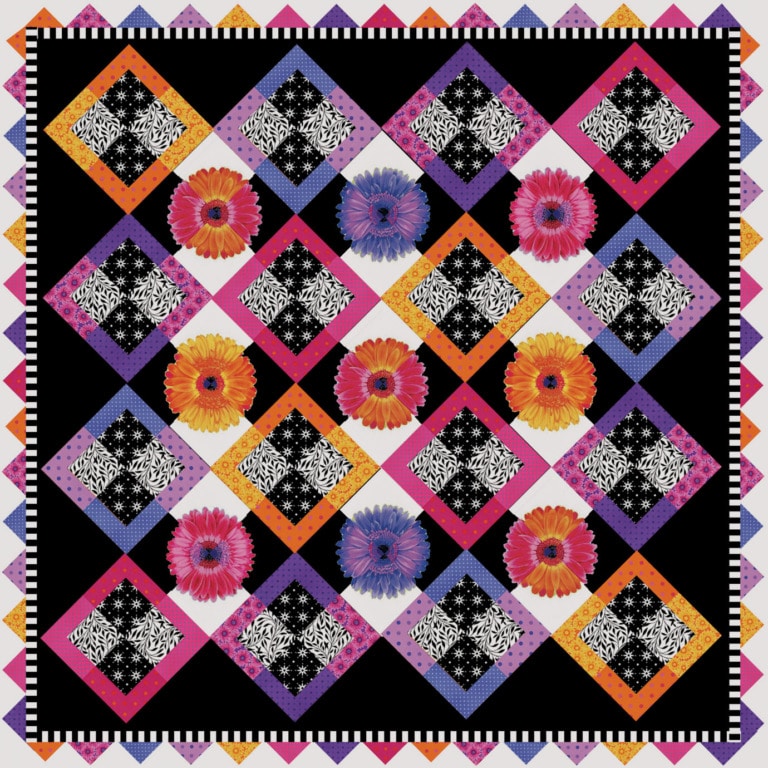 'Ring Around The Flowers' by Holly Holderman
(Fabric requirements listed below.)
Here's Holly:
I began creating with fabric before I could reach the foot pedal of a sewing machine. I glued and pinned fabric swatches that my mother gave me into sari-like garments. Then I traipsed around the neighborhood, like a little gypsy.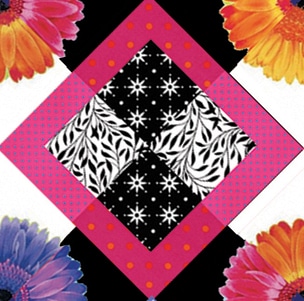 While in junior high, shirts and dresses with little patterned fabrics for the cuffs, collar, ect. really caught my eye. This was the beginning of my love of mixing many types of fabrics together. Is it any wonder that soon thereafter I developed a love for old patchwork quilts? I love how the different colors and prints of these fabrics work together to create drama.
The inspiration for the daisy part of the 'DayZ' collection was a combination of my love of the Gerber daisy, my fascination with circles and one of my favorite quilt designs, the New York Beauty. But the precision, time, and patience it takes to make a New York Beauty quilt, while appealing to so many, is out of the question to all but the most experienced quilters.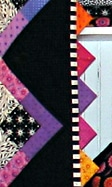 Living In Manhattan, I walk a lot. One day I am walking up Broadway and wham-o, a jewelry store has fabric daisies the size of dinner plates in the window.
My eyes bulge, my heart races, I open the door to the store and rush in… 'Sir, How much is that daisy in the window?' And it all came together right there on Broadway and 85th, walking down the street minding my own business.
With the 'DayZ' collection, you can easily achieve the circular design elements and intricacy of the New York Beauty facets, using straight seams. No need for curved piecing. The flowers do all the work for you.


There are so many ways you can sew the flowers together into blocks.
For 'Ring Around The Flowers', simply cut the flowers into quarters, then mix and match pairs with different backgrounds, and sew them back together.
– Holly
About Holly: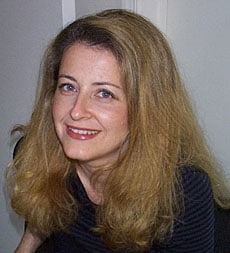 Read more about Holly's inspirations and her company in yesterday's post here. Holly's website is currently under construction. All of the 'DayZ' projects Holly has designed will be added to her website by the end of the blog hop.
This includes Holly's quilt 'Blooming Beauty', her first design for the 'DayZ' collection inspired by the New York Beauty.
Here's all the product information for today's feature 'Ring Around The Flowers'. Check quilt shops to purchase the pattern and fabrics.
LakeHouse Dry Goods
Ring Around the Flowers Quilt
54 1/2″ x 54 1/2″
Pattern No. 06017 -14 fabrics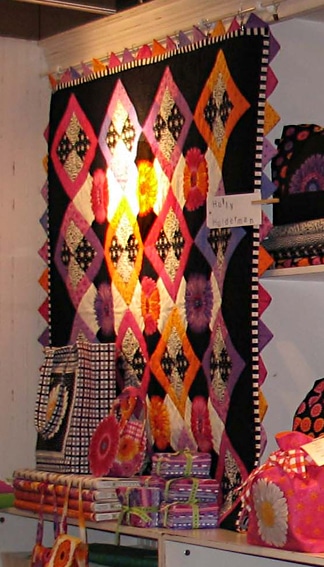 10 Flowers Needed (Flower colors of your choice.)
2 Rows – LH05035 DayZ Crazy: Snow
2 Rows – LH06004B DayZ Crazy Deux: Black
Checkerboard Squares on Point
3/8 Yard – LH06014 Midnight Star: Black
3/8 Yard – LH06017 DayZ Vine: White
Checkerboard Square Borders & Prairie Points
1/3 Yard – LH03035 Frosted Dots: Delphinium, Hot Pink
1/3 Yard – LH05014 DayZ Dukes: Purple, Mango
1/3 Yard – LH05025 Polka Party: Cherry, Melon, Purple
1/3 Yard – LH05037 Polka Party Petite: Purple
Setting Triangles
1 Yard – LH03035 Frosted Dots: Onyx
Binding
1-5/8 Yards – LH05015 StripeZ: Black
Click on 'Comments' below to read what others have to say, or leave a comment.
Are you hopping along with us? Let us know by posting a comment and we will add your store, blog or web to our list!
Leave a Lazy Comment
12 Responses to "Day Z Dozen Blog Hop – 'Ring Around The Flowers' Quilt By Holly Holderman"
Trackbacks/Pingbacks
Pingback: 2 finishes + going bald «