Day Z Dozen Blog Hop – '4-Patch Stacked Posie' Quilt by Mary Lou Hallenbeck
Lazies, I adore today's quilt '4-Patch Stacked Posie' by Mary Lou Hallenbeck of HD Designs. This is the seventh of twelve daily features in the 'Day Z Dozen' blog hop.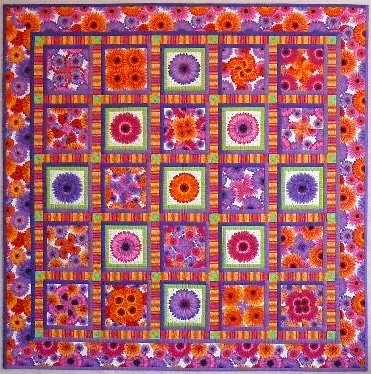 Here's Mary Lou:
Quilters everywhere want the same things. First, we want to make stunning quilts, breathtaking quilts, awesome quilts. And then we want to make them FAST & EASY…and have loads of FUN doing it. And then we want to make some more!!!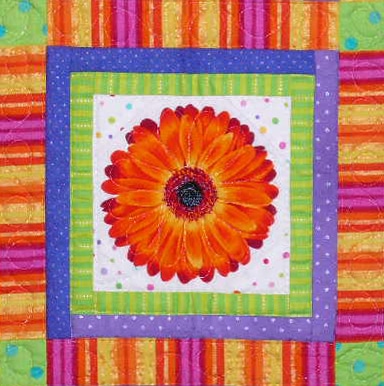 Secondly, we are always looking for NEW ideas and techniques that inspire us to step outside of the box and into new territory. Does this sound like you??? Me too!!!
In this design the fabric does all the work and it meets the criteria listed in the first paragraph above: Fast-Easy-Fun = Amazing quilts. And with so many different ways to cut the fabric and set the blocks…every quilt is unique.
The Lakehouse DayZ fabrics are awesome to work with and I produced a bright and adorable quilt.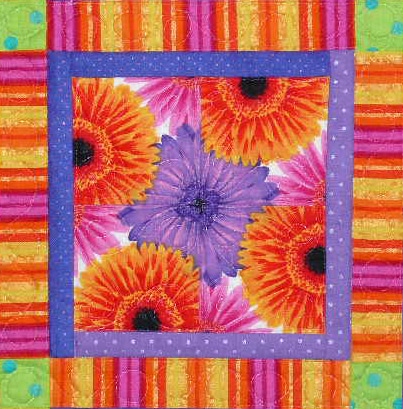 I've also been trying to work more stripe fabrics into my quilts and the 'Papaya Stripe' was perfect for the sashing in this project.
I used the 'Packed Floral' to make the 4-Patch Stacked Posie blocks shown here. Alternate blocks (shown above) are from the larger DayZ flowers. I added the white fabric with multi color dots to the four corners with a green stripe as a narrow border.
The 4-Patch Posie blocks really POP when a narrow border is sewn around them before the sashing. To add more interest to this step, I used a dark blue dot to border half of each block and a purple dot to border the other half of each block. I also did the same thing with these two colors in the binding.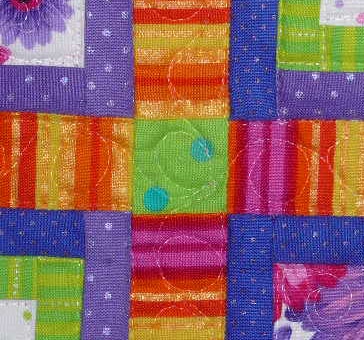 Here you can see that 'Papaya Stripe' sashing I mentioned earlier. Simple things like this can add so much to a quilt.
Other things always need to be done. Like cooking dinner, laundry, showers, feeding the dog, spending time with my hubby so he knows he still has a wife. Oh…and that pesky little thing called sleep. But who needs sleep when there are quilts to be made! 
We know you'll have tons of fun with the projects and I hope you enjoy meeting the rest of us. Deep down we are all the same. When the shoes come off…we all have threads stuck to our socks! I hope you all enjoy this new Blog-Hop that Holly & Joan have put together. Thanks so much ladies! Happy Quilting to everyone!
About Mary Lou: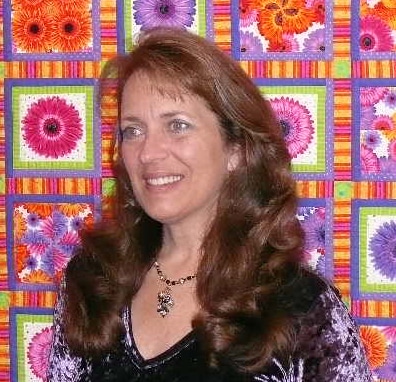 Mary Lou Hallenbeck lives in Brooklyn, Michigan with her wonderful husband Mike and little Miss Olivia…a 5 pound Yorkshire Terrier. 'Olivia is the real boss at our house.'
Mary Lou took a leap of faith 4 1/2 years ago, and quit her full time job to start H.D. Designs, her pattern design company. You may have seen Mary Lou on an episode for TV's Simply Quilts with her Quilted Letters projects.
'I just absolutely love my new career and the ideas flow constantly. I have notebooks full of sketches and notes about tons of new projects that are just waiting their turn to come to life in fabric. This is both exciting and a bummer at the same time. >Exciting, because I can't wait to develop & work on each & every one. >Bummer, because there isn't enough time in each day to do so.'
-Mary Lou Hallenbeck
Here's all the product information for today's feature '4-Patch Stacked Posie'. Check quilt shops to purchase the pattern and fabrics.
HD Designs
4-Patch Stacked Posie Quilt
Pattern No. 25 – 8 fabrics
Binding & Borders
LH03035 Frosted Dots: Purple, Blue
Focal Point Flowers
LH05012 DayZ Chain: Snow  
LH03022 Antique Dots: Peri 
LH04033 Ticking Stripe: Papaya  
LH05013 DayZ Love: Snow 
LH05016 DotZ: Snow 
LH05025 Polka Party: Lime 
LH05028 Teeny Weeny Ticking: Chartreuse
– Click on 'Comments' below to read what others have to say, or leave a comment.
– See all the DayZ fabrics here.
– Are you hopping along with us? Let us know by posting a comment and we will add your store, blog or web to our list!
Leave a Lazy Comment
7 Responses to "Day Z Dozen Blog Hop – '4-Patch Stacked Posie' Quilt by Mary Lou Hallenbeck"
Trackbacks/Pingbacks