Creating Postcards, Custom Postage and Personalized Gifts Online
Lazies, There are so many fun things I've found online. Here are some of my favorites.
Here's my 'store' at Cafe' Press. I like Cafe' Press for creating novelties printed with my images. You can create your own store, too.  I created a user account, uploaded my own images, then chose the items I wanted printed.  You can create and buy your own items, and shop from other people's stores.  My images include digital pictures from my camera as well as graphics created in Photoshop, saved as JPG's. 
Here is an ornament with a picture of a sewer cover from Kamakura, Japan.  How's that for an interesting trip souvenir?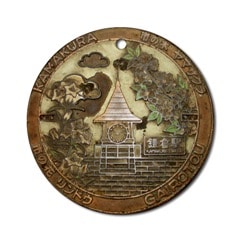 Next, we head over to Premium Postcard, Amazing Mail, or Net Post (through the US Postal Service) to create and mail postcards.  I really like Premium Postcard because I can make and mail a single postcard for 84 cents.  Their price includes postage!  I upload the photo I want printed, color or black/white, write the text for the card, select recipients from my address book (create or import an existing address book), pay and I'm done.
If I have a lot of cards to send, I create one and send it to myself to see how things look.  My creations are saved in my account so I can go back later and send the same card again.  Some of you have received cards with my dog Honey, or new product announcement, or 'Good Job', or a simple 'Hello'.  It's nice to be able to create and mail a professionally printed color postcard when I want with no minimums.  I've used this service for holiday cards, too.  Consider using any of these cool services for B-days, 'I've Moved', party announcement, etc.  They are fun to make and send.
Finally, get some personalized postage with your photos at Stamps.com.  That's right, postage with your photos.  I've used digital photos and I have also created a graphic in Photoshop, (saved it as a JPG) and uploaded it to see what the postage would look like.  This is a great way to add a little something special to your mailings.  It's a really great way to add to your fabric postcards, too.  Use photo postage for birth announcements, party invitations, holiday mailings, etc.
Enjoy!
Joan Hawley
Lazy Girl Designs
Leave a Lazy Comment
One Response to "Creating Postcards, Custom Postage and Personalized Gifts Online"