Potpourri – Pat Sloan's Latest, Pattern Review and More
Lazies, Last week was one of those weeks that flew by in bits and pieces. You know the kind. So I thought I'd share some of the bits and maybe a few pieces that crossed my desk and my life.
Virtual Quilt Retreat
Pat Sloan hosted an 'Orange Pile' virtual quilt retreat this weekend. This was such fun. It could have been called 'orange appreciation', focusing on celebrating the orange in your stash.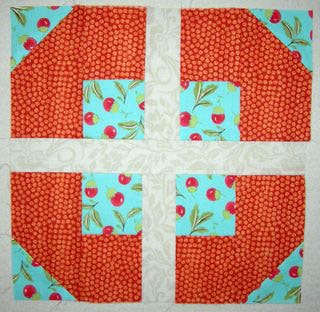 Pat's OP block.
I must tell you that I've been a long-time fan of orange, having only colored with orange and purple in kindergarten. I can't imagine what my poor teacher must have thought. The good news is that you can still check Pat's blog and see all the goodies posted and visit the participants.
Start at Pat's blog here. Grab your cuppa cuppa, it's beautiful browsing to be sure. Pat hosted her retreat between her blog, Facebook, her Yahoo group and other quilter's blogs – very cool.
Pattern Review
Tracy Chapman at Sew Thankful has a lovely review of our Checkbook Cover (LGD204) design at her blog – Thanks Tracy! Tracy put an appointment on her calendar to make sure she has sewing time. She made a date and kept it. I love this idea and have made a date for myself on Friday.

Tracy's Checkbook Cover makes the most of this beautiful striped fabric.
Tracy mentioned in her review that the first one she made was a little squishy. I think I know what she means.  The single layer of batting inside the cover could make writing checks feel a little like writing atop a marshmallow. Tracy used a fusible interfacing to firm things up a bit. Great idea!
Wilderness Eye Candy
My friend Jen is braving the Alaska wilderness with her hubster Mike and she posted some incredible pictures at her blog. Somehow, that winter looks much more pleasant than my Ohio winter.  Hmmm. Here they are canoeing across a lagoon. Amazing! More pics at Jen's blog here.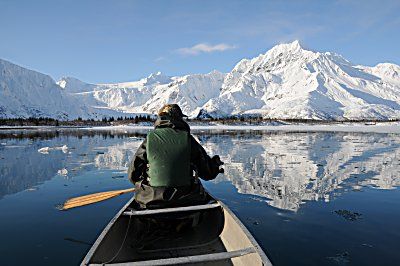 Jen and Mike in Alaska
Now I'm Cookin'
You may not know this, but I love to cook.  The stove top is my arena, fearing the mysteries of the broiler, yet slowly working on my overall oven-confidence. I make a date with the kitchen several times a week. This weekend I made my favorite veggie dish: Italian Veggie Saute. It's a simple medley of squashes, onions, tomatoes and spices.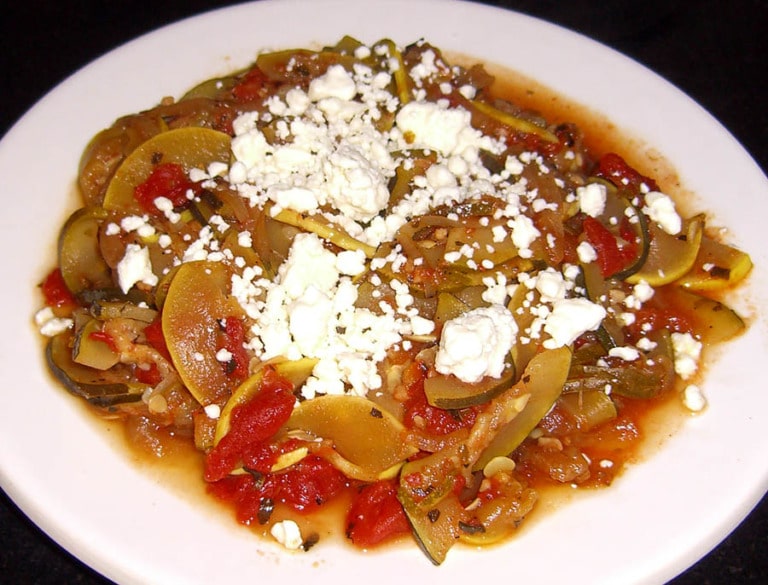 My Italian Veggie Saute, topped with feta cheese.
I surf foodie blogs and websites, in search of my next Lazy cooking adventure. And lately I've found myself posting my antics on Facebook. A favorite site is Karina's Kitchen. Get acquainted with Karina by trying her amazing chicken soup for the soul recipe.
Also check out the versatile sausage rolls at Any Ideas For Dinner? blog, by Lazy Girl Regina. I haven't tried these yet, but it's on the list. You might remember Regina from our Long Distance Lazies post.
One Last Bit
TipNut included our easy pillowcase tutorial in their February Neat-O projects medley. Nice list of goodies to create.
Enjoy!
Joan
Thanks to Pat, Tracy and Jen for thier photos.
Leave a Lazy Comment
9 Responses to "Potpourri – Pat Sloan's Latest, Pattern Review and More"