Nancy Zieman: 'Seams Unlikely' Autobiography
Sometimes I think life happens by accident. It's the stuff that crosses your path while on the way to something else. Spend some time with Nancy Zieman in her new autobiography Seams Unlikely and enjoy reading how her path in the sewing world has been pocketed with bobbins of training, bias of love, lined with a strong work ethic and morals, trimmed with her beautiful heart, and pinked with the resolve to make things happen – even when they were uncomfortable and challenging. Read on for a video from Nancy, blog tour links and giveaway details.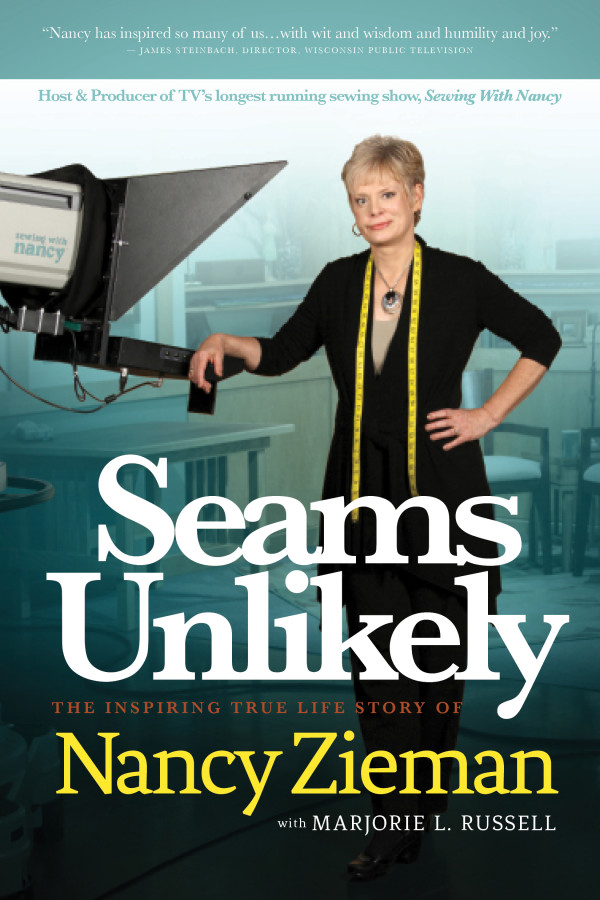 Before I started the book, I wondered what would an autobiography of a sewist be like? How interesting to read the journey of a huge star in my field. Has a sewist done an autobiography before?
We already know and like Nancy, we feel she is a friend. We connect with her through her TV show 'Sewing With Nancy', classes/books, Nancy's Notions, and now online at Facebook and Pinterest.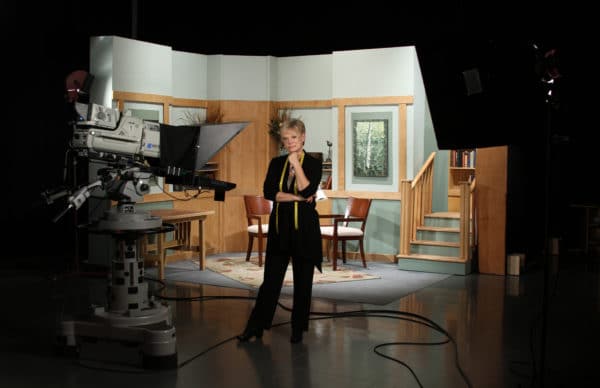 Here's Nancy on the set of Sewing With Nancy
In Seams Unlikely, Nancy chronicles her life from birth to current day, sharing life's joys, trials and celebrations along the way. From an episode of Bell's Palsy early in life, leaving her face asymmetrical, to starting a notions company to support her teaching efforts.
I was surprised to read what a big football fan Nancy is. Her favorite team is the Green Bay Packers, which makes sense given her roots in Wisconsin. She mentions the great Ice Bowl game of 1967 between Green Bay and Dallas. When I read that I immediately asked my hubster (a big Dallas fan) if he had the game in his extensive library of games and he did! After finishing the book, we sat down and watched the game and it nearly made this winter seem mild. I also didn't know she likes to tell blonde jokes and once preferred to be called 'Nan', but it didn't catch on.
Here's Nancy in a short video to tell you about her book:

Sitting down with Seams Unlikely was like getting together in front of the fire, wrapped in a blankie with a hot cuppa cuppa and having Nancy tell me a story. Being true and relatable makes it so enjoyable. I loved getting to know Nancy and hang out with her each page of the way.
I didn't want Seams Unlikely to end. As much as I wanted to know every word Nancy shared in the book, each page put me closer to the end and I wanted the story to continue.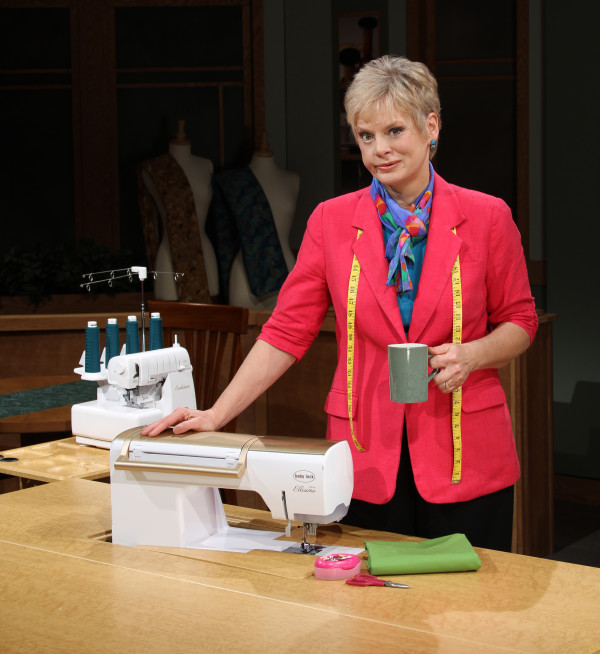 "Each of us faces challenges. Some are larger than others.
But what happens to us does not define us
unless we let it." – Nancy Zieman
What you see is what you get with Nancy. She's as true and delightful in person as she is in any venue in which I've had the good fortune to see her.
I've been watching Sewing With Nancy for as long as I can remember. Nancy has always been an idol for me. I know many of you feel the same way. So, get your copy of Seams Likely and enjoy getting to know Nancy and her story.
Seams Unlikely: Read Chapter 1 Online For Free
Nancy kicked off this blog tour with her own post full of great pictures, a giveaway and the opportunity to read the first chapter online for free. Hop over to her blog at the giveaway link below to enjoy the wonderful pictures and start reading Seams Unlikely.
Follow Nancy
Facebook
Blog
Pinterest

Book Giveaway
Nancy is giving away twenty copies of her Seams Unlikely book. To enter to win a copy, leave a comment on Nancy's February 4th Seams Unlikely Blog Tour Posting to qualify for book giveaways.
Click here to go to Nancy's blog and enter
I'm also giving away one copy of Seams Unlikely.
– Enter by posting a comment below with a nice message for Nancy.
– One comment per person.
– Be sure you type your email address correctly so I can contact you.
– I'll pick 1 winner using the random number generator.
– Enter by Friday February 21, 2014, 10 pm Eastern time.
– I'll contact winner via email.
Thanks for joining in on the fun of Nancy's new book and blog tour (blog links below). Remember, comment at Nancy's blog and below to enter the giveaways.
Enjoy!
Joan
Seams Unlikely Blog Tour
Be sure to visit Nancy's blog tomorrow when she wraps up the blog tour and giveaway here. Visit all of the blog tour stops listed below to read what others have to say about Nancy and her new book.
February 4          Nancy Zieman http://www.nancyzieman.com/blog/blog-tour/seams-unlikely-book/
February 5          Eileen Roche          http://dzgns.com/blog/
February 5          Pat Sloan          http://patsloan.typepad.com/
February 6          Melissa Stramel          http://melissaslilaclane.blogspot.com
February 6          The Long Ladies          http://www.mariemadelinestudio.typepad.com/
February 6          Tori Thompson          http://totallystitchin.net
February 7          Amy Barickman          http://www.indygojunction.com/blog/
February 7          Melissa Mora          http://mellysews.com
February 8          Shari Butler          http://www.doohikeydesignstudio.com/blog/
February 8          Vicki Christensen          http://www.sewinspiredblog.com/
February 9          Carolina Moore          http://alwaysexpectmoore.com
February 9          Kate Mclvor          https://theconfidentstitch.squarespace.com
February 10          Amy Ellis          http://amyscreativeside.com/
February 10          Melissa Mortenson          http://www.polkadotchair.com
February 11          Ilene Miller          http://happyvalleyprimitives.blogspot.com/
February 11          Liz Hicks          http://blogerisms.blogspot.com/
February 11          Rachael Pannepacker          http://www.jaybirdquilts.com/
February 12          Bill Gardner          http://www.quiltersnewsletter.com/blogs/insideqn/
February 12          Elizabeth Evans          http://www.simplesimonandco.com
February 13          Amy Webb          http://www.amylouwhosews.com/
February 13          Lindsay Wilkes          http://thecottagehome.blogspot.com
February 14          Gertie Hirsch          http://www.blogforbettersewing.com
February 14          Veronica Philips          http://cloverusa.wordpress.com/
February 15          Jenny Gabriel          http://www.sewvacoutletblog.com
February 15          Laura Wasilowski         http://artfabrik.com
February 16          Frieda Anderson          http://www.friestyle.com/nancy-zieman-seams-unlikely/
February 16          Rita Farro          http://ritassewfun.blogspot.com
February 17          Cindy Cloward          http://www.rileyblakedesigns.com/blog/
February 17          Joan Hawley          http://www.lazygirldesigns.com/blog/
February 17          Patty Young          http://modkidboutique.blogspot.com
February 18          Nancy Zieman          http://www.nancyzieman.com/blog/
Leave a Lazy Comment
45 Responses to "Nancy Zieman: 'Seams Unlikely' Autobiography"