Carolyn Griffin Guest Blogs About Pressing Issues
Lazies, Carolyn Griffin of Far-Flung Quilts is guest blogging for us today with a run-down of her love affair with irons. Also, Sandie Hedrick won the bundle of fat quarters from last week's post. Congrats Sandie! Thank you to everyone for your wonderful comments!
Now, here's Carolyn.
Hello Lazies! A while ago, Joan and I were discussing the world of irons and Joan asked me to write-up an overview for you.
While we've know each other for years, and Joan is the reason I have a small business and quilt design company, she has never met my sewing room. So she doesn't know my pressing set up – allow me to introduce you.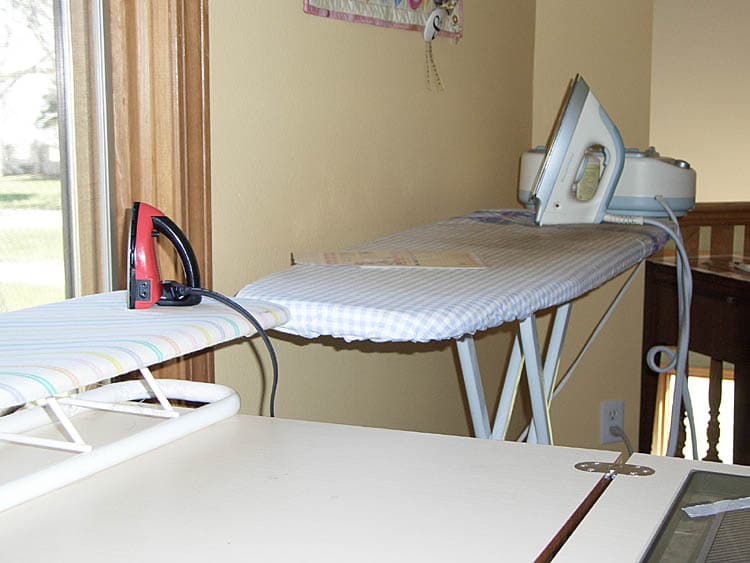 Carolyn's ironing set-up in her studio.
My Equipment
Here we are in my sewing studio at home. I have a larger than normal ironing board (which needs a new cover) but I continually wish for a larger surface like a Big Board. The only downfall to my current large surface is when I need to iron small areas. So I have a little sleeve board as well. A Big Board or giant ironing surface is on the 'someday' list.
For years I worked with a heavy monster of an iron like my mom had – maybe a Sunbeam or the like. Then I started using those cheap models – both in price and in quality – when they became available in the late 70's and 80's.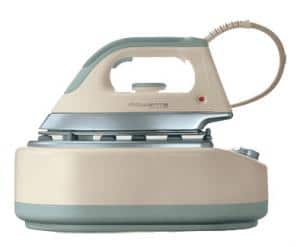 Rowenta DG580 Steam Generator Iron
Love At First Sight
Somewhere early in my quilting career, I invested in a Rowenta iron. This was in the 90's when they were the hallmark of quality in the quilting community I had joined. I loved my iron and it even impressed my husband – who during his 30 year military career did all his own ironing. But over the years, my beloved iron developed a leak. I'm told this was due to the washer around the water tank drying out and cracking. Okay, it was a good excuse for me to upgrade.
I bought a steam generator. Again, I went for a Rowenta, but now I'm looking at the Reliable brand for my next upgrade.
Invest In Good Tools
I see irons as a tool and since I was brought up in a family that believes the right tool for the job makes the job smoother and easier, I don't hesitate to invest in good tools.
My Life With A Steam Generator
I was sure the hose and tank would drive me crazy. How wrong I was! Having the tank there to hold all that water and a hose to deliver the steam means I have a lighter iron in my hand. It also means my iron NEVER spits on my fabric – the water is in a tank 6 feet away. Steam is available at the touch of a trigger but mostly I just have the best hot, dry iron I've ever used.
Steam Is My Friend
Since I, like Joan, have sewn since childhood both clothing and other projects, I always looked at steam as a friend. I see it as important to manage – but I've always used it and never quite understood the people who touted using only a dry iron. Well, after a couple of years of using the steam generator, with steam on demand when I want it rather than all the time, I've become a dry iron user. Steam is now used only for reinforcement and discipline – like when a crease just won't go away or a seam needs encouragement to open and lay flat. Other than that it's a spritz of 'Best Press' brand pressing spray and my dry iron every day.
Thanks Carolyn! Up next for Carolyn is introducing her new Charm Wizard ruler – charm your scraps to pieces.
Enjoy!
Joan
Leave a Lazy Comment
24 Responses to "Carolyn Griffin Guest Blogs About Pressing Issues"
Trackbacks/Pingbacks