'Wantobe Quilter' Event and Summer Tote Winners
Lazies, I am terribly late with my post this week – sorry!
Wantobe Quilter Event
Hop over to the blog I Have A Notion (IHAN) for details about a huge giveaway campaign that started Monday. IHAN is just one of many blogs joining forces with StashManicure.com for their 'Wantobe Quilter' event, short for Want To Be A Quilter. Lazy Girl is a sponsor and contributed some prizes including the Lazy Angle ruler and some of our most loved accessory patterns.
There are many bloggers participating and IHAN is a great place to start with details and links.
http://ihaveanotion.blogspot.com/2011/07/are-you-ready.html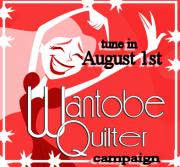 I like Kelly Jackson's IHAN blog. She reviews products and is very frank with her opinions and impressions. She's authentic. Her blog is a great resource and we are often treated with pics of her adorable kids, too. Check it out and subscribe while you are there so you don't miss a post.
Summer Tote Giveaway Winners
I couldn't help myself – we had so many entries that I chose 5 winners instead of 3. I've heard back from everyone but Andrea Campbell. Andrea, send me an email, sweetie! Or post your mailing address in the comments section below and I'll get your goodies in the mail lickety-split.
Enjoy!
Joan
Leave a Lazy Comment
5 Responses to "'Wantobe Quilter' Event and Summer Tote Winners"