October 11th, 2007
Lazies, The Miranda Day Bag pattern (LGD123) arrives this Friday! Thank you for being so patient in waiting for our new Girl to get here. We will ship her right back out to all the stores waiting for their orders. Lazy Girl does not sell direct, but many of the stores listed here are taking orders for Miranda.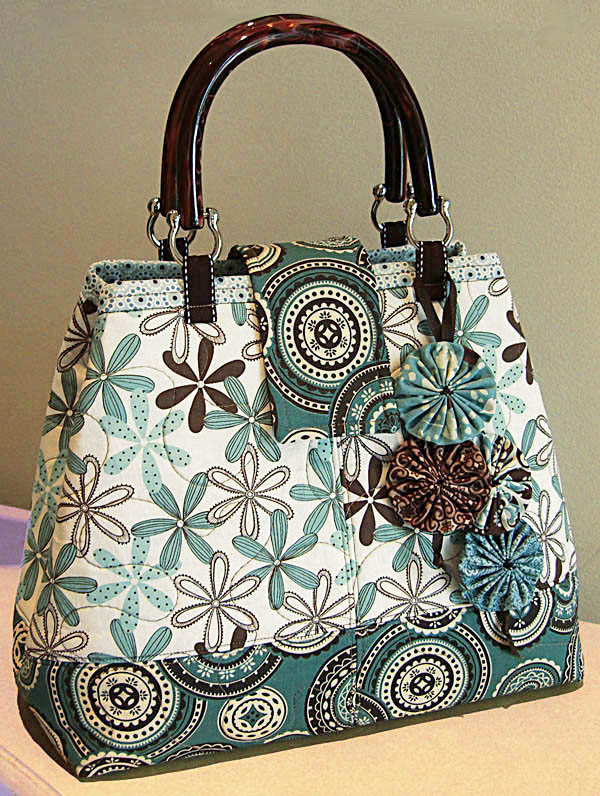 This Miranda will be in the Clover Needlecraft booth.
Stop by to meet her.
Quilt Market
I'm gearing up for International Quilt Market in Houston later this month, preparing all sorts of fun samples for the event. I won't have a booth, but Miranda will be on display in a number of booths, walking around the show floor in the hands of several Miranda junkies, as well as perhaps one other special Miranda tie-in which I'll tell you more about soon.
In the meantime, I will have a few more blog posts than usual before the end of this month as I try to squeeze in pics and details about the samples that are headed to the show.
Fashion Handles
I used the same wonderful Clover 'U' shaped saddle brown 'marble' style fashion handles (item 6335) that we learned about on Monday.
Yo-Yo Crazy
Here are some details about the Clover sample shown above. I used the extra large round Quick Yo-Yo Maker from Clover.  I made four big fabulous yo-yos, attached two each to two ribbons, then tied the ribbons through the handle tab. It's a wonderful way to add more fabrics and fun to this bag.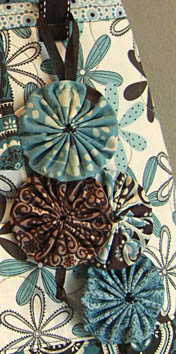 Yo-Yo embellishment.
The extra large round yo-yo maker is my favorite of all the shapes and sizes. Yo-yos finish to just under 2 1/2″. They are large, yet delicate or soft, with a bit of drape.
Magnetic Snap Closure
This is a special touch just for the Clover Miranda sample. I used the directions for the flap closure in the Miranda Day Bag pattern, reduced the size a bit, and made two tabs. These two flaps finish to approximately 2 1/2″ x 4″. Insert a magnetic snap closure in place of the Velcro. Stitch tabs to the lining of the bag, at the side seams, snaps facing each other. Attach these flaps to the bag using the same technique shown in the pattern for the flap closure.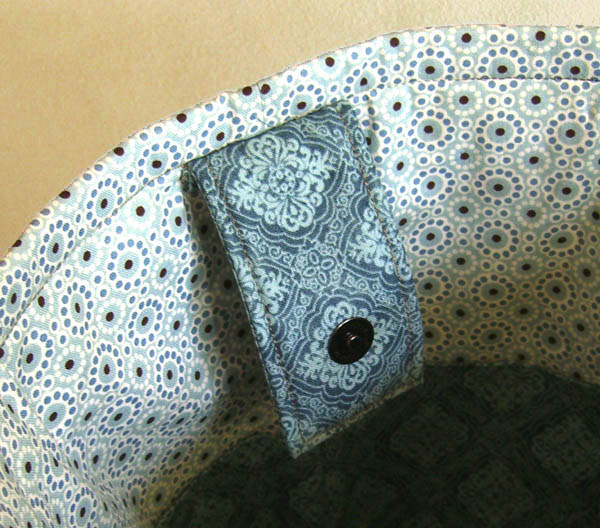 Make two small flaps and insert magnetic snap closure.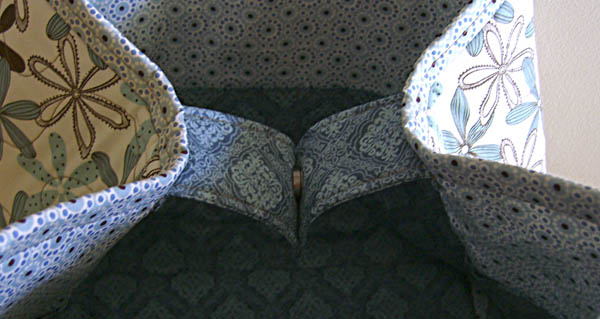 Flaps reach across the center of the bag, pulling the sides in.
I used the 1/2″ size magnetic snap closure in the black nickel finish (item 6241). The 3/4″ size would work well, too.
Other Add-On Ideas
We have profiled some fun things you can add to Miranda: swivel clasps, detachable shoulder strap, cinch the sides, add pocket flap closure and choose and attach fashion handles. All of these posts can be found here. Most of these ideas can be used on any open-top tote bag.
Enjoy!
Joan
Tags: clover needlecraft, lazy girl designs, fashion handles, magnetic snap closure, yo-yo maker, clover yo yo
Print This Lazy Post