Perfect Support For Our Lazy Girls
Lazies, Our new Mini Miranda Bag pattern and her new Bag-E-Bottom will be here later this month! I'm excited about both. 'Mini Mi' because she's cute as can be. And her new bottom because it fills a gap in our line of Bag-E-Bottoms.
In the meantime, I wanted to give you an overview of how the new Bag-E-Bottoms Size F compares to the other five sizes. And mention that I'll be out of the office next Monday so I'll post on Tuesday next week.


New Bag-E-Bottoms Size F.
What is a Bag-E-Bottom
Bag-E-Bottoms are acrylic bases available in six sizes to give some of our bag, purse and tote patterns a sturdy bottom. The Bottoms are 1/8″ thick clear acrylic, with rounded corners and they are sized to fit our bags perfectly! They are slightly smaller than the inside bottom of a bag so they don't wear on the bag and create a hole.
Do you need 'em?
The Bag-E-Bottoms are always optional with our designs. They offer support from the bottom up. I think of them as under wires for your bag offering hidden support.
Compare sizes
So, here they are, all stacked so you can see who is who in the Bottom game. The image is not full size. The bottoms are clear acrylic. I used color in the image below to show the different sizes.
Size F fills the huge gap between our two smallest sizes, B and A. We have six sizes that work with 10 of our designs.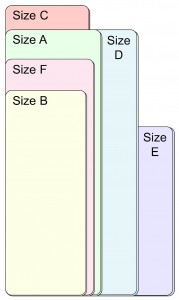 All six sizes of Bag-E-Bottoms.
Who works with whom?
Here's an overview of the different sizes, their dimensions, and the designs they work with. See our website for pricing and ordering info.
Size A – Gracie Handbag, Whimsy Bag
#LGD500, 4″ x 11″
Size B – Towne Purse, Veronica Pocketbook
#LGD501, 3 3/8″ x 8 1/2″
Size C – City Bag
#LGD502, 3 1/2″ x 12″
Size D – Miranda Day Bag, Newport Tote, Summer Tote
#LGD503, 5 1/2″ x 11″
Size E – Chelsea Tote
#LGD504, 7″ x 7″
Size F – Mini Miranda Bag
#LGD505, 3 5/8" x 9 7/8"
How to use
Simply, create a fabric sleeve, much like a pillowcase, and insert the Bottom. If you like, tack the sleeve to the inside bottom of your favorite Lazy Girl Designs bag. And better yet, these Bag-E-Bottoms may fit bags by other designers too! Many knitters use our bottoms in their felted creations.
Enjoy!
Joan
Leave a Lazy Comment
8 Responses to "Perfect Support For Our Lazy Girls"