Introducing Lazy Girl Littles
Lazies, Meet the Littles. With the debut of our Lazy Angle ruler through Creative Grids in Salt Lake City later this week, I thought a few fun little quilt patterns might be nice. And, they are little, so Littles it is.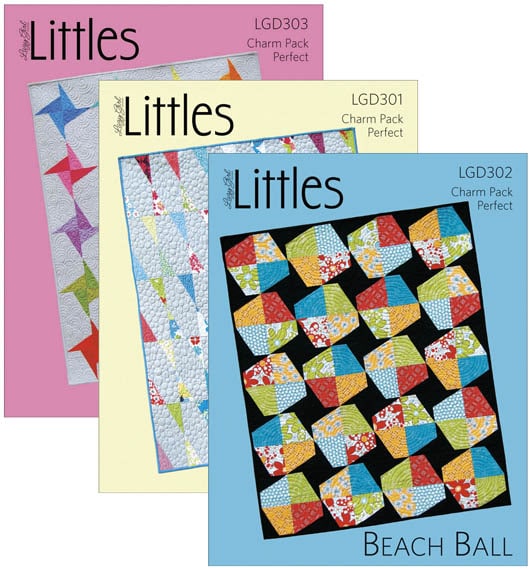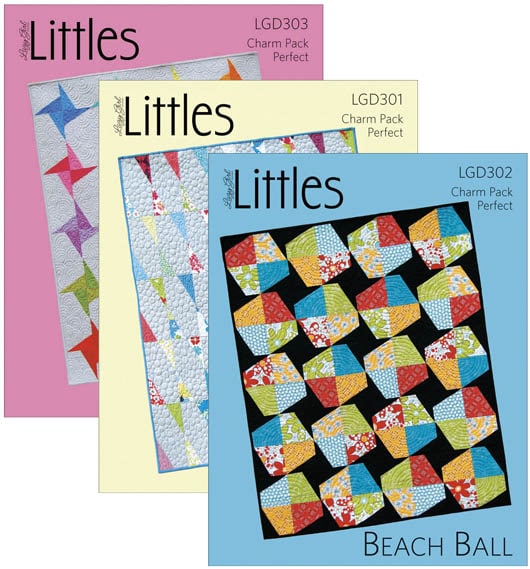 Aren't they just the cutest? Littles are just that, little projects. These three happen to be Lazy Angle quilt Littles. And they are so contagious that I hope to do many more.
Little means small amount of fabric, small project size, small pattern size, and small price tag. All three of these Littles work with charm squares – I guess that makes them littler.
Quilt Market
These little sweet hearts, I mean Littles, debut at International Quilt Market in Salt Lake City later this week. Catch me at my SchoolHouse session with Julie Herman of Jaybird Quilts on Thursday from 3:10-3:40 in room 251D. Three additional Lazy Girl quilt designs will debut there, too. More about those soon.
Catch up with me at Checker Distributors Friday morning for a ruler demo and to see the quilts. I'll be on duty from 9:30-11 I think.
Michael Update
Lazies, my hubster Michael is doing great since his neck surgery nearly two months ago. When he woke up after surgery, all his pre-op pain was totally gone. Just amazing. The doc says everything is healing as expected and life is starting to get back to normal. It's a new normal, but a good one. Thank you for your love, prayers, and support.
Littles
All three projects finish to 32″ x 40. Use 1-2 charm packs as directed, or a hearty collection of scraps. All patterns include the full size templates needed to make the Lazy Angle blocks. Or pick up the Creative Grids Lazy Angle ruler and give it a whirl. Get a jump on things and watch the Lazy Angle video demo, too. Click here for the demo.
The actual pattern is small-ish, too. The patterns fold to 4.25″ x 5.5″, which is half the standard pattern size.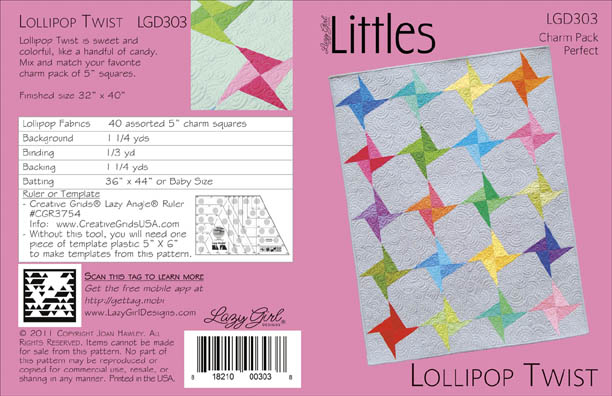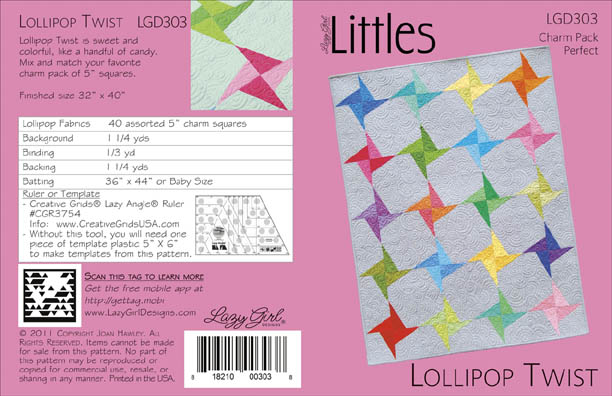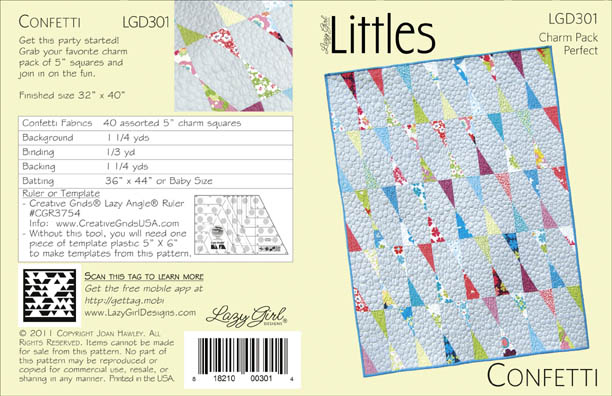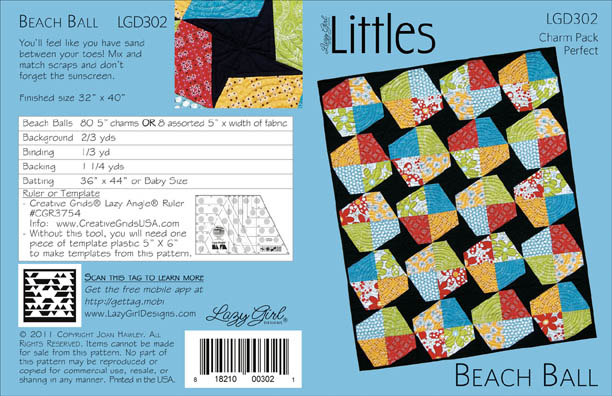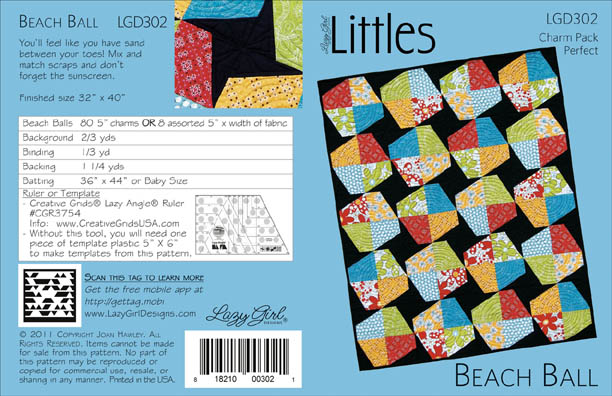 Confetti,LGD301
Beach Ball, LGD302
Lollipop Twist, LGD303
All three finish to 32″ x 40″
Retail $6.95 each
Available Late May
Check with your favorite local quilt shop or online retailer for the Creative Grids Lazy Angle ruler and our new patterns. The patterns will be available by the end of May.
Guest Bloggers
Thank you to all of my guest bloggers! I really appreciate having fantastic posts to share while life got in the way of my desk lately. Catch all our Guest Blogger posts here. Look for another fantastic post by Amy Barickman in the near future, too.
Have a wonderful week. Hope to see you in Salt Lake City.
Enjoy!
Joan