Give Your Bag A New Look In A Cinch!
Lazies, While field testing, and girlfriend testing Miranda, this configuration drew big applause.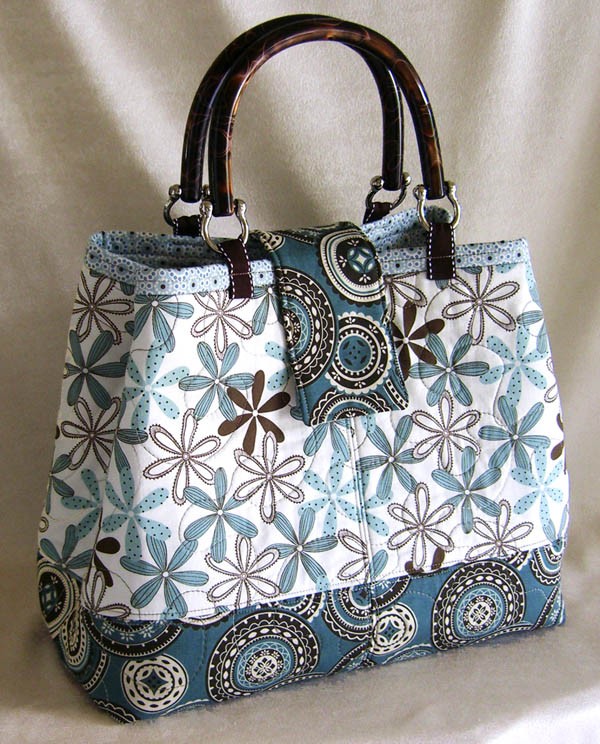 A whole different purse-onality!
Are you a Lazy Girl yet? Subscribe to our blog now!
Cinch It
Remember the swivel clasps used for the detachable shoulder strap? Well, they can certainly hang inside Miranda when not in use. But they can also clip to each other to draw the sides of the bag in for a cool new look. I love the versatility of this design. Fashion handles, optional shoulder strap or tucked and tidy.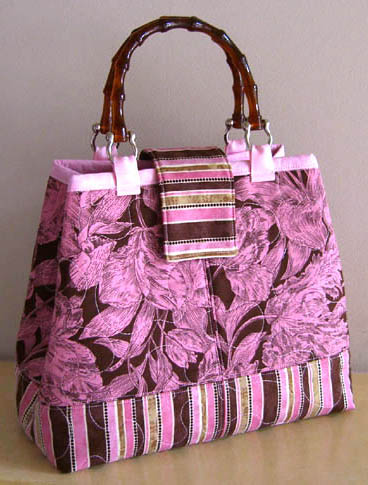 Pretty in pink. Miranda in 'Tulip Nouveau' by Ro Gregg
for Northcott Fabrics. See the line here: 'Pink Chocolate'.
Press It
And frankly, this is initially how I expected to present Miranda. I field tested Miranda with the sides tucked in and pressed as shown here in the pink Miranda. Well, they didn't stay tucked in place. They needed a little structural support to keep that shape. So, I field tested again, with the swivel clasps, and it worked out well.
Stuff It
However, if I loaded too much stuff into Miranda with the sides tucked, she got a little bulgy around the waist and lost her feminine shape. Kind of like what happens after Thanksgiving Dinner.
So, I really do recommend Miranda as the big open-top tote as shown on the pattern cover. But pulling the sides in does have merit and I want you to know about this option. And it's such a cute look. So, here's what you need to know.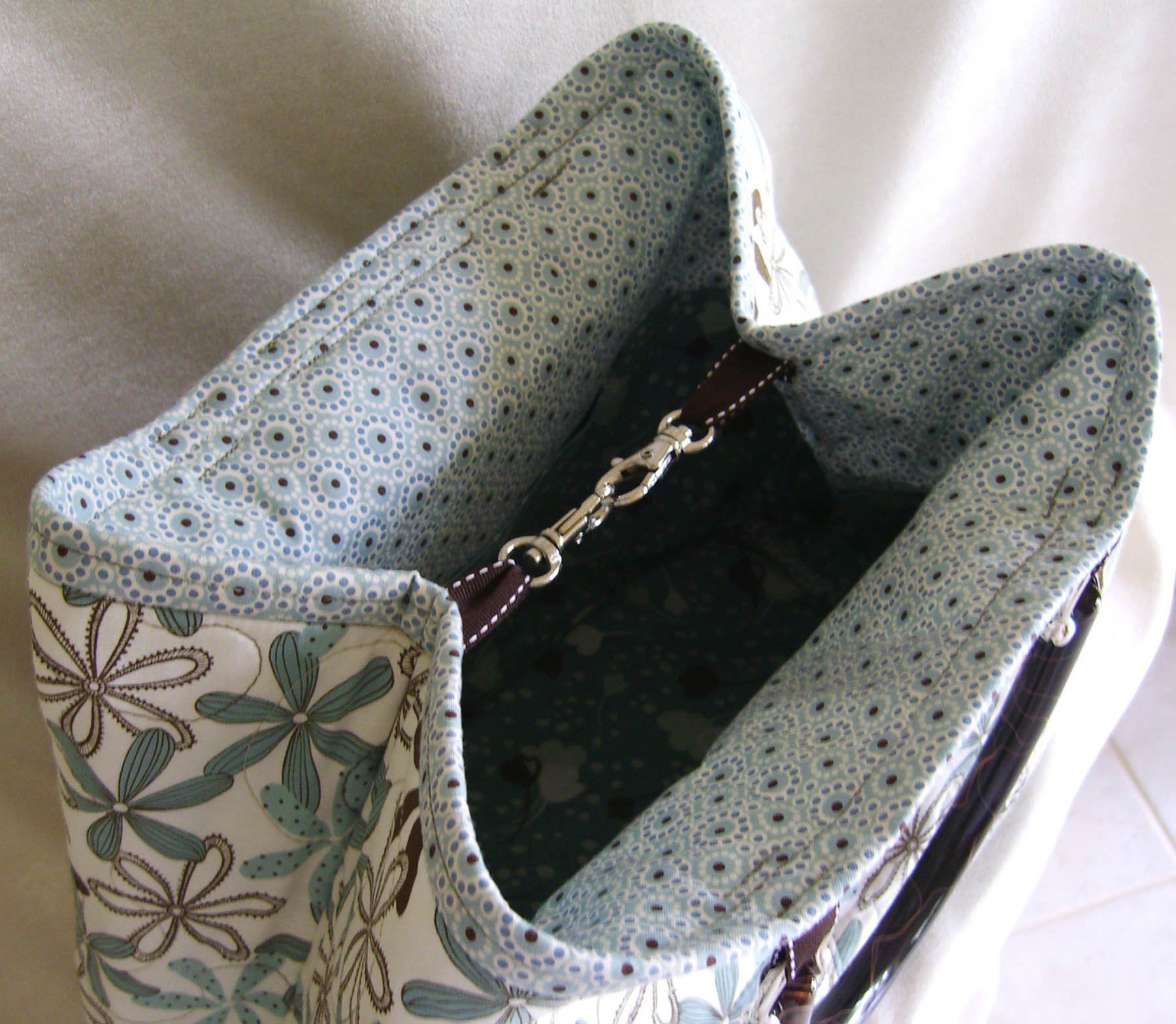 Connect swivel clasps to pull sides in.
Clip It
The clasps can reach across the bag and clip to each other. This pulls the sides of the bag in nicely, creating a fun and funky shape. This is a really nice option if you are traveling light or don't have much in Miranda.
Now, you know I really am a Lazy Girl, so I don't want to fiddle with hooking and un-hooking those clasps. Too putzy for me. And you don't need to. You can still operate out of the bag when the clasps are connected. With the flap open, there is plenty of room to reach in on either side of the clasps and use your bag.
Stow It
And these swivel clasps can be used for other things, too. Imagine having a home for your keys. Clip those little cuties in place!
Want to carry your cell phone on the outside of the bag? Oh baby, clip it and hang it over the edge! Let that bling swing while your strut and stroll.
Move It
Don't like where I located these clips? Don't be shy. Add swivel clasps anywhere you want along the top edge of the bag. Keep in mind that hanging something from the clip will create weight which might make the edge of your bag dip. The side seams offer a bit more stability due to the structure of the seam and curve of the bag.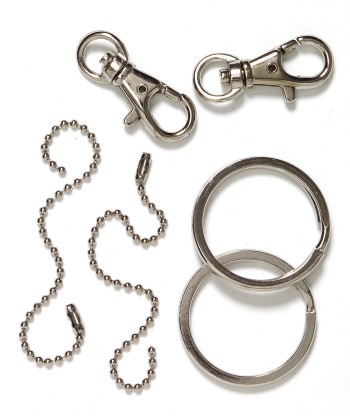 Change It
Remember these cool round key ring thingies from the Silvertone Purse Hardware Assortment from Leisure Arts (item 28401)? Well, use that on your loop instead of a swivel clasp. Then use the swivel clasp on something else and clip it to the ring.
Bling It
I added some bling to the front of my bag by putting the round key ring on the ribbon handle tab. It hangs directly below the fashion handle and looks snazzy. I don't intend to clip anything to it, but I could. Like a tassel, or my cell phone. Lots of things.
Adding these clasps, or another option of your choice, is a nice feature. It gives you an option to gather the bag in on itself if you are travelling light, or attach a shoulder strap when desired.
Snap It
Why not create a more substantial tab and use a magnet snap. Then create a key fob with the other half of the magnetic snap. Snap those keys in place safely inside your bag.
Make the fabric or ribbon tabs as long as you like. I found that 4″ was a good length to allow the swivel clasp to comfortably hang over the top edge of the bag to allow the shoulder strap to rest easily at the side. The 4″ length is the cut length. The ribbon in doubled over to create a loop or tab for the hardware.
Okay Girls, go get blingy!
Other Miranda Day Bag Posts:
Add A Detachable Shoulder Strap To Any Open-Top Tote
Choosing Fabrics For The Miranda Day Bag Pattern
Introducing The 'Miranda Day Bag' Pattern
New to our blog? Subscribe to get emails so you don't miss a juicy morsel.
Like and share this post with your stitchy friends.
Join me in the Lazy Girl community on Facebook here: Facebook Lazy Girl
Enjoy!
Joan
Facebook Lazy Girl
Pinterest Joan Hawley
Pinterest Lazy Girl Community
Instagram @JoanHawley
Twitter LazyGirlJoan