Creative Inspirations from Paper Dresses
Lazies, Using materials in unconventional ways can inspire and startle us into new creative avenues. This paper dress display at the Craft & Hobby Association trade show in Los Angeles last weekend did just that for me. I found this clever Paper Runway display by Die Cuts With a View in the scrapbooking area. Let me tell you what I see when I look at these gorgeous dresses.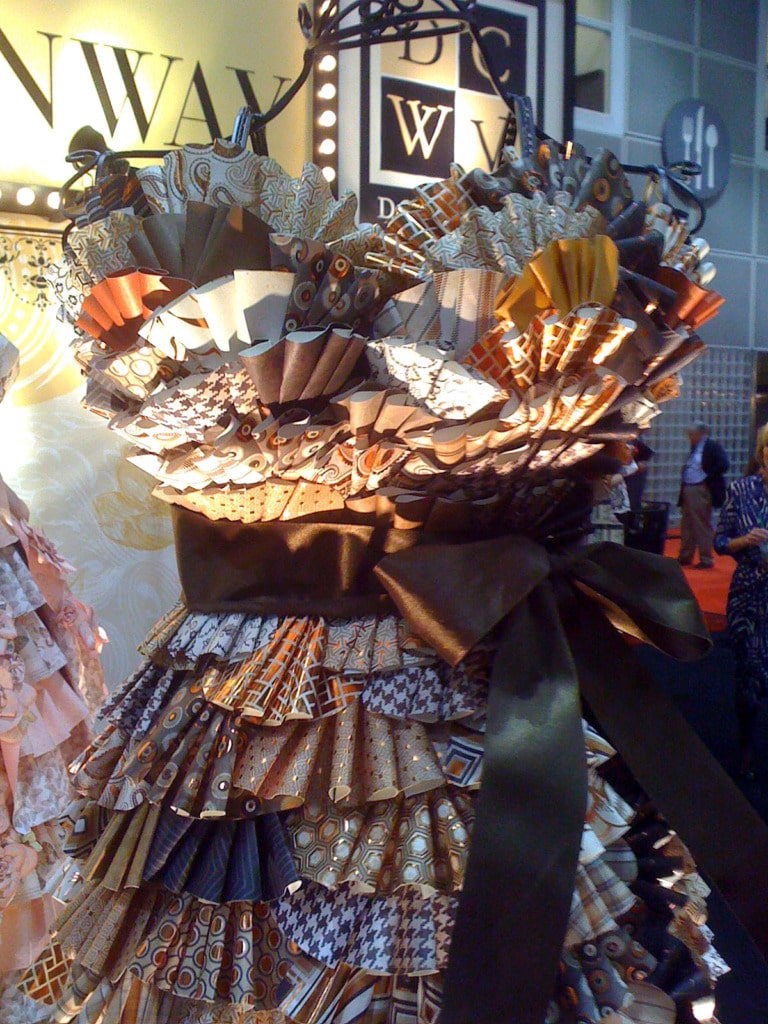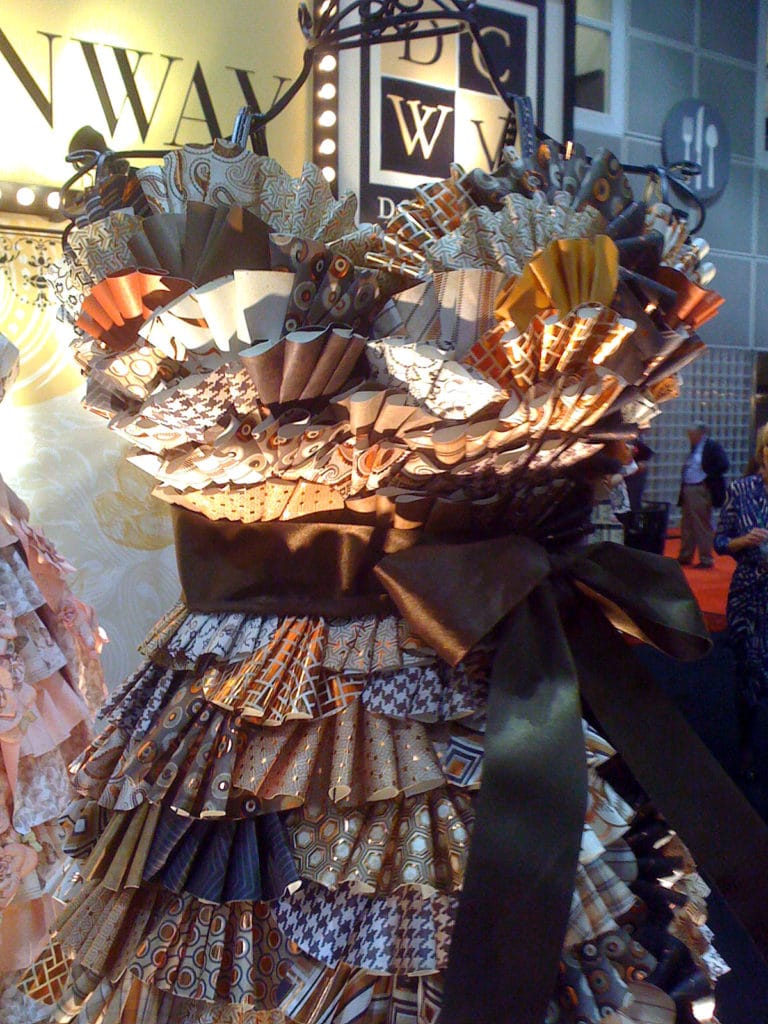 Look at every detail. Here's what I see when I look at this dress: mixing patterns, layers, ruffles, accents, overall shape, visual texture, construction.
Here are the papers used in this dress: http://www.diecutswithaview.com/product_view.php?id=1954 Wouldn't you love a fat quarter collection of these designs? Be still my heart!
I love the mix of prints. Hounds-tooth and hexagons? Oh my goodness. Doesn't this make you want to grab fabric from your stash and try different things together?
Proportion – we see about the same amount of each paper. The consistency is visually comforting. It's scrappy with a color theme. Scrappy can be sophisticated.
Ruffles above the waist go up, below go down. Imagine a purse with ruffles going in different directions – I already want it, what ever it is!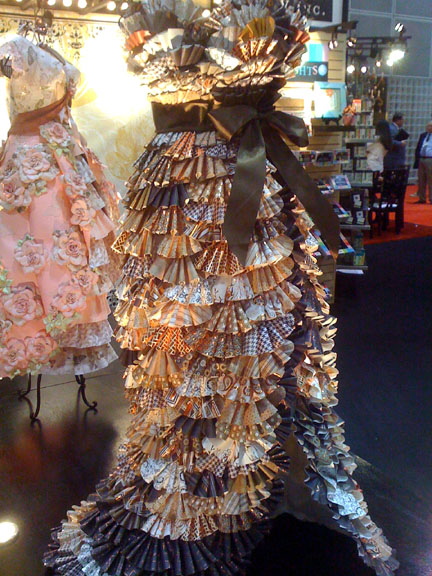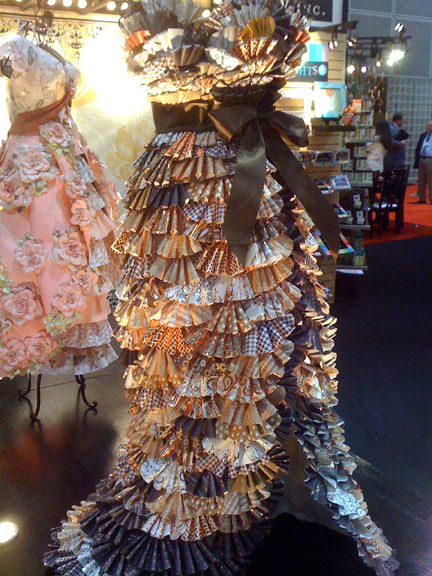 A rich brown ribbon defines the waist. There is more dark at the bottom of the dress, which ties in nicely with the waist ribbon. The different golds are perfect accents.
Visual texture: Each paper is puckered like a clam shell. Rather than long ruffles that traverse the dress from side to side, smaller pieces of paper are used to create smaller ruffles that cluster together for an overall patchwork ruffled effect. Do you think they took a hint from quilting? Patchwork ruffles – I like these two ideas together.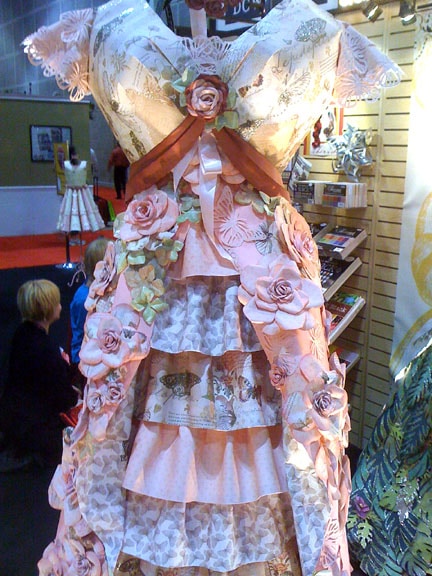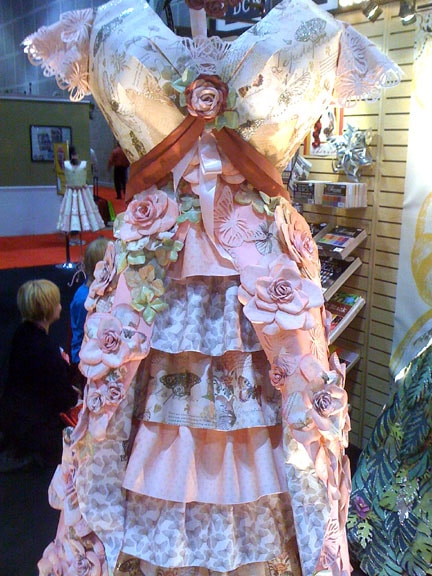 While the first dress looked effortless and stylish, this pink floral looks very stiff and exaggerated. But there are respites of soft in this creation. The butterfly cut-outs at the sleeve are soft and light details that stand out amongst the rest of the dress. Look at how the butterflies are used. They do not cover the 'fabric' beneath, and they extend beyond the edge. It's a perfect delicate detail. How can you use this concept with fabric? A sheer over a fabric? Applique that isn't completely adhered?
And don't miss the pleat detailing on the bodice. In conventional garment construction, darts are used at the bust line to shape the bodice. Here, the paper is stiff enough to use a series of flat pleats to shape the entire area. Where can you use fabric folding to create interest?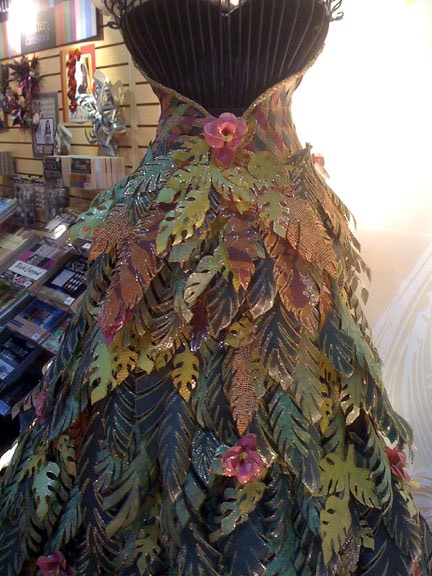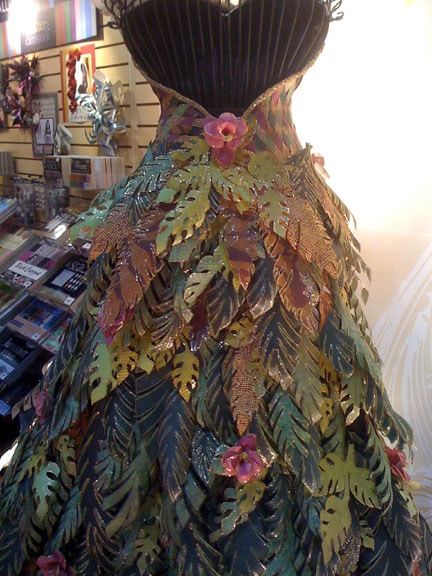 I adore this leaf dress. By cutting such detailed leaf shapes, it softens the paper and allows each leaf to take on an organic property with curves, flow and character. Edges of the leaves are adorned with embellishments, taking them from vegetation to glamor in an instant. Look at all the different colors used for these leaves. Cool blue greens and warm moss greens, along with hints of pink and a splash of copper. All of this is complimented nicely by the structured bodice of woven paper. Wouldn't this color combination make a gorgeous purse or quilt?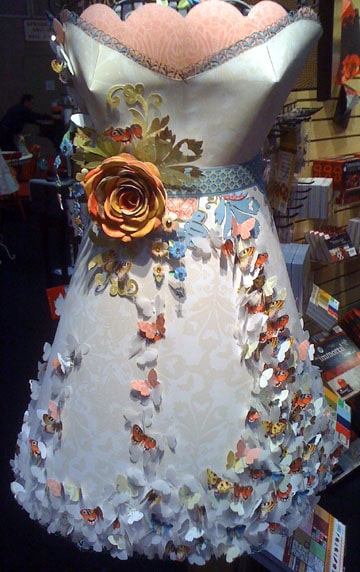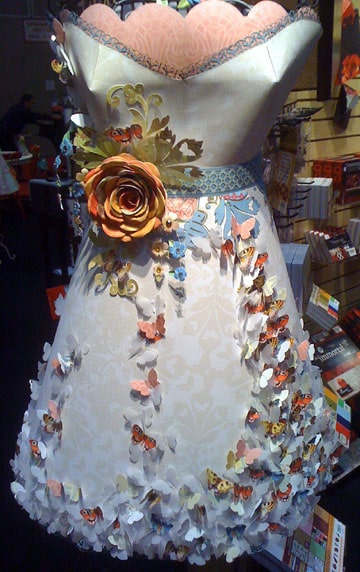 The asymmetry of the embellishments is interesting here. The little butterflies are adorable. The mass of them in the lower right corner balances the single large flower at the waist. How can you use different sized and unrelated embellishments to balance your next project?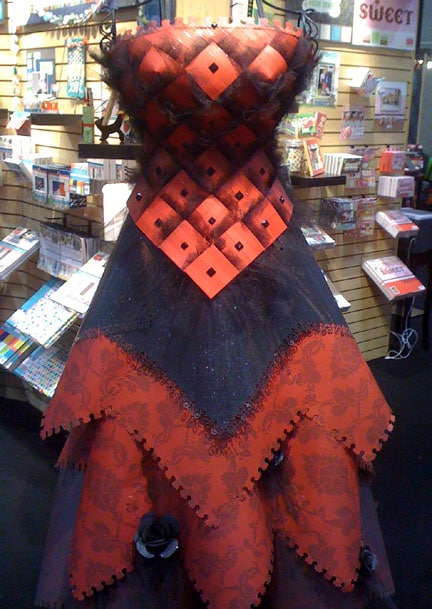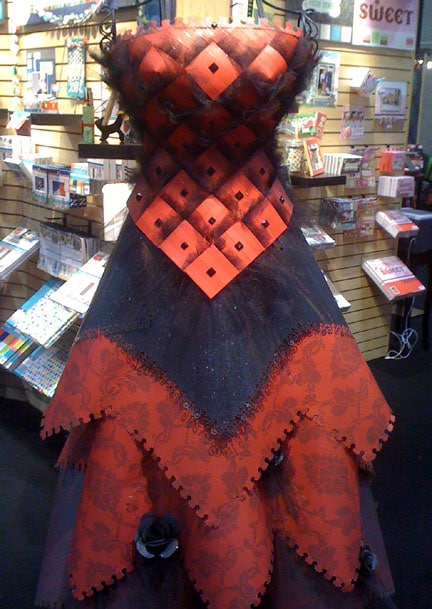 I like the bodice of this edgy dress. A mix of paper, tulle and buttons is very interesting here. Take a closer look at the bodice. Little blocks next to each other – patchwork! Playing in the seams? Oh my gosh, new horizons to conquer. The seams don't have to just be utilitarian and functional. What can you put in your seams to bump up your next project? Piping anyone? Fringy piping? Piping without the piping – just a raw edge piece of fabric thrown in there – I'd love to see how that works up. Sounds like easy frayed edge quilting to me.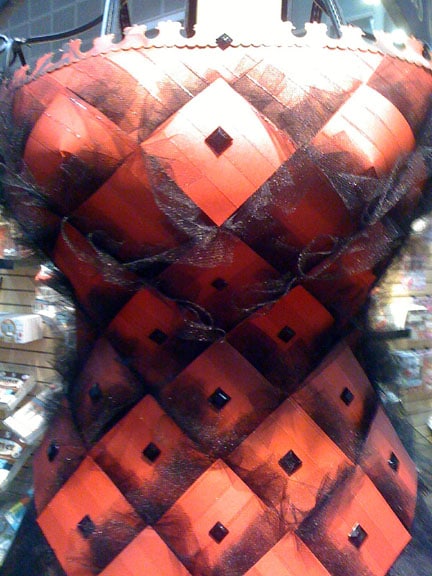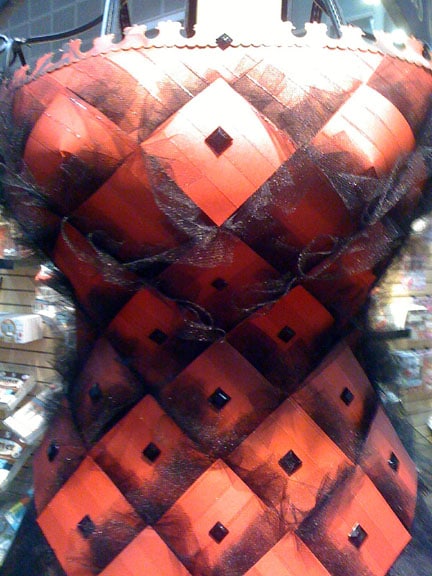 Now, how big was the show. Wow, click on the picture below to see the larger of the two exhibit halls. I walked most of it. Somewhere in the middle should have been an oasis with a coffee bar, massage therapist and cookies.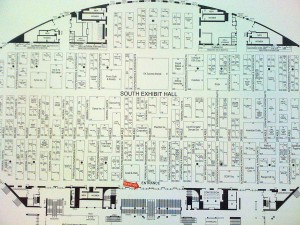 Click image to enlarge.
What inspires you?
Enjoy!
Joan