Coming Soon: Meet Candice
Lazies, Meet Candice. Candice, meet everyone. The Candice pattern should be here by November 1st and I will keep you posted.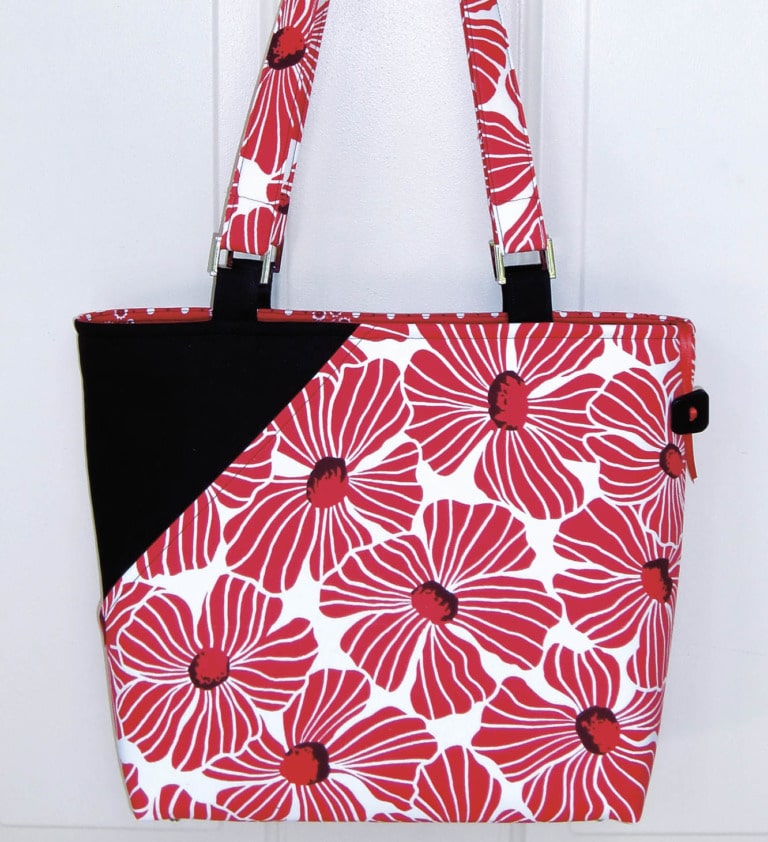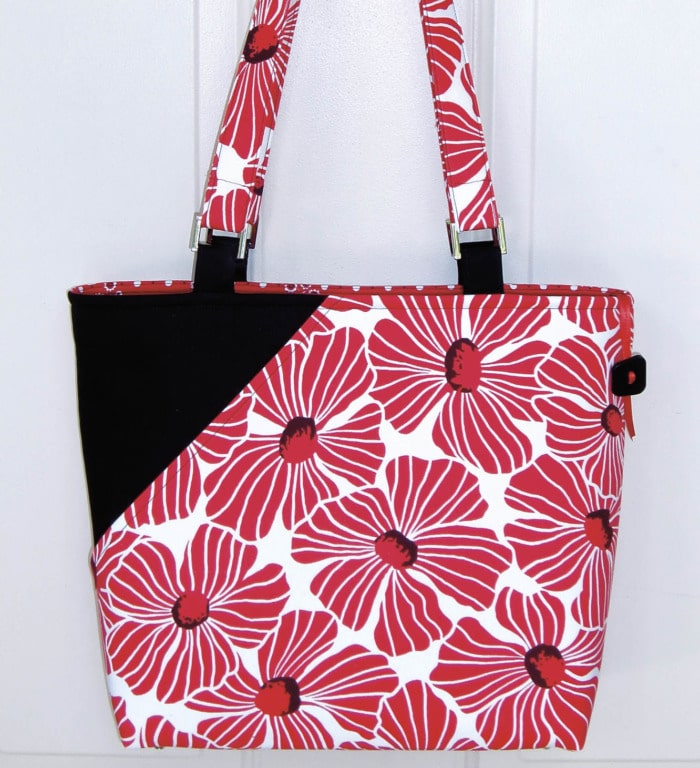 Candice, #LGD130
Fabric is Treasures and Tidbits by Piece O' Cake Designs for Robert Kaufman.
Details
Front slant entry pocket, shoulder straps with optional 'D' rings, zip top closure, inside pockets, Bag-E-Bottom size A. Finished size approximately 11″ wide x 11 1/2″ tall x 4 1/2″ deep.
Fat Pockets
The big story here is the pockets. I've created 'fat pockets', a new technique to give dimension for bulky items. Great for techie stuff like eReaders or tablets (iPad/Galaxy/etc), cords and sunglasses. A fat pocket has a faux gusset at the bottom, giving the pocket depth. It stands away from the wall of the bag, perfect for easy access and to accommodate the bulk of these e-devices. Perfect for reach-in and grab. My Candice stands up nice and straight with my iPad and goodies in place.
Here's Candi, totally loaded with my iPad, sunglasses, cord and purse essentials. She's perfect. The fat pocket is a little taller than our regular pockets for a little more stability for big/tall items.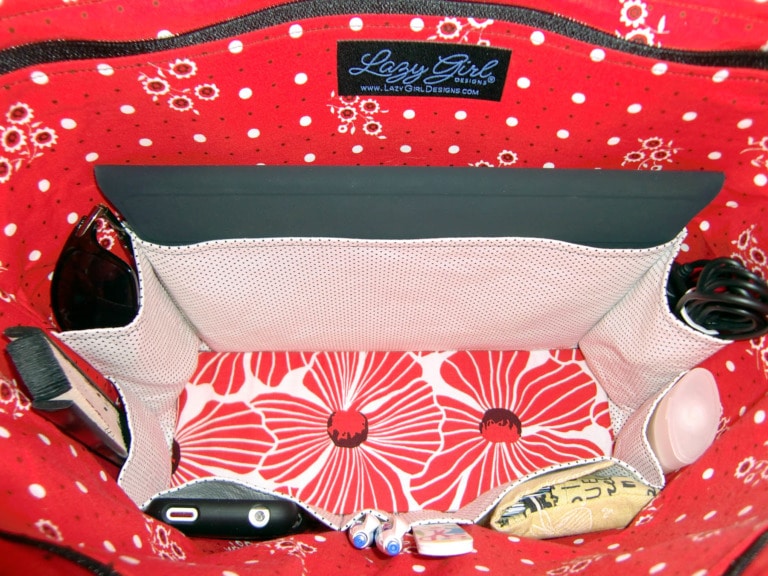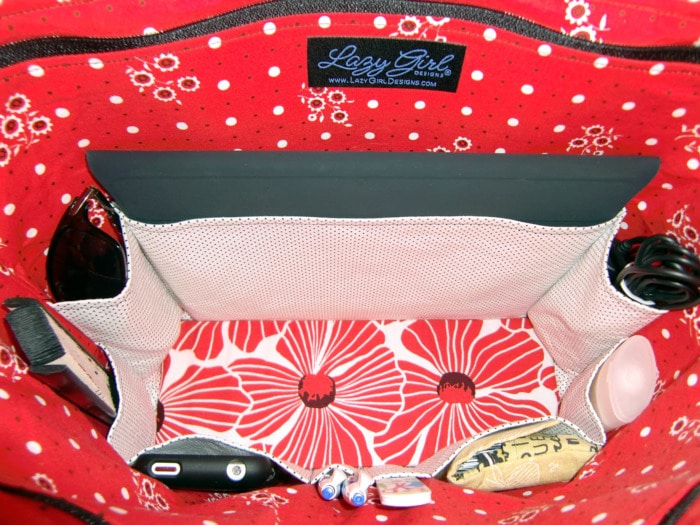 There's an option to make the pockets dimensional for bulky items such as sunglasses, tablet/eReader, cords and more. The main pocket section can be adjusted for your iPad, Nook, Kindle, Galaxy or other eReader or tablet.
Skinny Things
If your e-device is thin, like the iPad2 or the latest Kindle, you won't need the extra dimension. Just keep the tall pocket flat against the lining of the bag.
Fat Things
If your e-device is more than 1/4″ thick, or kept in a case/sleeve, you'll want the fat pocket to accommodate the bulk.
Not a Techie?
One large pocket in the middle is still perfect for all the stray papers and info we carry in our purses. Last week, I was out and about without my iPad. I filled the pocket with cards from a trip to Hallmark, brochures from the pet store and receipts here and there.
In this case, my fat pocket worked like a document pocket: docu-pock. Sounds like that Doc Ock villain from one of the Spiderman movies. It's not quite 11″ wide, but it held a catalog/magazine standing upright and letter sized papers folded in half, too. This large pocket kept the clutter from becoming chaos and taking over my purse. The tall inside pocket can be subdivided any way you like. The extra height is nice for glasses and such.
Techie and Paper
Even with the iPad safely tucked away in the fat pocket, there was room to store paper/document stuff in there, too.
Front Pocket
The front slant pocket is perfect for quick access to keys or phone, loose change or a few dollar bills.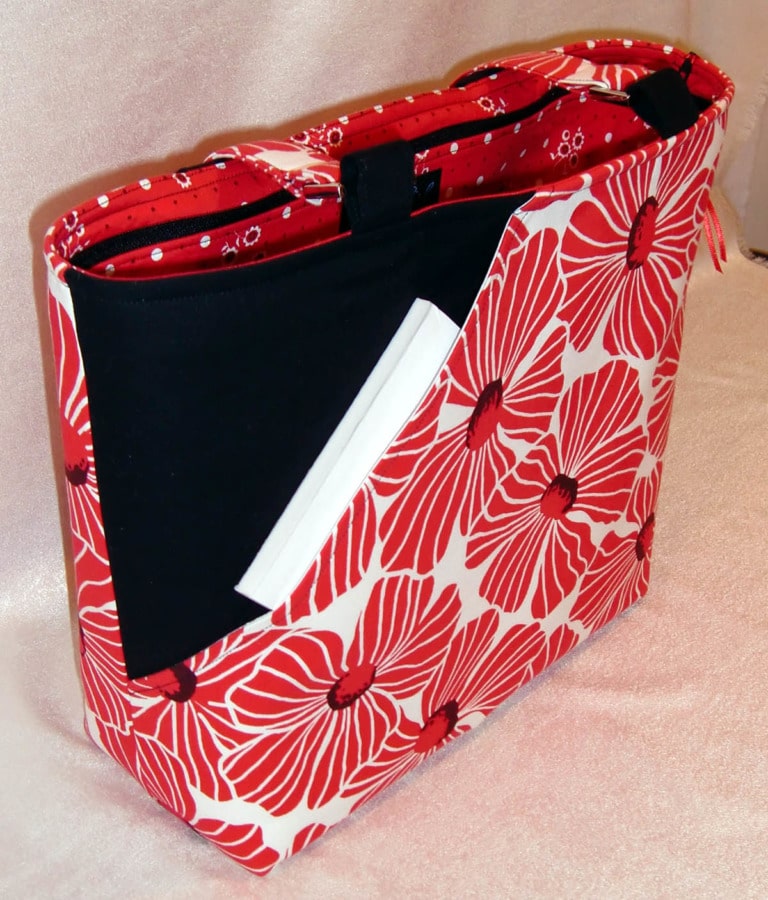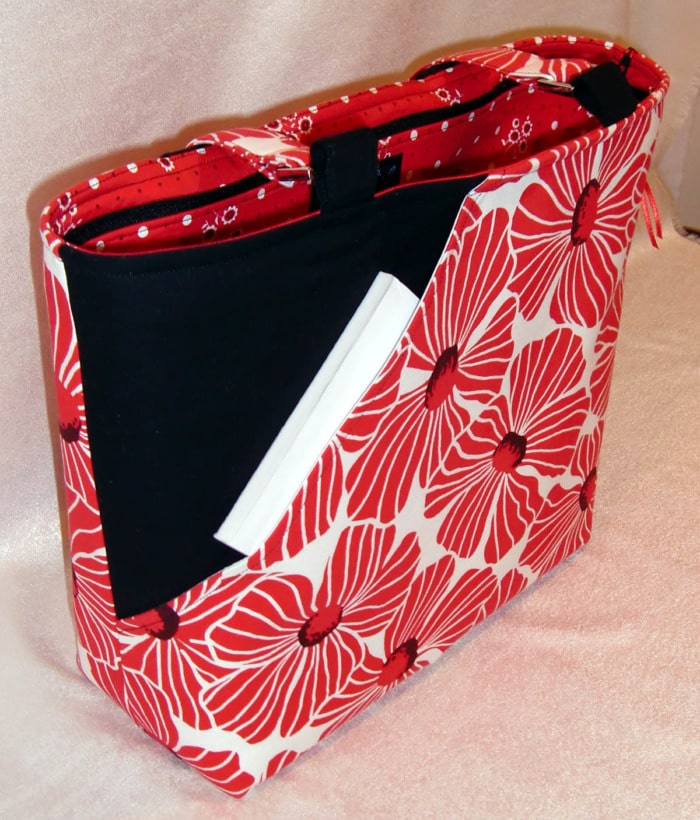 This notepad gives you an idea of the pockets' wide opening and ease of entry.
Zip It!
Yep, a great zip top. Candice can also be made without a zip.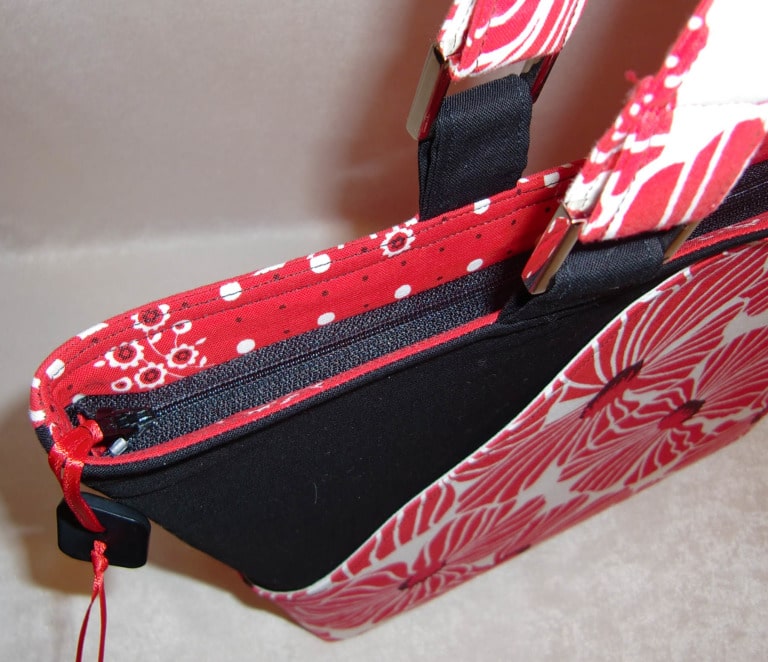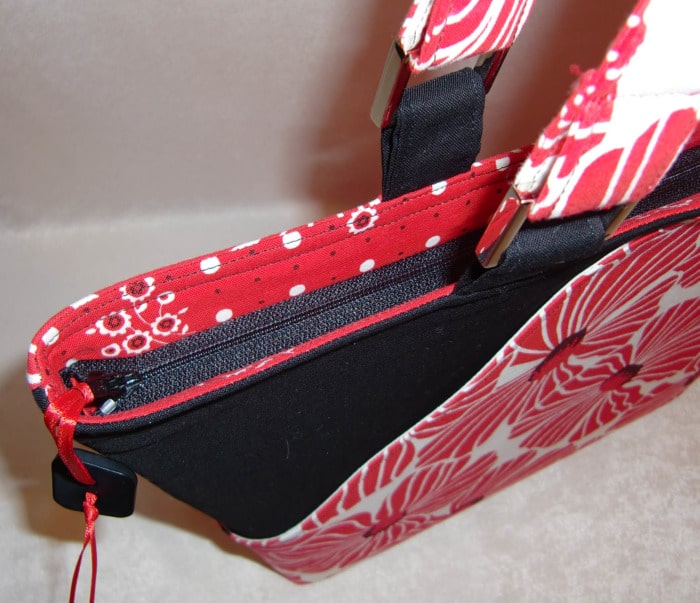 Bling
The Candice pattern will include directions to make handles with or without 1″ sized 'D' rings. More about these blingy rectangular rings by Nancy Zieman for Clover to come.


Size
Here's Margo and Candice side by side. Candice is larger/taller/deeper/wider than Margo.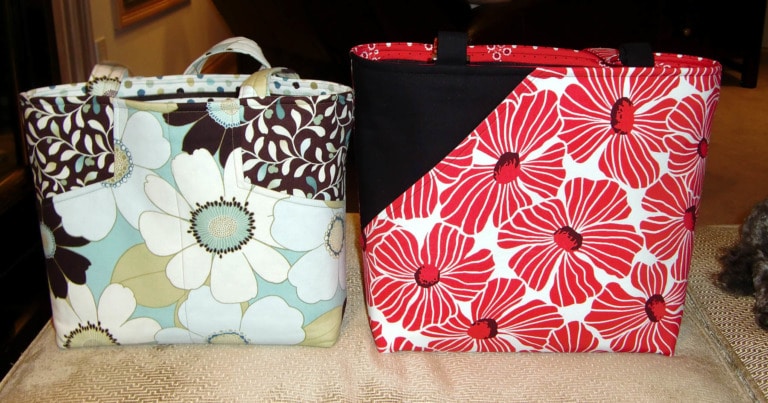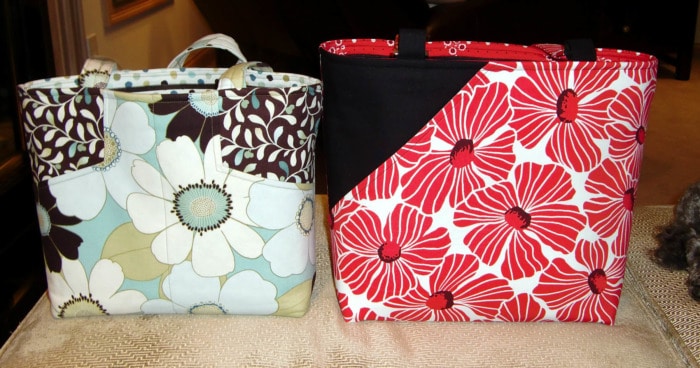 I've have plenty more to share about Candice in the coming weeks as we await her arrival.
Get The Candice Bag Here
Candice is available online here.
What do you think of our new Girl?
Subscribe to receive emails for my blog and newsletters about new patterns and project ideas.
Enjoy!
Joan
Joan's Sewing Group | Pinterest | Instagram | Twitter
Like and share this post with your stitchy friends.