Free Projects: Holiday Fabric Garland and Ornament
Lazies, Here are two quick and easy projects you can still make in time for the holidays: fabric ball ornament and easy fabric garland or ribbon. Both are made by fusing layers of fabric together to make what I call 'quilters canvas' – great body, double-sided and won't fray on the cut edges. Fabulous!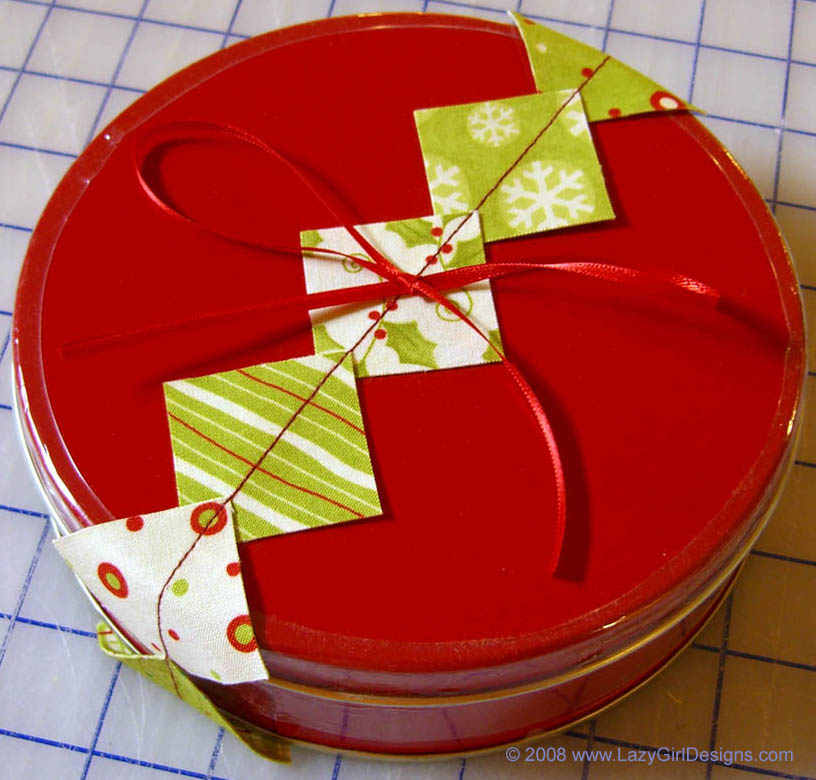 Garland can be used as ribbon, too. Click image to enlarge.
Easy Fabric Garland or Ribbon
Now, this just can't get much easier or more efficient. Ten 10″ squares, fused in pairs, cut into 1 1/2″ squares, makes 25 feet of garland! I ordered some tins of my favorite mini-brownies as gifts this year with plans to decorate using fabric garland. I used the rest to decorate around a door frame.
How-To
– Ten 10″ squares of fabric, or use scraps. Shown: 'Merry & Bright' Moda layer cake (10″ squares). 
– Five squares of fusible web a bit smaller than the fabric, or use scraps. I used Steam-A-Seam 2, any fusible web is great.
– Center the fusible between two pieces of fabric, wrong sides together, and fuse.
– Repeat for all fabric/fusible.
– Trim edge, then cut six 1 1/2″ strips.
– Re-cut strips to 1 1/2″ squares.
– Stitch together, on point, overlapping 1/2″ of the ends.
Click here to subscribe to the Lazy Girl blog.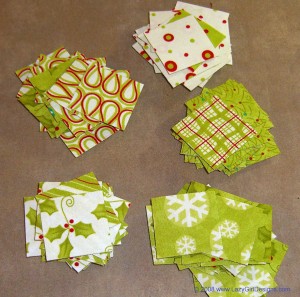 Little stacks of garland-to-be.


Stitch on point and overlap ends of squares. Click image to enlarge.
The squares are double sided and won't fray on the edges so they are ready to go! Seven squares make approximately 1′ of garland. Make the length needed and use around a tree, wreath, door frame, banister or anywhere you would use traditional garland.
For ribbon, I used a bit of fabric glue to tack the garland to the top of the tin and overlap the loose ends underneath and tack with glue. Use scotch tape (pins, paperclips) to hold ribbon in place until glue dries. Use a touch of glue to attach the red bow on top, too.
Fabric Ball Ornament
I saw a paper version of this concept by those sharp cookies over at Design Sponge here (via WhipUp) and thought 'I want to do that in fabric'. As you can see, I did. I used the 'Arcadia' fabric from Moda. A charm pack (5″ squares) would be ideal for this project.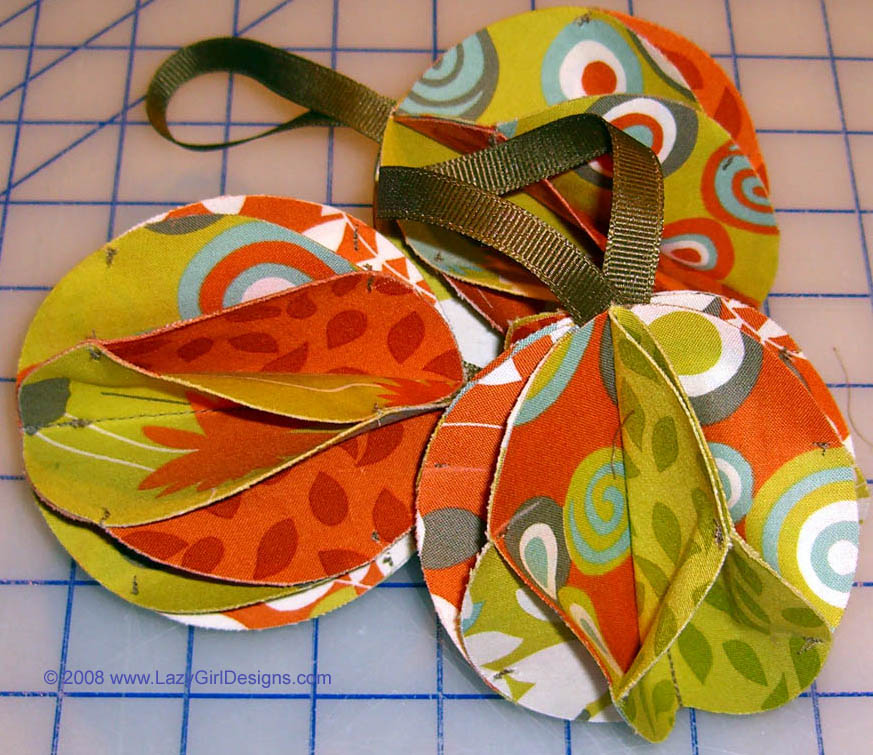 Ornaments made from fused layers of fabric. Click image to enlarge.
A word of caution
This project is thick and my machine made the ker-plunk, ker-plunk noise as I sewed through 14 layers of fabric and 7 layers of fusible web.  I used a size 12 needle, perhaps a 14 would have been better. Know your machine's limitations before you try this. Or make it in paper at the link above.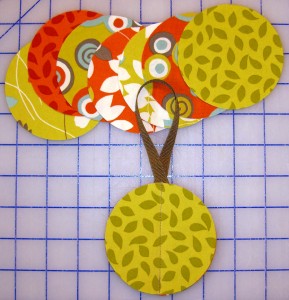 Make circles, stack, stitch, include ribbon.
Click image to enlarge.
How To
– 3 1/2″ round template from Creative Grids. Use something at least this size.
– 14 scraps at least 4″ square.
– 7 scraps of fusible web cut just a bit smaller than the 4″ squares.
– Center the fusible between two pieces of fabric and fuse. Make 7 fused pieces.
– Trace and cut a circle from each piece.
– Fold one circle in half and press to make a crease, then open flat.
– Stack all 7 circles, place circle with crease on top.
– Stitch through all layers on center crease, stop 1/2″ from end, leave under presser foot.
– Place ends of folded ribbon between 2nd and 3rd circles at the stitching line and stitch in place.
– Alternately use just a stich or two to stitch circles together at the edge, about 1″ from the top and bottom.
For stitching the circles together at the edges, I used the smallest presser foot I had (zipper foot) because maneuvering things under the presser foot gets a little tight toward the end of this project.  You could use fabric glue instead, but I didn't feel like waiting for glue to dry. My favorite Res-Q Tape was not strong enough for this task, either.
Enjoy!
Joan
Leave a Lazy Comment
23 Responses to "Free Projects: Holiday Fabric Garland and Ornament"
Trackbacks/Pingbacks