Zip-Top Bag For All Your Take-Alongs
Lazies, Prolific quilter Gail Mitchell has been on a Take Along Bags kick lately. Look at all the pretties she's made for the loved ones in her life. Our Take Along Bags (LGD106) is one of my favorite and most-used designs. This smart, compact, zip-top bag is perfect for organizing and toting. I use one for my make-up bag and one for sewing supplies.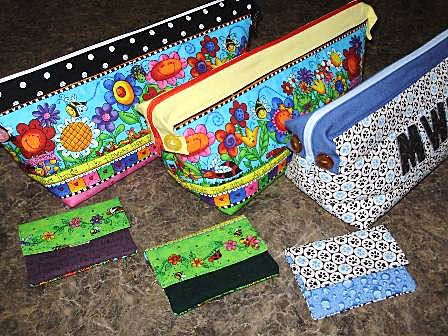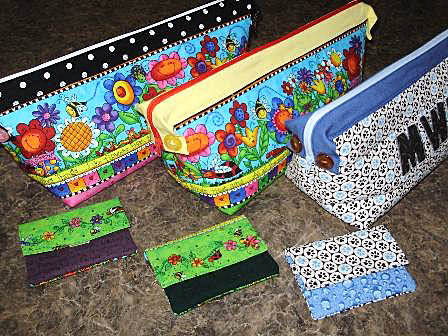 Here's Gail
Here are three of the Take Along Bags that were on my to do list. The triplets are going soon to Disney for their 8th birthday. They know I'm making the bags and and they helped me pick out the fabrics from my stash. They call them their toothbrush bags.
Instead of buying them a gift for their birthday, they are getting US cash so they can spend it on souvenirs. I also got them a little travel gift of a McDonald's gift card for when they are on the long drive to the Portland airport. I hope Mom and Dad are planning a stop at McD's. Out of the fabric remnants, I made the Lazy Girl wonder wallets to put their cash and their McD's gift card in.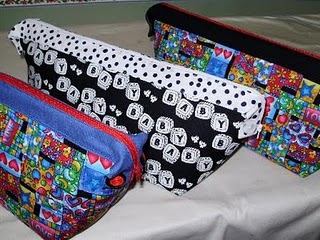 More Take Along Bags. Love the black and white for baby.
Our Take Along Bags pattern includes two projects, the zip bag shown here and a small drawstring bag. The zip bag is similar in style and construction to our very popular Towne Purse, and uses our original 'No-Fear' technique for installing a standard zipper. Both of these designs are located here.
Let's Meet Gail
So, I'm a long time sewer who became interested in quilting back when Eleanor Burns had her PBS quilt in a day series on TV. I quickly became hooked. I guess that might have been about 15 years ago. But I was sewing clothing, home dec long before that. My late mother was a wonderful sewer and I recall her sewing in the basement. She sewed for church bazaars and did lots of other crafts. I think I'm just like her. I love to make things. Doesn't matter what it is. I see all that DIY stuff, and I want to make it, cook it, print it, do it, at least once!!!!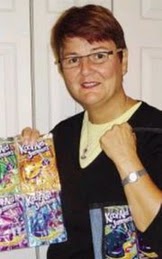 Gail Mitchell
I have been involved with my LQG, the Fredericton Quilt Guild for about 12 or 13 years. I love the friendship and activities of a guild. I did serve on the Canadian Quilters Association Board of Directors for 5 years. The CQA is a something like AQS in the USA.
I've been retired for about 2 years now, and shortly after I retired, I joined a quilters coffee club and I meet with a small group quilters every Friday morning. I love meeting with these like-minded gals. Fridays are wonderful for me. I come home all full of sewing inspiration.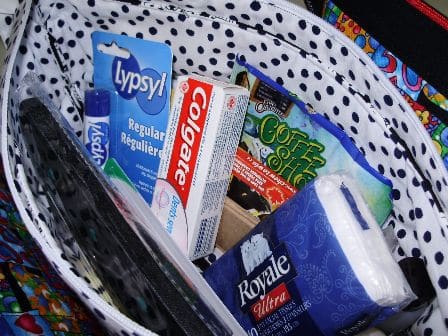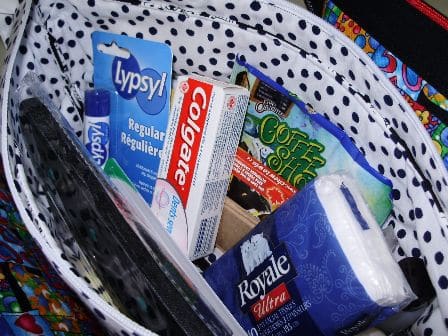 Filled with all sorts of personal care items for on the go.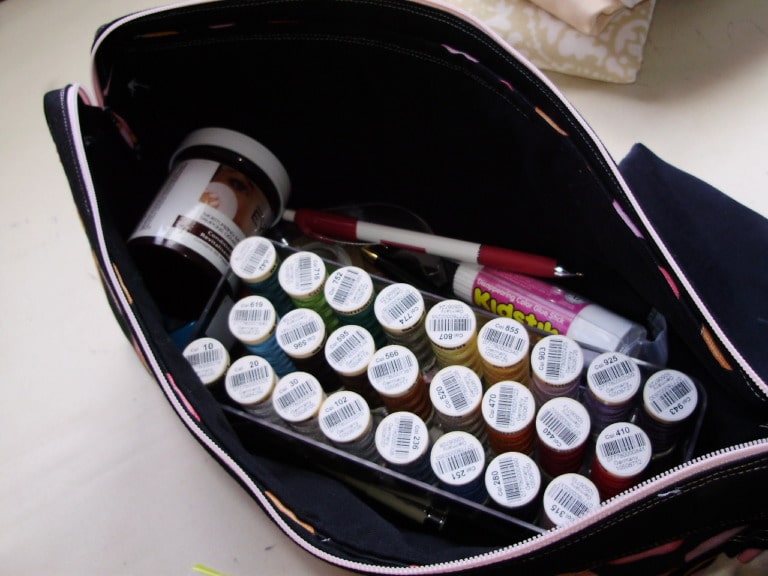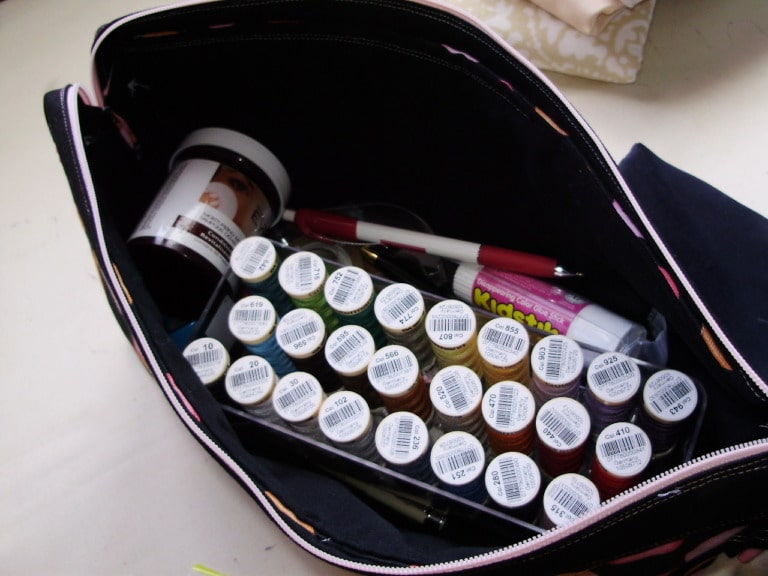 Filled with fantastic sewing and crafting supplies.
Back to my actual sewing. I do sew a little every day. Lately, it is usually small projects. It usually will more than likely have something to do with my 6 grandchildren, who range in age from 11 to 2 years old. I'm not exclusive to quilting. I sometimes make the kids costumes for Halloween. I always sew patches on their blankets. I made costumes for ballet concerts and for school projects. There's always somebody who needs a tutu or some doll clothes. All this costuming gave me the confidence to make great costumes for my hubby and I to wear when we went to a costume party while on a cruise on the Nile in Egypt. They were a hoot!
Take Along Bags from the cover of our pattern #LGD106. Isn't that shoe pin cushion the cutest?
I always have a list of quilts, table runners that I want to make. I love making the Lazy Girl projects because they're small projects and easy to do and make great gifts. I bet I'm the only one around here who not only has a personal stash of quilt fabric, but has sizable stash of 45cm zippers, just for making take along bags.
I was born in Quebec City and now live in Fredericton, New Brunswick, which is in Eastern Canada. My husband and I have three daughters and 6 grandchildren. We're lucky that they all live within a 2 hour drive of us and see them all quite often.
Thanks Gail! Visit Gail's blog and browse through her beautiful creations at Quilt, Knit, Run, Sew.
Enjoy!
Joan