Microsoft Interviews Lazy Girl! Tag, You're It
Lazies, Last month Microsoft interviewed me about how I'm using their Tag barcode program. Talk about shocking! Read the interview here and see how I'm using Tag below.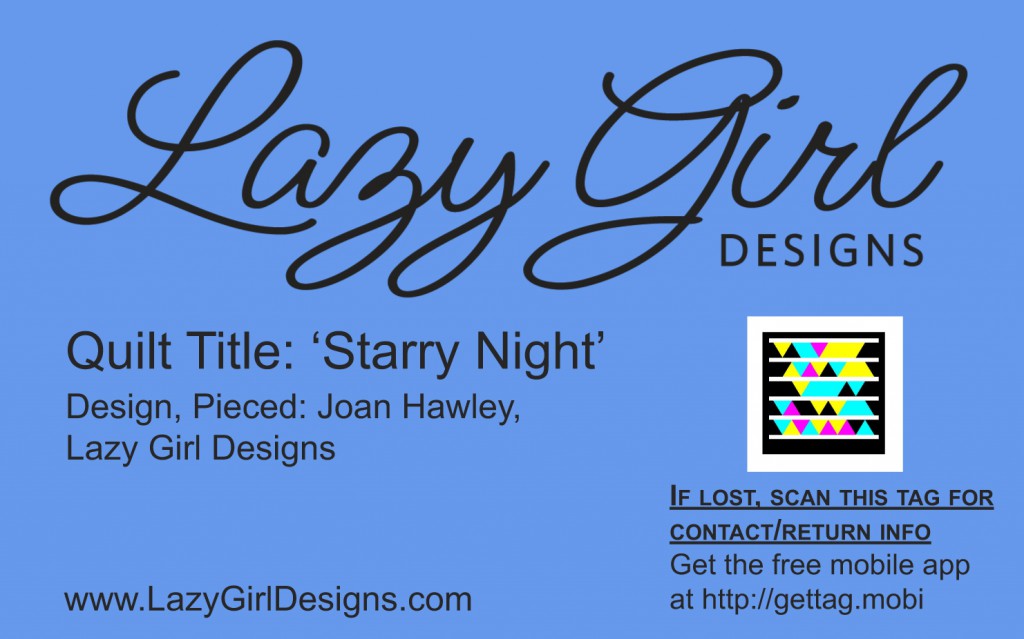 Here's one of my quilt labels that features a Tag.
Tag is a two-dimensional barcode that is embedded with information. Use a smart phone to scan the Tag to access that information. The embedded info can be a link to a website or video, send a text message, add contact info to your address book, etc.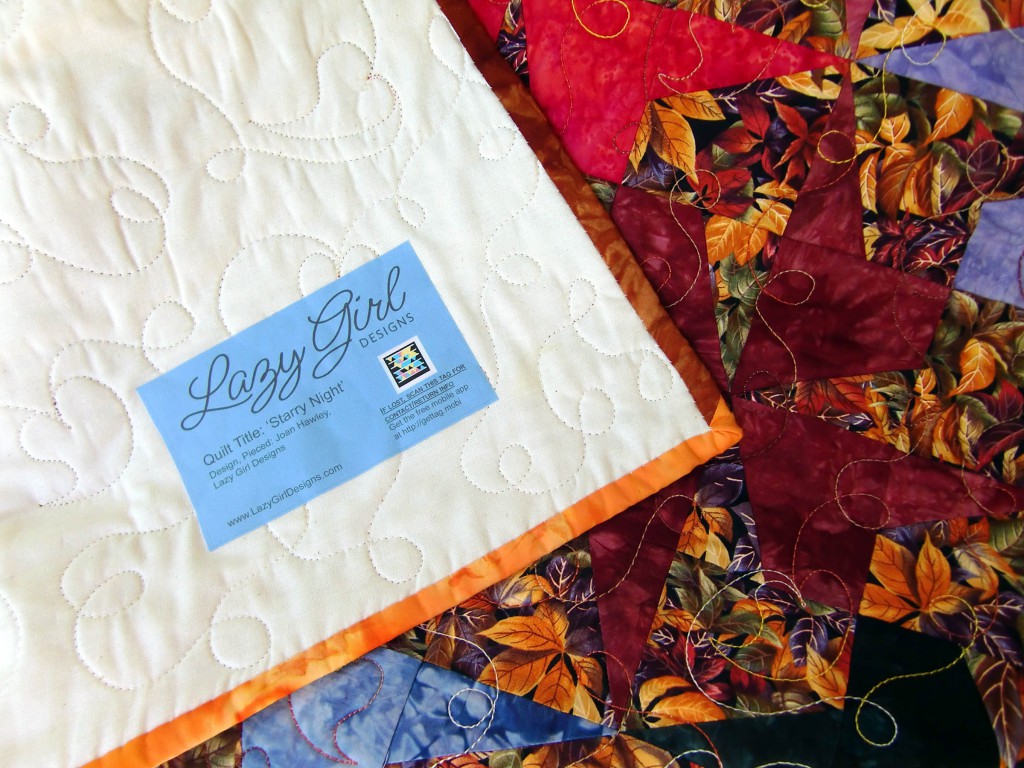 Here I've added a Tag to a label on the back of our Starry Night quilt. When scanned, it will display contact/address info on your phone along with a message from me.
Read the Microsoft interview here Why Quilting Companies Like Tag
Scan the tag for the Lazy Angle ruler or quilt patterns and watch a video of me demonstrating how to use the ruler.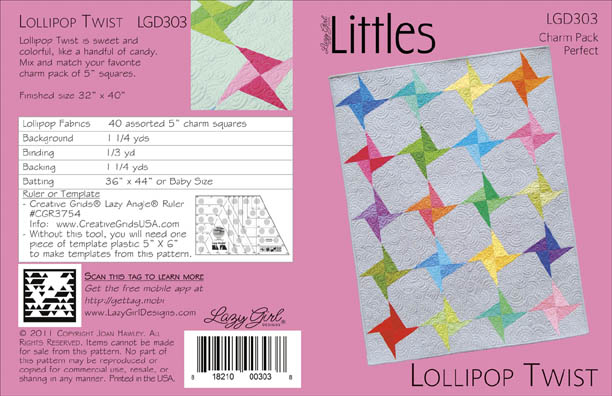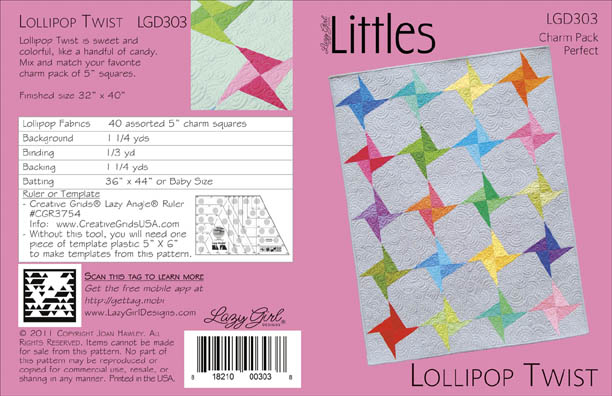 We've added a Tag to each of our six new quilt patterns.
Without a Smart Phone
What if you don't have a smart phone? Each pattern contains the link to the video. Simply go to that address online and watch the video.
Why Use Tags and Different Tags
Why put a Tag on the back of my quilt samples? I could certainly print contact and return info on the quilt label. But the information linked to a Tag can be changed whenever I want. So, if I move, or my information changes, I just update the data record attached to that tag and it instantly updates.
You've probably been seeing barcodes that look like a Tetris game, below in black/white. This is another type of 2-dimensional barcode called Quick Response or QR, used to do the same thing as Microsoft Tag. Each type is being used by lots of companies these days. As far as I can tell, Tag offers more options and flexibility. So I went with Tag.
The colorful barcode is the Microsoft Tag from my quilt label.
The black/white barcode is a Quick Response code.
You can scan the Tag to see the info I set up for the quilt label.
Visiting or Away Quilts
This could be really handy when the quilt goes off to visit someone near or far. When my sweet little doggie stays next door with her sister's family, she wears her 'away' collar with their contact info. Let's suppose my quilts travel far from home in the custody of Susie Quilter or a local quilt shop. I can update the tag data with that person or quilt shop's info. Very timely, easy to do, and flexible. I've also included a short message of thanks for the care of and return of the quilt.
Next up, I plan to make luggage tags with a Tag, linking to my info.
Tags on quilts or other designs could also link to a description and history of the item, like a traveling museum exhibit. Perhaps quilt samples should travel with a museum exhibit-style display card as well. A simple small board with the typed info as well as a scannable Tag that links to more info.
Smart Phone Application
To go http://gettag.mobi to download the Microsoft Tag Reader app for your phone. This app will not read the QR barcodes. There are other apps to read those codes.
Read more about Tags or set up your own account here.
Update: Tags is free to set-up and use. The Tag Reader app is free to download to your phone. Tag Reader is an Online application and uses your phone's data plan – normal charges apply if any. I have an unlimited data plan, so I do not incur additional charges to use the Tag Reader via my iPhone.
Enjoy!
Joan