What New Sewing Enthusiasts are Looking For and Where They Are Finding It
Lazies, New crafters are flocking to sewing, the hottest craft trend these days. It's all over the Internet and print media. I've compiled a short list of sewing related media and resources for you to enjoy.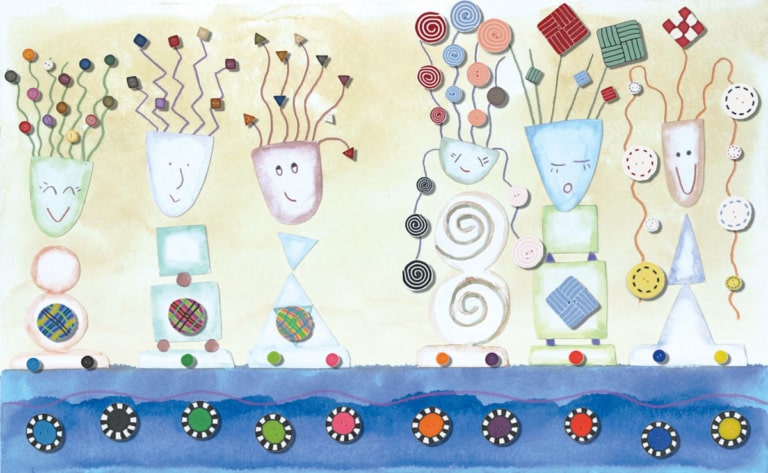 Sewing Enthusiasts – from Just Another Button Company catalog, polymer clay buttons.
Follow the links below to read how new sewing enthusiasts are finding just the right mix of learning, mentoring, and independence to be inspired at two schools.  Warm your heart with the story of the sewing machine angel in New Orleans. Don't miss out on the empowerment felt by crafters from the piece at Women's eNews.org.
Young Women Re-Craft Feminism as DIY Project – From Courtney E. Martin for Women's eNews.org. Sent in by my friend Janet Lutz, owner of Calico Gals Quilt Shop in Fayetteville, NY.
Girls Sharpen Sewing, Cooking Skills – From the Deseret News, Salt Lake City, UT
'The sewing classes are set up so that the first day girls come, they are put on the sewing machine. One of their first projects is to make a bag to hold their works in progress. After the bag is complete, participants can choose a project, from skirts to bags or even quilts.'
Sewing Together a School – From the Arlington Advocate, MA
Read about a local school where the classes are what the students want it to be. Laura Wirkkala has laid the foundation for students to add as much to the experience as possible, choosing their own fabrics and projects. Young enthusiasts as well as adults find Laura's approach supportive and encouraging. Visit Laura's website here.
Sewing an Expression of Creativity – From the Benton County Daily Record in Arkansas.
Machine Donations Sew Hope – From the Times-Picayune. A 'sewing machine angel' makes an impact in New Orleans.
The Internet is filled with fabulous sewing and quilting information.  Here's a nice comprehensive list at About.com.
Other 'Sewing News' posts.
Image courtesy of Just Another Button Company.