Velcro Fabric Fusion and a Special Lazy Announcement
Lazies, I'm head over heels in love. And it's all Velcro's fault.
I offer a product recommendation today, as well as a special Lazy announcement at the end of today's post.
So, what's so darned special about Velcro that's got me spinning in my purse-loving seat?

Velcro's 'Fabric Fusion' fusible version of their hook and loop tape.
I was skeptical when I heard about it more than a year ago. But, I've tried it on a few projects recently and here's why I really like it.
The Fusible Actually Works
The fusible actually does fuse to my cotton fabric projects. No sewing, no worries. Just place, heat with an iron from the fabric side for 60 seconds. Let it cool and you are done. Velcro claims that it strengthens with washing. I haven't tried that, so I cannot comment on that claim. I've heard other Lazies say the bond does grow stronger with washing.
No Hard Edges
There are no hard plastic edges bordering the hook and loop tape like the sew-in version. That hard plastic edge is just hateful. Yes, it offers a nice clean place to stitch, but I don't stitch there and it creates stiff sharp edges where cut to length that hurt. Frankly, I usually cut that hard edge off. Fusion is soft and supple from edge to edge.
Attach It Any Where, Any Time
Since Fusion doesn't have to be sewn in place, it can be attached anywhere, any time. It does not have to be factored into the construction process. Sew-in Velcro needs to be installed so that the stitching won't show on the exterior of a project, or can be camouflaged if it does.
For instance, on our Wonder Wallet, the Velcro is sewn through both layers of the cover fabric for strength and stability. The trade off is that the stitching shows on the front cover and needs an embellishment, such as a button, to hide the stitching.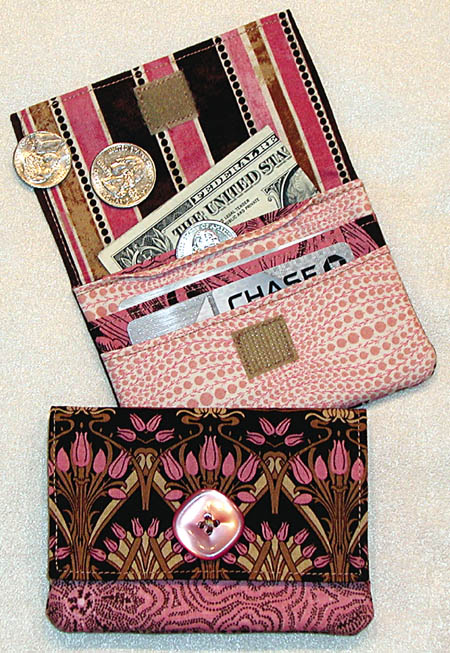 Sew-in Velcro on the Wonder Wallet (LGD211).
Stitching on the flap is covered by a button.
Stick It To Your Project Before Fusing
Fusion has a sticky coating on the back that allows it to stick to your project before fusing. That is really convenient. No pins. You don't have to worry about it moving or straying from its final destination. That sticky coating, which is also the fusible, is a helping hand that I appreciate. The Fusion comes with a plastic covering on the sticky side. Peel it away when you are ready to use it. The plastic covering pulled away from my Fusion, so I keep the unused portion in a zip bag to keep the sticky stuff moist.
Achieve Perfect Placement
Being able to add Velcro at the end of a project means you can achieve perfect placement. For a flap closure, like in our Gracie Handbag, simply locate and fuse one half of the Velcro in place. Then stick the other Velcro half to the fused piece on the flap. Close the flap as desired and the second half of the Velcro will be stuck to the bag where needed. Press with an iron from the lining side of the bag to fuse the second piece in place.

Flap on Gracie Handbag (LGD118) closes with Velcro.
Details
The Fabric Fusion version of Velcro is about twice the cost of the regular, sew-in Velcro. I think its versatility and fabulousness are worth the price. A package of 24″ x 3/4″ in beige, black, or white, has a suggested retail of just a bit over $5. Fusion is available in 1″ cuts, 24″ strip, 5 foot strip and 15 foot strip.
Fusion is available to you local quilt shop through their major suppliers. Ask them to stock this item or special order it for you.
Special Lazy Announcement
Please join me next Monday, August 27th, to meet the newest Lazy Girl pattern, the 'Miranda Day Bag'. I'll introduce Miranda here on my blog in Monday's post.
New to our blog? Subscribe to get emails so you don't miss a juicy morsel.
Like and share this post with your stitchy friends.
Join me in the Lazy Girl community on Facebook here: Facebook Lazy Girl
Enjoy!
Joan
Facebook Lazy Girl
Pinterest Joan Hawley
Pinterest Lazy Girl Community
Instagram @JoanHawley
Twitter LazyGirlJoan