Valentine's Day and Other Loves
Lazies, Happy Valentine's Day! Lazy love and hugs to you from melting mid-Ohio. February really is a month to love, yes, even here in cold snowy Columbus. Aside from embracing the love of Valentine's Day, February offers the promise of spring.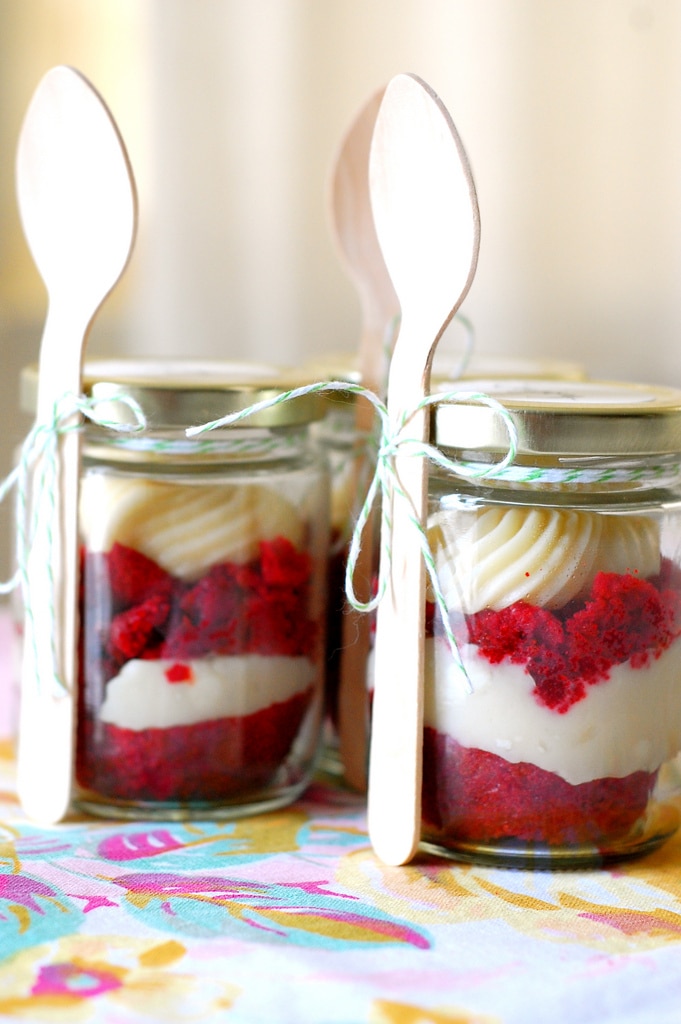 Red Velvet cupcakes in jars. Details below.
Daylight Love – More Please!
I have to tell you that I find February quite inspiring and full of promise. I love February. In the short 28 days of the month, we gain 1 hour 5 minutes of daily daylight by the month's end. It's about 3 minutes a day. It's noticeable.
January only gains 44 minutes of daylight by month's end. These are just numbers for central Ohio. North of here, the increase is larger. South it is a bit smaller. Nothing makes me feel like spring is starting as much as the increase in daylight during the month of February. Check your numbers here: Sunrise and Sunset
Red Velvet Cake Love
I discovered red velvet cake when a neighbor shared her 'left over' cake some years ago. I didn't know there was such a thing as left over cake. That is totally foreign to this cake-lovin' Lazy Girl. I thought the red color was some horrible baking experiment gone wrong. I was wrong – it's delicious. I stumbled upon these two recipes and ideas that I simply must try.
The cupcake in a jar shown above is just plain cute. These little 8 oz jars are just the right size to split a cupcake, and layer with icing. Be sure to check the resources link at the end of the post for sources. Recipe and instructions here: http://mycakies.blogspot.com/2010/03/diy-cupcake-in-jar.html
Red velvet cheesecake brownies? Really? Double trouble! Oh sweet mama, hide the children, this looks dangerous.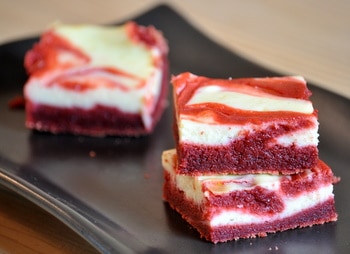 The recipe looks very do-able to me. Start salivating here: http://bakingbites.com/2010/12/red-velvet-cheesecake-brownies/
Road Trip Love
On Saturday, gal-pals Karen and Kim joined me on a road trip to Chillicothe, OH to attend our friend Rita's book signing party at her shop Creations SewClever. Thank goodness we got there while there was still cake. I'm shameless, I know.
Rita's newest book 'Everyday Quilts' is full of tasty quick quilts. I loved seeing all of the quilts on display together. And it was a treat to meet other Rita-fans and get our copies.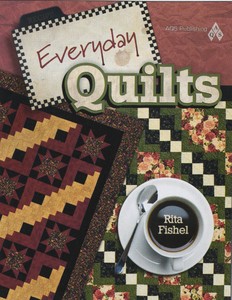 No trip to Chillicothe would be complete without stopping at the Old Canal Smokehouse to pick up some pulled pork for dinner. Along the way, we shared recipes, caught up on news, enjoyed the scenery and appreciated a break from weekend chores. It's nice to run away from home once in a while, even if only for the afternoon.
Lazy Kitchen Love
Quick tip: I love soup and I make my own chicken stock a few times a year. The recipe I use yields about 20 cups of broth. I fill my three ice cube trays and freeze those. When frozen, pop out and place cubes in a freezer zip bag, noted with date and what the heck it is. Next I fill several 8 oz Dixie paper cups to about 1/4″ from the top and freeze those. When frozen, peel the paper cup off and pop these large ice cubes in a freezer bag.
This gives me two convenient sizes of stock to add to recipes. Ice cubes are roughly 1-1.5 oz and since I filled the paper cups nearly to the top, these cubes are almost an 8 oz cup. Super easy and super Lazy when cooking. I also use the Dixie cups to freeze other soups and chili for single servings in a jiffy. This cuts down on the number of containers in the freezer, too.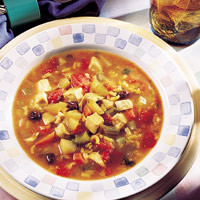 I use a whole chicken when making soup stock. I keep the white meat and make a pot of Mulligatawny the next day. Here's the recipe I use at Better Homes & Gardens.
Picture Love
To keep an online pin board of images you love, check out Pinterest. Hop over there, and try a quick search of something you love such as buttons, fabric, thread, etc. And enjoy the eye candy. Follow fellow pinners and enjoy their collections, too.
Birthday Love
Join me in sending a shout out to my dear friend Carolyn Griffin who shares her birthday today with Valentine's Day. Here's a pic of the footie Carolyn made herself to keep her toes warm while she is nursing a broken leg. Cute and clever. I hope she made a red one for today.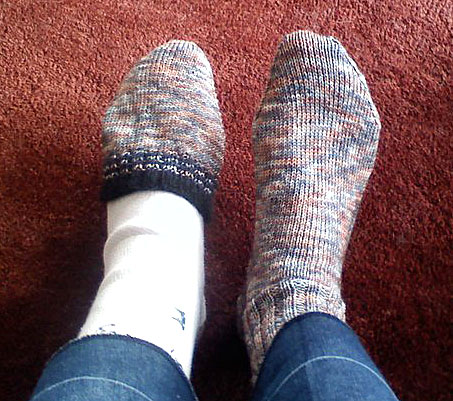 Happy Valentine's Day! Hugs and chocolate kisses to you.
New to our blog? Subscribe to get emails so you don't miss a juicy morsel.
Like and share this post with your stitchy friends.
That's Pinterest-ing!
Join me on Pinterest here, remember to 'Follow' me there, and pin this post and pics to your Pinterest boards.
Enjoy!
Joan
Facebook Lazy Girl
Pinterest Joan Hawley
Pinterest Lazy Girl Community
Instagram @JoanHawley
Twitter LazyGirlJoan