The Generous Nature Of People Who Sew
Lazies, The generous nature of people who sew and quilt never ceases to amaze me. And I'm lucky enough to have people share their stories with me, mostly through my Yahoo group. Nancy McHenry is one such generous soul.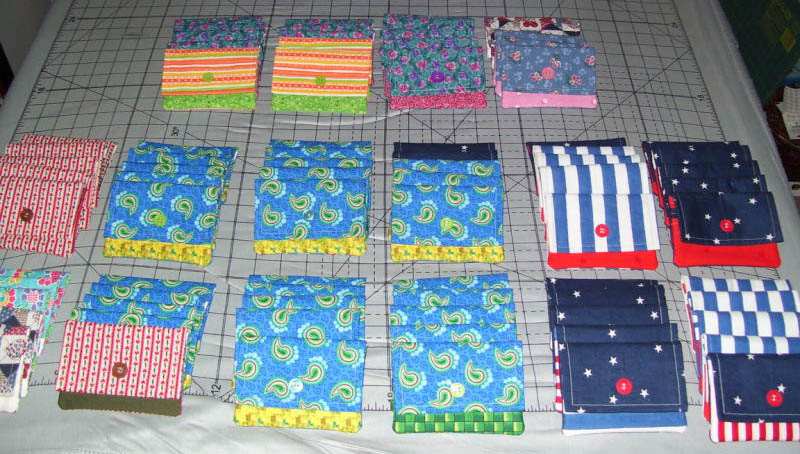 Eighty Wonder Wallets.
Here's Nancy
I've got 140 Wonder Wallets (#LGD211) for the nursing home residents for Christmas made and packed up. That is a gift for every resident in the home just down the road from me here in Columbia, PA. Reason for the Wonder Wallets – the pattern is easy enough to make a nice gift for every resident of the home.
In the wallets will go a greeting card, small pack of tissues (they fit!), as well as a crisp new $1 bill from the bank. Cool, huh?
Since I used fabric that I had, the biggest expense was fusible interfacing and buttons. I used small buttons that were in a big pack from JoAnn's, so these were only a few dollars for all of them.
The Wonder Wallets make up fast in "assembly line" fashion. They are a great way to use up scraps. Lots of fun without a ton of time invested.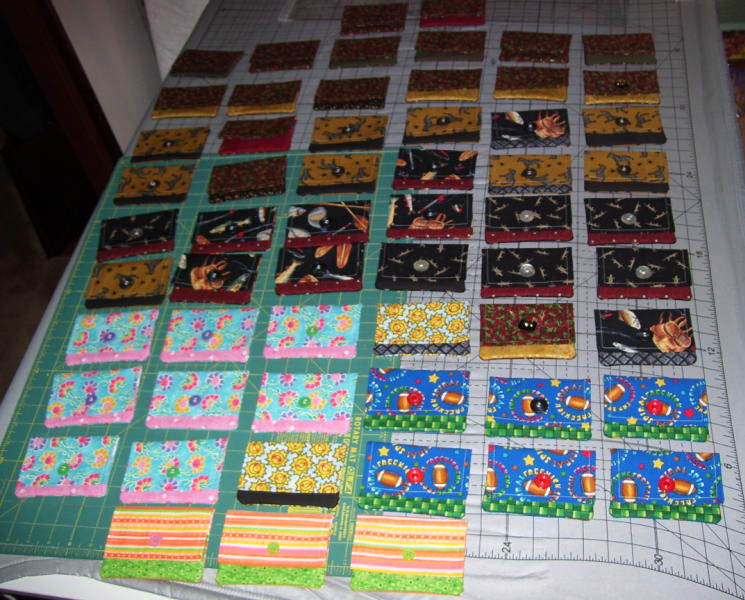 More Wonder Wallets.
Usually when I make a gift for the nursing home (walker and wheelchair caddies, quilts, purses, totes), the home has to choose someone to give it to. With the Wonder Wallets, everyone gets a gift.
Little Kindnesses Matter
My father-in-law was in this nursing home during the last part of his life. He passed away a few years ago, and we remember how much joy the residents get from something a little special.
I like homemade gifts — older folks especially appreciate the caring that goes into the gift. And now, they look forward to "the Quilt Lady" coming!
Next Up For Nancy
I've been sewing for more than 40 years. During 2008, I want to conquer free motion quilting. Old dogs can learn new tricks, I hear. So, I'm looking forward to practicing on sandwiches that will end up as Purse-Nickities! I've got the pattern, and it's next up after drapery sewing.
– Nancy McHenry Columbia, PA
Enjoy!
Joan
[tags]fabric wallet, quick gifts[/tags]